Spring has finally arrived! What better way to celebrate the season than with fresh veggies? This recipe for Zucchini Lasagna is perfect as comfort food on a cold night and light enough for a warm, spring day. Ribbons of zucchini are baked with marinara sauce and two kinds of cheese, yum!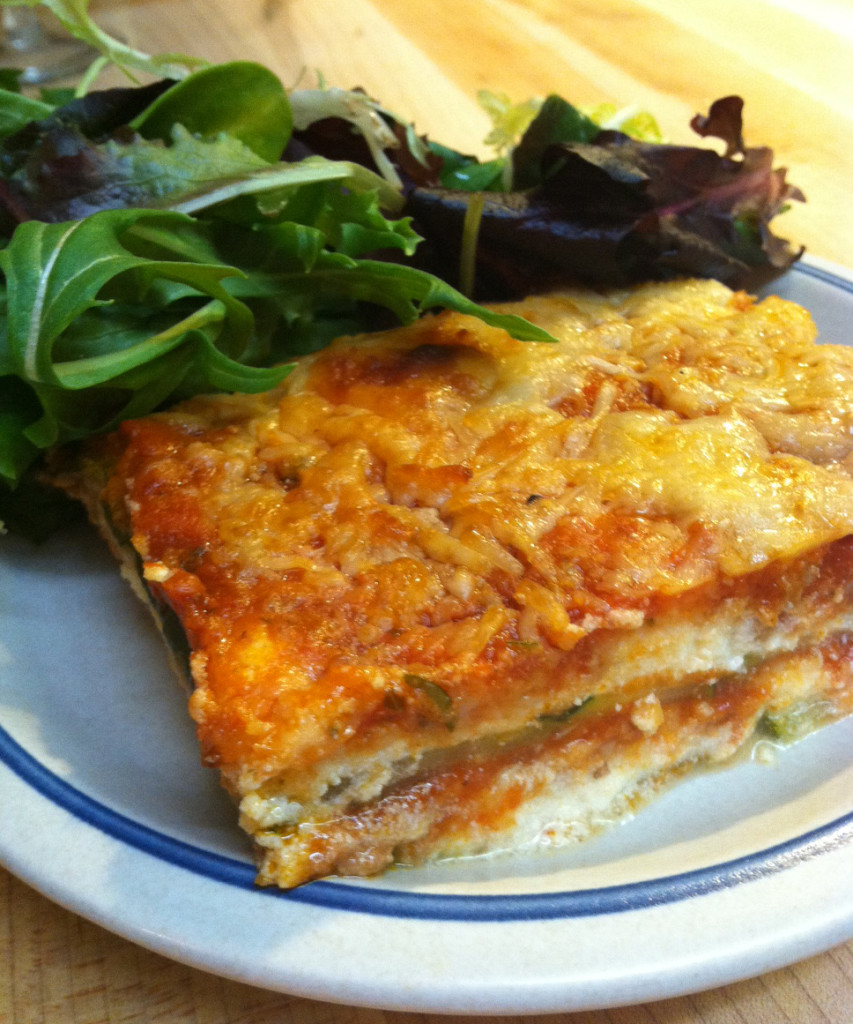 Zucchini Lasagna

Servings: 8
Ingredients:
4 large zucchini
¼ cup salt
2 tablespoons olive oil
½ yellow onion, diced
½ pound ground turkey meat
1 clove garlic, minced
1 jar marinara sauce
2 teaspoons salt
½ teaspoon black pepper
¼ teaspoon red pepper flakes
8 ounces light ricotta cheese
1 egg
½ teaspoon granulated garlic
2 cups shredded Italian cheese
9×13" baking dish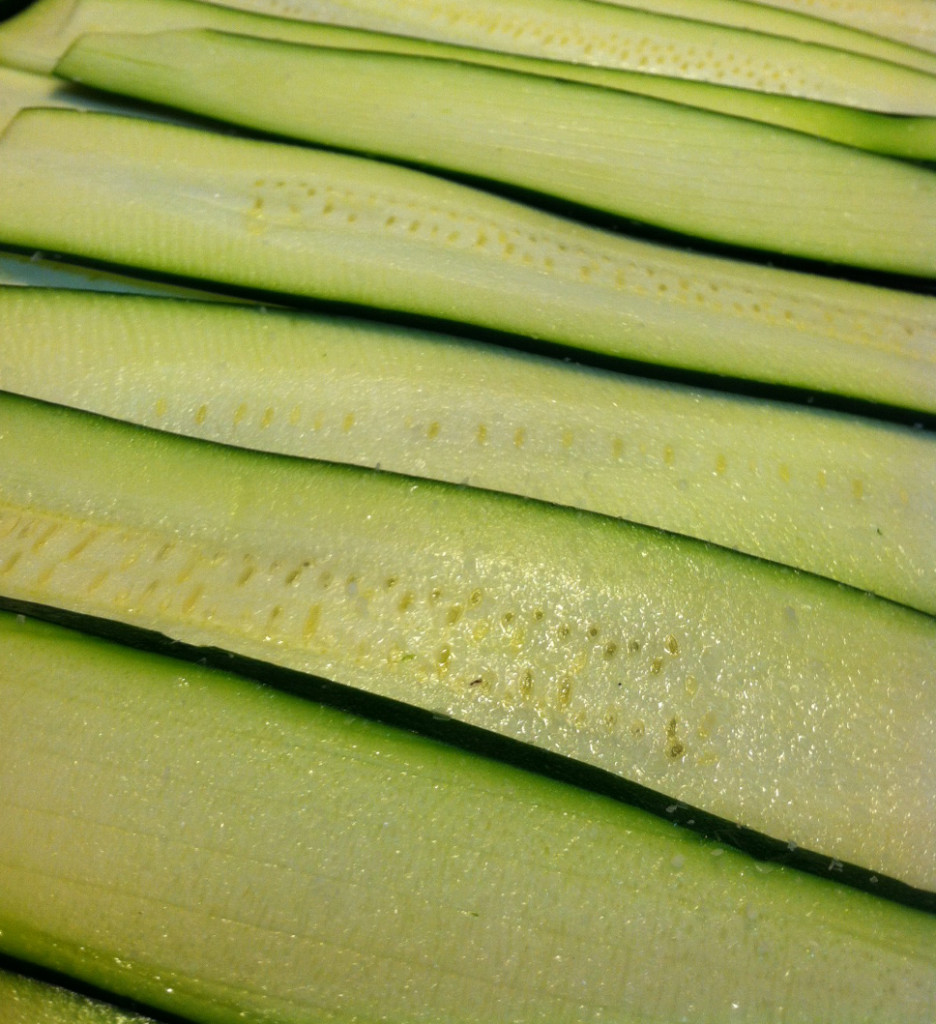 Method:
**Steps 1 & 2 should be completed at least 4 hours before cooking**
Wash and cut ends off 4 zucchini. Using a French mandolin slicer, cut zucchini, lengthwise, into very thin strips. Each ribbon should be about ¼" thick. If you don't own a mandolin slicer, feel free to slice the zucchini with a knife into thin strips.
Place a large colander over a large bowl and fill with zucchini ribbons. Sprinkle zucchini with ¼ cup of salt and set in refrigerator for at least 4 hours. The salt will help to pull the excess water out of the zucchini, keeping your lasagna from becoming too soggy. Don't worry about the amount of salt either…the moisture pulled out of the vegetable will "rinse" off the excess salt.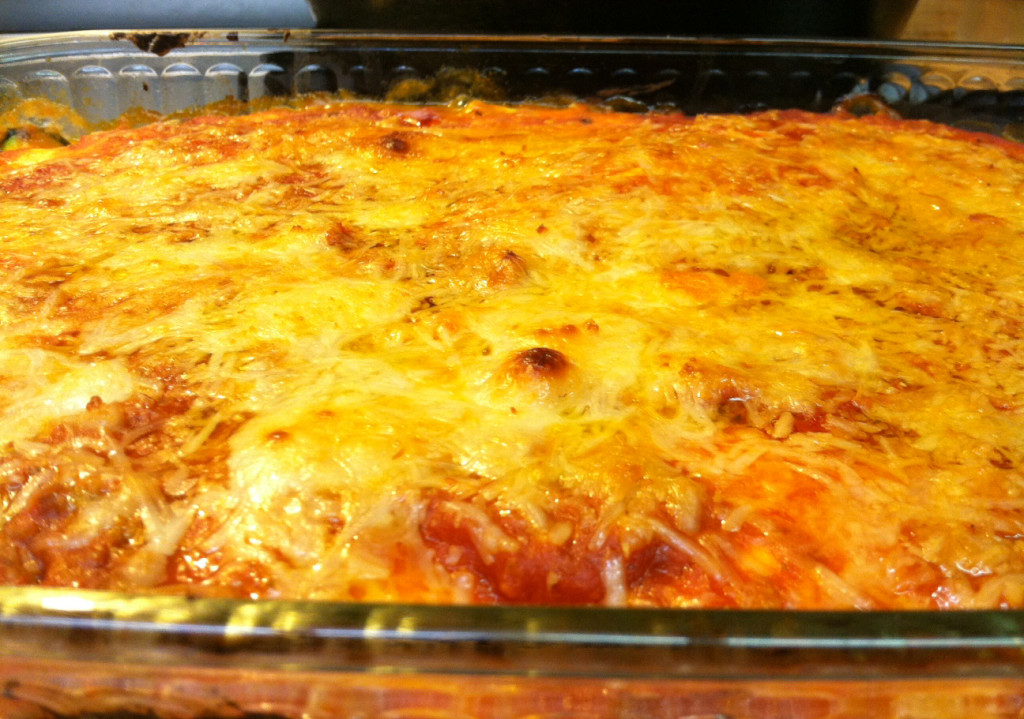 **30 minutes before you are ready to assemble your lasagna, you can make your marinara sauce **
In a medium pot over medium heat, place 2 tablespoons olive oil. Add diced onions and cook until translucent, stirring frequently, about 5 minutes. Add turkey meat and break up any large pieces of meat using a large spoon or spatula.
When turkey is no longer pink, add 1 clove minced garlic and stir to combine.
When garlic becomes fragrant (about 60 seconds), add jar of marinara sauce, 1 teaspoon salt, black pepper and red pepper flakes. Reduce heat to low and allow to simmer lightly for 30 minutes. When ready, turn off heat and set aside.
Preheat oven to 375 F.
In a medium bowl, add 8 ounces ricotta cheese, 1 egg and 1 teaspoon salt and ½ teaspoon granulated garlic. Using a spatula, stir until combined. Set aside.
Pull zucchini ribbons from refrigerator and shake any excess water from colander. Keep colander over large bowl to catch any excess water.
In your 9×13" baking dish, place ¼ cup of marinara sauce and spread evenly on bottom of dish. Lay one even layer of zucchini ribbons down and top with ½ ricotta cheese mixture, spreading evenly. Ladle ½ cup sauce over cheese, spread to distribute and sprinkle with ½ cup shredded cheese.
Continue to layer lasagna with remaining ingredients and top with 1 cup shredded cheese.
Bake lasagna at 375 F for 35-45 minutes or until golden and bubbly. Let rest 20 minutes before serving.
Enjoy with a mixed green salad and a glass of red wine!