My casual, laid-back summer attitude about, well, everything turned upside down when my buttoned-up, back-to-school task master took over on the first day of school. The slow pace and complete with a steady stream of "yeah, sure" responses are now long gone, replaced by "not until you do your homework", "of course we are eating at the table", "don't even think of coming down until your bed is made".  I'm sure my son and my husband, too, are wondering if I have a split personality or, worse yet, just got a whole lot "meaner".
It happens every year when Fall ushers in a fresh start for me. While others are feeling saddened by falling leaves and cooler breezes, I come out of the summer fog with new-found clarity. The arrival of Autumn simplifies things; bright colors and sunlit evenings are replaced by a clean slate of warm, neutral hues, whistling winds, and tried-and-true routines. I simply feel better.
I freely admit that the structure that comes with school starting in the Fall is good for my family, but it's really what's best for me. "If mama ain't happy, ain't nobody happy"…the truth in that perennial piece of wisdom is palpable. With the foundation of structure and routine, I'm sleeping better, exercising more, feeling exponentially more creative, productive and am overwhelmingly a whole lot happier. This girl's little ducks are neat and orderly, marching diligently behind their cheerful mama.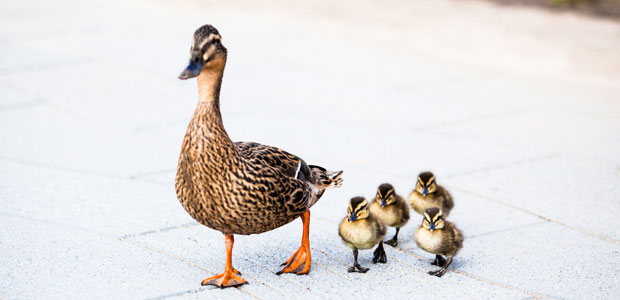 There's also the energetic undercurrent supporting new beginnings and mass productivity in general. A country full of kids have headed back-to-school and the unspoken nudge to get back-to-work for parents (admit it, your summer projects lacked the push you're engaging this Fall) is in full swing. You see it in the children, their total lack of interest in anything that resembled "school stuff" this summer has been replaced by both an eagerness – and unforeseen ability – to decipher math problems and regurgitate properly spelled site words. At work, there also appears to be a shift. With everyone back from staggered summer vacations, there's a full team bursting with helpfulness, can-do attitudes and an influx of fresh ideas.
This time of year seems to demand a fresh perspective and support a more spacious vantage point for decision making. So, why go against the grain?
I'm content to breathe deeply and ride the train of schedules kept and chores done. I've kicked into an organizational high gear of sorts; cleaned and organized my pantry and two kitchen drawers, weeded through more than 20 boxes of paperwork from a business I owned nearly nine years ago, and completed an overdue overhaul of a room I'd sadly coined my "hoarder" room. The room formerly containing piles of clothes, papers, photos, magazines (the towering pile of Real Simple and Martha Stewart magazines was, needless to say, the ironic) and keepsakes, is now tidy and, quite amazingly – actually being used by our family.
Are you feeling it, too? What's your big fall project? Are you thinking of starting a business, engaged in a new group, volunteering for a club or coaching your child's sports team, or just simply a heck of a lot more productive at home and work? I'd love to hear from you!