The holidays are quickly sneaking up on us and as always, I love to add a bit of new décor. To keep it inexpensive, I like to make what I can. Towels are always fun and because you can use fabric scraps and pick up tea towels at the dollar store, this is a super cheap way to add some fun to the kitchen or bath.
Here's what you need:
A flour sack towel
Material (scraps work great)
Ribbon
Thread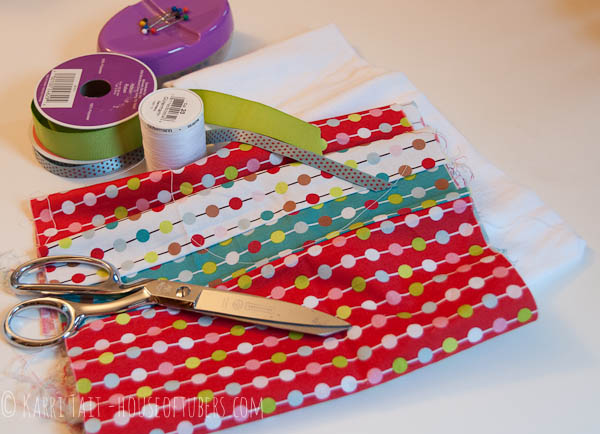 I prefer to wash my towel and fabric before I get started to avoid any potential shrinking or bleeding that could occur.
To start, first, you need to decide how full you like your ruffles. I like mine relatively full, so I used 3 times the length of fabric that I needed.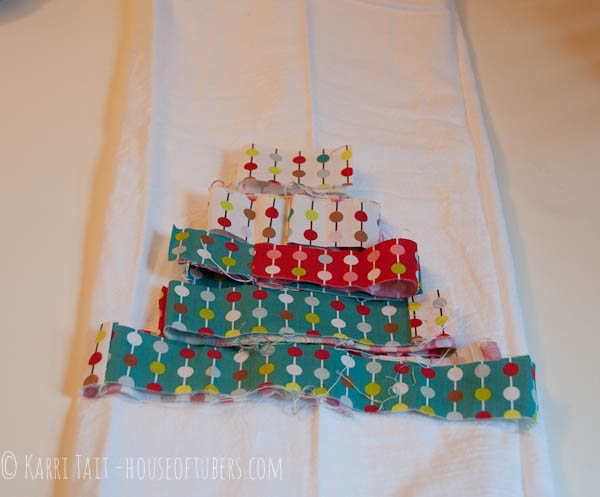 Once you have your fabric cut, you're ready to ruffle by using a basting stitch– all you need to do is set your machine to the longest stitch length and don't back-stitch. To ruffle, you just need to find your bottom threads and gently pull as you push your fabric towards the middle.
It is kind of silly – I avoided ruffling for years until my friend sat down with me and showed me how to do it. Before that, I couldn't grasp that it was really that easy. And that you have to be really gentle with the threads.
Once you have your ruffle how you want it, I like to knot the threads together at each end so that it doesn't move around.
When you're ready to sew your ruffles on, pin them in place with a few stick pins and then get to sewing—just a simple straight stitch down the center will suffice.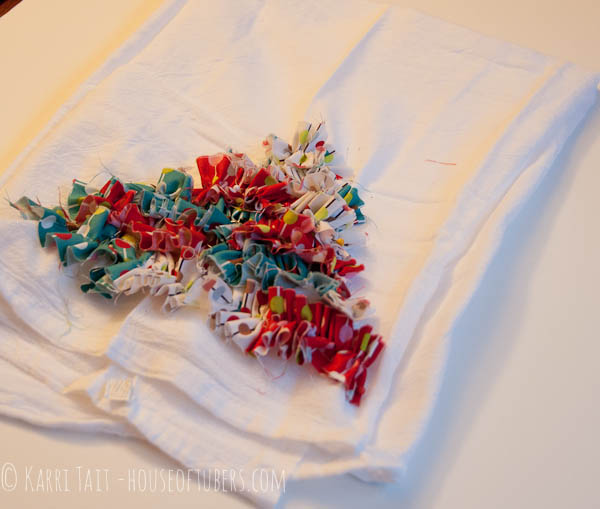 To finish the towel, sew some ribbon to the bottom hemline. Finish your ribbon ends and fabric with a product to stop the fraying.
Tip: If you're not a fan of the shabby fabric look, simply use fun colored or pattered ribbon instead.