Sometimes the most simple of recipes can turn out to be the most delicious, intricate and beautiful. Please take my favorite sugar cookie recipe to share on Valentine's Day. The simple cookie recipe can be made anytime, but when decorated with colorful royal icing, it makes these cookies a real treat. The icing will dry hard and shiny, making them perfect for gifts. Share them with your husband, friends or children's classmates this Valentine's Day… Happy Baking!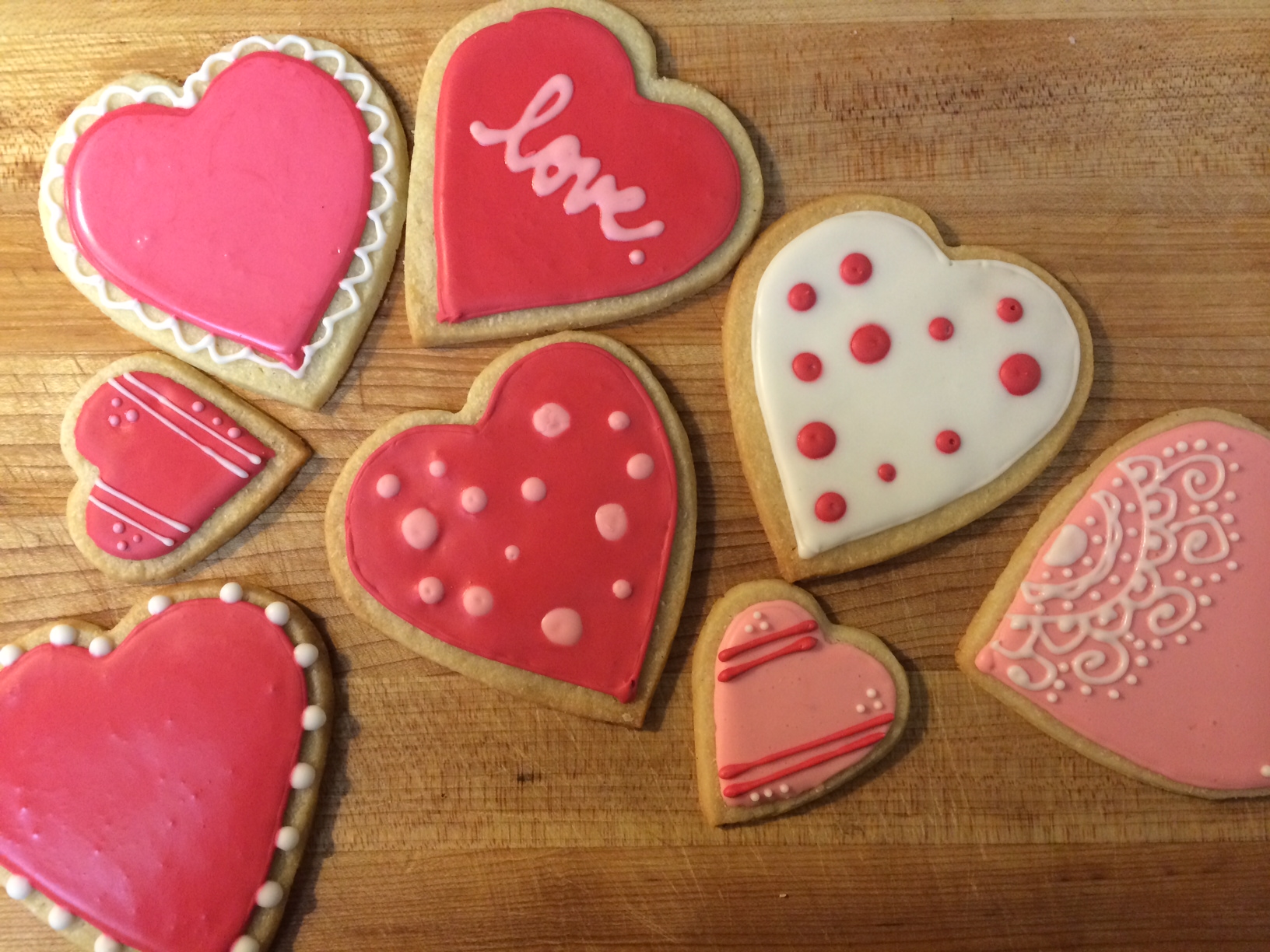 Yield: About 15 cookies
Sugar Cookies
½ cup butter, softened
1 cup sugar
1 teaspoon vanilla extract
1 egg
¼ cup milk
2 ¼ cups all-purpose flour
½ teaspoon salt
½ teaspoon baking powder
Into the bowl of a standing mixer fitted with a paddle attachment, add softened butter, sugar and vanilla extract. Beat on medium speed until light and fluffy. Add egg and continue to mix until combined, about 1 minute, then add milk and mix for 30 seconds. Scrape the sides of the bowl and flour, salt and baking powder. Mix on low speed until the dough comes together.
Turn the dough out onto a cutting board and divide it into 2 equal pieces. Roll each half of dough to ¼"-thick between 2 pieces of parchment paper or plastic wrap. Chill dough for 2 hours or until very firm.
Remove the dough from the refrigerator and remove one side of parchment paper. Flip the dough over and remove the second sheet of paper. Punch the dough using a heart-shaped cookie cutter. I like to use 3 different sizes of hearts for variation. Lay the cookies on a baking sheet lined with a silicone baking mat. Bake for 10-12 minutes or until the edges have just begun to turn golden brown. Keeping the cookies light in color will maintain their chew. Cool the cookies on a baking at least 30 minutes.
Royal Icing
4 cups powdered sugar, sifted
3 tablespoons powdered meringue
½- ¾ cup warm water
food coloring (I prefer gel coloring as it prevents thinning the frosting too much)
6 small bowls
6 piping bags
3 very small piping tips
toothpicks
In a medium bowl, whisk together powdered sugar and meringue. Slowly add warm water and mix until you achieve the consistency of glue. Test the frosting by lifting it out of the bowl with a spoon. It should not quickly fall in a ribbon back into the bowl; It should be thick enough to pipe but maintain its shape. Transfer the frosting evenly between 3 bowls.
Add pink or red food coloring to 2 of the bowls, leaving one white. Once you have achieved the desired color. Transfer half of the frosting from each bowl into piping bags fitted with small tips. Tightly secure each bag and set aside.
Add ½ -1 tablespoon more water to each remaining bowl of frosting. You will use this frosting to "flood" your cookies. The frosting should be thin enough to make a quick "ribbon" when it falls back into the bowl from your spoon. Divide the frosting into the 3 bags without piping tips. Cut holes in each piping bag to expose the piping tips. Make small holes in the bags without tips, as well. Use juice cups to hold your frosting bags upright while you are working, it really saves on cleanup!
Using thick frosting, make a thin border on each of your cookies. I made an outline of a heart on most of my cookies. The frosting will quickly dry while you finish all of the cookies. Return to your first cookie and use your thin frosting to "flood" the cookie by squeezing frosting within the border of the thick frosting. Shake the cookie to spread the frosting or use a toothpick to guide it toward the edges. You can also use a toothpick to poke/remove any air bubbles in the frosting. Allow each cookie to dry before adding additional decoration, with the thick frosting, on top of the cookies.
Practice makes perfect! Your last cookie will definitely be better than your first but I bet they will all be beautiful!