Brunch has got to be my favorite meal, and yes it might be just because of the mimosas! I usually have a go-to spot on Sunday mornings but sometimes I prefer to stay in for a home-cooked brunch. Here is a recipe for my favorite quiche-it's baked in a deep dish making it all the more luxurious and filling! Feel free to add any fillings you like, this recipe has bacon and sautéed kale, and serve with a side salad and, of course, a mimosa!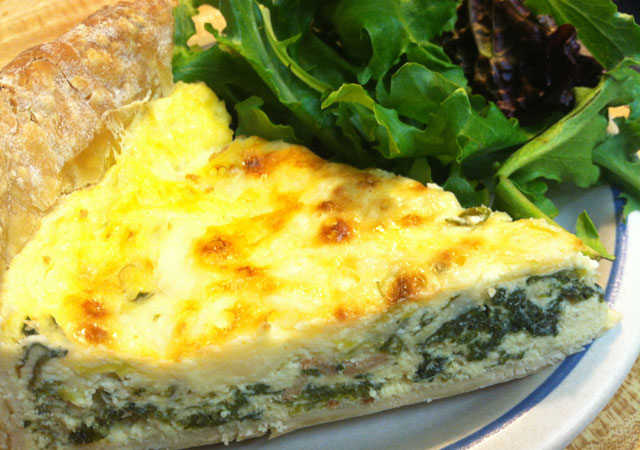 Bacon & Kale Quiche
Servings: 8
Ingredients:
1 ½ cups cream
6 eggs
¼ cup sour cream
¾ cup sautéed kale, cut into 1" pieces, cooled
¼ cup sautéed leeks, cut in small dice, cooled
¼ cup bacon, ½" pieces cooked, cooled
¾ cup Gruyere or White Cheddar, grated
1 ½ teaspoon salt
½ teaspoon pepper
¼ teaspoon nutmeg
1 recipe pate brisee, recipe follows
One 3" deep cake pan
Pie weights or beans
Method:
Make one batch pate brisee, wrap in plastic and refrigerate for at least 30 minutes.
Preheat oven to 350 F
When ready, roll dough at ½" thick, to fit in cake pan. Allow dough to fall over the sides about 1", as it will shrink as it bakes.
Line the dough with parchment or wax paper and fill with 1 cup pie weights or raw beans.
Bake pie crust for about 20 minutes or until lightly golden.
Remove from oven and allow to cool with pie weights in place. When cool, remove weights and set aside.
In a large bowl, whisk eggs together then add cream, sour cream, salt, pepper and nutmeg. Whisk to combine.
Add kale, leeks, bacon and ½ cup of cheese to bottom of pie crust.
Pour cream mixture over filling and sprinkle with remaining cheese.
Bake quiche for 35-45 minutes or until golden brown. Broil on low, if desired.
Enjoy!
Pate Brisee
Servings: 2 crusts
Ingredients:
2 ½ cups flour
1 teaspoon salt
1 cup butter, cold, cut into ½" pieces
¼ cup ice water
Kitchen-aid mixer or food processor
Method:
Combine flour and salt in bowl of mixer or food processor.
Add cold butter and mix or pulse until flour is consistency of sand.
While mixer is on low, add water little by little until dough comes together.
Turn dough out onto a sheet of plastic, divide in half and wrap up tight.
Refrigerate for at least 30 minutes before rolling.
*This can be stored in the freezer for up to a month and thawed in the refrigerator overnight before use.