ReadRecently, I attended a family reunion and reconnected with first cousins, second cousins and cousins once and twice removed. The highlight of the multi-generational family picnic was seeing my dad reminisce about the old days with his cousins. I listened to him talk with one cousin, a pig farmer like his dad before him was, and laugh out loud about "throwing hay" when they were young boys.  It was really nice to see him smiling ear-to-ear for a change.  My mom seemed to enjoy herself as well, chatting up the oldest of the clan, my dad's few remaining aunts and uncles, who didn't seem to notice a bit when my mom repeated herself a time or two.  My son met his first-ever third cousin and the two of them played the same games my brother, sister and I did as kids at these family gatherings, like "hide and seek", "tag" as well as hanging on the older cousins' every words.  My son didn't know it, but I saw him showing his newly discovered cousin how to sneak brownies and cookies while "no one was looking". I saw the whole thing, of course, I'm his mom after all.
In addition to being a very popular month for family reunions (two of my girlfriends attended them as well the very same weekend!), July is Sandwich Generation Month, a time of observance that's dedicated to honoring a growing generation of adults sandwiched between caring for young children and aging parents at the same time. Being a mom of a seven year old and daughter of 70 year old parents only partially qualifies me as a member of the "Sandwich Generation". According to Pew Research, the Sandwich Generation is defined as "those who have a living parent age 65 or older and are either raising a child under age 18 or supporting a grown child—and pulled in many directions. Not only do many provide care and financial support to their parents and their children, but nearly four-in-ten (38%) say both their children and their parents rely on them for emotional support".
As a working mom already pulled in a million directions, I do feel a little like mayo on a turkey sandwich.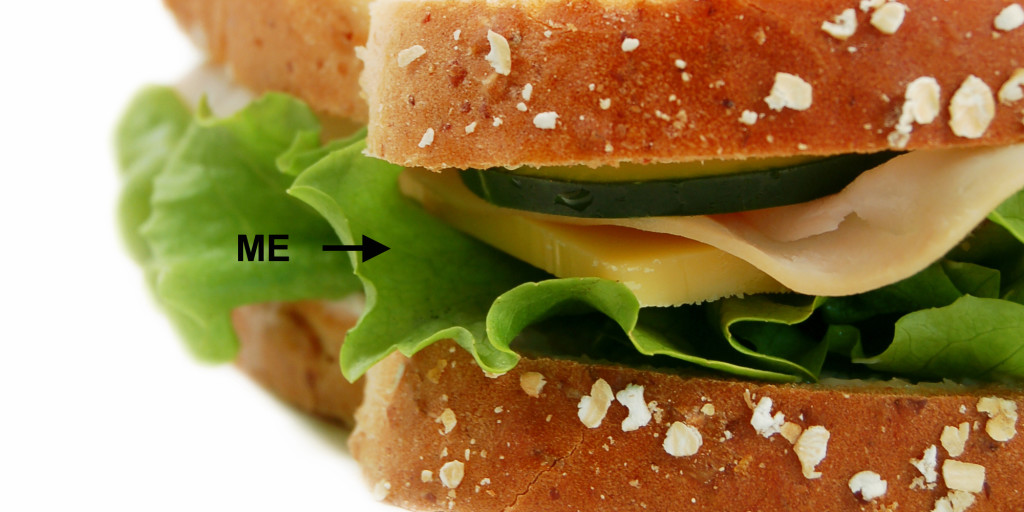 It's All About Family
My parents were model "savers" and have a buttoned-up financial plan in place; something I've come to envy in my earning years with my son's college education on the horizon. What my parents didn't plan for, however, was my mom's Alzheimer's diagnosis three years ago.  Although I don't provide financial support for my parents, I recently reduced my work hours to be more involved in my mom's care and simply spend more time with the woman who raised me, as well as have more time with my young son.  My parents didn't ask me to cut my hours, or my income for that matter, but I do think my dad was happy that I did. He would never admit it, though, because he's very proud that he can and does care for my mother.  She's given him, our family and me personally so much over the years. My mother made us her priority and, because of that, is deeply loved by us, her friends and the community at large. My dad and I agree: giving back to the woman who's given us so much for so long is just the right thing to do.
Although my family members and I have mentally accepted her Alzheimer's diagnosis as a part of our lives, the emotional aspects of the disease aren't as easily compartmentalized.  Feeling the day-to-day impact that the disease has on my mom is really hard. I won't speak for my dad, but some days just plain suck – for lack of a better word.  I find that my patience and emotional wear-with-all is seriously tested as I repeat myself over and over, changing the words ever-so-slightly in my ego's futile attempt to make them "stick".  I also know that there are times when my tone of voice suggests that she's just not trying hard enough or that I'm somehow unhappy with her reaction. It's not that I'm in any way feeling like she's failing me, but rather that I'm failing her!
I'm learning new things about this disease – and myself for that matter – every single day.  On the days when I sense that she's "on to me" I feel terrible, and sad, and although my heart's in the right place, I still feel the shame. I force myself to pick up the phone and talk to my sister who, thankfully, always seems to have the right thing to say. Or I'll grab coffee with a girlfriend and we'll find a way to laugh together.  In short, I simply have to shake it off and start again.
Alzheimer's disease is stubborn, insistent and refuses to be bargained with.  My mother, on the other hand, is sweet and kind and motherly.  I've learned over time to stop arguing with the disease and simply talk with my mom. 
In fact, some days seem downright normal – like the way it was before Alzheimer's was a part of our lives. My favorite moments are watching my son and my mom together, their easy laughter and genuine love and affection fills me with emotion. I'm simultaneously grateful and fearful, joyful and sad.  There are also days when I smile through my time with mom – out of love and respect, only to burst into tears the very moment I get in the car to leave her. Every once in a while, the tears will sneak through when I'm with my mom. I tell myself I need to try harder on those days. Sometimes it takes me a day or two to bounce back, but in the morning I'll get up, dial my parent's number and, like clockwork, my mom will answer the phone.  "Hi mom, it's Lauren.  How's your morning going?" We'll talk about the small stuff like her morning walk, and our shared love of coffee, and plan out our next day out together. We're still "us".
Aside from feeling that this disease is an unwelcome tribute to a great woman, the hardest thing about my mom's Alzheimer's is that the very person I've counted on all my life  – my mom – who's been there for me, who's quite literally picked me up, dusted me off, built up my confidence and cheered me on, is slipping away in plain sight. It's like a faded old photograph; you really have to look hard to see the details sometimes. It's also a real challenge not to go "there". You know, "What if I get this disease? How much time do I have left? Will I live long enough – and be mentally present – to see my son graduate?" Although I know that this very train of thought could implode on me, I also know that I'm only human. So I let myself ponder these difficult thoughts on occasion; my sister does as well.  It's in these uncomfortable moments when I feel in my heart that if there's a single blessing of loving someone with Alzheimer's, it's this: Today is everything. Life is what I do with it today. Family and friends are so important. Never give up on love. Moments matter.
If you know a caregiver, or a member of the sandwich generation, and want to honor them this month, this helpful resource will give you some ideas.
As always, I welcome your thoughts, so please share them in the comments section below.