Fall. It's synonymous with all things pumpkin. Being a huge fan of pumpkin flavored and smelling things, fall makes me crave pumpkin bread! Unfortunately, all of the recipes I've made in the past were loaded with oil and refined sugar, which is something we've been cutting out of our diet in an effort to eat more clean and local. After some trial and error, I came up with a pumpkin bread that tastes heavenly. Its pumpkin taste shines through while giving you a tiny kiss of honey.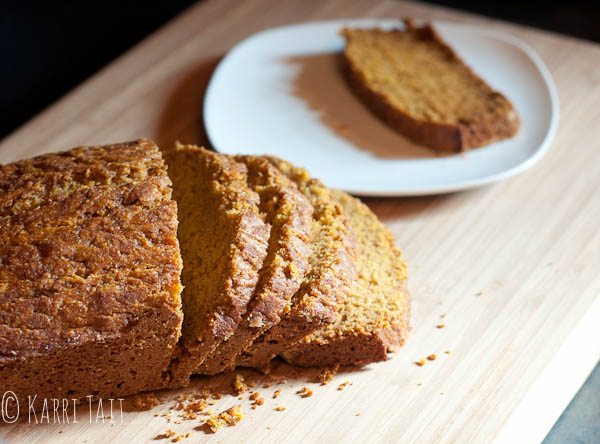 I prefer to use a whole wheat pastry flour (versus just a whole wheat flour) because its very mild. It does not give off that wheaty taste, and its definitely more tender.
Pumpkin Bread
1/3 c. coconut oil
1/2 c. honey
2 large eggs
1 c. pumpkin puree
1 3/4 c. whole wheat pastry flour
1 tsp. baking soda
1 tsp. vanilla
1 tsp. cinnamon
1/4 tsp. ground ginger
1/4 tsp. ground clove
1/4 tsp. ground nutmeg
Preheat oven to 325. Melt coconut oil. Add honey, pumpkin, vanilla and eggs, whisk together. Add dry ingredients and mix until everything is moistened. Pour into a buttered + floured loaf pan* and bake on the center rack for 60-70 minutes or until done (do a toothpick test to ensure bread is fully cooked). Let cool for 10 min and then release from pan and cool on a rack. Enjoy!
*I like to add a sprinkling of turbinado sugar to the top of my quick breads to give them a sweet crunch. For this one, I mixed about 1 TB sugar with 1/2 tsp. cinnamon.
My children informed me that while delicious, this would be even better with some chocolate chips in it. I thought I would pass that tip along.