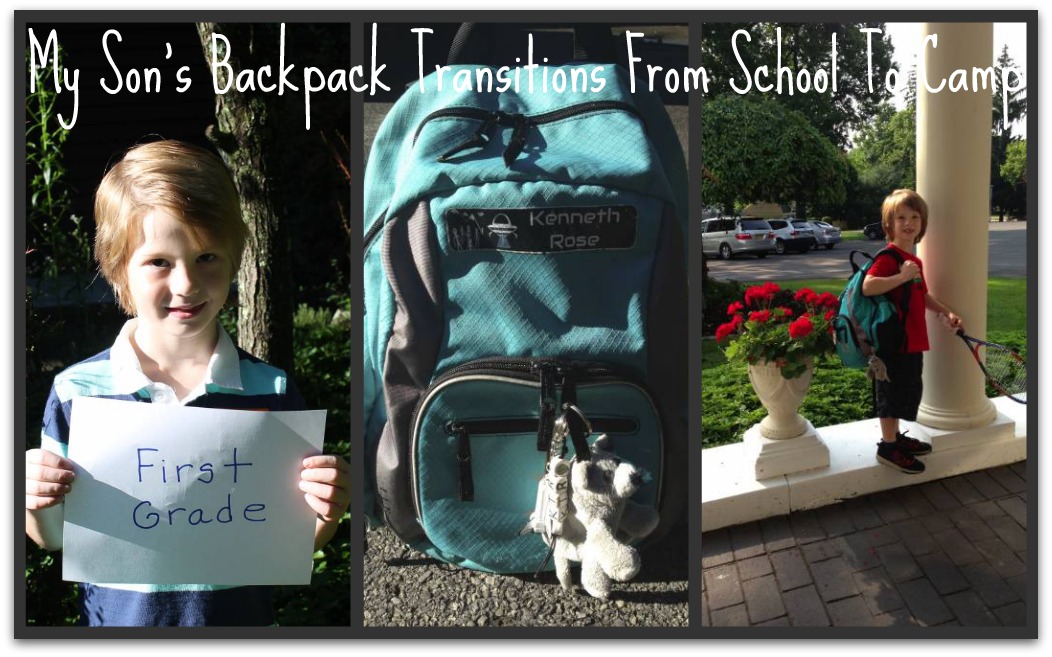 The last week of school was a whirlwind of end-of-the-year activities, parties, teacher gifts, and report cards. The year flew by, and seeing it come to an end was a little bittersweet.  Sure summer had arrived, but another year of elementary school was done.
When I arrived to pick up my son on his last day, the kids were saying their goodbyes for the summer to teachers and classmates alike, and the parents were talking about the milestone made and teacher assignments for the Fall.  Although I was there to share in my son's final memories of first grade, in the back of my mind a tiny nagging voice was there to remind me that summer camp was just days away and that I was "not at all prepared for the first day."
Although sign ups for summer camp began in February and were nailed down by April at the latest, the actual preparation for Monday's start date came up as if "out of nowhere." The last six weeks of school found me slacking on the very routine I'd imposed last fall; healthy lunches with "Bento box flair" from September were replaced with last-minute Lunchables thrown into my son's backpack as he bolted out the door to catch the bus. Our nightly homework routine was replaced with nature walks and after-dinner trips to the local ice cream stand (ok, sure, some of those trips to the ice cream stand were before dinner.) Any backpack organization – including proper hygiene, for that matter – was thrown out the window!
I don't know about you, but our family was living on the edge as far as school supplies go the last few weeks of school. My son was down to his last water bottle, last yogurt drinking straw, last cloth napkin for lunch and had outgrown his sneakers, as well as most of his clothes.  So while some families were simply sliding into a relaxed summer routine, we were reluctantly starting an uphill battle to prepare for the first day of summer camp.
After sorting out the necessary logistical issues, including a change in our family's drop-off and pick up routine, I hunkered down to the nitty-gritty –  cleaning out my son's backpack. In addition to containing the remains of his desk; including broken crayons, topless pens and markers and assignments and artwork dating back to March, his backpack was quite literally covered with dirt, a few rocks, and a healthy coating of goldfish and pretzel crumbs. In other words, before I could make any progress whatsoever, his backpack needed a serious trip through the washer cycle. In fact, the last time I recalled doing just that was back in December when he was home for holiday break. I'd like to say that I'll be more conscientious when my son starts second grade, but I'm pretty sure this is just about as good as it gets. His lunchbox, although it received regular wiping, joined his backpack in the washer. Now, I was starting to feel like progress was being made.
As the dust (literally) settled, I felt ready to face the "changing of the backpack."
With the knowledge that I didn't have what I need to refill my son's backpack for summer camp, I hit the stores to purchase an extra swimsuit, extra towel, new water bottles, new socks, sunscreen, straws, and his go-to lunch and snack choices.
In a sincere effort to simplify the summer routine for real, I conjured up a nearly teary eyed plea and asked my son (more like "begged") to eat the camp supplied lunch (the one we pay for, ahem) so that mommy could have a break from making lunch every day. He looked me in the eye and went with the "you don't want me to starve at camp, do you?" routine and I just didn't have the fight in me to push.  Did I mention that the end of the school year is exhausting? Anyway, later that day I did redeem myself and successfully negotiated a pass on making lunch, but only on days that they were serving chicken tenders. A (very) small win for mom, but I'll take it.
Thankfully, one thing I definitely did right was purchase a Camp Labels Pack when my pals at Name Bubbles had a sale back in April. My son loves the new Camo design and chose a tennis racquet icon for camp this year. He's attending a children's activity program put on by the national organization KE Camps at a local country club. He attended the same camp last year, so at least the transition from school to camp wasn't going to a problem for him. So together we peeled and stuck labels to his freshly laundered backpack, lunchbox, tennis racquet, golf clubs, hat, shirts, shorts, swimsuits, towels, googles, sneakers, socks, water bottles, and sunscreen. Once I get around to buying him new sneakers (you've got to cut me some slack), those items will get also get labeled. My son tends to leave his belongings behind, so labeling is my only chance of recovering what's been lost!
As I dropped my son off on Monday for his first day of camp, he hugged me, smiled and ran off to join the fun.  Summer was here and although my transition wasn't as smooth as his, I successfully transformed a backpack full of memories-made to one that's full of possibilities.
Did your family transition from school to camp? How will your kids be spending the summer months?  Please share your personal stories below!
Tip from Name Bubbles: Download our FREE Camp Checklist Printable to help alleviate the stress that goes along with packing for camp! Our printable checklist will ensure that nothing is forgotten.