It's finally summertime, which means fun-filled weeks of beach and pool time. For many families, those fun- and sun-filled days often require lots of gear such as towels, goggles, floaties, toys, sunscreen, dry clothes, snacks, and more! Schlepping the kids to and fro with a million bags in tow can sure be a hassle! And if you're anything like me, you might be constantly on the lookout for the perfect bag to make your beach and pool days a bit easier. But before you run off to buy one from your favorite store, give this DIY tote a try. With some basic supplies and in just an afternoon, you can have yourself the ultimate carry-all tote!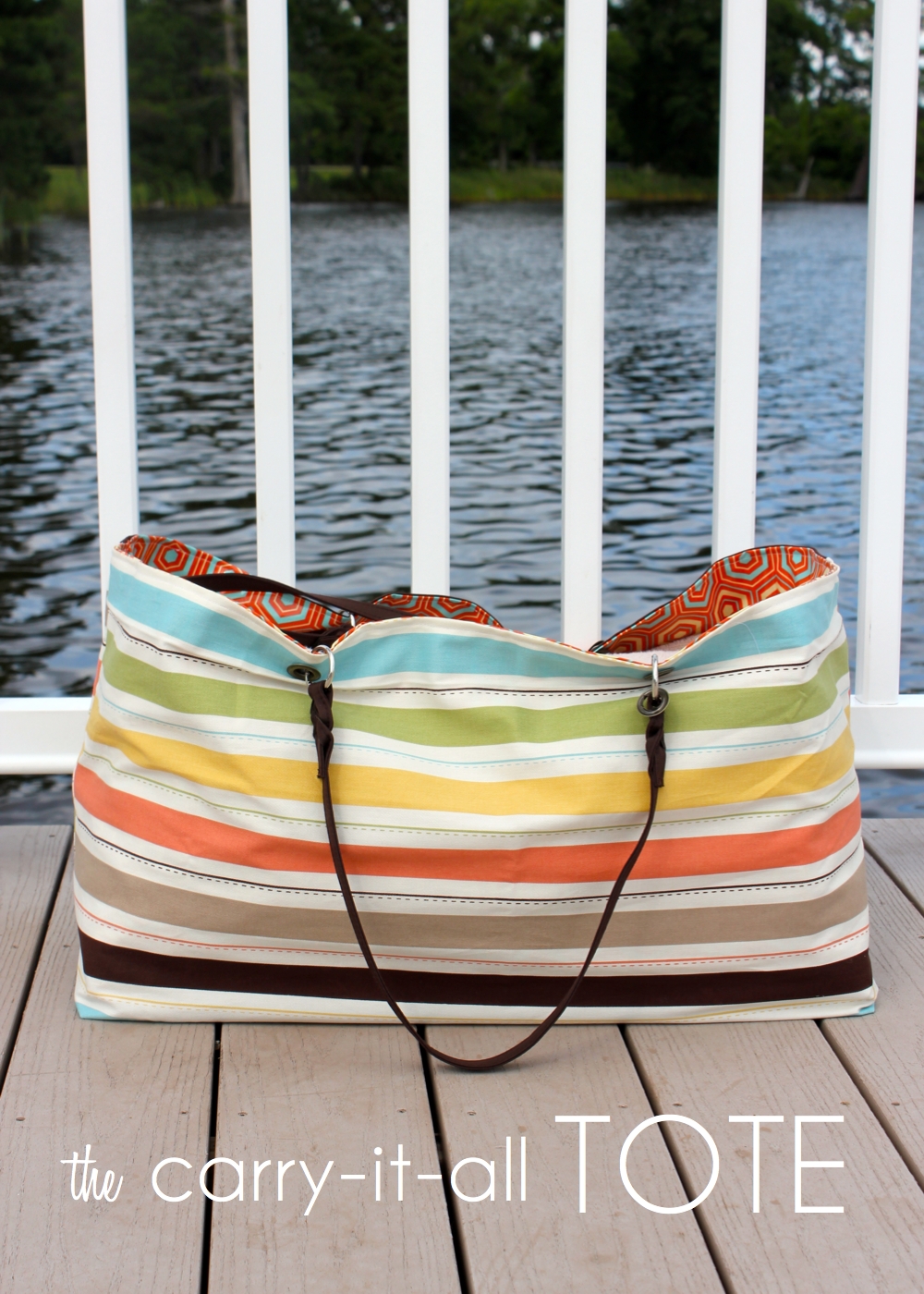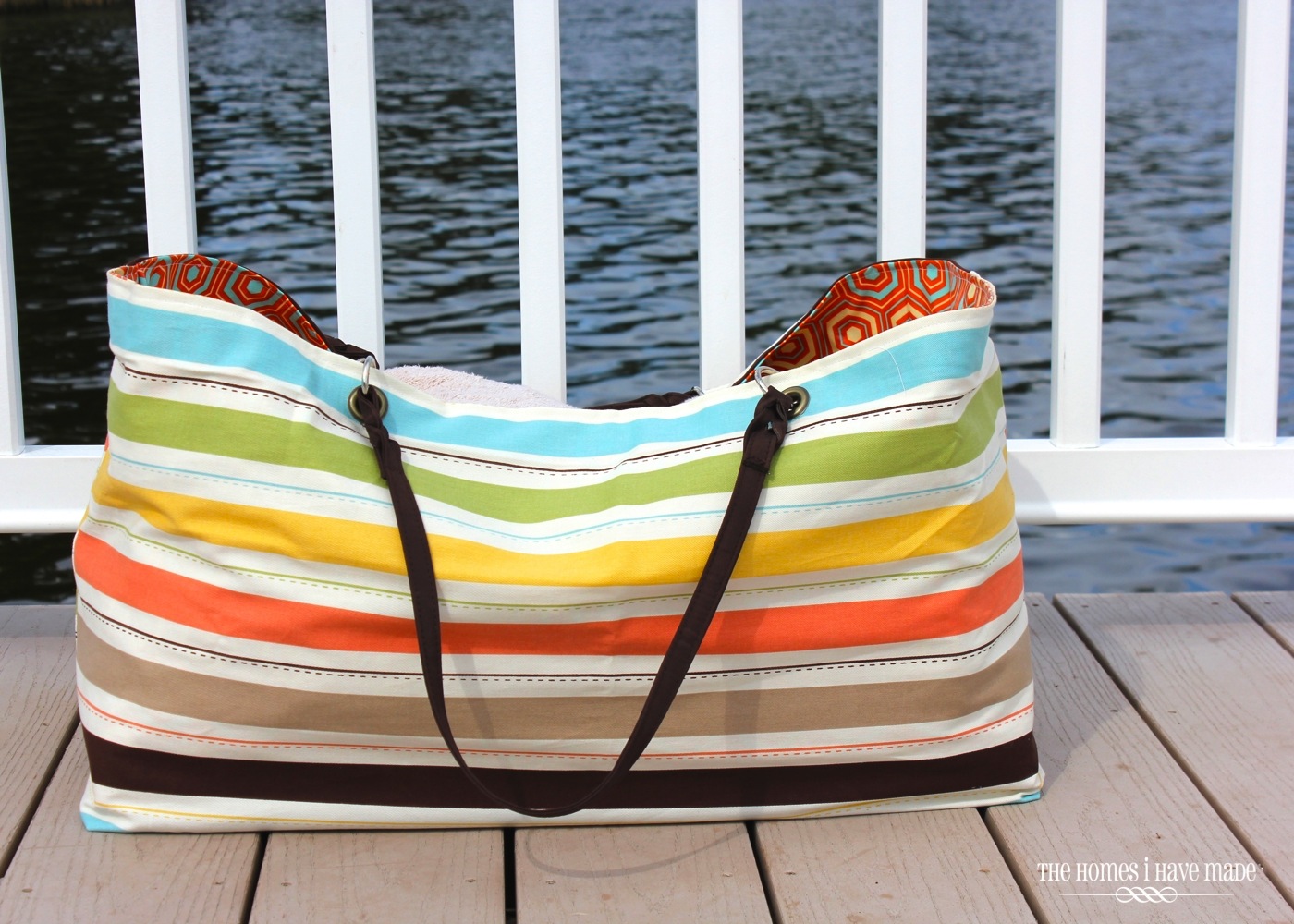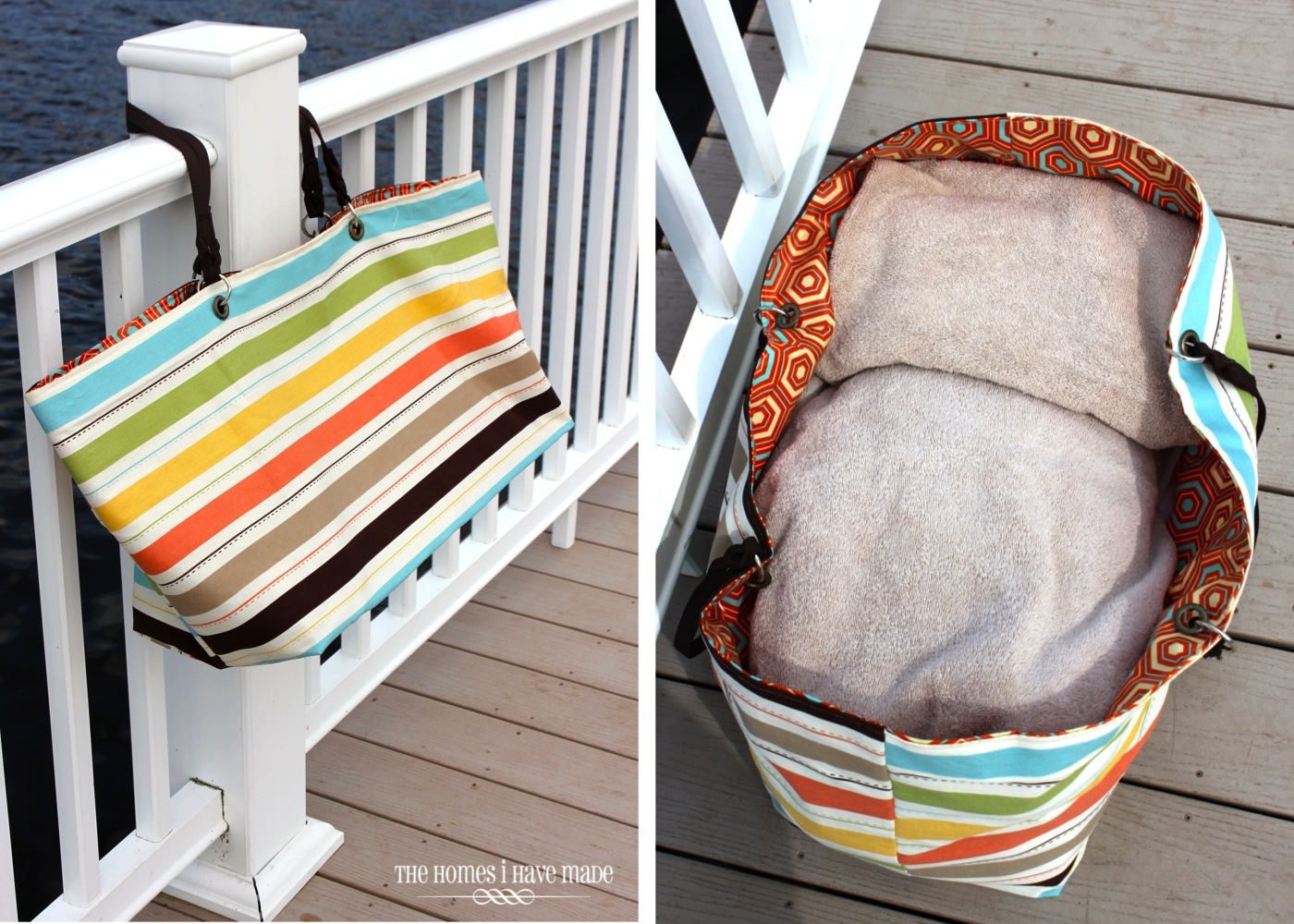 This super-sized and oh-so-simple tote is perfect for stuffing and carrying all your summer-fun necessities. The pictures might be a bit deceiving, but I have 5 full-sized beach towels stuffed in mine with room to spare! Oh! And I haven't mentioned the best part…this baby is reversible!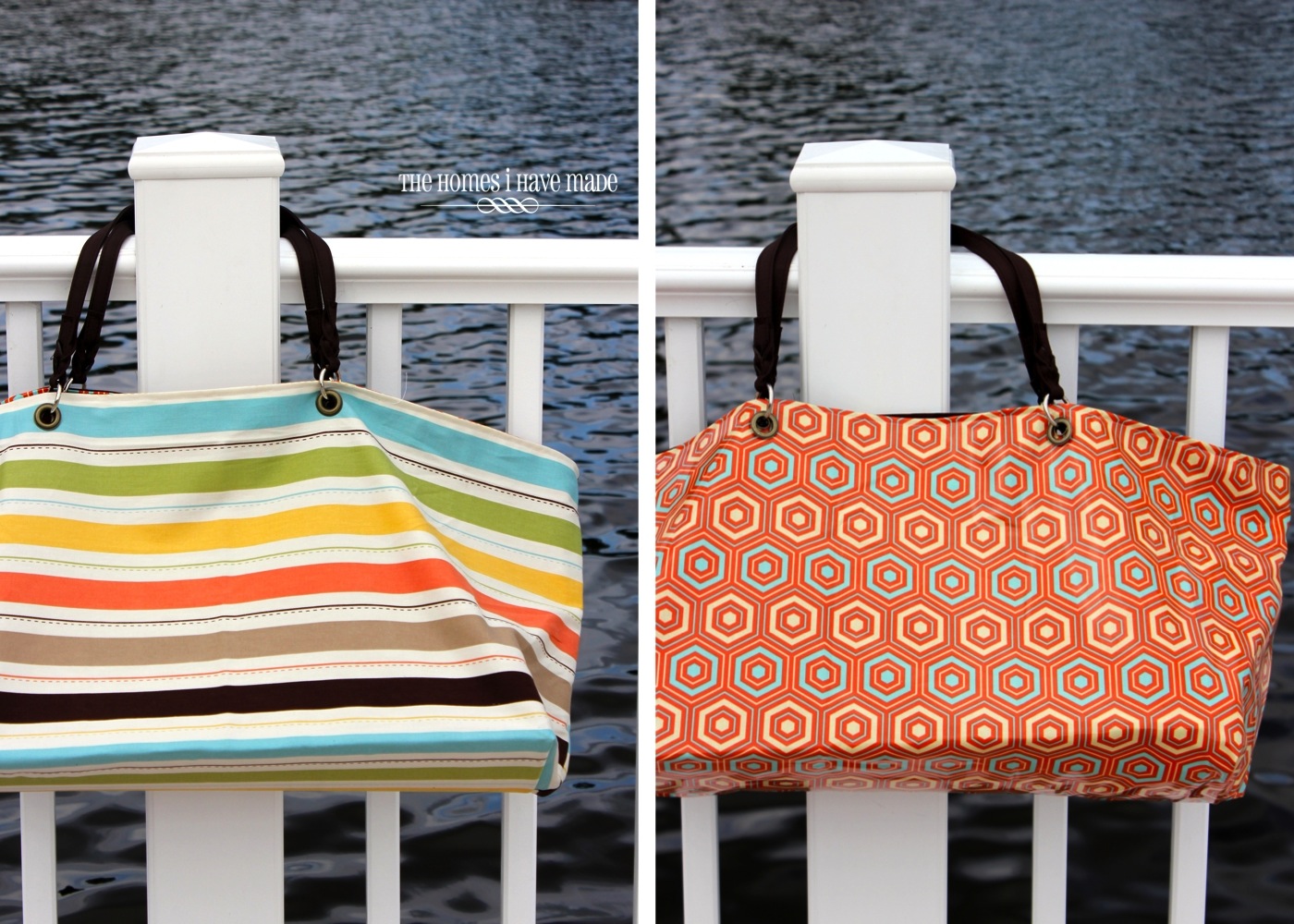 Pairing a heavy-weight cotton twill with coordinating oil-cloth not only makes this bag reversible but also water-proof…perfect for carrying wet towels (oil-cloth side in) or placing down on a wet pool deck (oil-cloth side out).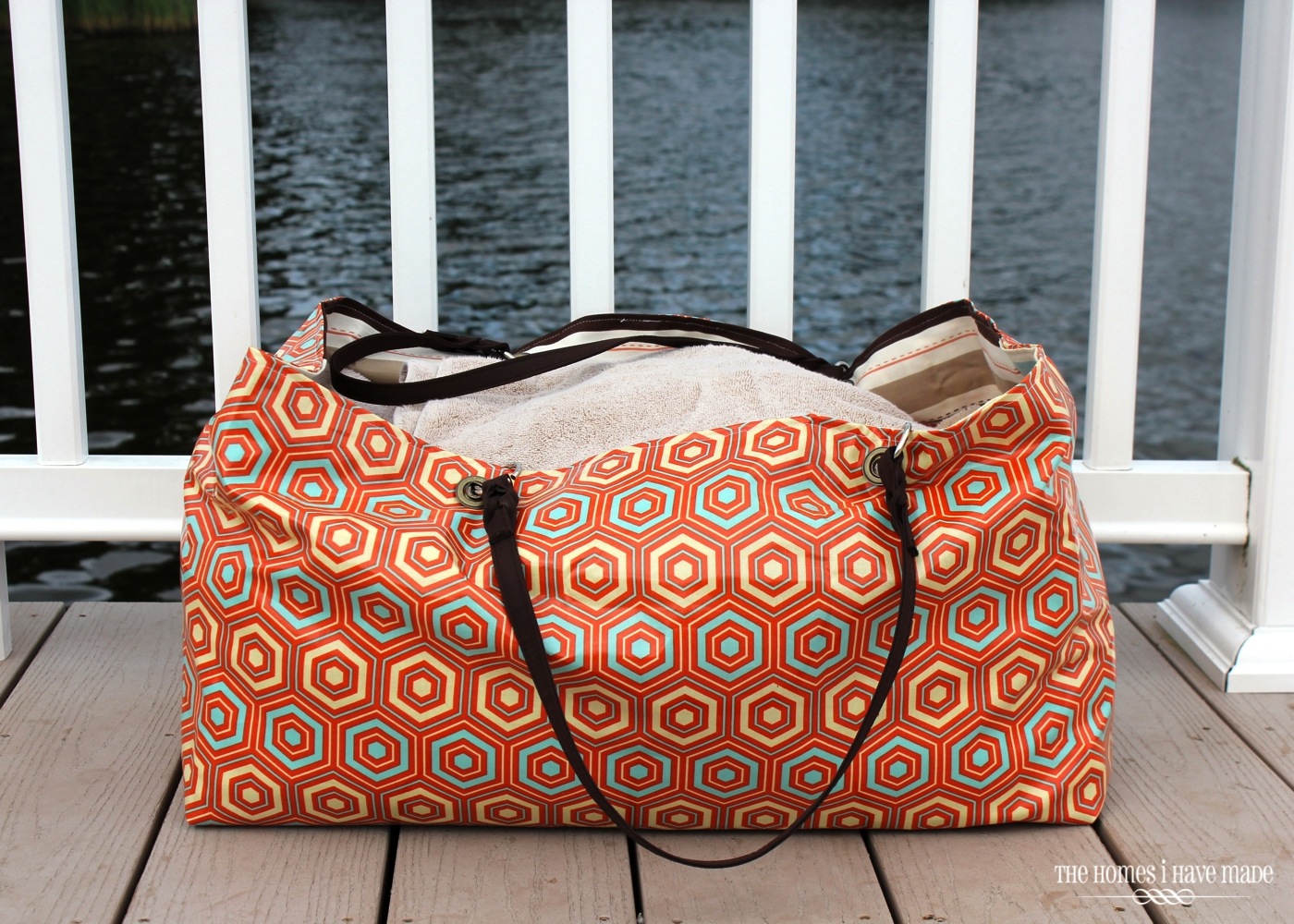 Even if you're a beginner sewer, this project is quick and simple. Using just some basic supplies found in any fabric store, you can have a fully customizable, reversible, and darling tote ready for your next trip out in the sun!
Start by finding two fabrics you love and that work well together. I hunted through my fabric stash and found this hex oil cloth that paired oh-so-well with an old striped shower curtain from Target. I always thought these stripes would make the cutest bag so I held on to it for this very occasion!
My finished bag measures 23" wide by 10" deep by 15" high, but you can certainly customize your measurements to make your tote as big or small as you'd like it.
Here's a breakdown of what you need:
• 1 yard cotton fabric, the heavier the weight the better
• 1 yard oil cloth, optional (you can also line it with another cotton, the same print as the outside, or nothing at all!)
• ½ yard ultra-firm stabilizer, optional (this is for the bottom of the bag, I used Peltex)
• Grommets in the size and shape of your choice (mine are 7/16th")
• Purse handle of your choice (my brown braided handle is from Hancock Fabrics)
• Sewing machine, coordinating thread, pins, scissors, ruler
•
Start by measuring and cutting your outside fabric into a 33" wide by 38" tall rectangle. If you are using a directional pattern, make sure you orient your fabric correctly. To ensure the lining and outside fabrics match up perfectly, I always find it best to lay my outside fabric over my lining fabric to cut it out (bottom left). You should end up with a 33×38" rectangle cut from both fabrics (bottom right).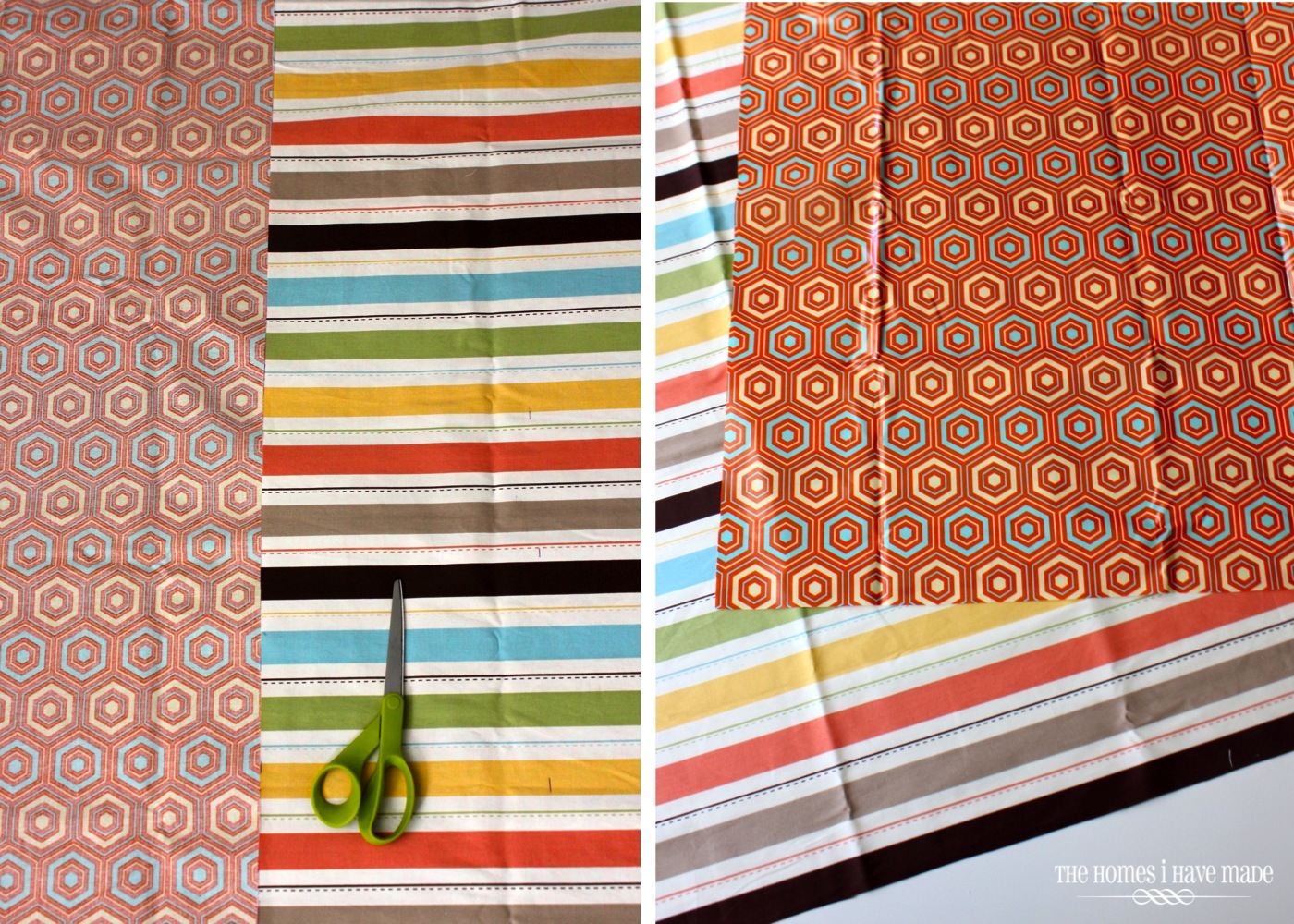 Note: the follow steps should be repeated for both the outside (striped) and lining (hex) fabric; only one set of directions is shown here!
With right sides together, fold the fabric in half length-wise, matching up the top and sides. Press the bottom seam (the fold), and pin down both sides of the rectangle.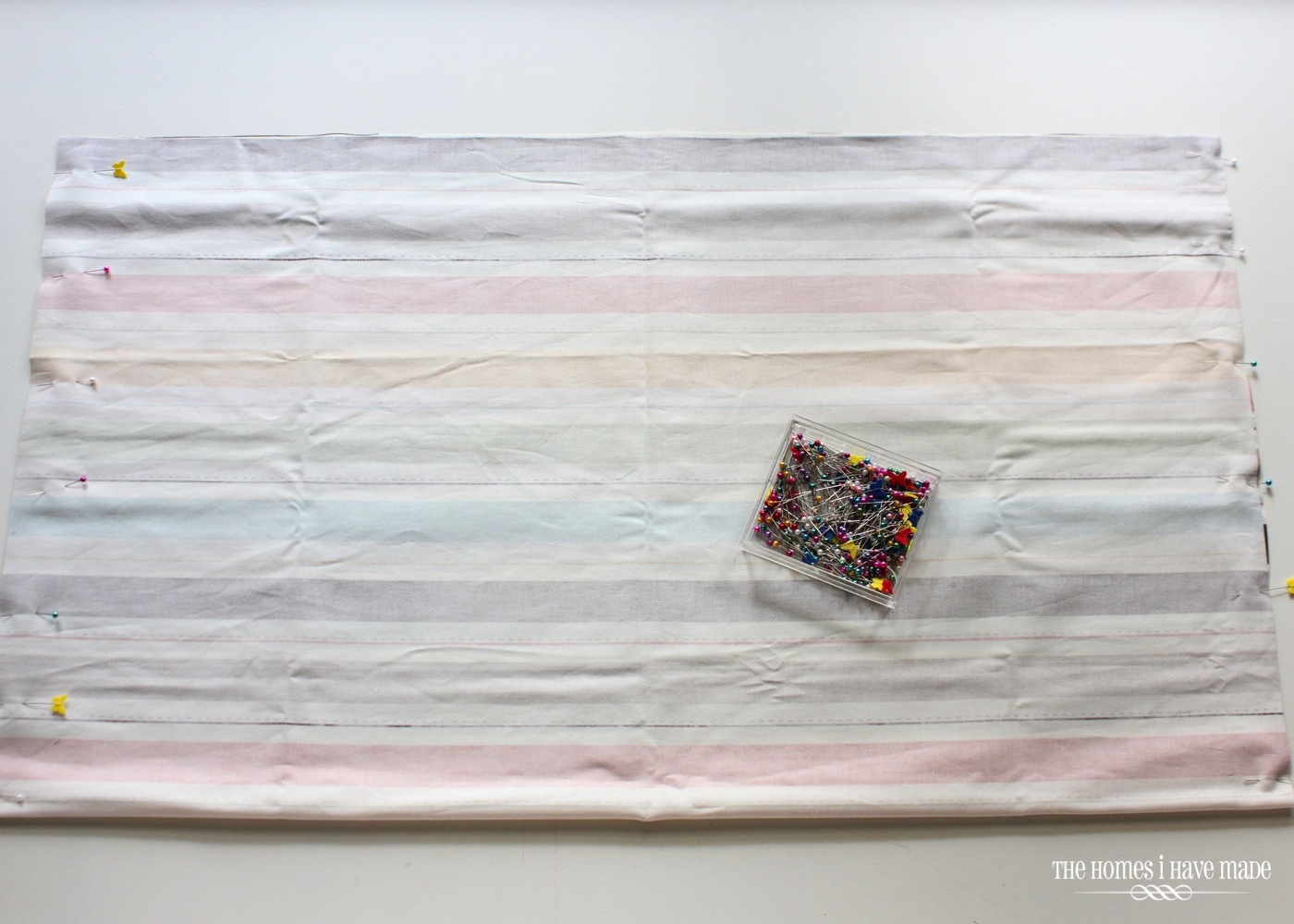 Sew down each side of the rectangle with a ½" seam allowance (bottom left). Open up the bag and line up one of the side seams with the pressed seam in the bottom of the bag to make a triangle on the outside of the bag. Smooth the seams down flat and ensure your triangle is even on both sides of your sewn seam. Measure down 4" from the top point of the triangle and draw a line with a pencil or disappearing pen (bottom right).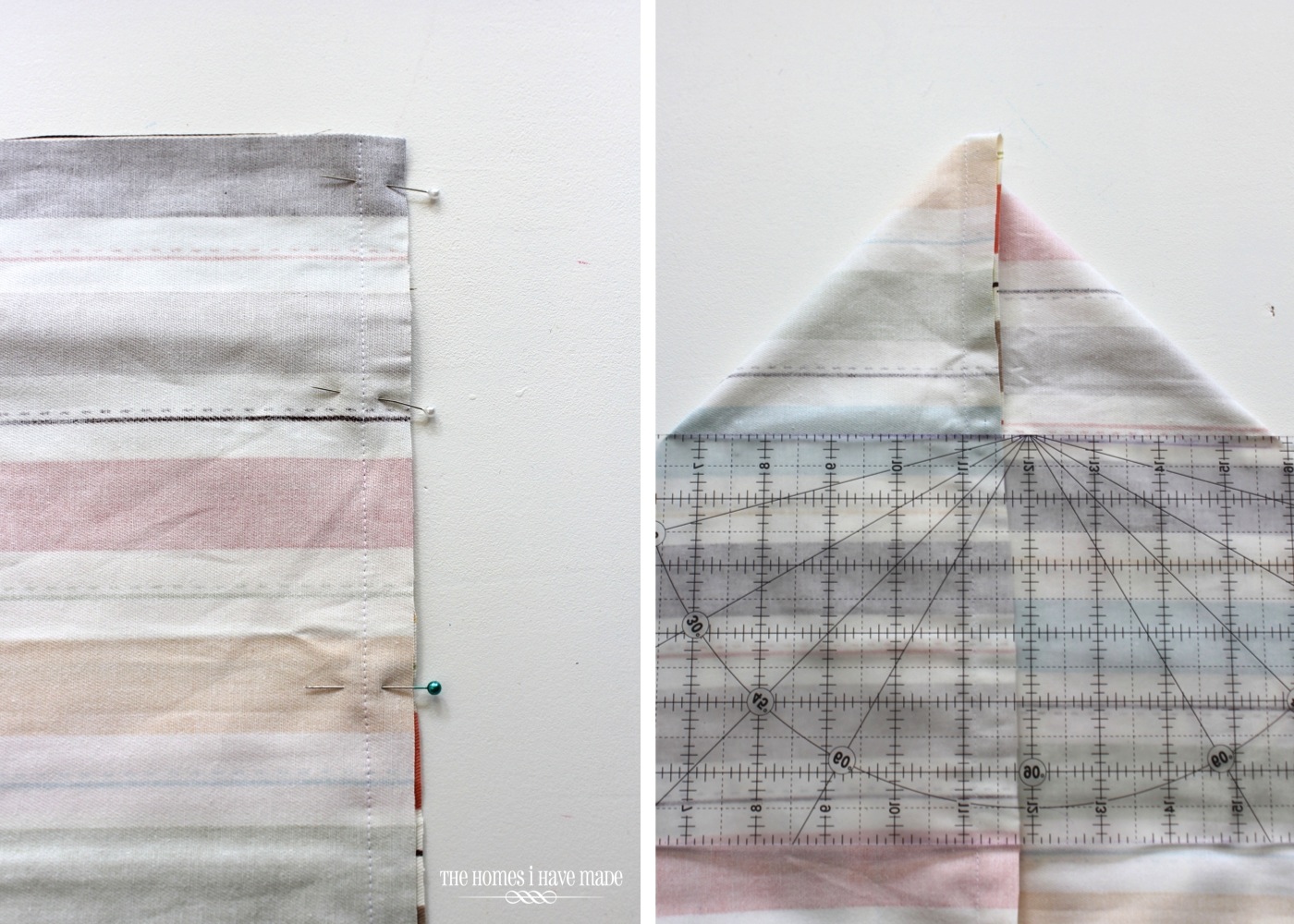 Pin and sew across the line you just drew.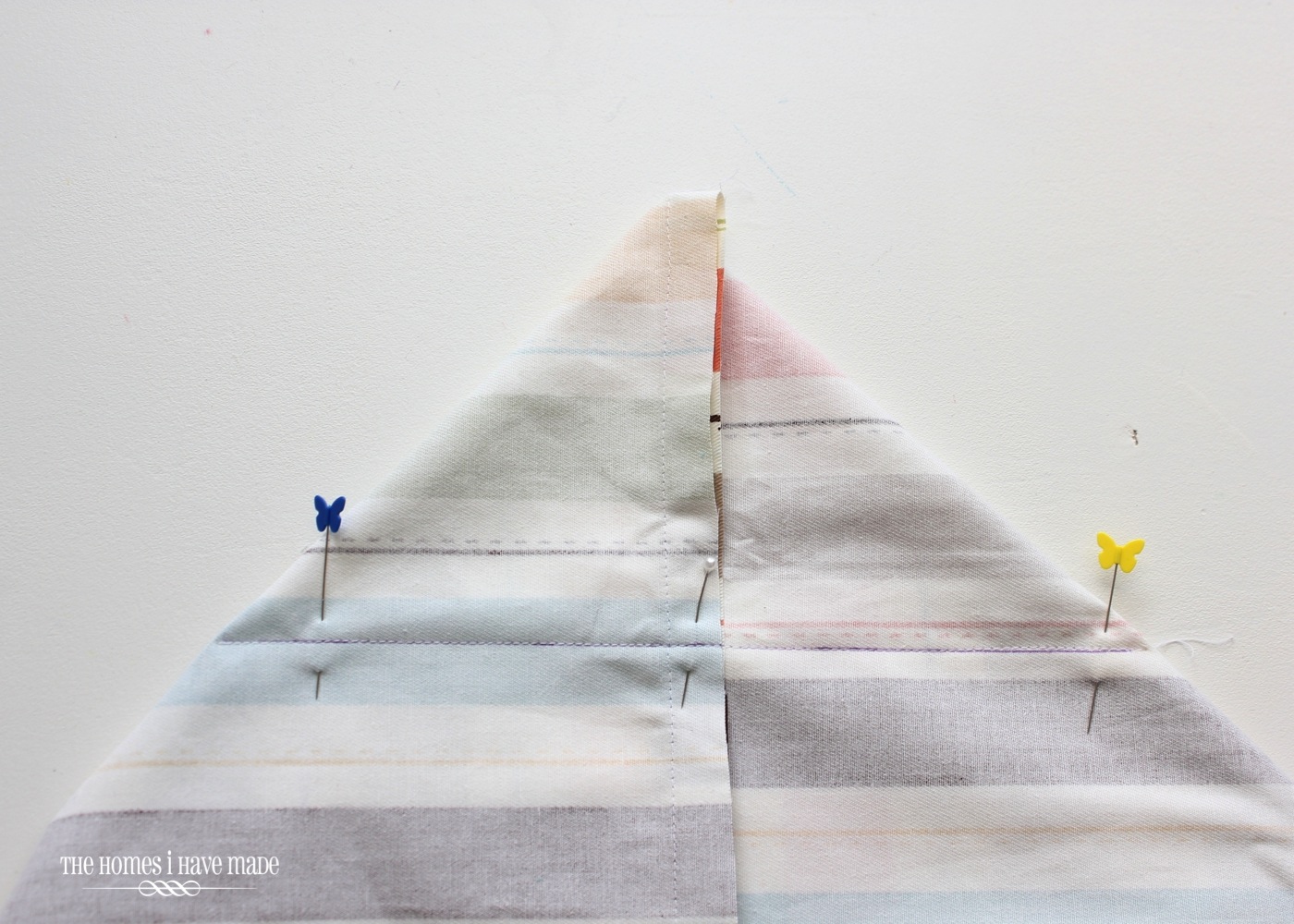 Remove your pins and repeat on the other side of the rectangle. When you flip your bag right side out, you should have successfully made what are called "box corners" on both sides of the bag!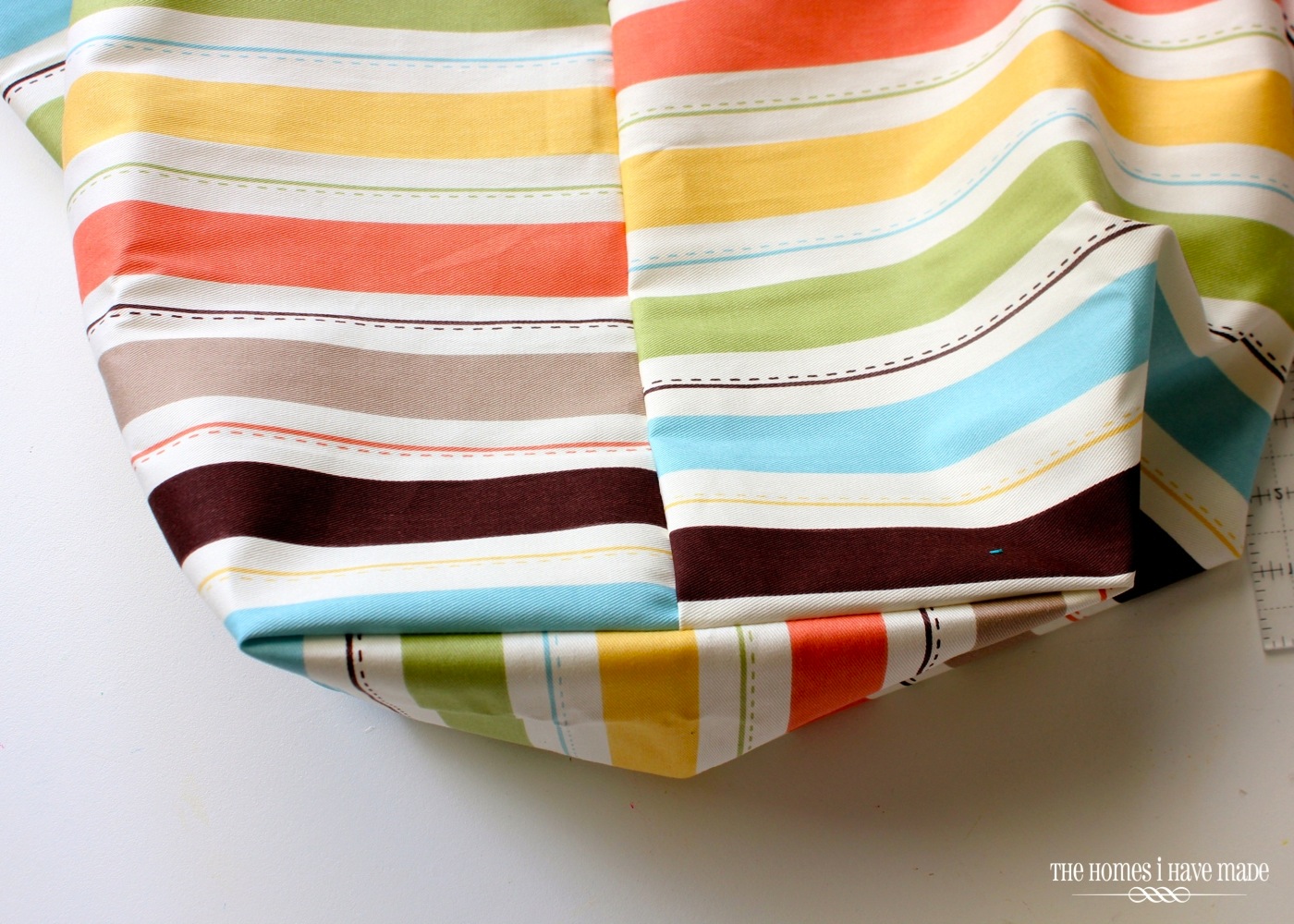 Now, repeat all those steps with the other rectangle of fabric (the lining). When finished, you should have two identical boxed out bags. Turn the outside bag (stripes) right-side-out, and leave the lining bag (hex) inside-out. (not shown).
To give the bottom of the bag a little more sturdiness, cut a 10"x23" rectangle from ultra-firm stabilizer and placed it in the bottom of the outside bag (stripes).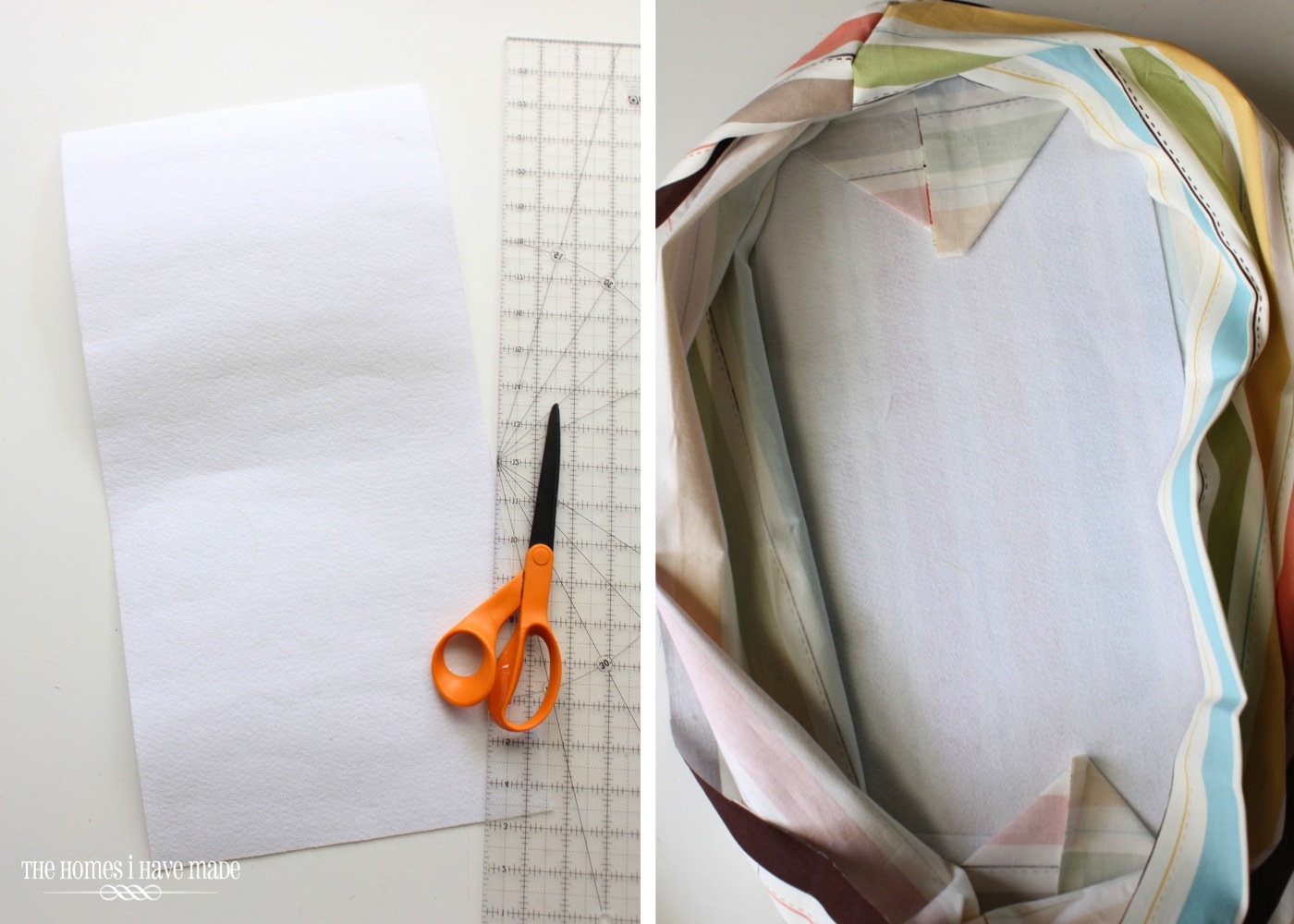 Next, place the inside-out lining bag (hex) into the outside bag (stripes), lining up all the edges and seams. Fold the tops of each bags into each other ½", pin around the top perimeter, and sew the entire lining to the bag with the sewing machine right along the top. Your bag is now essentially done, you just need to add some sort of handles!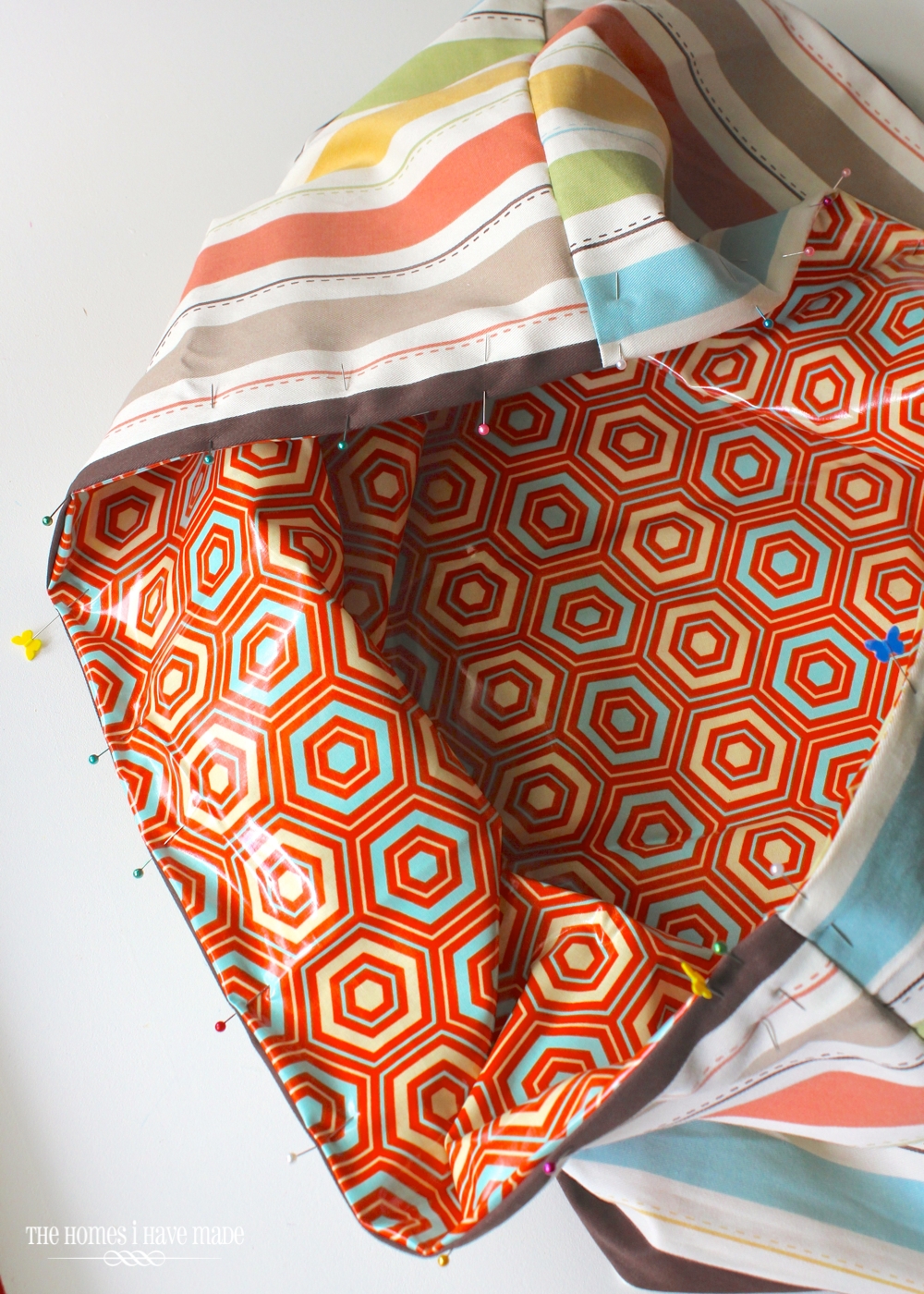 One of the quickest and easiest ways to add handles to a bag is using grommets and a store-bought handle. To attach the grommets, use a grommet tool available for just a few dollars in the same sections as the grommets at the craft store. Attaching the handles might require pulling the rings apart with pliers, securing around the grommets and closing back up!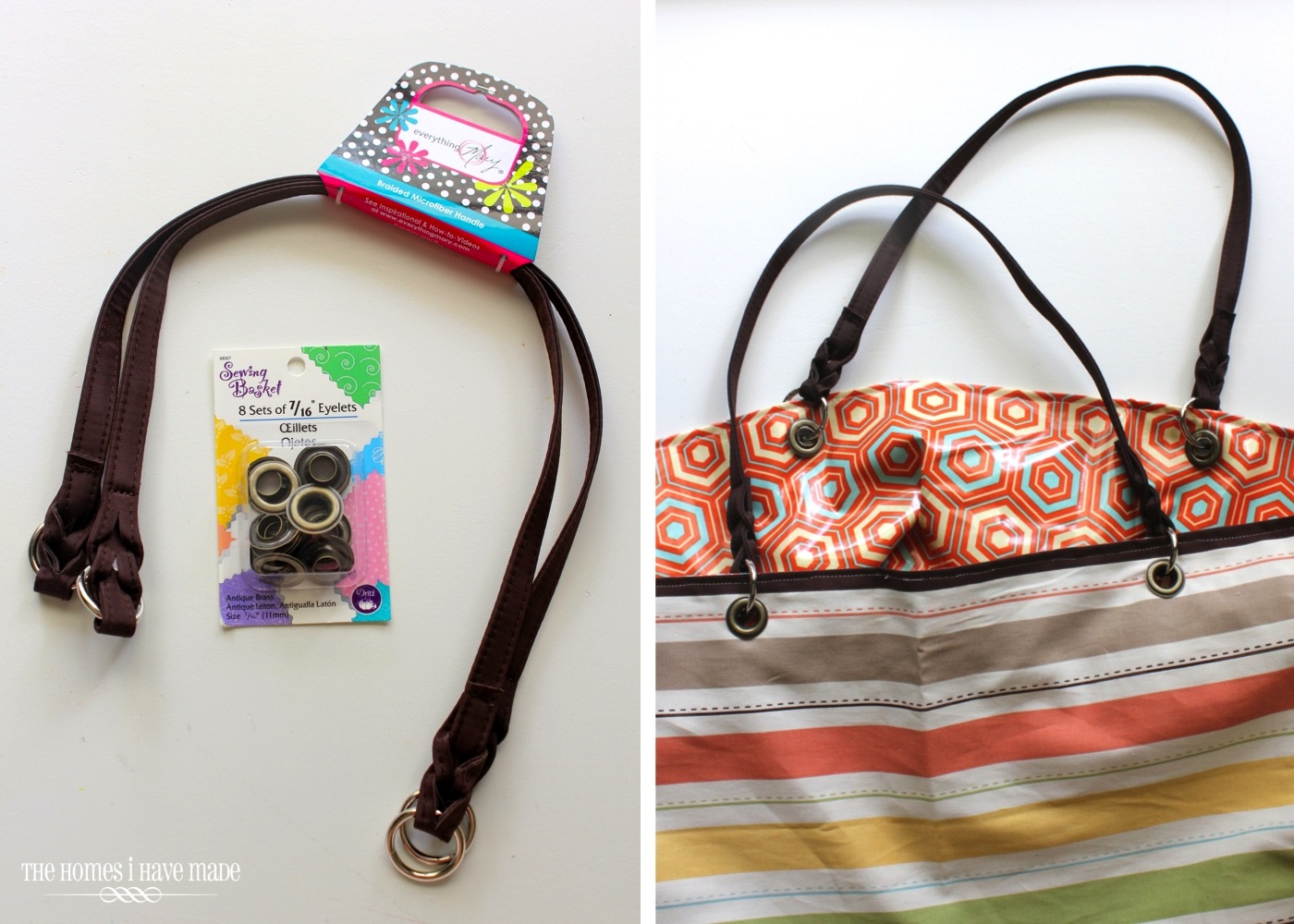 You're all done! Load up your bag and off you go!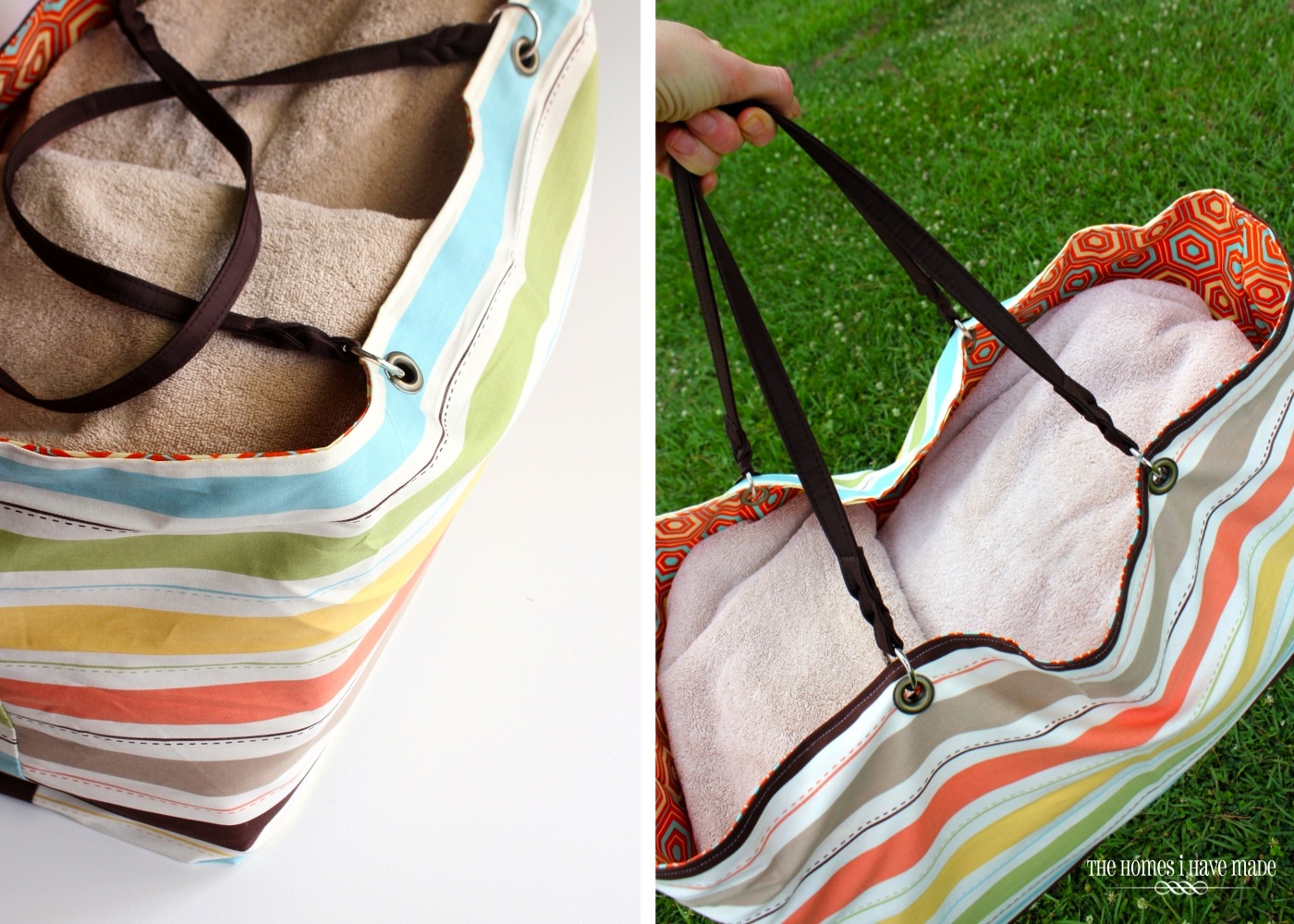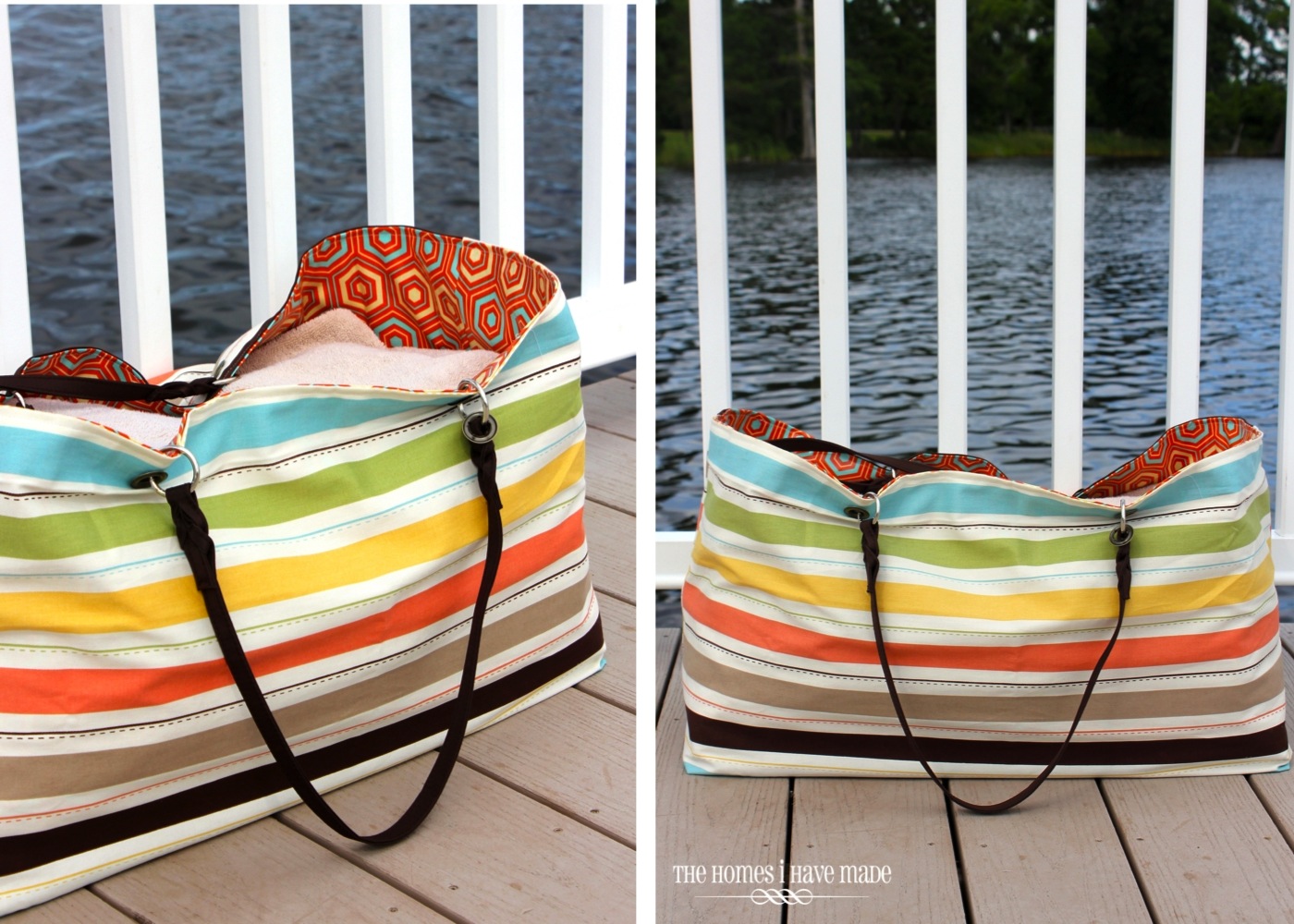 This bag really is a fun and quick afternoon project; and depending what kind of supplies you have on hand, will cost you anywhere from $5-$20! With such generous dimensions and no zipper, it really is a great tote for stuffing full of beach gear to make getting to and from your summer activities a bit easier!