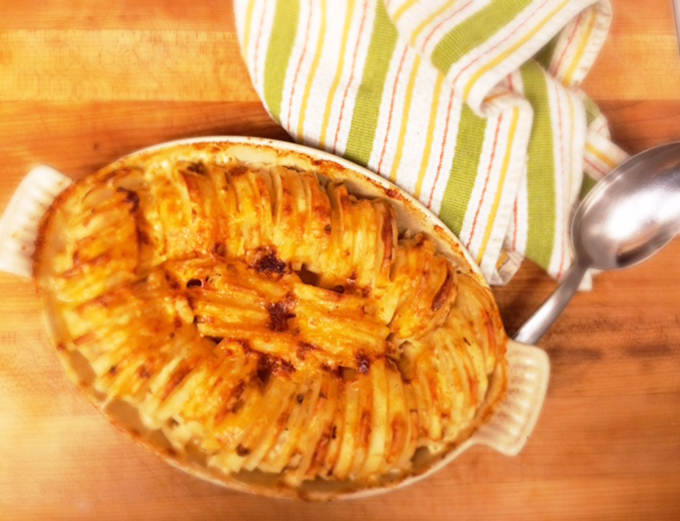 For those of us who didn't get enough potatoes during Thanksgiving…. I'd like to introduce you to my favorite potato gratin dish! This starchy side is both delicious and beautiful to serve. The golden brown potatoes are sliced thin like in a Hasselback style, and are tender and topped with cheese. The perfect addition to your dinner table!
Hasselback Potato Gratin
4 lbs. russet potatoes, peeled and sliced to 1/2″ thick
2 tablespoons butter
1 cup cheddar cheese, shredded
1 cup Gruyere cheese, shredded
1/2 cup Parmesan cheese, grated
2 cloves garlic, chopped
1/4 cup heavy cream
1/2 cup chicken broth
1 teaspoon salt
1/2 teaspoon ground black pepper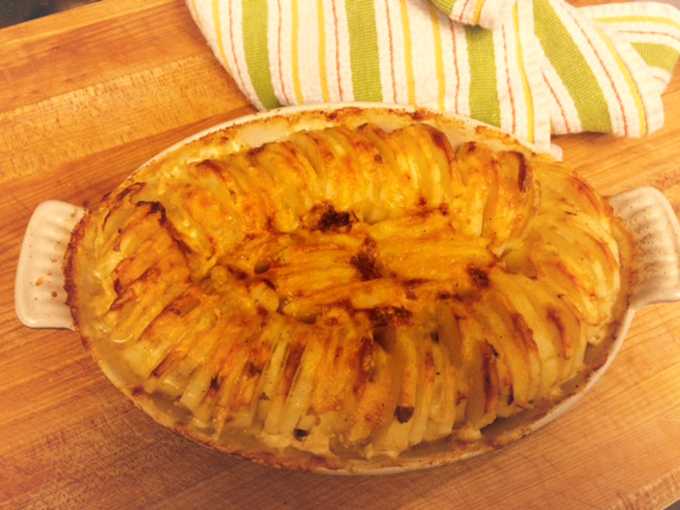 Heat oven to 400 F.
In a large bowl, combine 1 cup cheddar cheese, 1/2 cup Gruyere, ½ cup Parmesan, chopped garlic, heavy cream, chicken broth, salt and pepper.
Butter casserole dish. Add half the amount of sliced potatoes to the cheese mixture and toss to coat. Stand up and arrange tightly around casserole dish starting around the outer rim. Add more potatoes to mixture as needed and fill casserole dish until potatoes are used up.
Pour any remaining liquid over potatoes and sprinkle with remaining Gruyere. Cover dish with foil and bake for 30 minutes.
Remove foil and continue to bake for an additional 30 minutes or until tender and golden brown. Allow to cool for 10 minutes before serving.