It is the peak of summer and that means the peak of peach season. At last week's farmers market, I found the sweetest peaches with just the right touch of tartness. I bought 5 pounds and didn't look back. After enjoying a few fresh, juicy ones, I decided to make a fresh summer peach pie. Here is my favorite recipe for a double-crusted peach pie…the best way to enjoy your sweet peaches!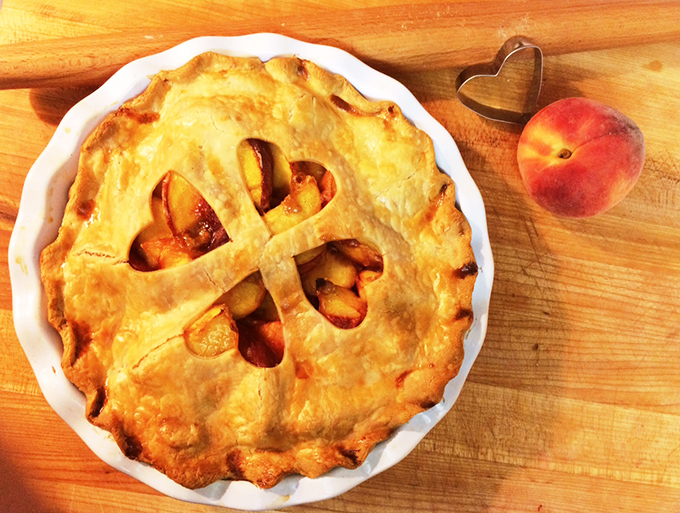 PIE DOUGH
Yield:  one 9″ double-crust dough
3 cups all-purpose flour
1 teaspoon salt
1 teaspoon sugar
1 cup butter, cubed into ¾" pieces
¼ cup cold water
In a large bowl, combine the flour, salt, and sugar.  Scatter the butter cubes over the dry ingredients and using a pastry blender, or your fingers, quickly cut the butter into the ingredients. Once done, pieces should be the size of peas.
Sprinkle half of the cold water over the butter mixture.  With a spatula, lightly toss the mixture to incorporate.  Do not overwork the dough, or the butter may melt. Continue to add water in small amounts until the dough is rough but pliable and holds together when pressed to the side of the bowl. Form the dough into a disc shape, then cover in plastic wrap and place in refrigerator for 1-3 hours before rolling.
On a lightly floured surface, roll half of the dough out to a 1/8″ thickness.  Transfer the dough to the pie plate of your choice and press lightly until the dough forms to the edges and bottom. Trim the edge of the dough, if needed, so there is a ½ inch overhang on the edges. Transfer the crust to the refrigerator for an hour before baking. Roll the second half of the dough to same thickness and chill until ready to top the pie.
PEACH FILLING
3 lbs. yellow peaches, pits removed, cut into ½-inch slices
2 tablespoons lemon juice
3 tablespoons brown sugar
3 tablespoons all-purpose flour
½ teaspoon ground cinnamon
In a large bowl, combine peaches, lemon juice, brown sugar, flour, and cinnamon. Toss the peaches gently to coat.
Add the peaches to the prepared pie dough. Cover with the chilled top crust and pinch the edges to seal. Cut slits in the dough to allow steam to escape (this can also be done beforehand if you prefer more intricate designs for the top crust). Place the pie in the refrigerator until the oven is pre-heated and your egg wash is ready.
Heat oven to 375F.
In a small bowl, whisk together 1 egg with 1 tablespoon of water. Once oven in ready, brush the pie generously with the egg wash. Bake for 65-75 minutes or until the crust is golden brown and the fruit is bubbling. Allow to cool for at least 30 minutes before cutting and serving.