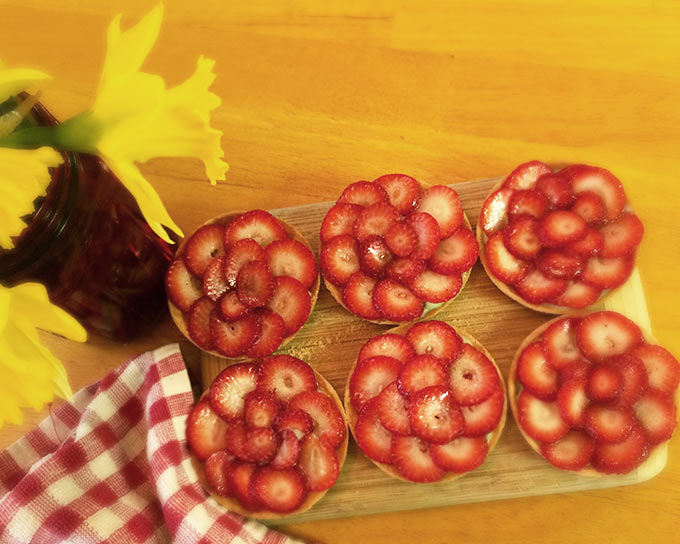 After such a harsh winter, I think we are all ready for spring! Strawberries and cream tarts are the perfect light dessert for the approaching warmer weather! The sweet tart dough can be used for any dessert, and the pastry cream's uses are endless…make perfect cream puffs, eclairs and cake filling. Be sure to keep these recipes in your arsenal!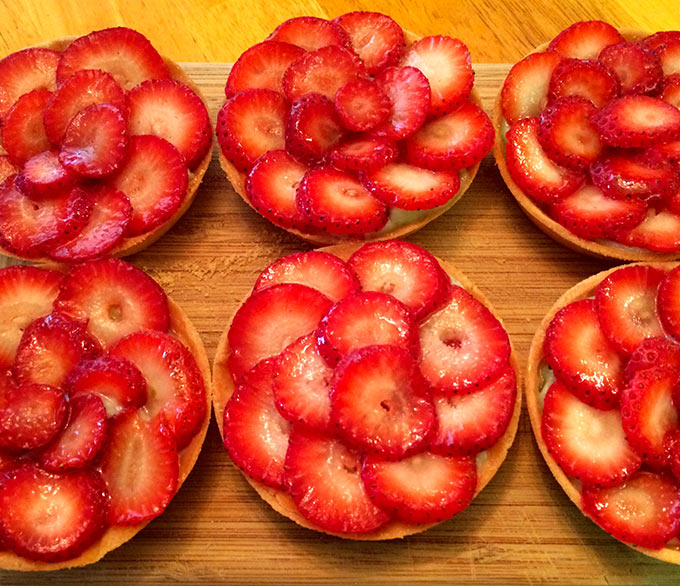 STRAWBERRIES AND CREAM TARTS
Tart Dough
yield 2 large tarts or 20 small tarts
1 lb. butter
1 teaspoon vanilla extract
1 ¼ cup powdered sugar
1 lb. 8 oz. cake flour
½ teaspoon salt
2 eggs
In a food processor, add butter, vanilla and powdered sugar. Cream until, light and fluffy, about 2 minutes. Scrape down the sides of the bowl, and add flour and salt. Pulse until combined. Add eggs, one at a time, and pulse until the dough comes together, be sure to scrape down the sides of the bowl, if needed. Scoop out roughly ⅓ of the dough and cover in plastic wrap. Flatten the dough to allow for even chilling. Continue with the remaining ⅔ of dough. Allow the dough to chill for at least 3 hours, or overnight.
Heat oven to 325 F.
When ready to use, pull the dough from the refrigerator and allow to warm slightly. The dough will be hard. You may need to pound the dough with your rolling pin to help flatten it. When manageable, roll to ¼-inch thick, using flour to prevent sticking. Cut the dough with round cutters that are slightly bigger than your tart molds, or fit into a large tart ring or square, and trim the edges. Fill the dough with pie weights or beans and bake for 15 minutes. Remove from the oven and remove the weights. Continue to bake another 10-12 minutes, or until golden brown. Allow tarts to cool before filling.
Vanilla Pastry Cream
yield 3 cups
2 cups milk
⅓ cup cornstarch
1 vanilla bean, scraped
6 egg yolks
½ cup sugar
3 ½ tablespoons butter
In a medium pot, whisk together milk, cornstarch and vanilla bean and seeds. Warm over medium-high heat, whisking constantly. While it warms, whisk together egg yolks and sugar. Once milk is hot, whisk in yolks and sugar. Continue stirring until the pastry cream is very thick, about 3 minutes. Pour the cream through a fine sieve into a large bowl. While still hot, add butter and whisk until combined. Cover the pastry cream with plastic wrap, touching it to the surface. Allow to cool for 2-3 hours.
Fill tarts with pastry cream. Slice strawberries into thin rounds and arrange on your tarts. Feel free to use any seasonal fruit, everything is delicious with this pastry cream. Enjoy!