Fall is officially here and we are all in need of a quick and easy soup recipe. I love this one because you can throw everything into the crockpot and forgotten about until dinner time. Just the right amount of spice and flavor will make this a hit with the whole family!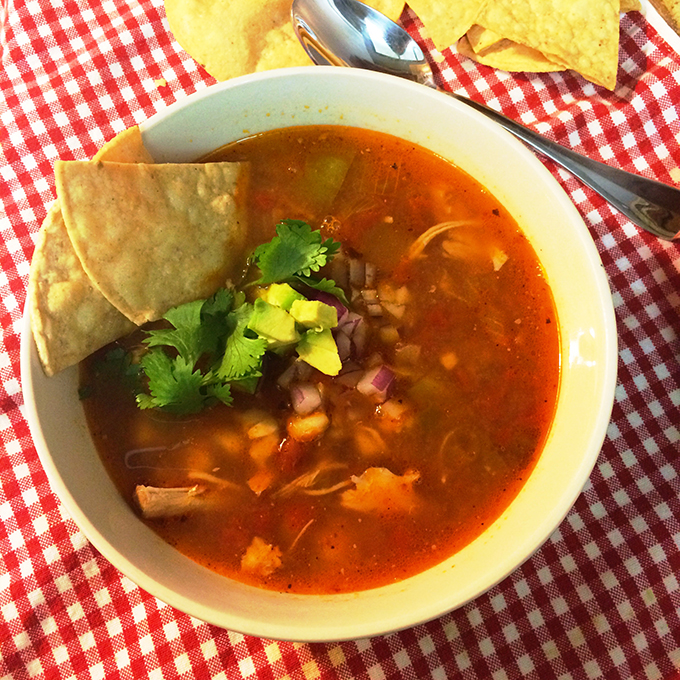 Crockpot Chicken Tortilla Soup
1 teaspoon cumin
1 teaspoon chili powder
½ teaspoon garlic powder
½ teaspoon salt
3 chicken thighs, skin-on
1 cup yellow onion, diced
½ cup green bell pepper, diced
2 tablespoons tomato paste
3 cloves garlic, minced
1 can Rotel tomatoes and green chilies
1 can black or pinto beans, drained
1 can corn kernels, drained
5 cups chicken stock
Crockpot, at least 6 quarts
Canola oil
Garnish
Sour Cream
Avocado
Red onion, minced
Cilantro
Lime wedges
Corn tortilla chips
In a small bowl, mix together cumin, chili powder, garlic powder, and salt. Season chicken thighs thoroughly with the mixture. In a large saute pan over medium-high heat, add 2 tablespoons canola oil and chicken thighs, skin-side down. Cook for about 4 minutes per side, or until golden brown. The chicken will finish cooking in the crockpot. When done, set thighs aside on a paper towel.
Using the same pan, heat 1 tablespoon canola oil over medium heat. Add onions, green peppers, and a pinch of salt. Allow to cook until softened, stirring frequently. Add tomato paste and garlic, and cook for an additional 2 minutes. Add 1 cup of chicken stock to the pan and mix all together until the tomato paste is dissolved. Pour the contents of the pan into the crockpot.
Add the can of Rotel, beans, corn, and the rest of the chicken stock. Cook on high for at least 4 hours (or low for 8-10). Remove chicken thighs, shred meat, remove the bones, and add back to the soup, if desired. Check seasoning and add salt to taste.
Serve with traditional garnishes and tortilla chips!