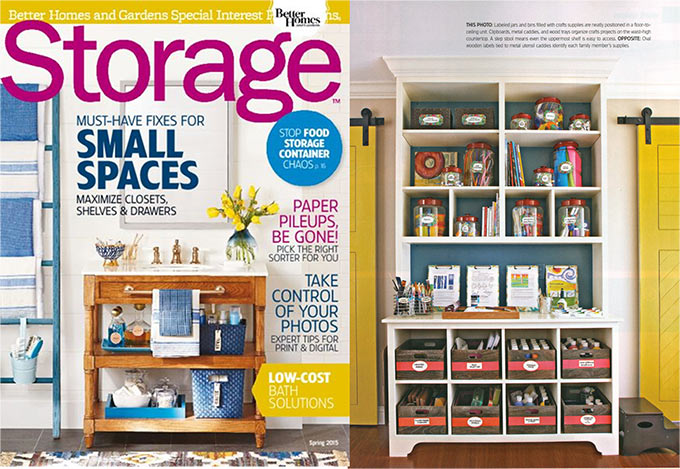 When the Better Homes and Gardens Special Interest Publication "Storage" recently hit the newsstands, I found our craft room featured inside. A friend asked, "How do you get into a magazine?" Well, I didn't have anything to do with it, but rather the interior decorator I worked with on the project, Jenna Burger. I had been a big fan of her blog for some time; it's loaded with great ideas! She worked with a producer located in the Saratoga Springs area at the time and the two of them really made this opportunity come to life.
Let me back up just a bit…
Shortly after moving into our home in 2013, it became clear that my husband and I needed some outside help on home renovations and design ideas. My true passion may be art, but I'm not ashamed to admit that I wanted a helping hand designing my dream space. The first project I wanted to conquer was changing a living room space into a large arts and crafts room with an office and reading area. I wanted a space dedicated to creating paintings, drawings, and crafts with my son.
My goal was simple; create a bright and happy space for myself and my family that could rival any family room with a wide screen TV and the latest video games. Jenna met with me, then created a mood board and drafted the custom storage units, mega craft table, office built-in, and darling reading nook. She had the wonderful idea of sliding barn doors and a tall craft table that could be moved throughout the room when needed.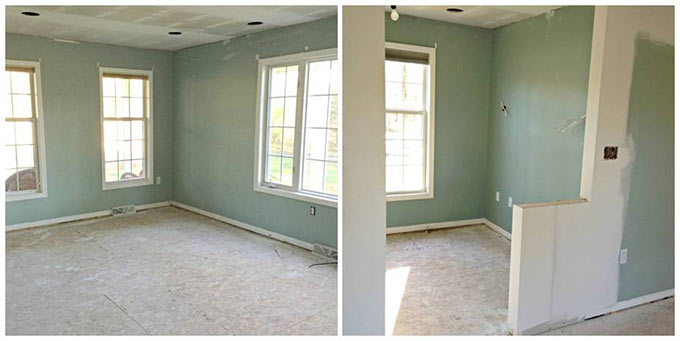 Big changes happen fast. Once the carpet was ripped up and the wall opened up to the office and reading nook, I had a feeling of how the room was going to look.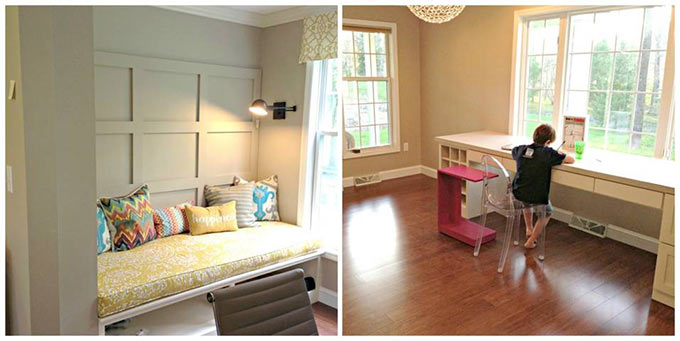 As the room began to come to life, Jenna asked if she could present the room to Better Homes and Gardens. I thought it was a great idea, but didn't have any expectations. When Jenna showed the room, the producer thought it was a good fit for their "Storage" magazine, but asked if we would also be interested in doing a kitchen makeover. Oh my goodness, I was excited but a little overwhelmed…so this is how these things happen. I'll have to leave the kitchen renovation for another post, but you can see the wonderful Command Center that was created (and also featured in Better Homes and Gardens :)) here.
Soon items for the photo shoot began arriving to the house and I was finding my old art books and filling bins and baskets with supplies. Watching a stylist organize a room for a shoot is fun; the ideas are for the camera lens and how things will read. Less is more and you need lots of big things to fill space and add color. I wouldn't have thought of storing the art supplies in the jars, but I loved the look once everything was put into place and of course once our Name Bubbles Write-On Labels were added.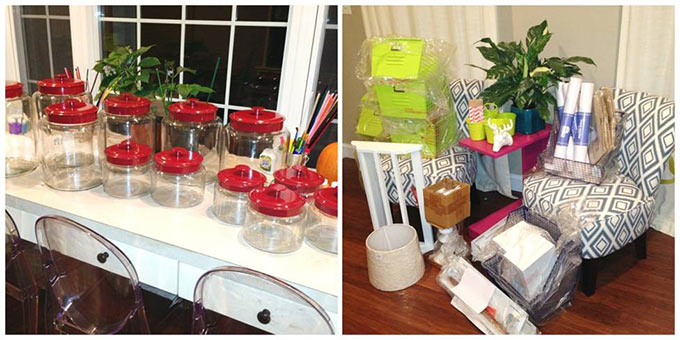 Living through renovations can be frustrating, but seeing the outcome and to top it off, my home in such a beautiful magazine spread, makes it all worth it. Because of this huge honor and because we're so excited our labels have been featured, Name Bubbles is offering 20% off all Write-On Labels now through Sunday, January 25th! Just use code: BHG

I must admit, I've been giggling since the magazine came out, the room will never be the same. The room is a kid haven, well used and well loved.