Is it just me? What happened to Thanksgiving? Because we've seemed to jump over the holiday, and it's still my favorite, the Brandriss family has begun to create and craft some of our own festive decorations that can be used through the years. I found a wonderful "stained-glass" bunting on The Artful Parent blog that I thought would liven up the big window next to our dinner table.

This craft took a little over two hours, but Cooper loved watching the crayons melt, and we both like how the fall colors brighten up the room. I plan on using it again in the years to come. To make the project more Thanksgiving-focused, the Name Bubbles team has created a Happy Thanksgiving printable that can be sandwiched in between the pennant sides, along with melted crayons, to show silhouettes of the letters, pilgrim hats, and turkey shape.
What You'll Need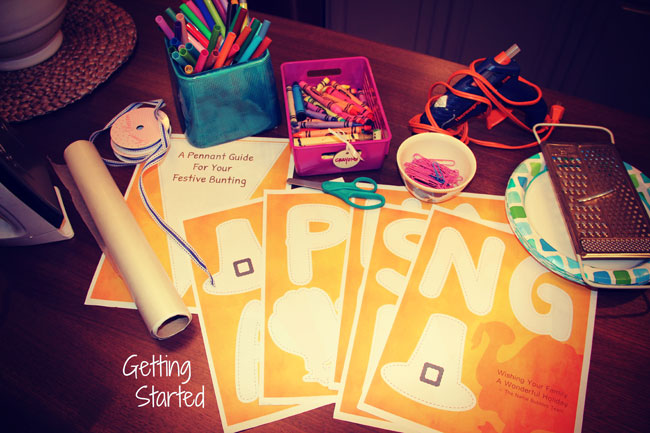 1)     Wax Paper
2)     Fall Colored Crayons
3)     Ribbon
4)     Ink Pens
5)     Cheese Grater
6)     Paper Plates
7)     Paper Clips
8)     Scissors
9)     An Iron
10)   A Glue Gun
11)   Name Bubbles Thanksgiving Printable  – Click here to download!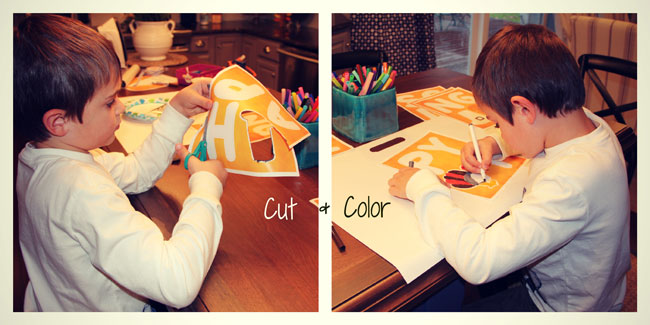 This was a perfect project for a rainy Sunday. It kept Cooper focused and will help decorate our home for our Thanksgiving family gathering. We quickly moved from cutting and coloring the letters, turkey outlines, and pilgrim hats to grating fall-colored crayons onto paper plates. (Be mindful of the color brown; we used a little too much and it made a few pennants muddy-looking. Also, some of the prettiest pennants had a small amount of crayon shavings; a little goes a long way!)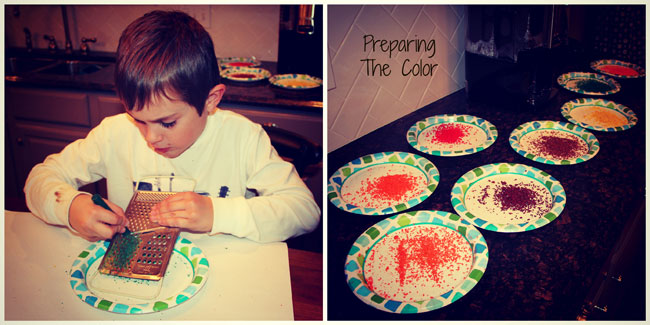 Once the colors have been prepared, roll out the waxed paper and begin tracing the triangle shape. Keep the shape in place with paper clips at one end of the wax paper roll. Use a quick-drying pen (our Name Bubbles Write On! Pen is the bomb for this). As you create your row of triangles, you'll see that another row is developing on the other side. Once you have 20 triangles drawn out, begin to spread out your crayon shavings. I liked using the paper plates — they bend and make it is easy to pour neatly. When you have sprinkled the desired amount of crayon shavings, place a Thanksgiving letter, pilgrim hat, or turkey in the center of the pennant shape. I liked this exercise for my son; he had to see that half of the letters were upside down.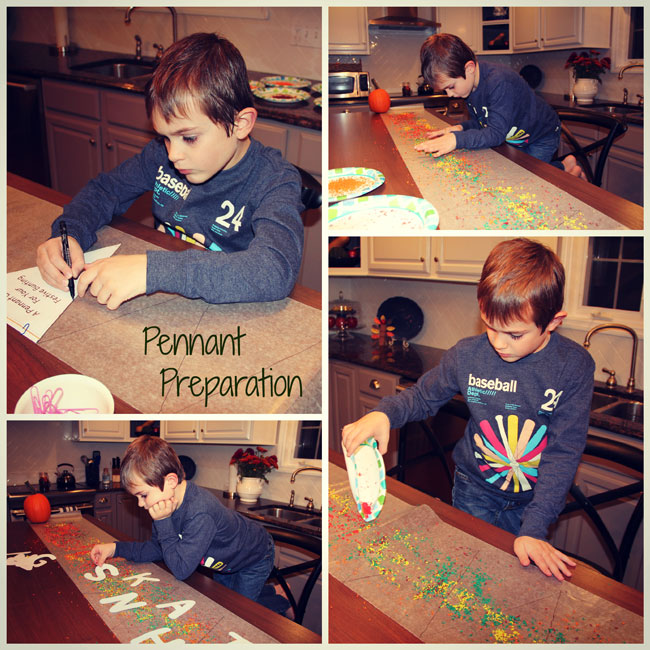 Are your letters all set? Great! Now the fun part begins. Roll out an equal length of waxed paper and sandwich the color and the letters in between the two pieces. Paper clip the sides and take care not to jostle or move the letters or shavings. We worked on our kitchen island because my ironing board is very close to the same height, and I wanted to gently pull it off the island as I was ironing.
When ironing, remember these tips: Don't put the heat settings too high; medium-low should do the trick. Try a test piece or two and practice a few; I had the iron too hot and pushed the color around too much on the first attempts. I found that you can use the iron in different ways to create different melting affects. It is very important that you place parchment or art paper between your project and the ironing board on the bottom, and between the project and iron on top of it.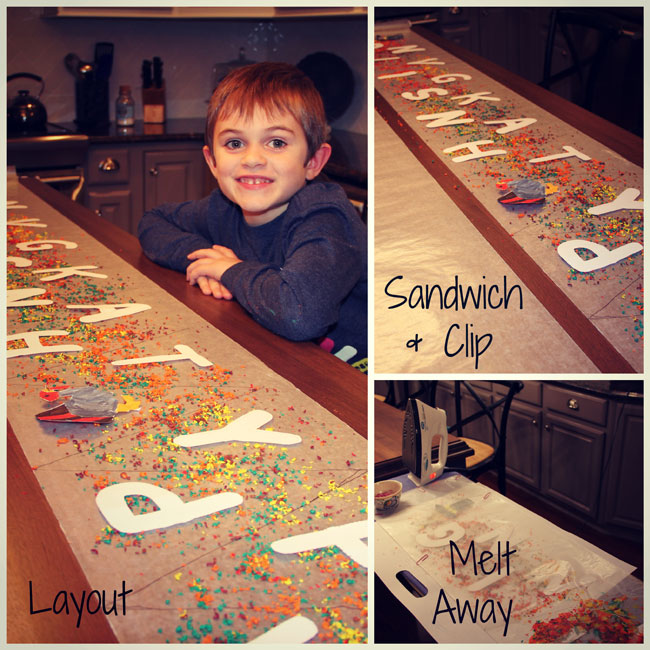 As the crayon is melting and you reveal each pennant or get a peek at what's happening, you'll love watching your child's reaction. It was really fun and I found myself consistently surprised by the results of the melting crayons. Next, trim the pennants down and attach them to a ribbon with a glue gun or a quick stitch on a sewing machine.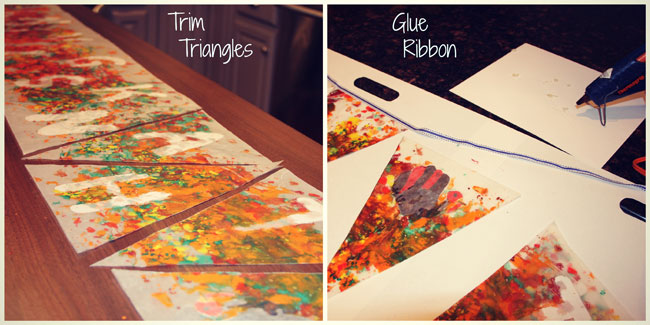 You can create one long bunting, as we did, or do two buntings with Happy on the top and Thanksgiving on the bottom. Select your window and be sure to hang your hard work together. These are the kinds of decorations your kids will want to keep for years to come.
Have a wonderful Thanksgiving, and don't forget to enjoy the entire day. It's not about the 20 minutes in which you get to rest and eat; it's the time you have with your family and the memories you make. Besides, who cares if the turkey is overdone? There's always gravy.