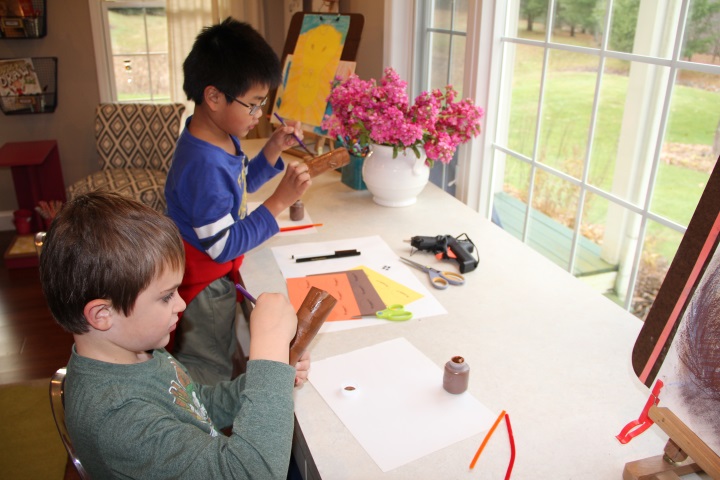 After seeing the matinee showing of Free Birds this weekend, my son and his friend continued on with a play date. Having two 7-year old boys cooped up in the house on a rainy day can be challenging, especially when they've just sat through a movie and snacked on candy and soda. I saw our outdoor options quickly diminishing, so I jumped online to see what arts-and-crafts project would capture their attention for 30 to 45 minutes. I found one that also provided the opportunity for a little lesson, and decided it was worth a try. (Thankful Turkey)

I quickly grabbed supplies: pipe cleaners, construction paper, a paper-towel tube, and, of course, the glue gun. I don't let my son touch or use a glue gun, but I find that it's my must-have; as many of you know, it's for moms what duct tape is for dads. I cut the paper towel tube in half, printed the instructions, trimmed down the colored construction paper to fit the printer, and printed the feather template.
The boys quickly painted the base. It probably could have taken a couple of coats, but they were happy so we moved on. I am learning that it's all about the process and how much we are enjoying the project rather than the end result. Our projects rarely look like the original online version, we think of the sample as a guide or a starting point.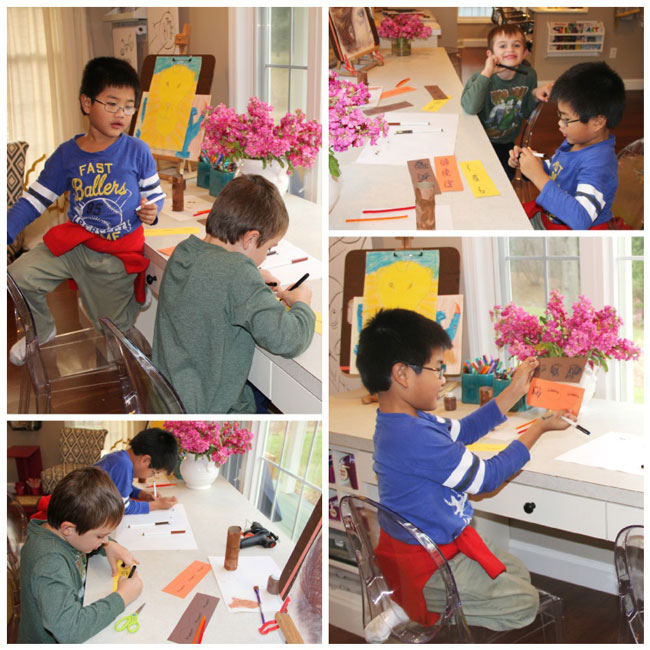 After they rushed through the painting, I was a little worried about the next part of the craft; it involved the turkey's feathers and is where the time is meant to be spent. This was my opportunity to turn this project into something more thoughtful. As I stood next to them, I quietly talked about Thanksgiving and the meaning behind the holiday. I asked them each to think of nine things that they're thankful for, to write each of those things on one of the feathers, and then to cut it out for their special turkey. They were thoughtful and helpful, reminding one another of the TV, sports, and video games that they love. But they also responded with more meaningful answers, such as their life, friends, fun, play dates, and their pets. I thought it was a funny that neither of them wrote mom, dad, or parents on their feathers. Hey, you can't win them all!
As they were trimming their feathers, they looked at the original craft and decided they wanted to make a few modifications. I always encourage this — who wants everything to turn out the same? My son asked for the pipe cleaners but wouldn't tell me his plan. He always says, "Let me show you." This is when my son is in the zone: He is focused and unless he's going to hurt himself, I am typically game and will roll with it. He poked holes through the tube and made legs with feet, which I found rather amusing. He grabbed a few red pipe cleaners, wadded them up for a head, made another shape for a neck, and trimmed a piece of orange pipe cleaner for the beak. As he was gluing on the googly eyes, his friend asked for help but wanted his wadded-up head glued right on the tube without a neck. They had put their own spin on the project, and it was looking good.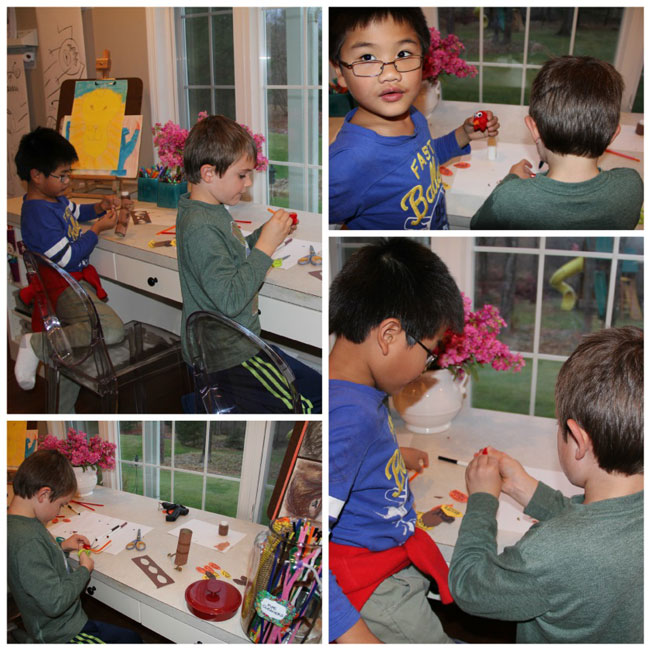 Once the heads were complete I plugged in "Ol' Reliable" and trimmed a pipe cleaner into one-inch pieces to hot-glue the feathers on the back. I also modified the project and skipped a step in the feather preparation, but still considered the project a success. I had each boy direct me where they wanted their turkey's head glued on and I let them do a game of hide-and-seek while I glued on the feathers. I had one half of one bird's feathers on before I stopped the game and pulled out a marble track for them to build. What was I thinking?
With the feathers and heads glued on, this is what the boys came up with. They may not make Martha Stewart Living, but they make me giggle, and we're going to keep our on display all month.