Welcome to summer! I have been waiting all year for the sunshine, the vacations and the sweet fruit of summertime! I recently purchased strawberries that were so ripe, I had to use them within one day. You could just see the juice that wanted to burst out of them. In a rush to make a simple, fast and easy dessert, I whipped together some sweet shortcakes, vanilla whipped cream and, of course, strawberries. These homemade shortcakes are the perfect homemade touch to a summer dessert and are delicious with any fruit. Try them with blackberries, raspberries or even peaches!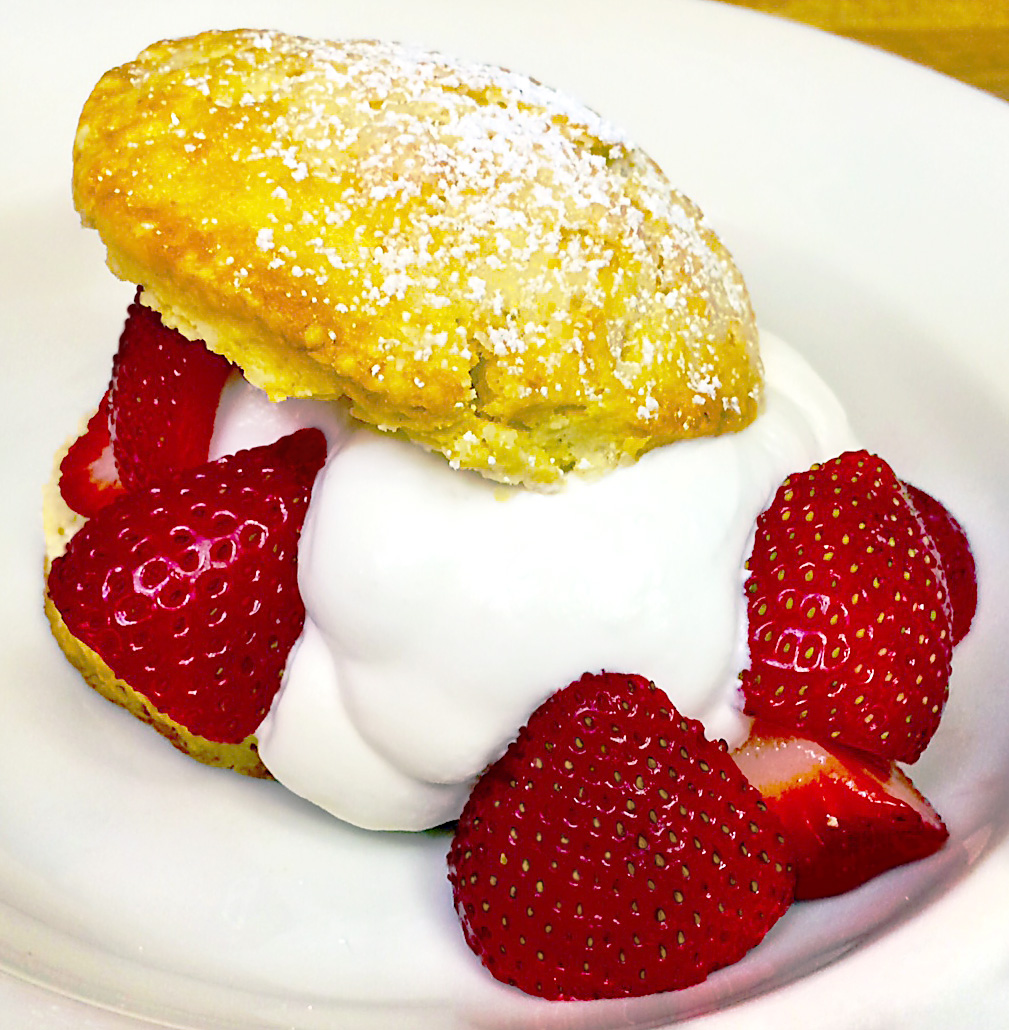 Shortcakes
2 cups all-purpose flour
1/3 cup sugar plus 2 tablespoons
2 1/2 teaspoons baking powder
1/2 teaspoon salt
1/3 cup butter, cut into small cubes
2 eggs
1 1/2 teaspoons vanilla extract
1/2 cup cream plus 2 tablespoons
Whipped Cream
1 1/2 cups heavy cream
1/4 cup sugar
2 teaspoons vanilla extract
Macerated Strawberries
2 lbs. strawberries, cut in half
1/2 cup sugar
1 teaspoon lemon zest
In a large bowl, whisk together flour, 1/3 cup sugar, baking powder, and salt. Add butter and, using your fingers, crumble into flour mixture until it is the consistency of sand.
In a small bowl, whisk together eggs and vanilla extract. Add mixture to the flour and mix with a rubber spatula a few times to combine. Add 1/2 cup cream and stir until dough comes together.
Turn dough out onto a large sheet of plastic wrap, cover all edges and form dough into a 1/2-inch thick square. Refrigerate at least 1 hour. Letting the dough rest will allow for a more tender, flaky and tall shortcake.
While the dough rests, make the whipped cream and berries.
In the bowl of a standing mixer, add heavy cream, sugar and vanilla extract. Whip on medium- low about 5 minutes or until soft peaks form. Transfer the cream to a small bowl, cover and refrigerate.
In a medium bowl, add strawberries, sugar and lemon zest. Stir to combine, cover and refrigerate. The sugar will cause the berries to release their juices and make their own sauce.
Heat oven to 375F.
After resting, remove the shortcake dough from the plastic wrap and lay on a cutting board. Using a 2 or 3-inch round or fluted cutter, cut out 6 cakes. Place them on a baking sheet lined with parchment paper or a silicone baking mat. Brush each cake with cream and sprinkle with sugar. Bake for 10-15 minutes or until golden brown.
When cool, slice shortcakes in half, spoon strawberries and their juices on top and dollop with whipped cream.