With kids it's inevitable to have toys. And toys can often overtake a space in a snap.
For many, a designated toy room or basement isn't possible, what seems to happen is endless amount of colorful stuffed animals, legos, and trains in every corner of every room. Instead of having toys take over, large baskets & storage bins are a great solution to stay organized, keep tidy, and control the clutter.
Here are 11 options for Stylish Toy Storage…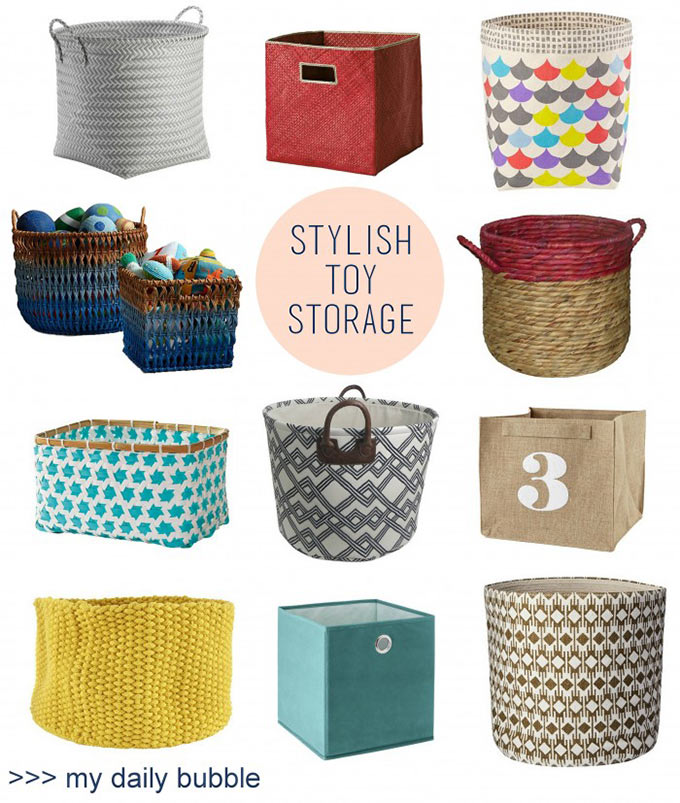 Left to Right: Target MultiColor Round / Serena & Lily Pandan Bins / Land of Nod Scallop Bin / Land of Nod Fade Up Rattan Basket / Target Wicker with Coral / Serena and Lily Mercado Basket /Target EVA Printed Basket / Land of Nod Numbers Bin / Land of Nod Rope Bin / Target Fabric Cube/ Nate Berkus Printed Woven
There are many stylish storage solutions, so having a spot in multiple rooms can actually cut down on the clutter. Kids often play where their parents are – in the kitchen, living room, bedroom – so keep a stash of toys handy in each space. The key is to make the toys accessible with 1-2 baskets (instead of an entire room of stuff). Cleanup afterwards is often faster + simpler. When done, "the stuff" can be out of sight.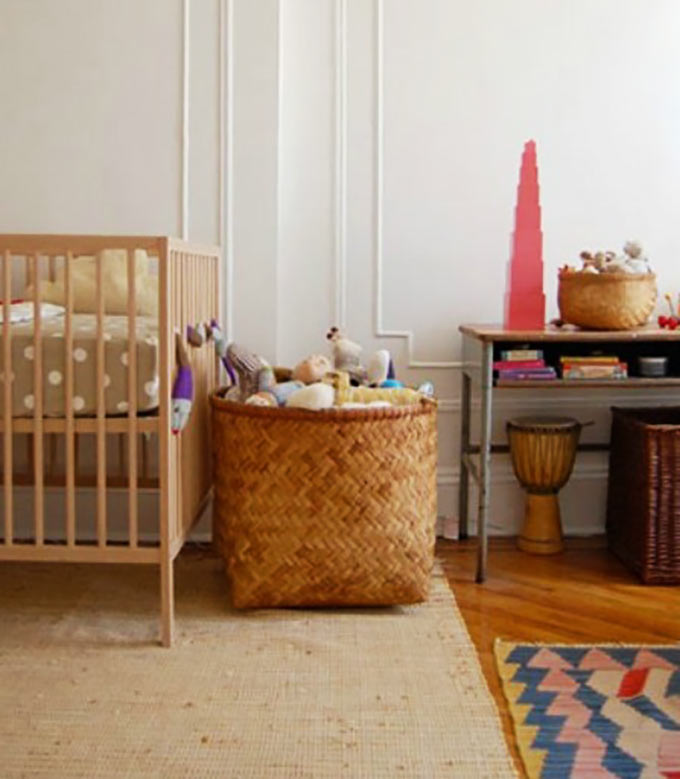 Larger toy boxes are perfect for big trucks & blocks, but for smaller things like Legos and cars, baskets that are more appropriately sized are best to stay organized for specific items. Adding a label or a framed picture of the theme or item to the basket/bin face can be manageable for little kids at cleanup time.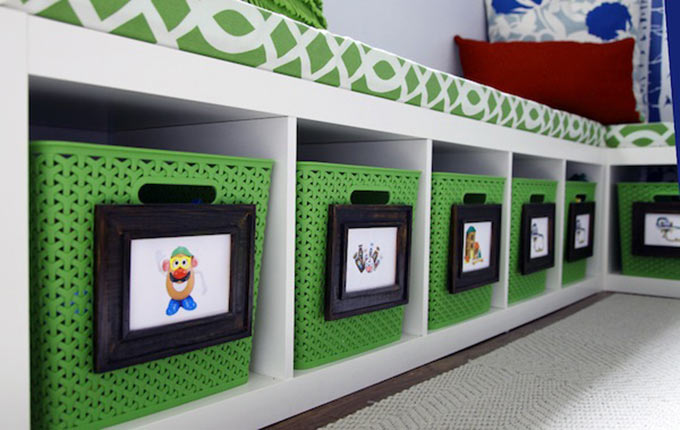 Basket storage with pictures of the items by I Heart Organizing
 Baskets and bins are the perfect way to corral items and to keep the clutter to a minimum. With so many stylish storage options + solutions for toys, gone are the days of them taking over every nook and cranny of the house!
For more great decorating ideas + lots of do it yourself creations for the home, come visit me on my blog Jenna Burger Design.