I'm in awe of the families who regularly get family portraits taken with a pro photographer. We simple don't have the time or extra cash for that so both my husband and I have become pretty handy with a camera.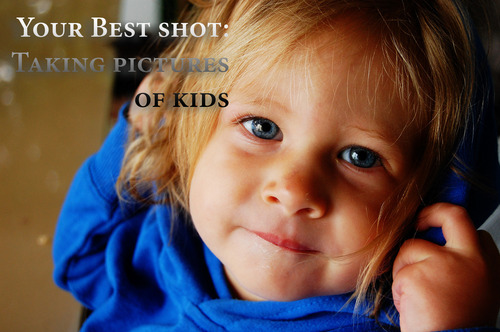 Here are some of the things to keep in mind if you're looking to step up your photo skills:
1. Use natural light as much as possible. The flash is not your friend. It makes the background very dark while making your subject very light.
2. Get close. Fill the frame. Don't be afraid to get nice and close to your kids. It's much more attention grabbing and immediately draws you into their facial features. You'll also get that extra sparkle in their eyes.
3. Take pictures during your family's best time of day. By 7 p.m. at night I feel like life is a blur to us, and that's pretty much how my pictures turn out. I tend to take more pictures in the morning when both girls are well-rested (the picture above was during lunchtime, always a good time in our house).
4. Get down to your kid's level. Don't stand above them and take the pictures. Sit on the floor (or the grass) with them. You'll get a much better picture and you'll put them much more at ease. It's hard to feel comfortable with someone standing over you taking your picture.
5. Use good equipment. An iPhone is great if you're just going to be posting pictures to your blog or Facebook, but a good SLR (or higher end point-and-shoot with a fast shutter speed) is really needed for crisp, professional looking pictures.
6. Take a lot of pictures. I probably took 15 frames to get the photo above of Hadley in Maine. You're always going to get them with their eyes half closed or hair in their face. Take a lot of pictures (zoomed in and out different ways, too). You never know what looks good until you get them on your computer to see for yourself.
6. Do basic photo editing. I have a dirty secret to admit: I Photoshop my children's pictures. While yes, it'll probably get me arrested by the Mommy Police, I think it adds a little extra to your family photos. iPhoto or Photoshop helps you to add highlighting, improve your picture's exposure and enhance the saturation of your pictures.