The weather has just been perfect for a springtime party. I whipped up these super cute cupcakes for a kid's birthday party last weekend and they were a huge hit with everyone. Decorate your cupcakes with fresh fruit or colorful sprinkles for springtime and enjoy the sugar rush!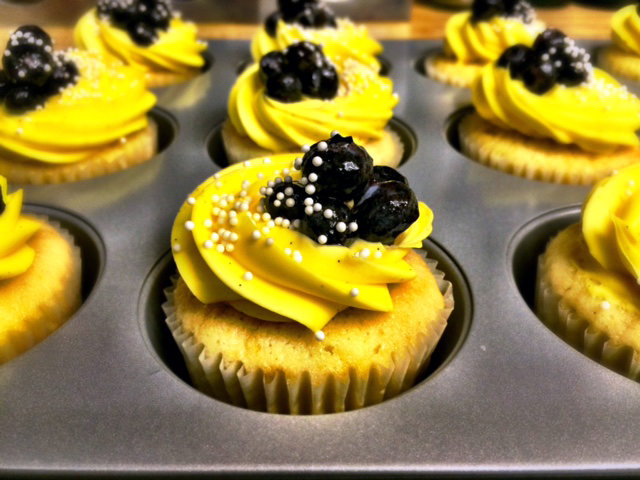 Vanilla Cupcake Batter
Yield 12 cupcakes
½ cup butter, softened
1 cup granulated sugar
2 large eggs
1 teaspoon vanilla extract
1 ½ cups cake flour
1 ½ teaspoons baking powder
¼ teaspoon salt
½ cup milk, at room temperature
Heat oven to 350F.
In a standing mixer fitted with paddle attachment, whip butter and sugar for 2 minutes or until very light and fluffy. Scrap down the sides of the bowl and add eggs and vanilla extract. Mix until well combined.
In a medium bowl, whisk together flour, baking powder and salt. Add half of the amount to the butter and egg mixture. Mix on low speed until combined. Add half the amount of milk, then continue alternating with remaining flour and milk. Scrape down the sides of the bowl and mix well.
Fill cupcake liners with ¼ cup of batter. Bake for 20-22 minutes or until a toothpick comes out clean. The cupcakes shouldn't have too much color on the tops.
Allow to cool for at least 30 minutes before frosting.
French Buttercream
*it is best to make this several hours before you need it**
Pastry Cream
1 cup milk
1 vanilla bean, scraped
2 eggs
¼ cup sugar
3 tablespoons cake flour
In a medium pot, heat milk and vanilla bean until almost simmering.
In a medium bowl, whisk together eggs, sugar, and cake flour. Pour ½ cup of hot milk into egg mixture and mix well. Return that to the pot and continue to cook over medium heat until thickened, about 3-5 minutes.
Transfer pastry cream to a heat proof bowl and cover with plastic wrap, touching to the top of the cream to prevent a skin from forming. Chill the cream for at least an hour before using.
Buttercream
½ cup butter, softened
¼ cup powdered sugar
In a standing mixture fitted with a paddle attachment, beat butter and sugar until very light and fluffy. Add chilled pastry cream to mixture and continue to mix until the mixture comes together. This may take several minutes. It is best to keep beating until the mixture is smooth (it may look broken for a while).
Add a few drops of gel food coloring to achieve desired color. Transfer to a piping bag and decorate cooled cupcakes. I love to make yellow buttercream and decorate with blueberries for springtime parties!