Who is ready for fall!? I am, and I'm extra ready to eat some pumpkin and cream cheese and fill my home with the warm smells of fall baking! A lot of things prompt me to bake but this past weekend it was the crisp chill in the air. I whipped up a warm loaf of pumpkin bread with a sweet cream cheese filling and it really hit the spot. This recipe makes perfect loaves of the autumn bread or easy-to-carry cupcakes.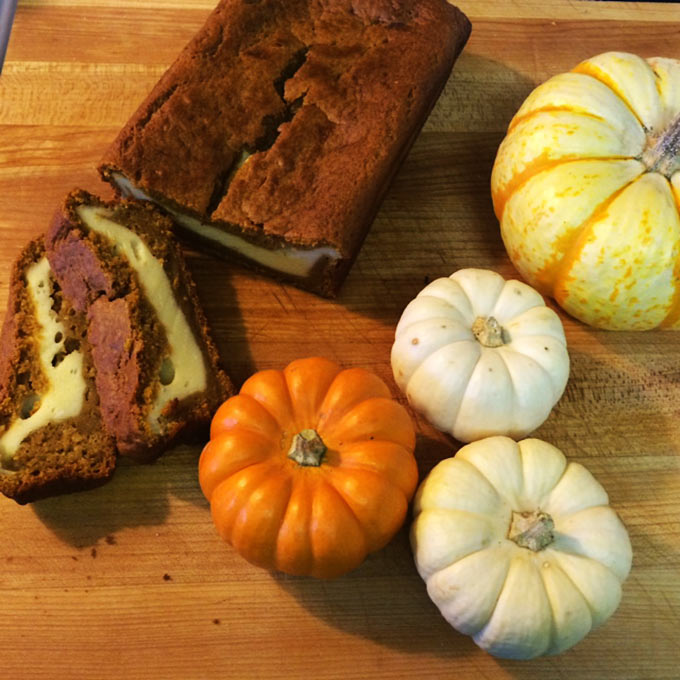 SPICED PUMPKIN BREAD & CREAM CHEESE FILLING
Bread
1 ½ cups pumpkin puree
½  cup light brown sugar, packed
½  cup granulated sugar
¼ cup vegetable oil or melted butter
¼ cup sour cream
2 teaspoons vanilla extract
1 ¼ cups all-purpose flour
1 teaspoon baking powder
½  teaspoon baking soda
½ teaspoon salt
2 teaspoons cinnamon
½ teaspoon ground nutmeg
¼ teaspoon ground cloves
Filling
6 ounces cream cheese, softened
1 egg
¼ cup granulated sugar
1 teaspoon vanilla extract
2 tablespoons flour
Heat oven to 350F.
In a large bowl, whisk together pumpkin puree, sugars, oil, sour cream and vanilla extract. In a medium bowl, whisk together flour, baking powder, baking soda, salt, and spices. Add the flour mixture to the large bowl and whisk to combine.
In another medium bowl, add cream cheese and using a rubber spatula mix until very smooth and soft. Add egg, sugar and vanilla and mix. Lastly, add flour.
Lightly grease a non-stick, 9×5-inch loaf pan. Pour ¾ of the pumpkin batter into the bottom of the pan and smooth evenly. Pour the cream cheese filling on top of that and also smooth. Top with remaining pumpkin and spread evenly to cover all of the cream cheese mixture.
Bake for 45-55 minutes or until golden brown and a toothpick comes out clean. Let cool for 10 minutes before removing from pan. Cut & enjoy!