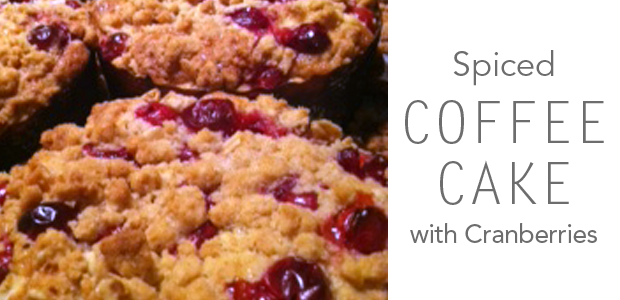 Staying in the spirit of the winter season, I have decided to share a delicious coffee cake recipe with you. Topped with crumbs and studded with cranberries, it is perfect for cold mornings with a cup of coffee.  You can bake this cake in a loaf to serve to your family or divide it into cute little loafs for Christmas gifts! Enjoy!
Spiced Coffee Cake with Cranberries
Servings: half sheet pan or multiple small loaves, rounds, or cupcakes
*Please note my baking recipe is noted in grams again. It is much more accurate for measuring.
Ingredients:Cake
225 grams butter
630 grams sugar
2 tablespoons vanilla extract
5 eggs
608 grams all-purpose flour
18 grams baking powder
5.5 grams baking soda
675 grams sour cream or crème fraiche
2 cups cranberries
Ingredients: Crumb Topping
75 grams brown sugar
75 grams sugar
1 teaspoon cinnamon
¼ teaspoon nutmeg
¼ teaspoon cloves
¼ teaspoon ginger
¼ teaspoon salt
115 grams butter, melted
400 grams all-purpose flour
Method:
Preheat oven to 350 degrees.
In kitchen-aid mixing bowl and using a paddle attachment, cream butter, sugar and vanilla extract. It is ready once it is fluffy and lighter in color.
Add eggs and mix to combine.
In a medium bowl, add flour, baking powder, and baking soda. Whisk to combine, and then add to kitchen aid. On low-speed, mix to combine.
Once flour is mixed in, add sour cream. Mix until homogenous.
Set cake batter aside while you make crumb topping.
In a medium bowl, combine all dry ingredients and then drizzle in melted butter. Mix until sandy mixture comes together. Now you are ready to assemble.
Whether you are using a sheet pan or individual molds for small cakes, fill each vessel about ¾ full. Sprinkle the cake(s) with the crumb topping, as desired. Then top with handfuls of cranberries (about 5-7 for small cakes, 20 for sheet pans). You might need to nestle the cranberries into the cakes, depending on the amount of crumbs you use.
Bake the cakes at 350 degrees. 15-20 minutes for sheets or small cakes. Test doneness with a toothpick. Let cool before serving.