With all of the holiday hustle and bustle, the last thing you need is to spend hours in the kitchen. Try this easy recipe for spiced apple hand pies. Sweet puff pastry and spiced apples will satisfy your holiday sweet tooth with these simple (and portable!) pies.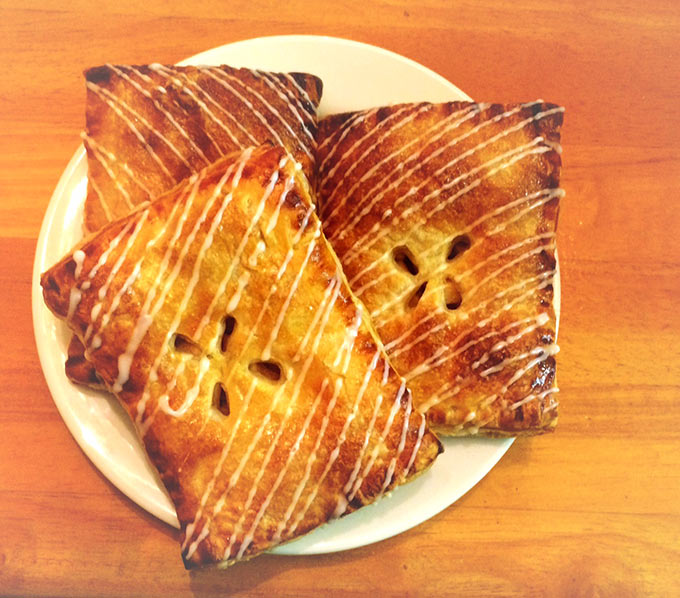 SPICED APPLE HAND PIES
1 package frozen puff pastry
3 tablespoons butter
6 small Fuji apples, peeled and cut into ½" cubes
3 tablespoons brown sugar
1 teaspoon cinnamon
½ teaspoon salt
1 egg yolk
2 tablespoons heavy cream
3 tablespoons granulated sugar
¼ cup powdered sugar
1-2 tablespoons milk
¼ teaspoon vanilla extract
In a medium pot over medium-low heat, add butter, apples, brown sugar, and cinnamon. Cook, stirring frequently, for about 10 minutes, or until the apples are tender when pierced with a knife. When ready, transfer the apples to a shallow bowl or plate (so they are able to spread out and do not continue to cook). Sprinkle with ½ teaspoon of salt and allow to come to room temperature. While the apples cool, pull your puff pastry from the freezer to thaw. Thaw for 30 minutes but do not allow it to become warm.
Cut the 2 sheets of pastry along their folds (this should give you 6 long rectangular pieces). Cut those 6 pieces in half to get 12 small rectangles. Lay all of the rectangles on a lined baking sheet.
Heat your oven to 400 degrees F.
Allow the apple mixture to strain through a mesh sieve to get rid of extra juices. Spoon ¼ cup of the mixture onto 6 of the small rectangles. In a small bowl, mix together egg yolk and heavy cream. With a small pastry brush, dampen the edges of the pastry holding the apples, then lay one of the plain pastry sheets on top to close the pie. Using the edge of a fork, seal the 2 pie crusts together. Brush the top of the pies with more of the egg yolk-cream mixture, then sprinkle with granulated sugar.
Bake for 10-15 minutes or until golden brown. Allow the pies to cool while you make the vanilla frosting. In a small bowl, mix together the powdered sugar, milk and vanilla extract. Add more sugar if the frosting is too liquidy. Transfer it to a pastry bag and make a small hole at the tip. Drizzle the frosting all over the finished hand pies and allow the frosting to harden. Enjoy!