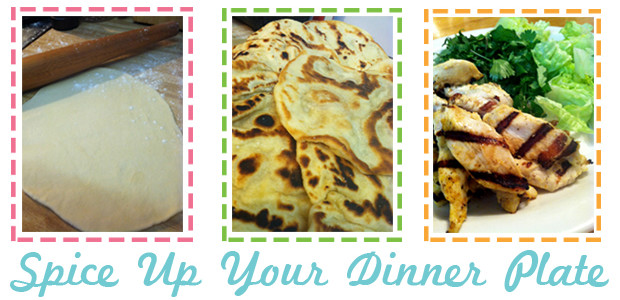 It's very easy to get stuck in a culinary rut! At times I find myself making the same dishes every week, getting exponentially more bored with each dinner. I crave new, exciting flavors and my saving grace is my spice cabinet. This week I am sharing with you some of my go-to recipes for a twist on Indian food. One of my most prized possessions is the naan recipe. Naan, a flatbread most popular in Asia, is a yeast-bread cooked on a griddle at very high heat. The griddle allows the bread to rise and creates the perfect chewy, crunchy, salty combination for you to enjoy. Grilled chicken and tzatziki are ideal accompaniments that are sure to awaken your taste buds!
Grilled Curry Chicken with Tzatziki and Fresh Naan Bread
Servings: 4-6
Since there are many components to this dish, I will talk you through the appropriate timeline for having dinner ready on time!
First, get started on the naan. It will take about 90 minutes for the dough to proof, then you will roll it and char it.
Naan
Ingredients:
Yeast, dry active
1 ½ teaspoons
Sugar
1 ½ teaspoons
Water, 120°F
1 ¼ cup
Flour
3 cups
Salt
2 teaspoons
Butter, melted
6 tablespoons
Yogurt
¼ cup
Canola Oil
1 cup
Salt
to season
Method:
Mix sugar, yeast and warm water together. Let sit for 10 minutes.
Melt butter and set aside to cool slightly. Measure yogurt.
Combine flour and salt in Kitchen Aid mixing bowl. Pour yeast mixture on top.
Using dough hook attachment on speed 1, mix flour and yeast together for 1 minute. Add butter and yogurt.
Continue mixing on speed 1 until dough is homogenous. Increase to speed 2 and mix 8 minutes or until smooth.
Depending on the moisture content of your flour (which can vary depending on the season or environment in your kitchen) you may need to add more water or more flour to your dough as it mixes. Your dough should be tacky but not overly sticky or crumbly. You should err on the side of more water. Your dough has more chance of failing if it is too dry.
Once 8 minutes has passed and your dough is smooth, remove from mixer and cover bowl with plastic wrap. Set in a warm place to rise for 90 minutes.
**At this point, you can begin to prep the rest of your ingredients i.e. marinate your chicken and start your tzatziki**
If you are continuing on with the recipe and 90 minutes have elapsed- punch down your dough to release the gases that have accumulated from the yeast.
Let dough rest 10 minutes before you begin rolling it out. When ready, divide dough into 8 pieces.
Sprinkle flour on your counter or large cutting board. Take one piece of dough and roll to 1/16" thick. Thinner is better as the dough will rise when cooked. If it is too thick, it will not cook all the way through. Roll the dough and set aside on a floured surface.
When you have completed rolling half of the dough, place a cast-iron or heavy bottom pan over medium-high heat. Finish rolling your dough.
When the pan is very hot, add 2 teaspoons of canola oil. Swirl the pan to cover with oil and then lay the dough down. It will immediately begin to bubble but don't check it for about 60 seconds. At that time, you can lift one side with a pair of tongs to see the color of the dough. If the bubbles have a deep brown color you can flip it over. Cook for an additional 1 minute on other side.
Place finished naan on a sheet pan with aluminum foil or a silpat and sprinkle with a pinch of salt. Try to avoid stacking the naan as it may become soggy.
Continue frying the bread until complete, adding 2 teaspoons of fresh oil each time.
Grilled Curry Chicken
Ingredients:
Chicken Breast
2 each
Yogurt
2 tablespoons
Garam Masala*
1 teaspoon
Salt
½ teaspoon
Canola Oil
2 teaspoons
*This popular Indian spice can be found in your local grocery store. Its ingredients include black and white pepper, clove, cinnamon, cumin and cardamom.
Method:
Slice your chicken breast into 1-2" strips. Place in a medium bowl.
Add yogurt to chicken and mix to coat. Add Garam Masala and salt. Mix and set in refrigerator to marinate for at least 30 minutes.
Tzatziki
Ingredients:
| | |
| --- | --- |
| Yogurt | 1 cup |
| Cucumber | 1, medium size |
| Garlic | 1 clove, minced |
| Lemon juice | 1 tablespoon |
| Salt | to taste |
| Pepper | to taste |
Method:
Begin by grating your cucumber. On a standard box grater, use the side you would typically use to shred cheese.
Place cucumber in a strainer and cover with ½ teaspoon of salt. Set over sink or bowl for at least 20 minutes. When time has elapsed, use the back of a spatula to squeeze out excess water. This will leave you with cucumber that won't water down your sauce.
In a small bowl, mix cucumber, yogurt, garlic, lemon juice, salt and pepper. Season according to your liking.
Set in refrigerator to allow flavors to meld. I recommend at least one hour but one day is even better.
**When 90 minutes have elapsed, you can fry your naan bread, when it is complete, leave it in a warm place and begin to grill your chicken**
Grilling Chicken
Method:
Heat a grill pan over medium-high heat. When very hot, add two teaspoons of canola oil to pan.
Place slices of chicken in pan and let sear for 3 minutes, or until the meat has distinct grill marks.
Turn chicken over and sear the other side, about 3 minutes more.
Remove from pan and set aside.
Assembly
Ingredients:
-Naan bread
-Grilled chicken
-Tzatziki
-Shredded lettuce
-Diced red onion
-Cilantro
Above includes a few of my favorite accompaniments for the dish, but there is no right or wrong combination.
Take a piece of warm naan bread, slather it with tzatziki, sprinkle with red onion and cilantro, fill with chicken and lettuce. Enjoy!