The sun and the warm weather has finally reached California, making me itch for summertime! These sour cherry hand pies are just the cure to get over a long El Nino winter full of rain. These are super easy to make and fun for the kids too! Use my favorite pie crust for a fun, flaky, and sweet treat!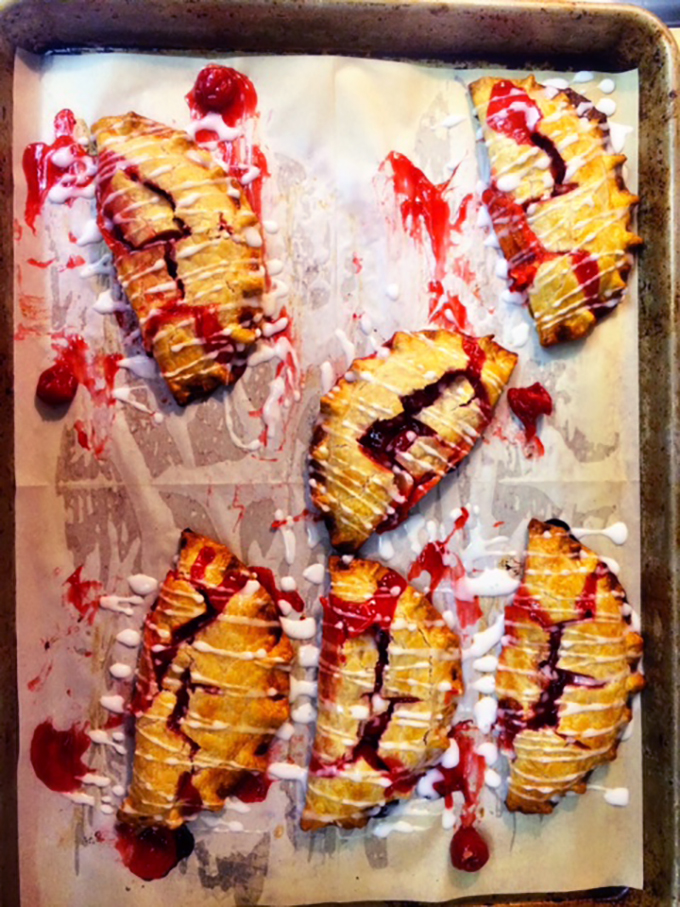 Cherry Filling
2/3 cups sugar
¼ cup cornstarch
Pinch of salt
3 ½ cups sour cherries, fresh or frozen
1 ½ cup water
1 tablespoon lemon juice
In a medium bowl, mix sugar, cornstarch and salt together. In a medium pot, add cherries, water, lemon juice and cornstarch mixture. Over medium heat, bring the mixture to a boil and allow to thicken. Pour into a heat-proof bowl to cool.
Pie Crust
1 ½ cups all-purpose flour
½ teaspoon salt
1 teaspoon sugar
½ cup cold butter, cut into small cubes
2 tablespoons cold water
Small bowl of water, for sealing edges of pies
1 egg, for wash brushed on top of pies
Sugar Glaze
1 cup powdered sugar
1 ½ tablespoons milk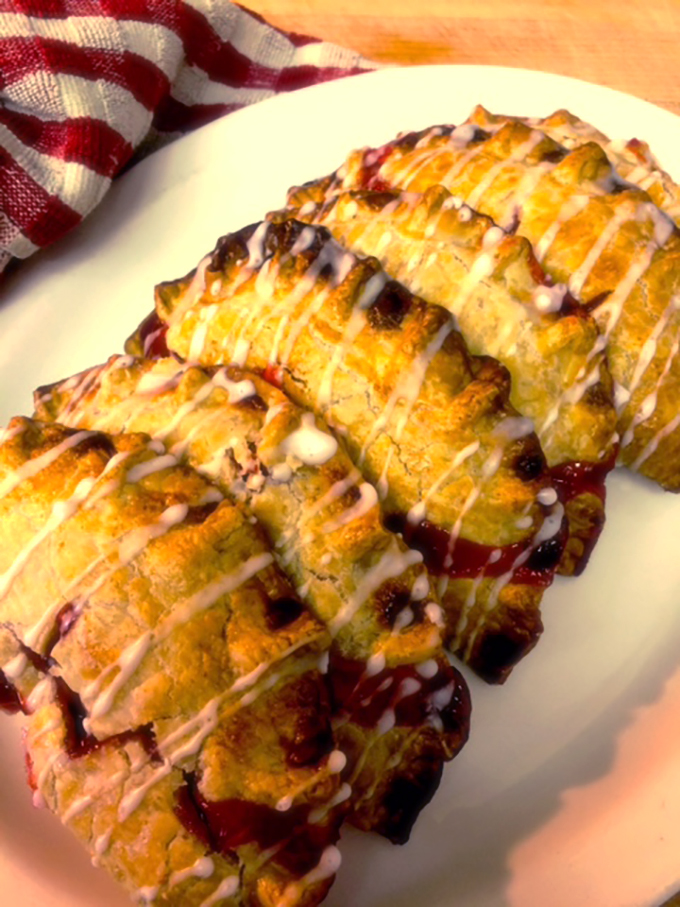 Use a food processor or standing mixer fitted with paddle attachment. Add flour, salt, and sugar and mix to combine. Add cold, cubed butter and pulse or mix until a sand-like consistency is achieved. Add water and mix until dough just comes together. Cover pie crust tightly in plastic wrap and refrigerate for at least 1 hour.
Heat oven to 425F.
Roll out to ¼-inch thick and cut into 4-inch rounds using a cookie cutter or small bowl. Spoon 2 tablespoons of cherry filling onto one side of each round. Moisten the edges of the crust with wet fingertips. Seal the pie by folding in half and crimp the edges with your fingers or the tines of a fork. Refrigerate pies for at least 30 minutes.
Brush each pie with a light coating of egg wash. Bake for 15-25 minutes or until golden brown. While pies bake, mix together powdered sugar and milk for glaze. Allow to cool and drizzle with sugar glaze. Serve as a snack or with vanilla ice cream for dessert!