A couple months ago, I promised myself that I was going to get healthy, and one of my main priorities was to stop skipping breakfast. I would routinely get so wrapped up with getting my family out the door that I would skip breakfast and end up rolling through a drive-thru before work.
So I gave my breakfast a makeover and here's what's on the menu in my house in the morning:
Peanut Butter and Jelly Smoothie
From Sarahfit.com Serves 1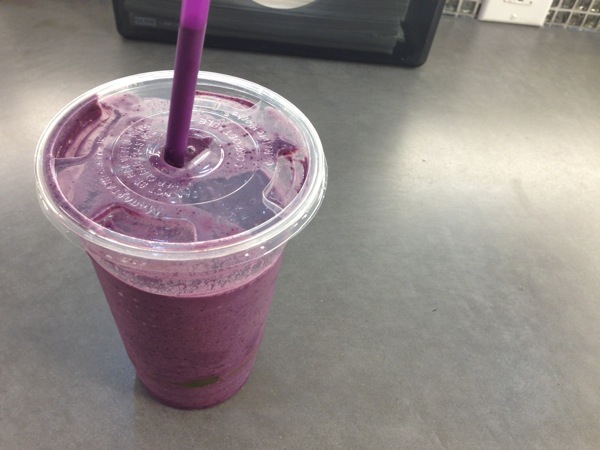 • 7 oz. unsweetened vanilla almond milk
• 2 tbsp. natural peanut butter
• 1 cup frozen blueberries
• 1/2 cup frozen strawberries
• 1 scoop protein powder of choice (pick a kind that is organic and doesn't use artificial sweeteners)
• 1/3 cup ice
Blend and enjoy!
Crockpot Vanilla-Spiced Steel Cut Oats
From BakedBree.com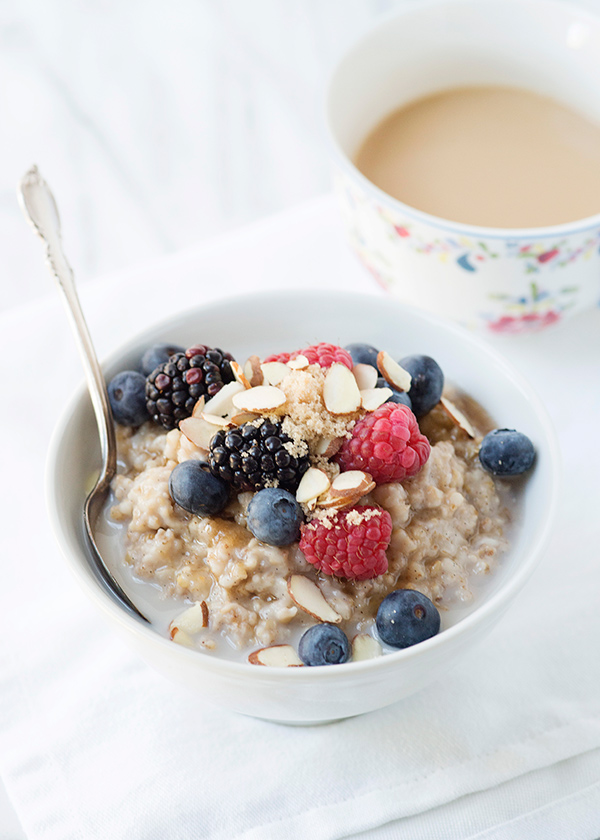 • cooking spray
• 1 cup steel cut oats
• 1 vanilla bean, split and seeded (I just added a tablespoon of vanilla extract)
• 2 tbsp. brown sugar
• 1/4 tsp. cinnamon
• 1/8 tsp. freshly grated nutmeg
• 1/8 tsp. cardamom (I add more because I'm obsessed with cardamom)
• 1 – 2 cups Almond Breeze almond milk
1. Spray the insert of a slow cooker with cooking spray. Add oats, brown sugar, vanilla bean, cinnamon, nutmeg, and cardamom. Add 3 1/2 cups water. Cook on low for 8 hours (or high for 4 hours).
2. After 8 hours, add 1 cup almond milk to thin out the oatmeal. Add more to get the consistency that you like. If you enjoy runnier oatmeal add more almond milk. Spoon oatmeal into a bowl and top with your favorite oatmeal toppings. I like a big serving of berries and a sprinkle of coconut.
Oat Pancakes with Berries
From Katie Lee (published in Self Magazine) Serves 2.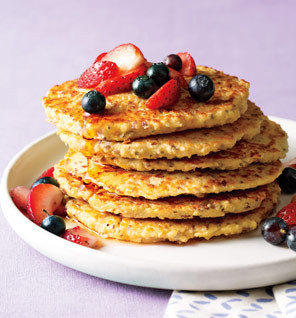 These take a little more time than the other breakfasts, but you can make the batter ahead of time and just keep it in the fridge until you're ready for breakfast.
• 1 cup rolled oats
• 1 cup 2-percent-fat plain Greek yogurt
• 2 eggs
• 2 tsp. chia seeds
• 2 tsp. flaxseed
• Vegetable oil cooking spray
• 1/2 cup sliced strawberries
• 1/2 cup blueberries
• 2 tbsp. pure maple syrup
In a blender, pulse oats until finely ground. Add yogurt, eggs, chia and flaxseed, and process until batter is combined but seeds remain intact. Set a large nonstick skillet over medium heat for 1 minute; coat with cooking spray. Working in batches, cook 6 pancakes until golden brown, 1 to 2 minutes per side. Divide pancakes between two plates and serve topped with berries and maple syrup.
Frozen Waffle with Peanut Butter and Banana
This is my last resort, no-time for breakfast solution.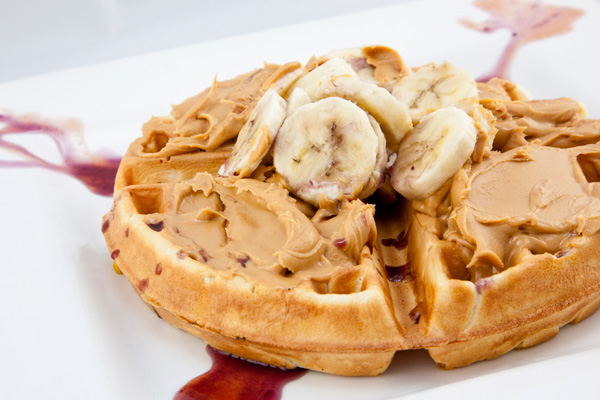 • 2 Van's frozen multigrain waffles
• 2 tbsp. natural peanut butter
• 1 medium-sized banana
Toast the waffles and the spread the peanut butter on top while they're still hot. Slice your banana over the two waffles and enjoy!