Summer's on the way, and that means I am always looking for a quick, light dinner. This kale salad has great flavor and is perfectly filling, with the addition of garbanzo beans. Bulk it up some more with your favorite veggies or herbs, and say hello to summer!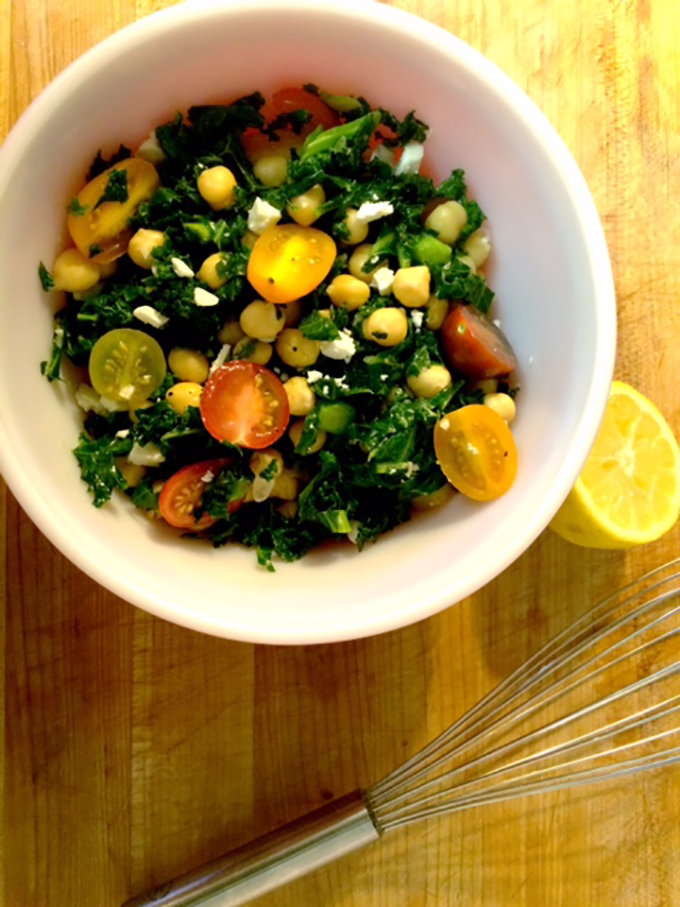 Summer Kale Salad
2 teaspoons extra-virgin olive oil
3 cups chopped kale
Pinch salt
1 can garbanzo beans, drained and rinsed
1 cup cherry tomatoes, sliced in half
1/2 cup feta cheese, crumbled
Lemon-Garlic Vinaigrette
2 tablespoons lemon juice
1 1/2 teaspoons red wine vinegar
1 clove garlic, minced
Pinch black pepper
Pinch salt
1/4 cup extra-virgin olive oil
In a large sauté pan over medium heat, add extra-virgin olive oil, kale and salt. Sauté until wilted, about 7 minutes. Transfer to a large bowl and allow to cool.
Meanwhile, make your lemon-garlic vinaigrette. In a small bowl, add lemon juice, red wine vinegar, garlic, pepper, and salt. Then add olive oil while whisking.
When kale is cool, add garbanzo beans and cherry tomatoes to the bowl. Drizzle with vinaigrette and gently toss. Crumble feta cheese over the top. Refrigerate for at least one hour before serving.
Enjoy!