We are just loving the peak of summertime in sunny California and are delighted to be reaping the benefits of our fruit trees. Our Dapple Dandy plums are plentiful, ripe, and super sweet right now, and we have an abundance, to say the least. I whipped up this super sweet plum crostata for a quick weeknight dessert and it was a huge hit. A simple pie crust and fresh plums tossed in sugar are the perfect way to celebrate summer!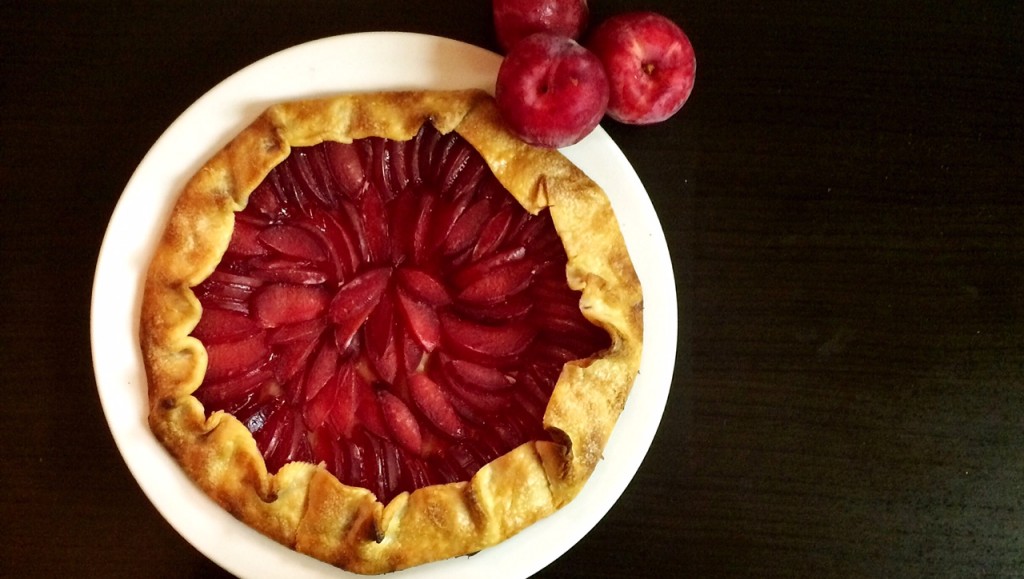 PIE DOUGH
Yield: one 9″ crust
1 ½ cups all-purpose flour
½ teaspoon salt
½ teaspoon sugar
½ cup butter, cubed into ¾" pieces
2 tablespoons cold water
In a large bowl, combine the flour, salt, and sugar. Scatter the butter cubes over the dry ingredients and using a pastry blender, or your fingers, quickly cut the butter into the ingredients. Once done, pieces should be the size of peas.
Sprinkle half of the cold water over the butter mixture. With a spatula, lightly toss the mixture to incorporate. Do not overwork the dough, or the butter may melt. Continue to add water in small amounts until the dough is rough but pliable and holds together when pressed to the side of the bowl. Form the dough into a disc shape, then cover in plastic wrap and place in refrigerator for 1-3 hours before rolling.
On a lightly floured surface, roll the dough out into a 12" round at a 1/8″ thickness. Transfer the dough to a baking sheet and transfer to the refrigerator.
Heat oven to 400F.
PLUM FILLING
6 plums, sliced into thin wedges (I prefer the dark-colored ones and I think they make for a prettier tart)
¼ cup sugar
¼ cornstarch
1 tablespoon lemon juice
Zest of 1 lemon
Pinch of salt
In a large, toss together sliced plums, sugar, cornstarch, lemon, and salt. Let sit for about 10 minutes, stirring occasionally, and allowing the juices to accumulate.
Remove your pie crust from the refrigerator and arrange your plums in a circular pattern leaving about 1-inch of crust around the edges. Once all arranged, fold the edge of the pie crust to slightly cover the plums. Brush lightly with heavy cream and sprinkle with granulated sugar. Bake for 40-45 minutes or until bubbling and golden brown. Cut into wedges and serve warm with a big scoop of vanilla ice cream.