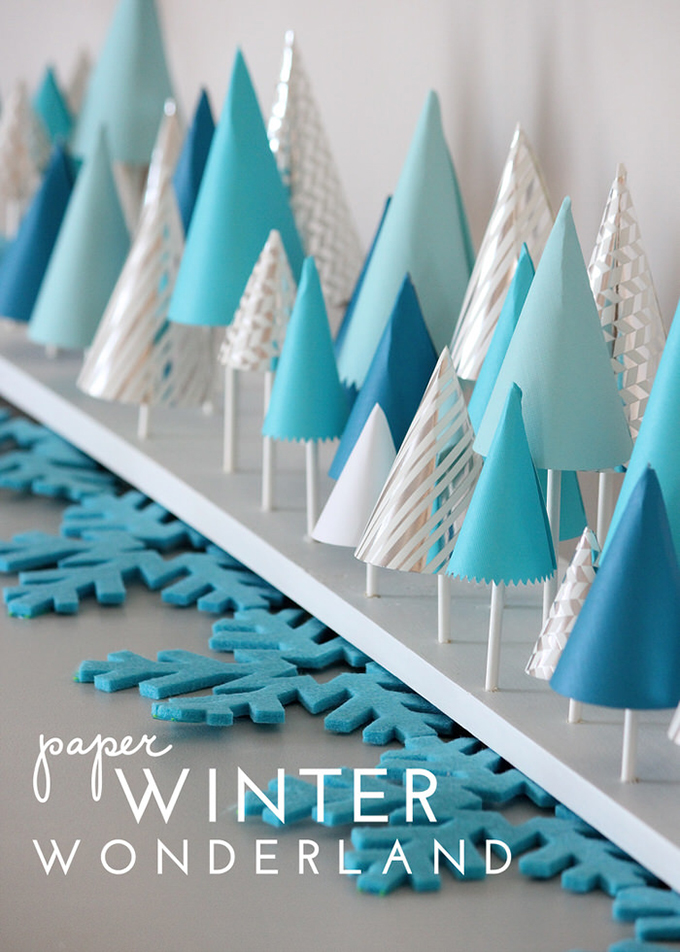 The Christmas season is upon us, and it's officially time to start decking the halls! While I certainly love dragging out the trees and garlands and wreaths and lights this time of year, the winter months put me in the crafty spirit more than any other season. I love pulling out my glue gun and scissors, pretty papers and fabrics, glitter, ribbon and more to create unique and simple décor items for my family and my home! To create a stunning yet oh-so-simple and inexpensive wintery display for my mantel, I combined some pretty papers with basic lollipop sticks. The result is a true winter wonderland delight I can display long after the Christmas holiday is over!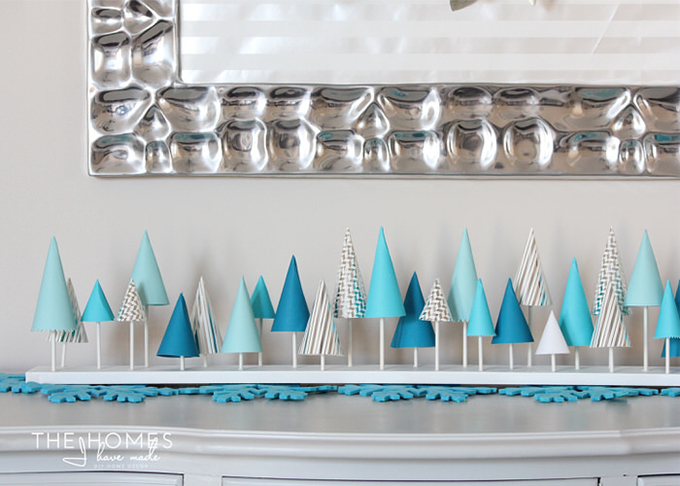 This mini paper forest is crafted out of various shades of blue cardstock, as well as some white and silver-foil paper. Rolled into cones and secured onto sticks at varying heights, together they become the perfect accessory for a mantel or buffet table.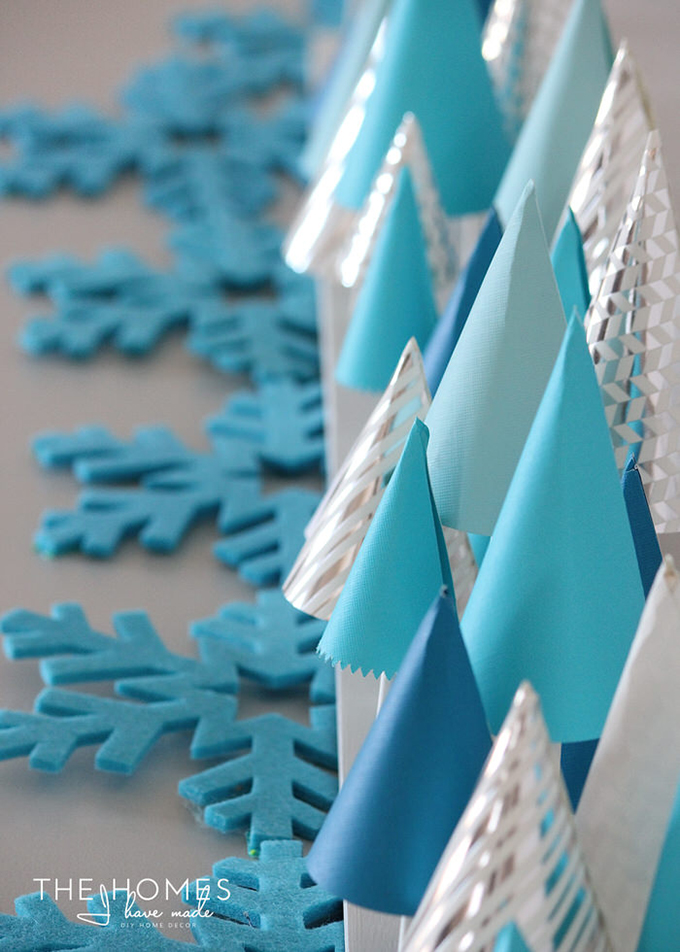 This display can be made in any color, size, and pattern you wish, and is simple enough for the kids to help or make on their own. Just grab a stack of your favorite papers and a scissors and let's get started!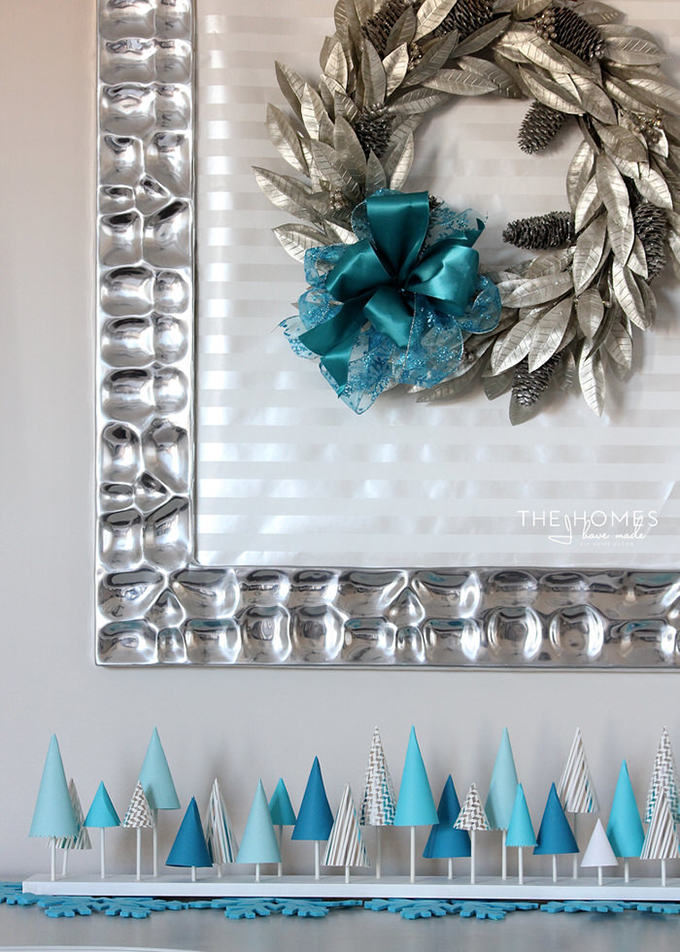 To make this DIY Winter Wonderland Decor you will need:
Cardstock (in the colors and patterns of your choice)
Lollipop sticks trimmed to various heights
1×4 piece of wood or foam core in your desired length
White paint
Double-stick tape or adhesive
Hot glue
Tools: Scissors, e-cutter (optional), hot glue gun, drill/drill bit, paint brush
(Note: This project is made a bit easier and quicker by using an e-cutter. However, it can still be made using a basic cone template and scissors! Just search Google for "cone template" and find one you like. Print it onto cardstock, cut it out, and then use it to trace cones onto all your decorative papers.)
Using either a template and scissors or an e-cutter, cut a variety of cones in different sizes, across all your different colors and patterns of paper. The length of the cone edge determines how tall the final cone will be, so try to vary the height of the cones. Each of the cones pictured here measure between 2.5-4" tall.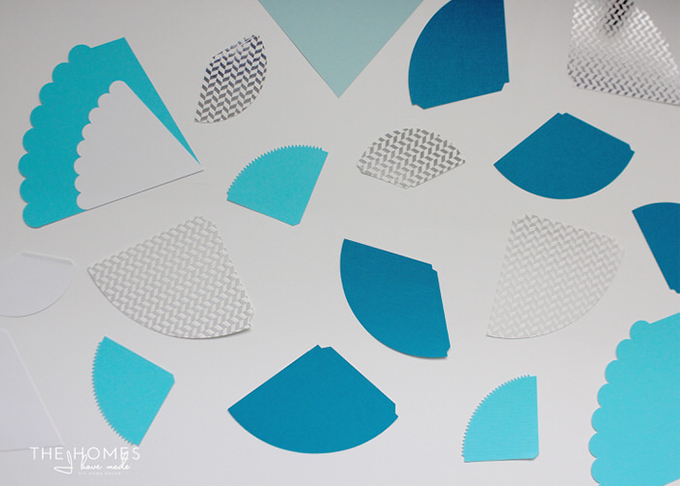 Folding cones can be a bit tricky, but it gets easier with practice! Start by placing a strip of double-stick adhesive along one edge of the cut out paper cone.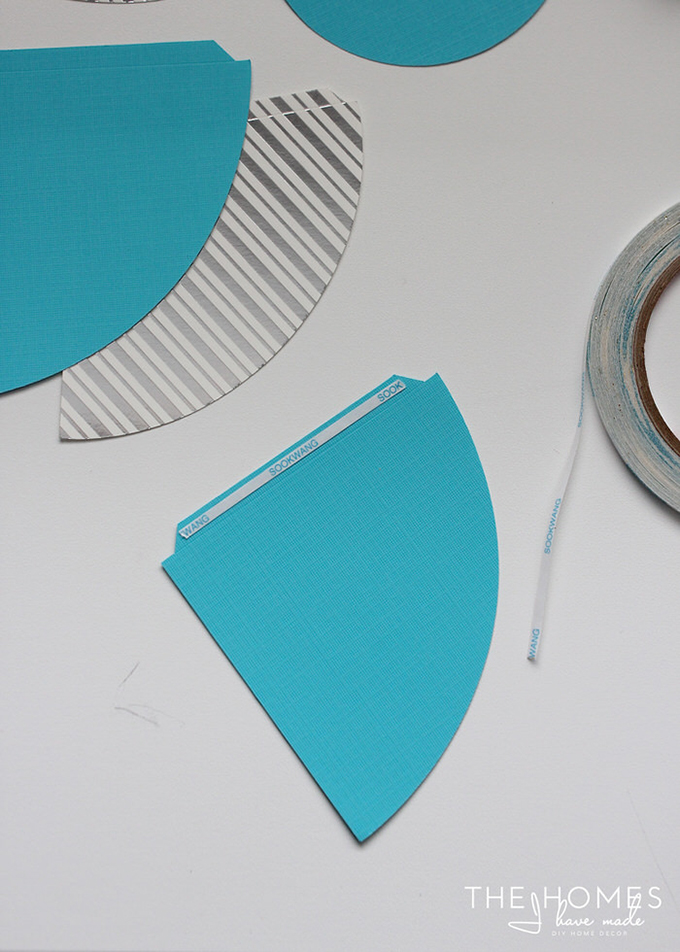 Roll the paper into a cone by bringing the two edges together and forming a pointed top. Secure the cone in place with the edge of double-stick tape and press firmly. Continue rolling and taping the various sized- and colored-cones until they are all done. If desired, use decorative scissors or punches to create details along the bottom edge of the cones.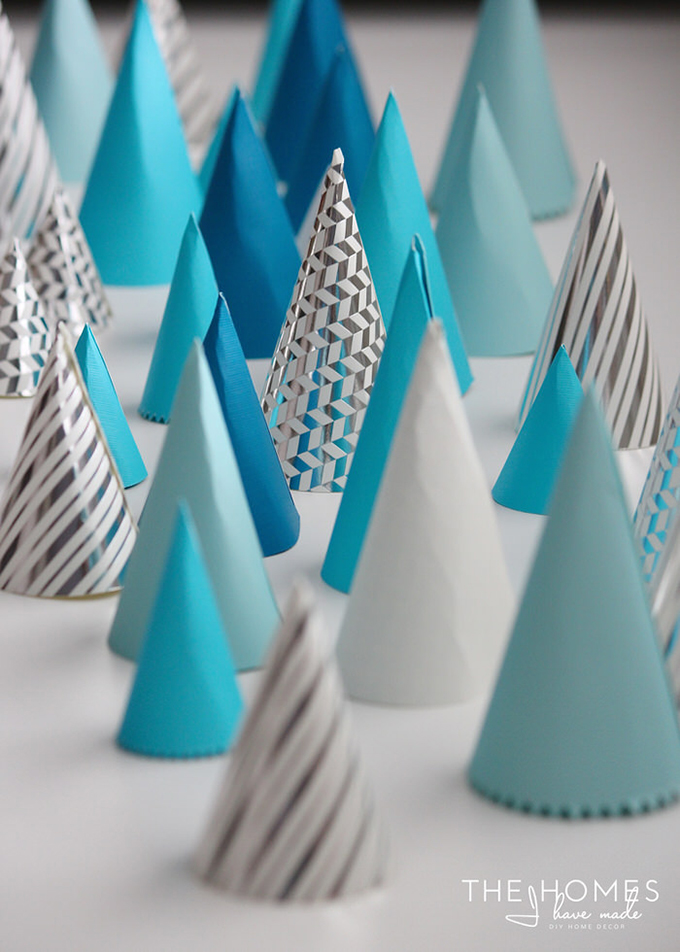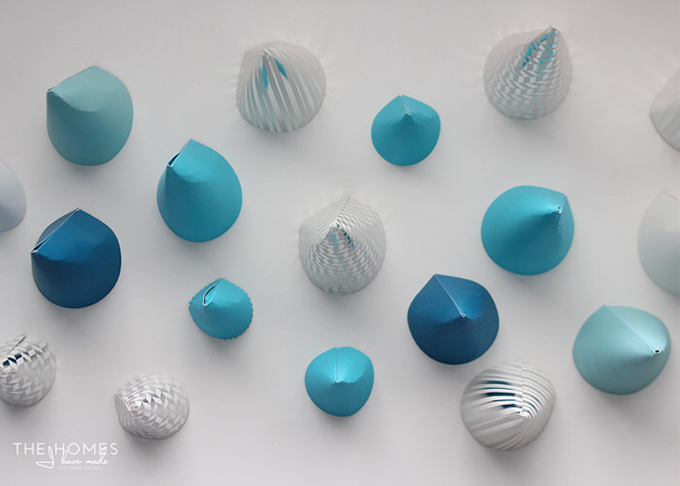 With the paper cones assembled, it's time to make them look like mini trees! Start by trimming white lollipop sticks down to various heights. Then using hot glue, secure each stick into the inside tip of each cone. Take care to secure the sticks straight down the center of the cone so it stands up straight once upright!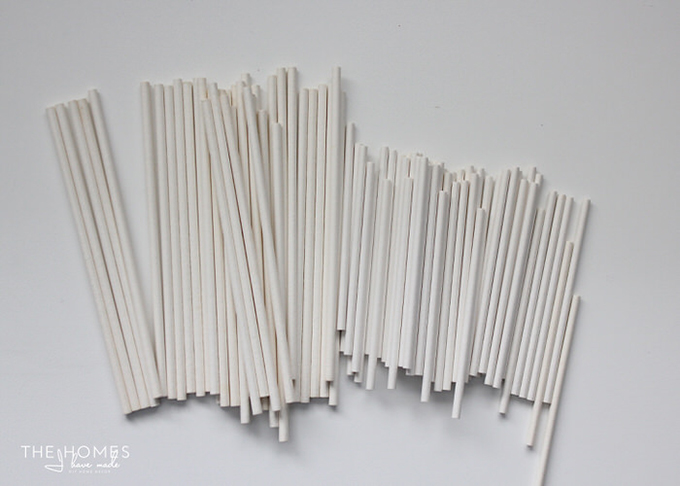 To create a single stretch of forest that can be easily placed on a mantel or table, it is best to secure each "tree" to a base. A basic pine 1×4 was used here, however, you could also use a sheet of foam core cut to size. Whatever you use, paint it white (if necessary) before adding your trees!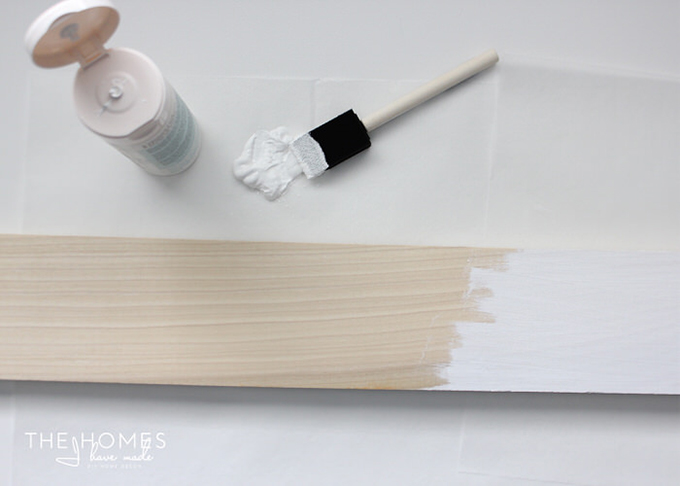 Once the base is dry, you will drill holes into it to hold each tree in place. Here are three quick tips to make this part easier:
First, be sure to use a drill bit that is the same size as your lollipop sticks so the fit is snug and no extra glue or adhesive is required to hold the trees upright.
Second, only drill down about 1/4″ into the wood to create little pockets for each stick to sit in. There is no need to drill all the way through the base.
Third, start from the center and work your way out to the ends. By drilling and placing one tree at a time, you will be able to adjust placement and the overall display as you go.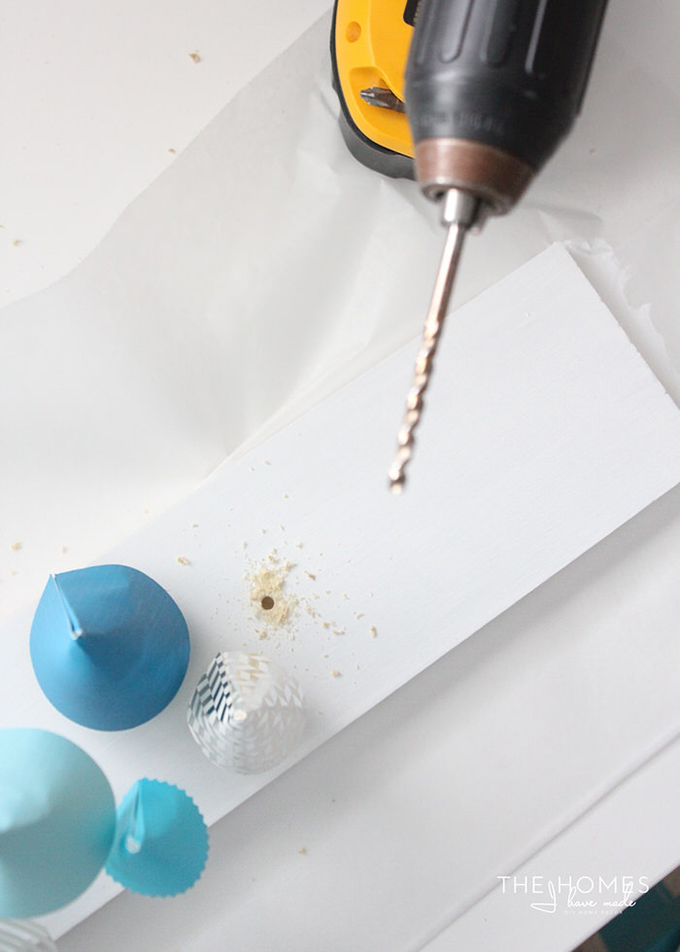 If any hole is drilled a bit too loose, use a drop of hot glue to hold the tree in place. Also, don't hesitate to trim the sticks even more to vary the heights and create a balanced display from end to end.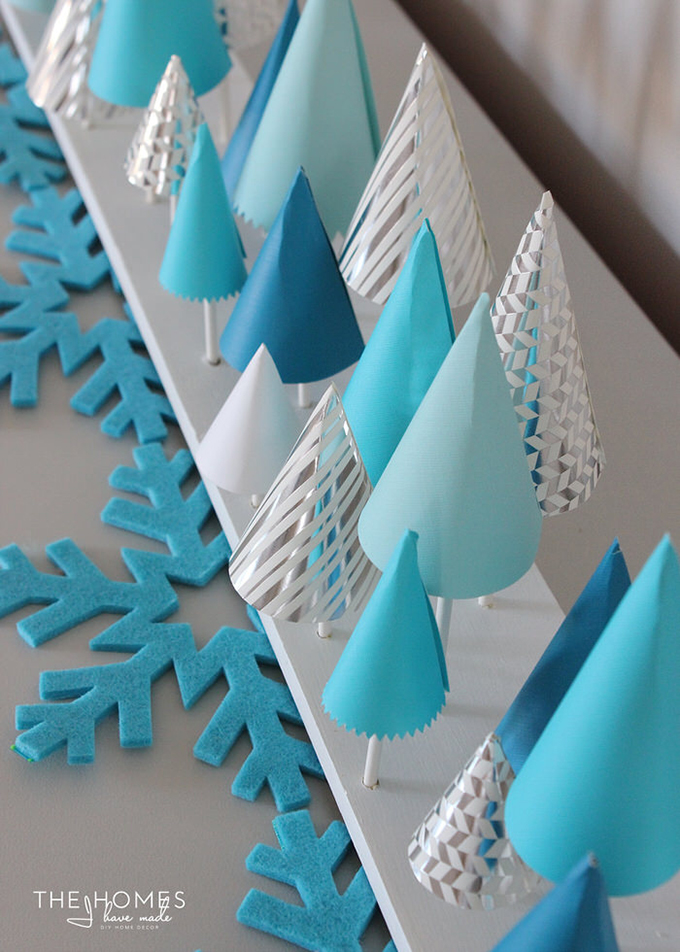 Once you have all the trees inserted into the base, you're done! Move it to a location where it can add some festivity and color to your holiday home such as a coffee table, dining room table, buffet or dresser!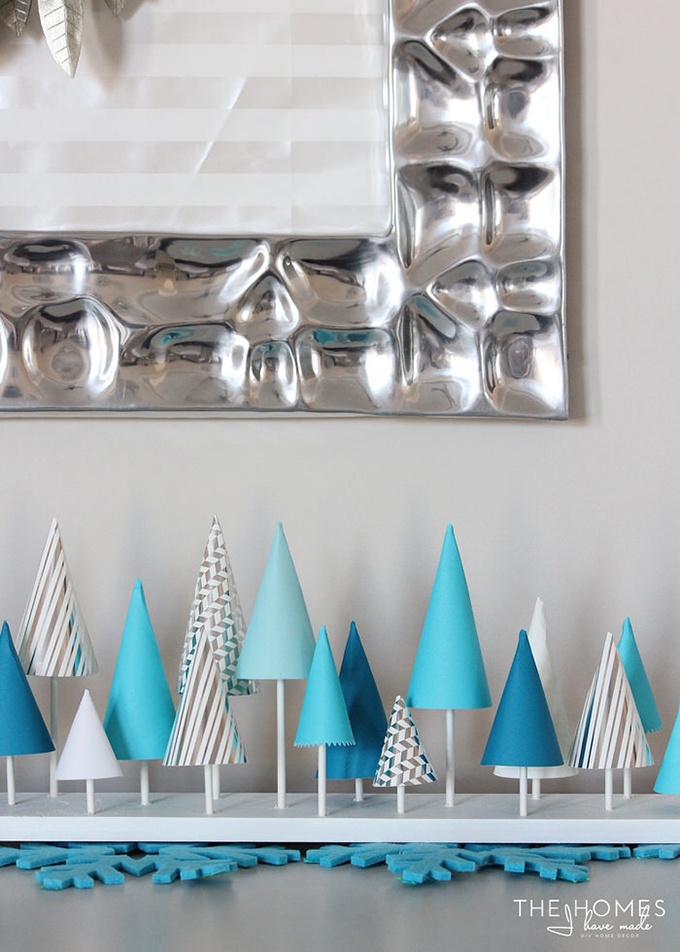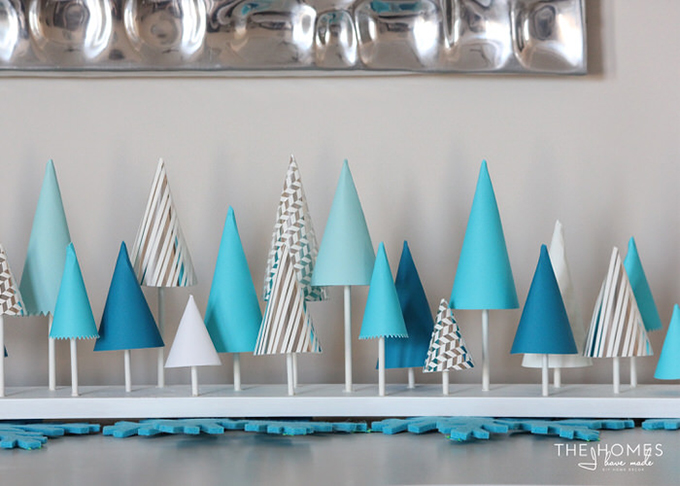 Round out your display by adding a wreath and other decorative touches all in the same color palette!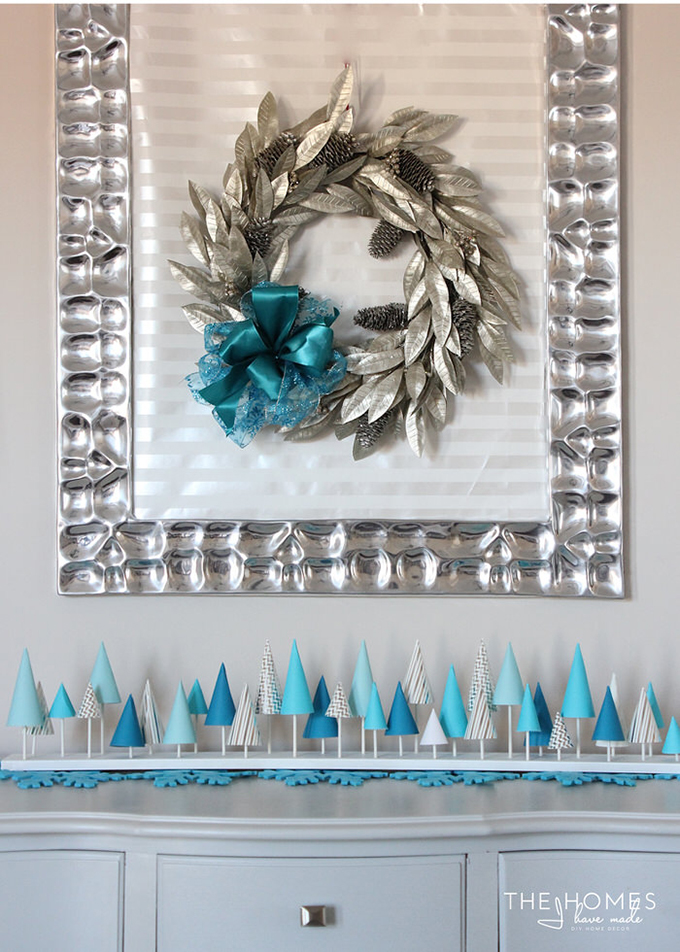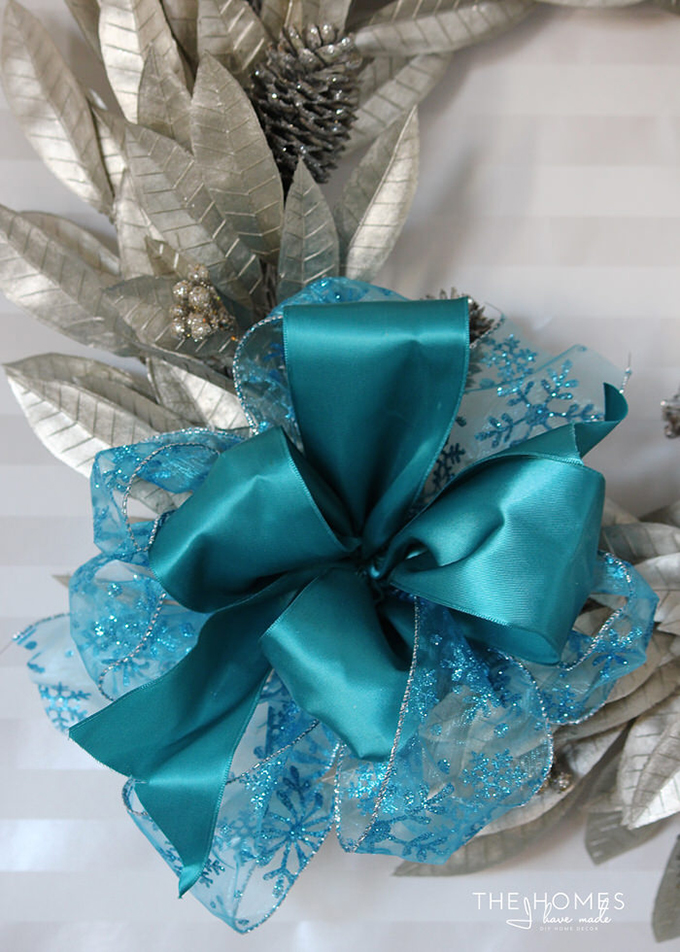 With just some paper, glue and sticks, you can easily make an adorable and festive paper tree forest for any spot in your home! Choose colors that match your overall scheme, and be sure to pick a size for your cones that suits your other décor items as well as the size of your table/mantel. In just an afternoon (using items you probably already have around the house!), you can make a charming holiday accessory that can be used year after year. So pop some popcorn, turn on a holiday movie, and get to cutting out some paper trees! Have Fun and Merry Christmas!