When trying to fill blank and boring walls on the cheap, it can be difficult to find large, statement artwork in just the right colors at affordable prices. This is precisely why Pinterest and the blog-o-sphere are full of easy, inexpensive, and fun art projects you can tackle yourself! To those of us who aren't artists however, making art can be intimidating. But by looking in some unexpected places for inspiration, anyone (including the least crafty of all!) can make some pretty spectacular wall art using nothing but paper and glue.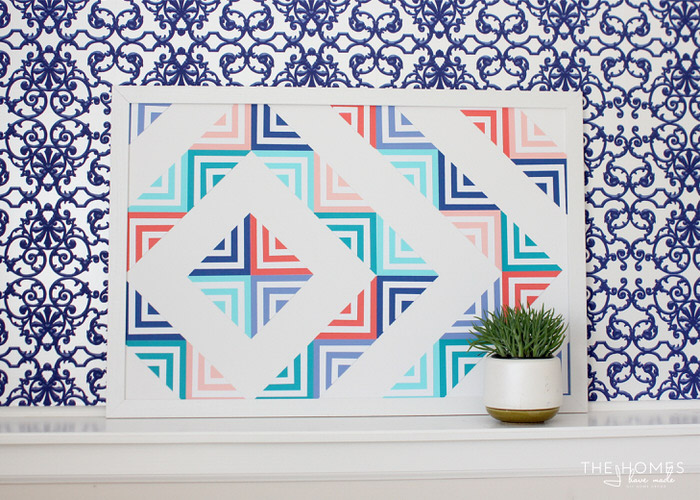 This wall art project was inspired by a quilt pattern! Yep – a sewing quilt pattern. Instead of creating all the pieces from fabric and sewing them together, I figured out how to re-create the design using paper. Thankfully, achieving some pretty amazing designs with paper is much easier than with fabric. In fact, with just a paper cutter, some pretty papers, and glue, you can make a similar paper quilt for your own home! Let me show you how.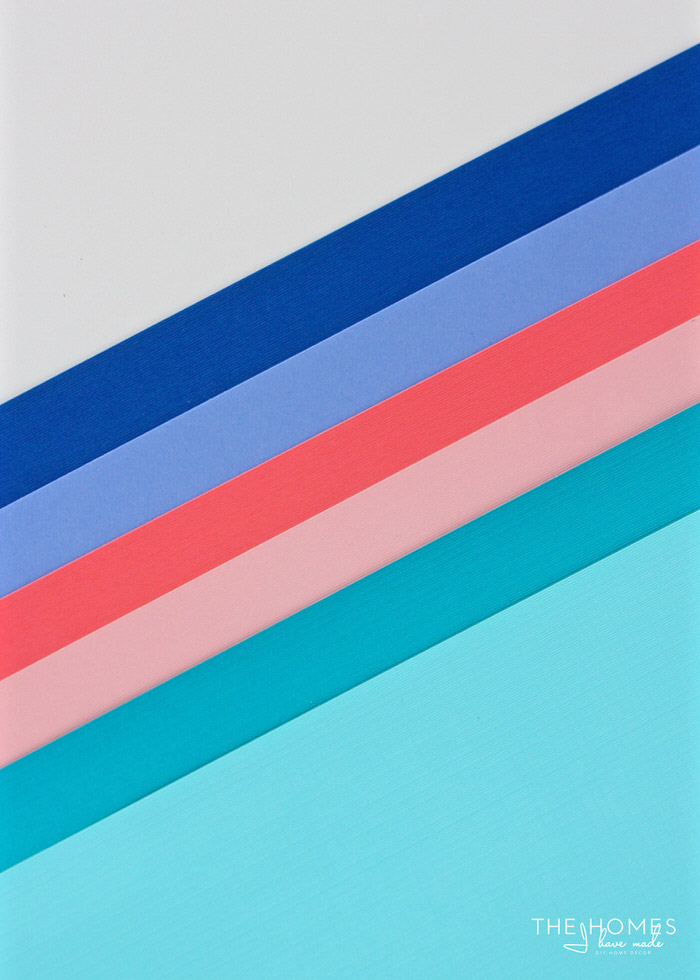 Here are the materials you will need to make your own paper quilt artwork:
12×12" cardstock in a color scheme that works with your space – this 24×36" final artwork used just 1 sheet each of 6 different colors.
12×12" white cardstock – you will need as many sheets as colors of cardstock you use (in this case, 6)
Poster board or foam core – cut to the size of your frame
Frame – to hold your final artwork
Glue – be sure to use a brand that doesn't wrinkle paper as it dries
Tools – Paper trimmer, scissors
Start by measuring your frame and determining what size poster you need to make. Trim your poster board or foam core down to the correct dimensions using a scissors. Once your final poster size is cut, determine what size squares will comfortably fit across the length and height of your poster. I chose to use 5" as my starting size, but you can start with any size square you prefer.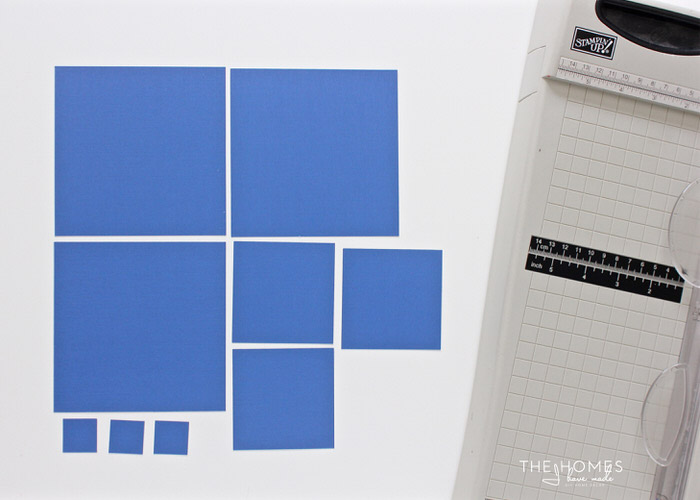 Next, use a paper trimmer to cut down all the cardstock into different-sized squares. From a single sheet of 12×12" cardstock, I was able to get three sets sized as follows: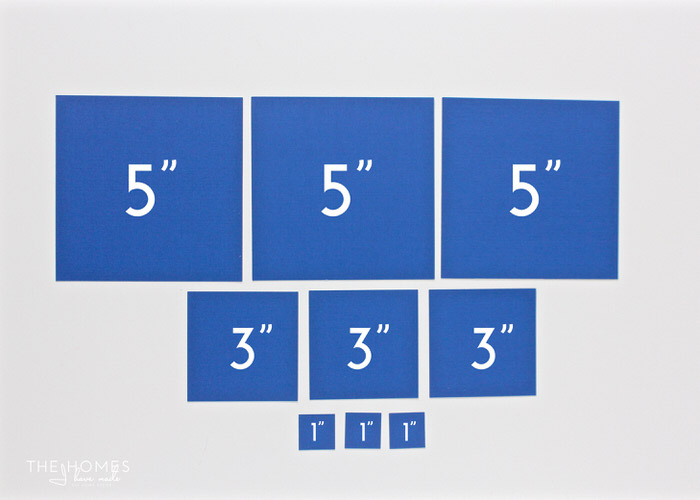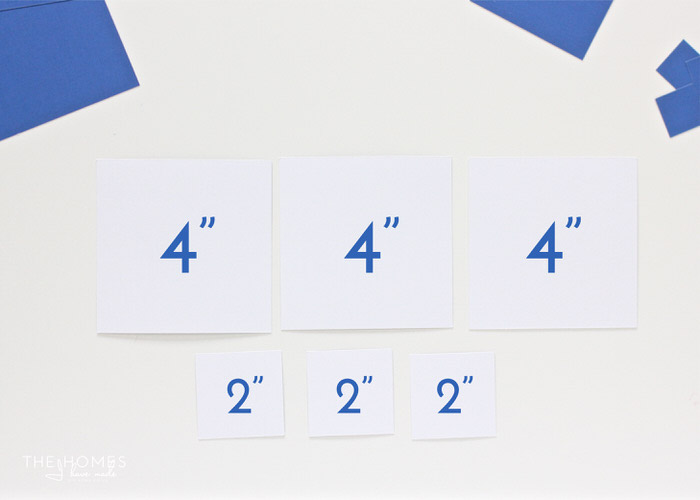 Note that the colored cardstock was cut into 5", 3" and 1" squares, and the white was cut into 4" and 2" squares. No matter what size you start with, be sure you cut down each square in the same increments (in this case, every 2"). The goal is that when the squares are layered, the colors alternate and the borders of each square are equal all the way around and down every layer.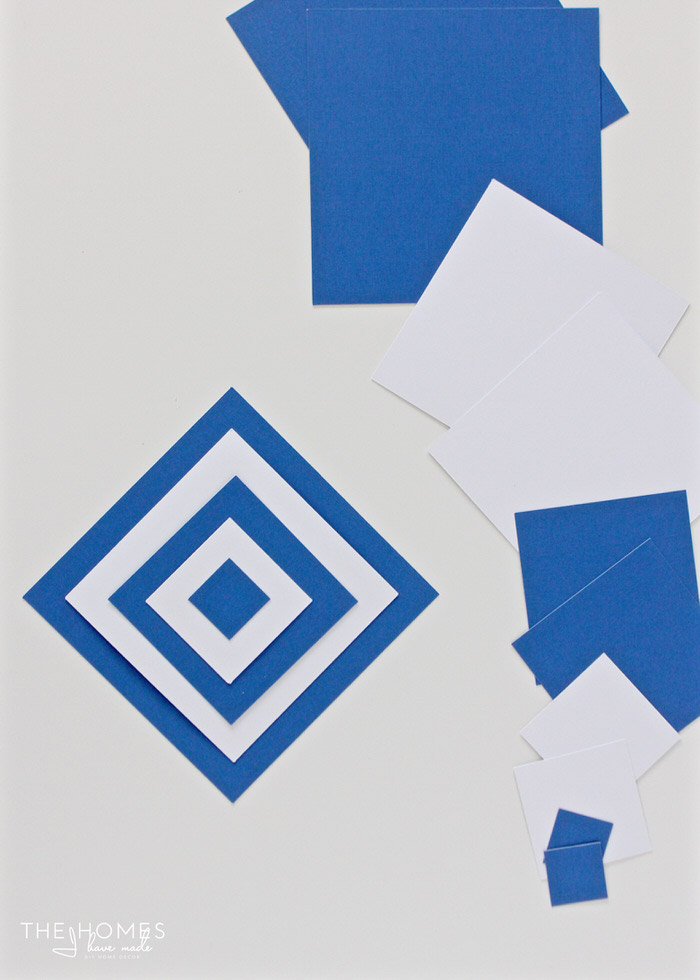 Continue cutting all of your paper into squares to make sets of alternating and descending squares.
Using whatever glue you prefer for paper (just make sure it doesn't wrinkle paper as it dries!), glue all the layers together, ensuring each square is perfectly centered on the previous one. Keep gluing until all of your paper "quilt squares" are assembled.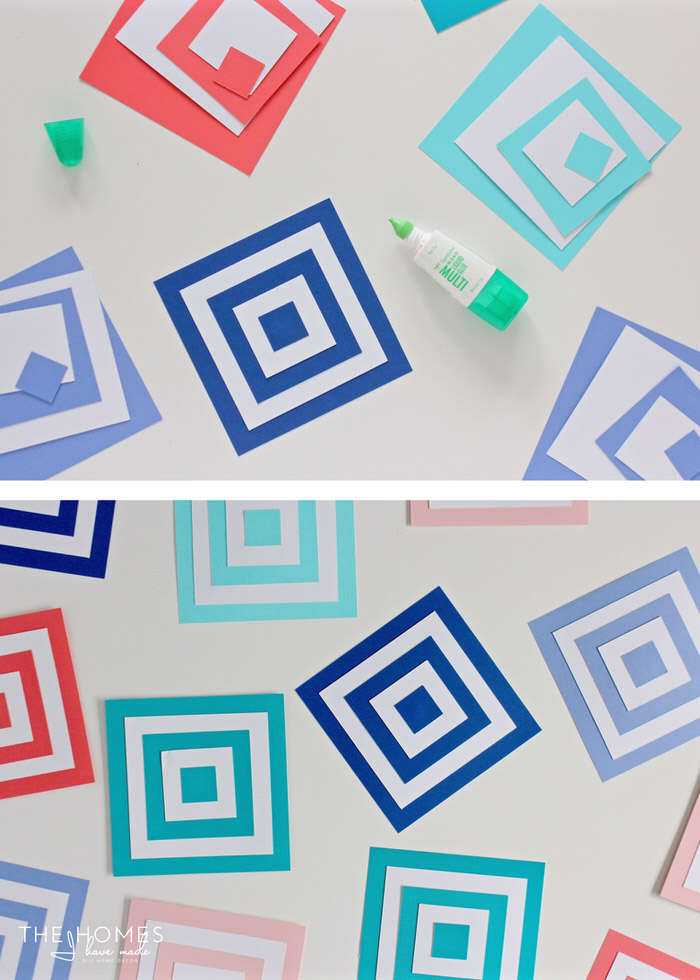 Next, use the paper trimmer to cut each assembled square in half on the diagonal. You will be cutting through 5 layers of paper in the middle, so ensure your paper trimmer is sharp!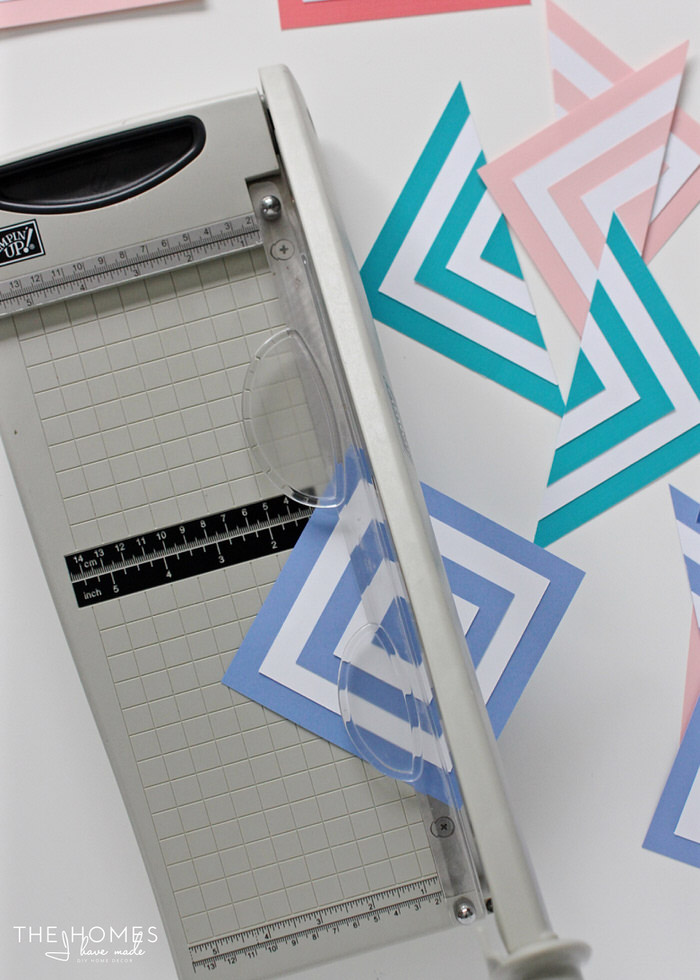 Keep cutting the squares in half until you have a bunch of layered triangles.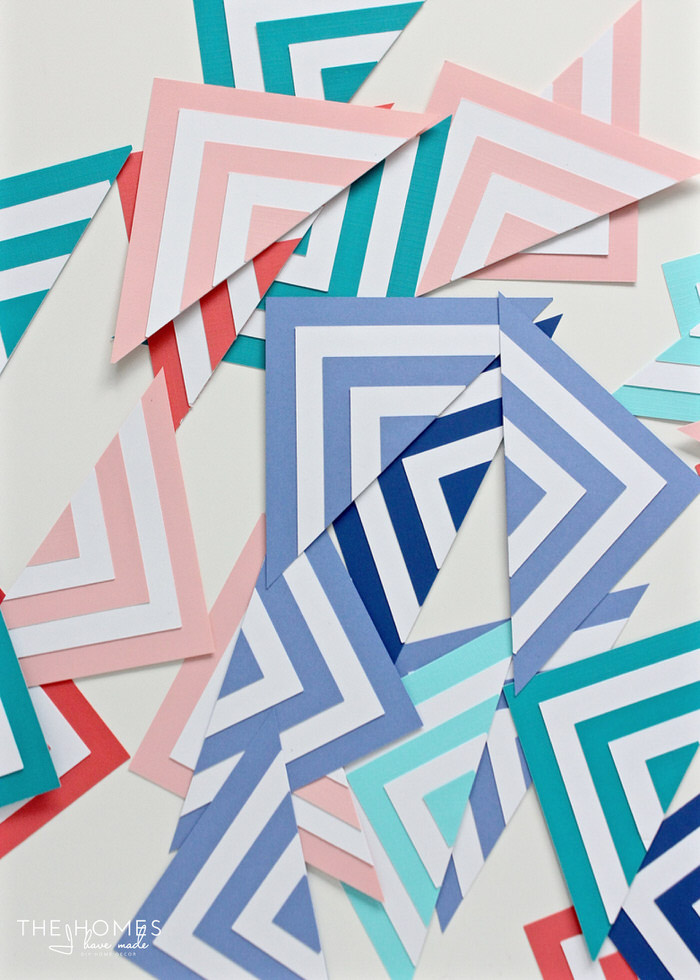 It is helpful to make a quick template to help keep consistent placement as you lay down the triangles onto your poster board. Do this by cutting any scrap paper you have into a square that is the same size as your largest colored square. Then cut it in half on the diagonal to make two triangles. These triangles should be the same size as your layered triangles.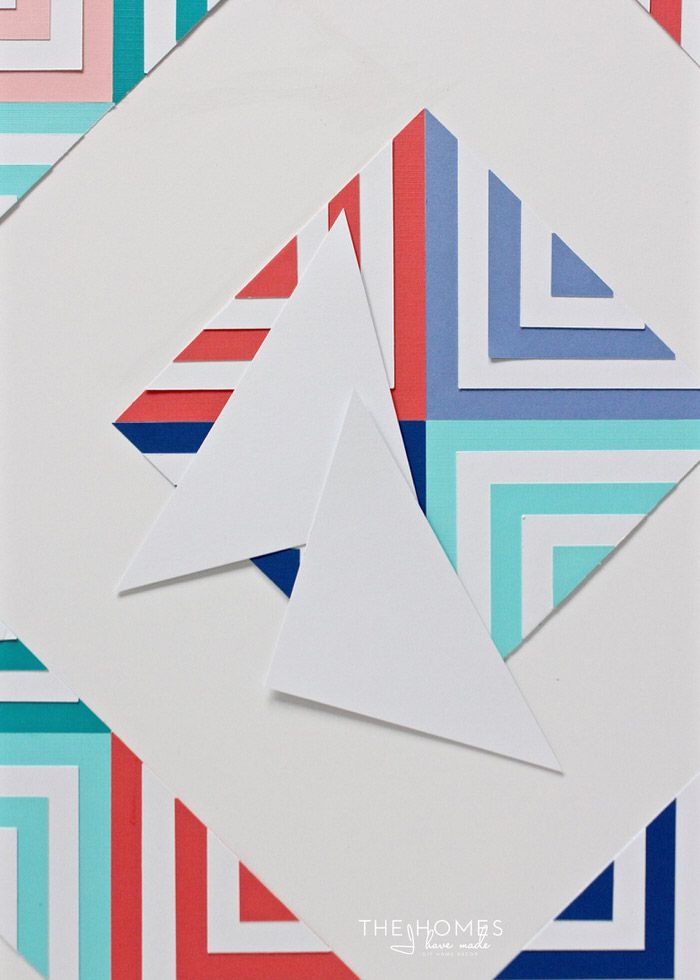 Using the white scrap triangles as a guide/placeholder, lay down the layered triangles in whatever design you wish. I used the white triangles to represent where a triangle "should" go and built off of it to create a wrapping design with lots of negative space.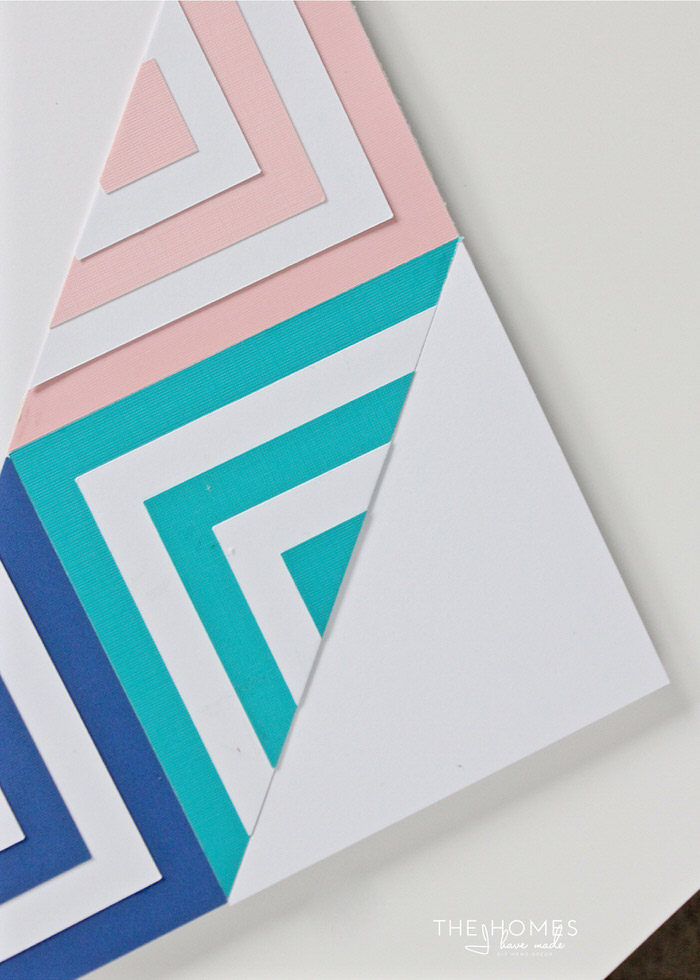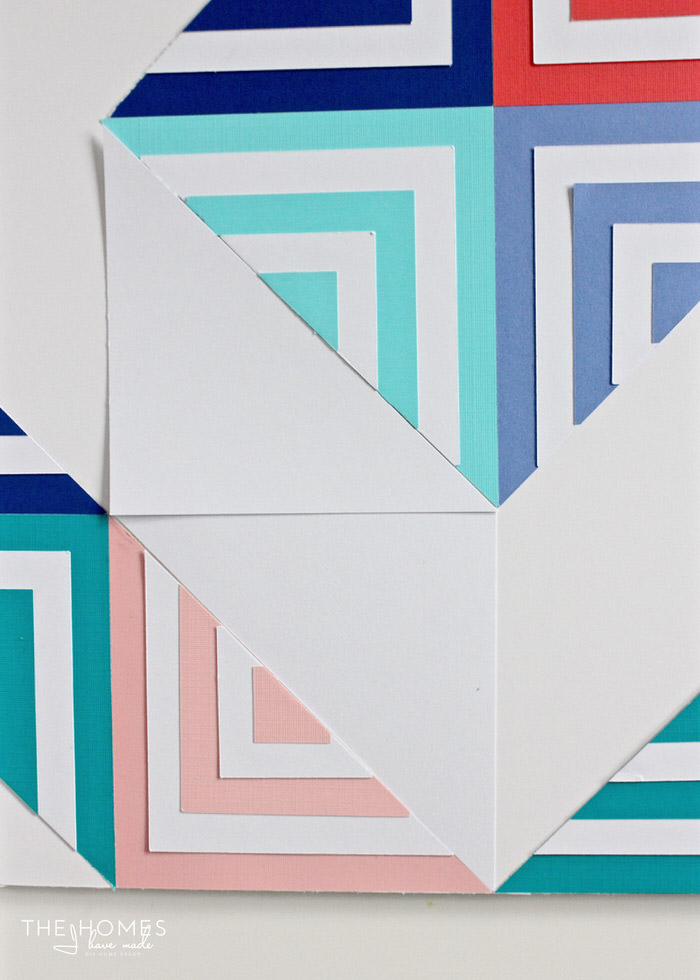 Once you have your design worked out, go back and carefully glue your triangles in place, again using the scrap paper templates as needed to ensure perfect alignment.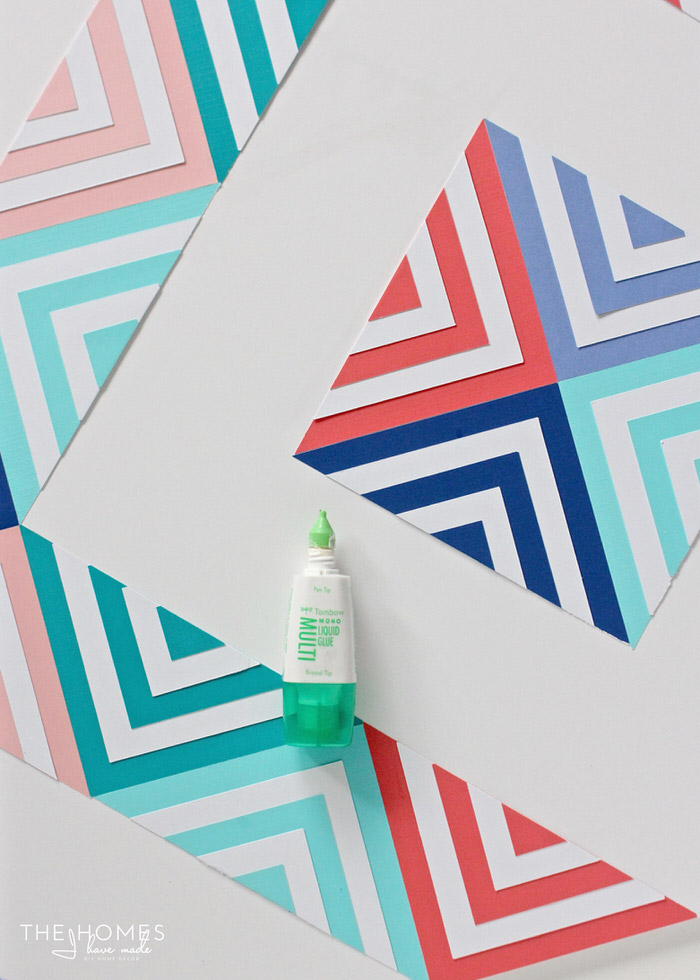 Once all the triangles are glued into place, load the poster board into a frame and display for all to see!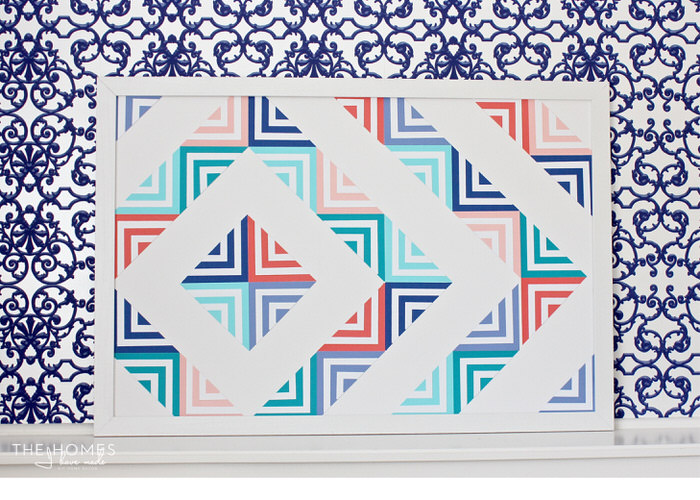 Not only is this artwork as simple as cutting and gluing paper, but it is also easily customizable to whatever size, shape, design and color scheme you prefer. By swapping out paper colors, square sizes and the layout of the final triangles, you can make something that is truly unique and personalized. In just an afternoon and with just a few dollars in supplies, you can really create great, affordable and eye-popping artwork for your home!