With this week officially being Food Allergy Awareness Week during #FoodAllergyMonth, we have been super excited to feature our second Allergy Hero, Anderson and his loving mom Kathleen.  If you missed our first Allergy Hero spotlight for Jared go here to read his story along with what we're doing all throughout May on our Facebook page.
Working with Anderson and Kathleen has been nothing short of amazing.  Anderson is an extremely sweet boy and a motivation for not only kids, but adults as well.  In speaking with Kathleen, I learned a lot about Anderson's food allergies and a condition called Eosinophilic Esophagitis (EoE), which Anderson has as well. His bravery, kindness, and passion for raising awareness makes him a true inspiration and most definitely a super, duper, awesome Allergy Hero.
Please read below for Anderson and Kathleen's full interview and keep checking our Facebook page to see how you can help donate and spread awareness for #FoodAllergyMonth.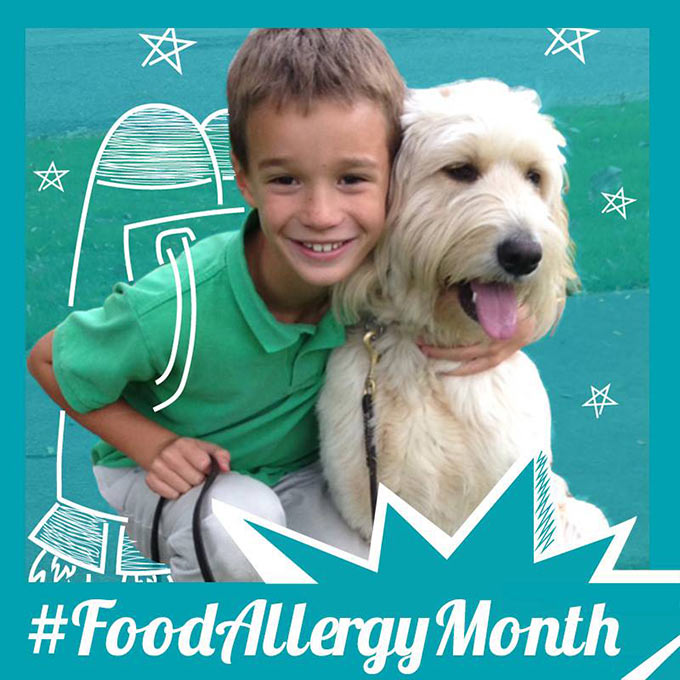 Tell us a little bit about yourself! 
My name is Anderson and I just turned 9 years old on April 7th. My favorite activity is playing lacrosse. I also love to play soccer, football, basketball, tennis and building with Legos. My favorite thing to do with my friends is playing football. My favorite movie is Jumangi, but my favorite thing to watch on TV is college sports, especially Duke lacrosse.
Tell us a little bit about Anderson and what makes him so special.
As Anderson's mom I am admittedly prone to bias, but when asked how Anderson is special, I can confidently say that since he was born he has possessed a sense of calm, wisdom beyond his years, love and respect for the people and world around him, and an enthusiasm for life that attracts others. I attest this in part to his innate nature, but I also believe that dealing with many medical struggles along the way has made his spirit strong, and made him appreciate feeling healthy, and the gifts of the world around him.
Tell us a little bit about your food allergy. 
I'm allergic to a lot of foods! I'm allergic to eggs, peanuts, all tree nuts, sesame, sunflower seeds, chick peas, peas, and bananas. I also have Eosinophilic Esophagitis (EoE), which you can get sometimes when you have lots of food allergies. I take 2 medications twice daily and have to have endoscopies every year or more to check on my esophagus. Sometimes the medicine works and sometimes it doesn't. This is why I really want to help raise money so scientists can help find a cure for food allergies.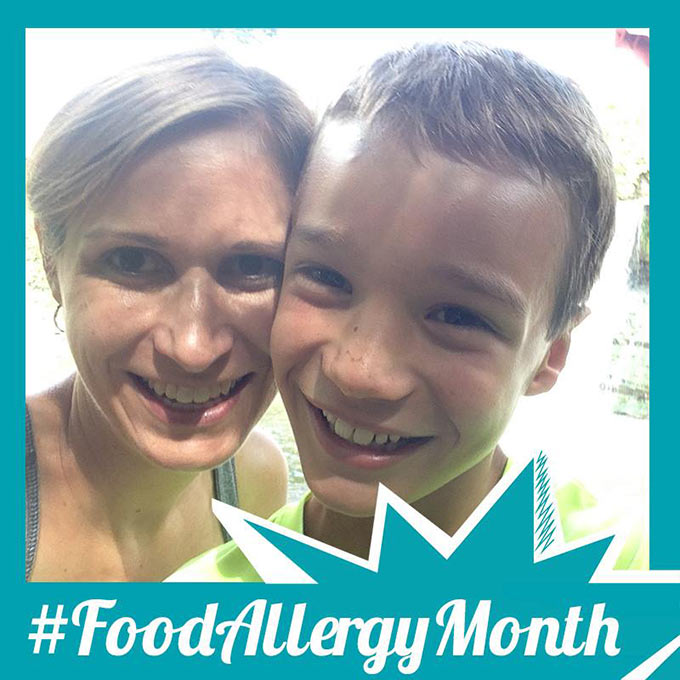 What is Anderson's food allergy diagnosis?
Anderson is allergic to eggs, peanuts, all tree nuts, sesame, sunflower seeds, chick peas, peas, and bananas. When he was young, he was allergic to many more foods in addition, including wheat, milk, beef, turkey, and many other fruits and vegetables. While still restricted, his diet has improved a lot over the years. In addition to, and as a result of his food allergies, he was diagnosed two years ago with Eosinophilic Esophagitis (e-o-sin-o-FILL-ik uh-sof-uh-JIE-tis) or EoE. EoE is most commonly caused by food allergies. In  EoE, a type of white blood cell (eosinophil) builds up in the lining of the esophagus, the tube that connects your mouth to your stomach. This buildup, which is a reaction to foods, allergens or acid reflux, can inflame or injure the esophageal tissue. Without sufficient treatment, Eosinophilic Esophagitis stiffens the esophagus so that solid foods have difficulty passing through the esophagus and into the stomach. Treatment options exist but there is no cure, and the current medication options do not work for everyone.  An elimination diet, an elemental diet, dilation of the esophagus, or gastric tubes are sometimes necessary when medication regimes fail. EoE has been identified only in the past two decades, but is now considered a major cause of digestive system (gastrointestinal) illness. Anderson has become determined to contribute to food allergy research and awareness in order to help find treatments and cures for people like himself with food allergies and food allergy related conditions, such as EoE.
Do your friends ask you questions about your food allergies? If so, what do you tell them?
Yes, my friends mostly just ask what I am allergic to. I tell them my list. I don't mind when people ask me about my allergies. They just want to know.
I actually like people to know about food allergies. I want to tell people about food allergies and diseases like EoE that are caused by food allergies so that more people know about it and can help us raise money to help find cures. I've done lots to help raise money and to tell people about it. Instead of lots of presents that I don't really need, for Christmas I asked for money to donate to food allergy research. FARE was also running a deal where the money you donated would be doubled if you turned it in before Jan. 1st. I was so excited to raise more money that I went door-to-door in my neighborhood telling everyone about how important food allergy research is to me and to raise money for FARE. My teacher donated money too! Now I am in an entrepreneurship club after school, and through this club, I had a lemonade and cookie stand in our town earlier in May. Two of my friends helped me and we donated all of our proceeds to FARE.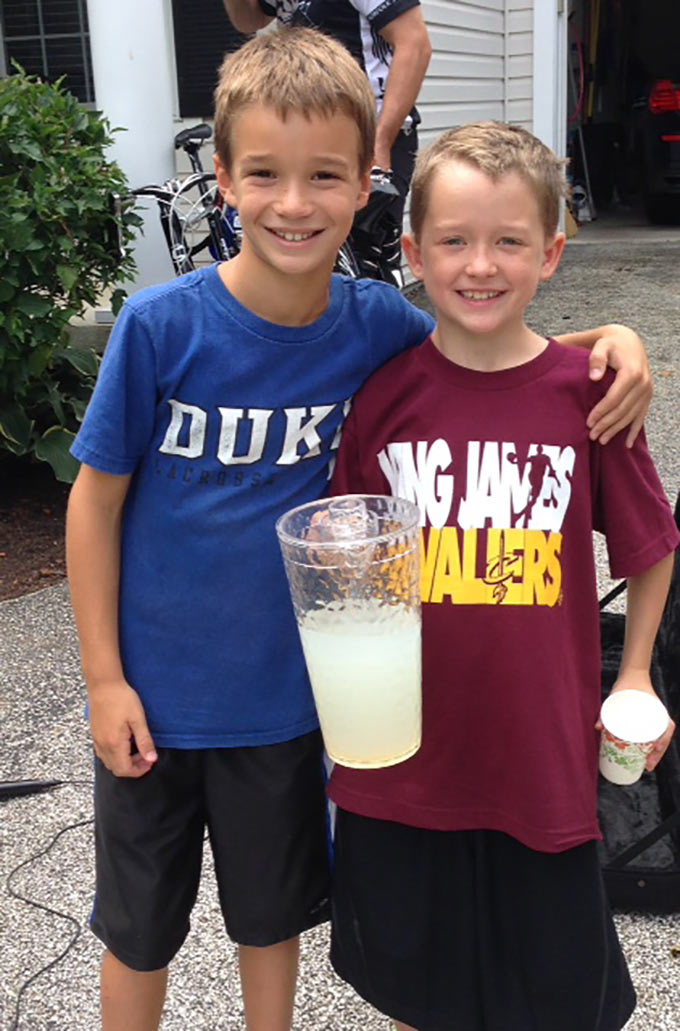 What have you and Anderson done to help spread Food Allergy Awareness throughout your community? How can other parents and children help to spread Food Allergy Awareness?
Anderson was truly my impetus in getting more involved in FARE. His food allergies have been very limiting, but when we realized that EoE was not going to go away for Anderson, and that his treatment options were not always successful or pleasant, Anderson and I became determined to help fund research into food allergies. Once food allergies are more understood, so too will food allergy related chronic conditions, like EoE. He started making fundraising for food allergy research a priority, and I wanted to assist him in any way. I developed a fundraising website  through FARE called Team Anderson. This will be a fun way for Anderson to track what funds he has raised over time. I have also petitioned our local Whole Foods Store to designate FARE as a recipient of its 5% donation day, as well as a Nickels for Non-Profit Program, in which Whole Foods would donate five cents to FARE for every reusable shopping bag that patrons bring in.
While funding research is our main objective, raising awareness about the need for that research is crucial. Raising awareness is also essential to improving the lives of people with food allergies, so that they can go to play dates, restaurants, ice cream shops, camps, school, college—and feel safe and enjoy like everyone else. Raising awareness can be as easy as talking to your friends about how to care for your food allergic child when they come over for play dates to addressing restaurant managers, chefs, and servers regarding the importance of meticulous care for patrons with food allergies. It can also include personally thanking chefs, managers, and friends for safe and careful service or spreading the word about great allergy-friendly restaurants, camps, or school cafeterias to friends and family. I also encourage people to raise awareness and funds through simple, fun means, such as parties or bake sales or sporting events. Any little amount raised can help raise awareness and help fund research to better understand food allergies.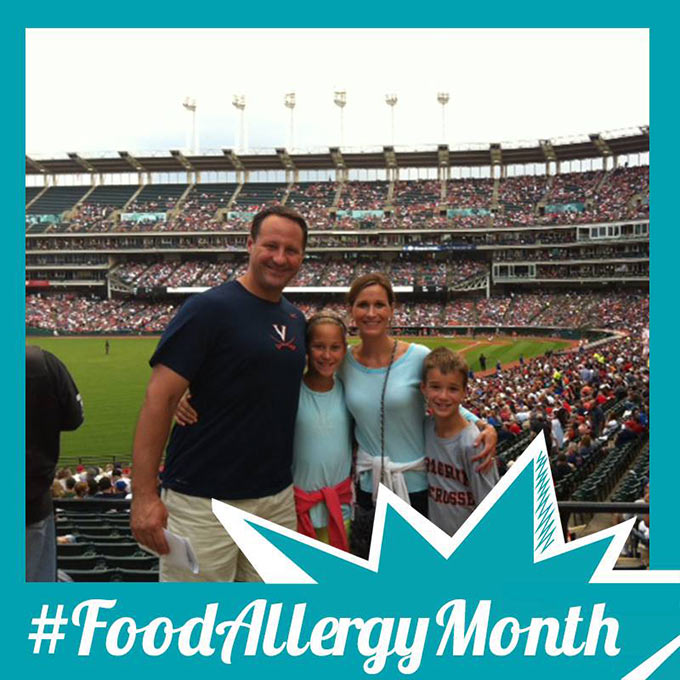 What type of advice would you give to other kids who have a food allergy? 
Regarding food allergies, I would say that having food allergies stinks. It's annoying to have an allergic reaction, to not feel good, or to suddenly have to go to the hospital. My advice is to be really careful with what you eat. Always check the ingredients and don't be afraid to ask lots of questions at a restaurant or a friend's house. Even if it's annoying to have to wait and ask so many questions, it's really worth it to be careful. Its also a good idea to bring back-up, safe foods with you.  As long as you're careful and make sure that others are careful, don't let it stop you from having fun and doing things that you want to, like eating at restaurants, going to friends houses or camp. I don't let it stop me!
Do you have any sort of tips or advice that you can provide to other parents regarding children with food allergies? 
I have two children with severe food allergies and have learned a lot along the way. As a parent of a child with food allergies, it is important to advocate for your child, and as he gets older to teach him to advocate for himself, in every situation, letting coaches, teachers, camp counselors, restaurant employees, ice cream workers, and friends know what is important in staying safe. Gradually have your child start to ask the questions and read the labels so he can feel some mastery over the situation. Keep safe treats in the car or freezer to pull out if events come up at the last minute. If possible, provide your allergic child with choices. They have fewer choices than other kids, and choices make kids feel that they have control over something. Without control over their allergies, it is especially important for food allergic kids to feel some sense of control. Another tip would be to ask for advance notice of class or sports activities involving food, so you can provide something safe for your child and he does not feel left out. Don't be afraid to ask lots of questions and never be afraid to ask to speak to the server, the manager, and the chef! Last but definitely not least, be grateful and thankful and spread the word about establishments that take good care of your food allergic child. We want these places to thrive and for more to choose to be like them!
Check back to My Daily Bubble each Friday to see the full interview from each of our Allergy Heroes and their wonderful parents.