Earlier this week, a few of us from Name Bubbles had the opportunity to visit a handful of children at New York-Presbyterian Morgan Stanley Children's Hospital. One of the top-ranked pediatric hospitals in the country, the facility treats kids with rare and critical conditions. They do a wonderful job, offering a high level of technical care in an apartment-like environment, which allows children and their families to stay together. The hospital also encourages volunteers and non-profit groups to provide entertainment, arts-and-crafts, and events for the children during their stay.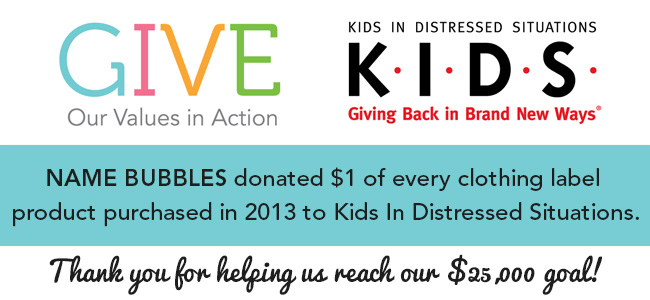 It was at the hospital that we met with our 2013 GIVE partner, Kids In Distressed Situations (K.I.D.S.). They wanted us to see and experience how some of their funds were utilized this year and invited us to join them at a recent event. We were fortunate to be able to join New York-based non-profit Princess for a Day in giving the children a fun distraction for a few hours.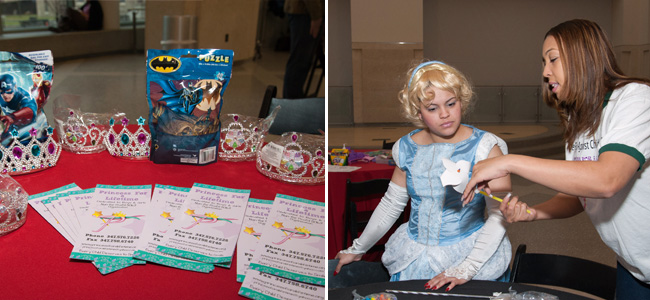 Name Bubbles selected K.I.D.S. as the focus of our 2013 GIVE program because of the organization's ability to distribute new merchandise to children in need, including those on the receiving end of disaster-relief efforts. By working with companies that donate books, clothing, diapers, toys, and shoes, the non-profit is able to distribute $10 of new merchandise for every $1 they receive in donations, a most impressive feat.
Last spring we tethered our giving program to our laundry-label products; for every order sold, Name Bubbles donated $1 to K.I.D.S., with an ultimate goal set at $25,000. We're happy to report that we reached that goal. This donation was ultimately possible because of our wonderful Name Bubbles customers, whom we thank for being part of GIVE 2013!
A special thank you also goes to Name Bubbles' Marketing and Social Media Coordinator, Amanda (Mandy) Grzymala. She worked directly with K.I.D.S. throughout the year and shared the work of the organization with our parent customers via social channels. When I asked her about the experience, Mandy noted, "I feel incredibly fortunate to have worked with K.I.D.S., sharing their great work with our community of parents across our social platforms and lending a hand in organizing a touching event for the children of New York-Presbyterian Morgan Stanley Children's Hospital. On top of that is the chance I had to learn about the inspiring events they host across the nation each and every year. It was a wonderful opportunity to work with their dedicated staff, and I look forward to seeing their continued efforts better the lives of children across the world."
Name Bubbles created GIVE to provide support and awareness to non-profit partners and will be announcing our 2014 program soon. Again, thank you to all of our customers who have stuck with us through the years and continue to make our giving program a success.