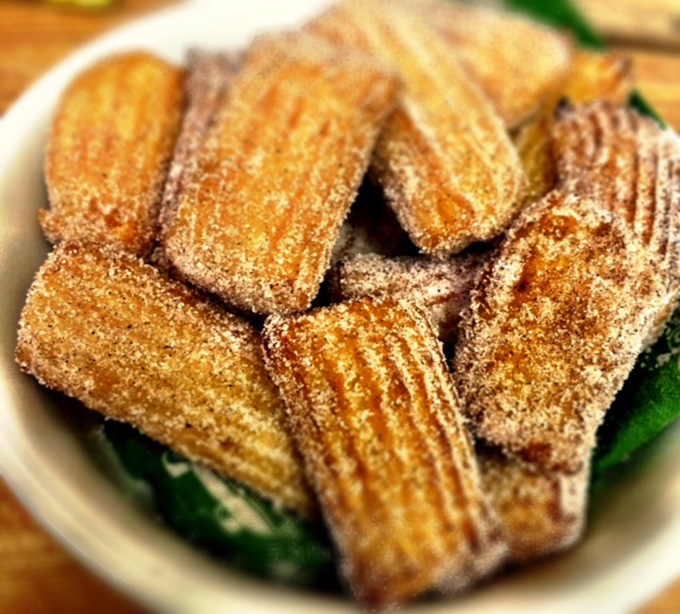 Mini Churros & Mexican Hot Chocolate Sauce
Yields about 24 churros
Mexican Hot Chocolate Sauce
3 cups dark chocolate chips or chunks
2 teaspoons ground cinnamon
2 cups heavy cream
In a large bowl, add 3 cups dark chocolate and ground cinnamon. In a small pot over medium-high heat, bring 2 cups of heavy cream to a boil. Immediately pour the heavy cream over the dark chocolate and allow to sit for 2 minutes. Using a whisk, gently mix the cream and the chocolate together until a thick chocolate ganache forms. Set aside and keep warm.
Churros
4 cups vegetable oil for frying
2 cups water
¼ cup sugar
¼ cup vegetable oil
2 cups all-purpose flour
1 teaspoon salt
1 ½ cups sugar
2 teaspoons ground cinnamon
Pastry bag
Pastry bag large star tip (#896 or larger)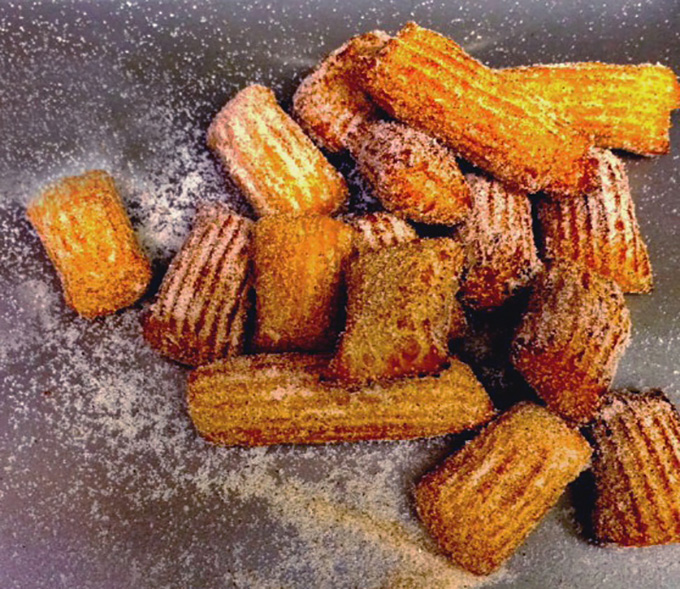 In medium pot over medium-high heat, bring water, sugar, and vegetable oil to a boil. Once at a rolling boil, add the flour all at once. Using a wooden spoon, mix until all the flour is combined (no lumps of flour). Cook for an additional 2 minutes or until the dough pulls away from the sides of the pot. Transfer the dough to a medium bowl, cover with plastic wrap (touching the dough) and cool for 30-40 minutes.
In a medium bowl, mix together remaining sugar and cinnamon and set aside. This will be to coat your warm churros.
In a large pot over medium-high heat, add 4 cups of oil and heat to 325F.
Fit your pastry bag with a star tip, and fill halfway with churro batter. Be careful, it might still be hot!
While your oil comes up to temperature, squeeze 2 to 4-inch churros onto a nonstick baking mat. Use a butter knife to cut each churro from the pastry bag. Once all the batter is shaped and cut, begin frying. (At this point, you could also freeze the dough and fry at a later date). Drop each mini churro into the oil and use a slotted spoon to turn your churros and ensure they are golden on all sides. Cook for about 10-12 minutes or until completely golden. Remove the churros from the oil and drain on several sheets of paper towels. Once drained, toss the churros in cinnamon sugar and serve warm with warm Mexican hot chocolate sauce!