| | |
| --- | --- |
| | October 29th was a grim looking Monday morning on which Hurricane Sandy was expected to arrive, and I had one reason to brave the storm; to pay my utility bill! I really didn't want a late fee and the city building is only a two-minute drive from my house. I quickly hopped into my car before the winds really picked up. When I arrived back home, I kicked off my shoes with the mindset that I wouldn't be leaving the rest of the day. |
But, I couldn't help but think about a conversation from the day before: my friend Stephanie, a nurse, had urged me to go see a doctor. You see, I had started having odd symptoms late Saturday night. Pain like I had never experienced before. The symptoms had me teetering with whether they meant something really serious or this was another case of me being a "hypochondriac", as my husband sometimes teases that I am.
After hearing from Stephanie twice more, complete with a message from her dad who is a cardiologist, I called our Navy Base where I would normally see a doctor. The receptionist said there were no appointments available but asked about my symptoms. After hearing my explanation he advised me to take myself to the emergency room immediately. That made a total of three medically trained people advising me to see a doctor, maybe I should actually go, I thought.
With the mindset of "it's probably nothing" still intact, I decided to drive to a local urgent care facility instead of an actual hospital. As I made my way down the road, flooding was already apparent from Hurricane Sandy and I was forced to take a detour. Once I finally arrived at the urgent care center, I checked in and explained my symptoms. I settled in expecting to wait the usual hour wait, but was called after only two minutes! I happily made my way back to the exam room, pleased with the quick admittance.
A nurse checked my vitals while I shared with her that late Saturday night while laying in bed I had experienced chest pains in the form of heavy pressure, and that the pain had radiated out into both my arms, more severely in my right arm and most unusual to me, the strange pain also affected the left side of my jaw. I told her that I had tried to massage the pain away in my arms, and ultimately sat on my bathroom floor feeling nauseous from the pain. Eventually I had forced myself to sleep, and the next day (Sunday) I helped my husband do some landscaping in the yard and the work had brought back the pain in my jaw and right arm. She listened carefully while simultaneously placing stickers on my chest and hooking me up to a machine that would perform an EKG (electrocardiogram) to determine if there was any problem with the electrical activity in my heart. I sat and waited, listening to the incessant beeping pattern that was my own heartbeat. The doctor finally arrived only to ask me to repeat my story to him. "Well by the sounds of it I would think you had a heart attack, but I'm sure you didn't at only twenty-four years old," he said. Even with my EKG looking completely normal, he ordered a blood test just in case. Six vials of blood later, I was waiting alone again in the exam room, with the belief that I would soon walk out feeling like a dope for going to the doctor, during a hurricane, for no good reason.
After twenty minutes of playing games on my phone, the previously upbeat doctor was back to see me and looked as if he was about to be sick. I had never seen a doctor with such a look of dread before, and I immediately knew something was very wrong. He said my blood test had come back positive, and after a million racing thoughts I was finally able to muster up the courage to ask, "positive for what?" "Positive for elevated troponin levels….there has been damage to your heart," and after a long pause he finally said it, "you had a heart attack, we need to get you an ambulance."
I tried to keep a smile on my face in his presence, but a few tears fell down my face. He finally walked out to make hospital and ambulance arrangements and once I was left completely alone again, I cried. I had no idea what to think, I just knew I had to get my husband there as soon as possible. My husband is in the Navy, he works on a submarine and had returned from a seven-month deployment just two weeks earlier. Getting a hold of a submariner at work isn't as easy as calling their personal cell phone or even office phone. I called the only person I knew could help, the wife of the captain of our submarine. She calmed me down, said she would take care of everything and in ten minutes flat she was right by my side, right as Hurricane Sandy really started kicking up. I called my mom whom lives across the country in California; she cried, being just as shocked and confused as I was. My husband finally arrived with tears in his eyes. In the eight years we've been together, it was only the second time I had seen him cry.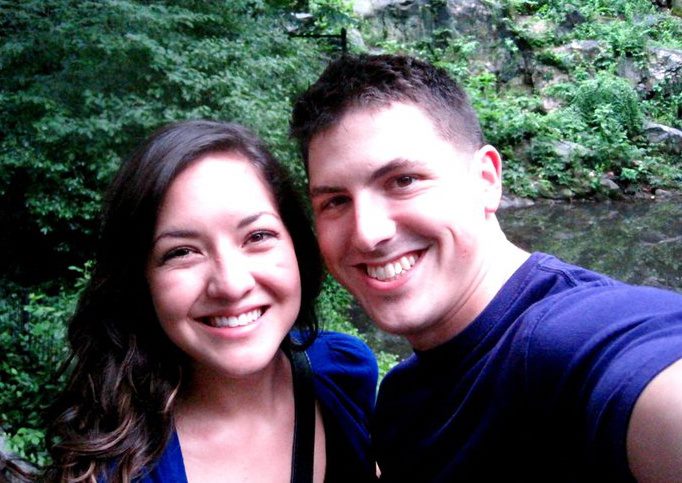 A few weeks before my heart attack
They wheeled me out to the ambulance on a stretcher, and it all started to feel very real. I had never been in an ambulance before and happily occupied myself with examining all of the buttons, machines and do-dads around me.  Once I was settled into my room, my husband, Michael kept my spirits up, told me jokes, and slept in the chair beside me during my three-night stay. Each day consisted of blood tests every six hours, and multiple exclaiming, "You're the girl everyone is talking about!"
Yes, I am the healthy, twenty-four year old, normal BMI, athletic, drug-free, female heart attack survivor.
Doctors were initially very confused as to why my heart attack happened in the first place. After going through an MRI, CT scan, coronary angiography, EKG, "bubble study", and TEE (transesophagealechocardiogram), it was finally determined that I have a Patent Foramen Ovale or PFO, which 1 in 4 people actually have – yet most people have no complications with it. From the Cleveland Clinic: "the foramen ovale is a small hole located in the atrial septum that is used during fetal circulation to speed up the travel of blood through the heart…Normally the foramen ovale closes at birth when increased blood pressure on the left side of the heart forces the opening to close. If the atrial septum does not close properly, it is called a patenet foramen ovale." If pressure builds in the chest of a person with PFO such as during a cough or sneeze, blood may travel from the right atrium to the left atrium; if there happens to be a clot in the blood, it may travel from the left atrium and into the brain (causing stroke) or into an artery (heart attack).
There was a small clot found in a branch off my artery, but after a sonogram of my legs and other procedures, doctors were unable to find any larger clots that the tiny clot may have originated from. My husband and I had just flown from California back home to Connecticut the very day I suffered the heart attack. Doctors theorize that a small clot formed in my blood during that flight, which is apparently very normal. In most people with a normal functioning heart, the clots simply disperse on their own. But in my case the clot traveled through the PFO opening to the left side of my heart and found it's way into an arterial branch, thus causing my heart attack. My doctors say that considering my overall health and lifestyle, and statistics of PFO complications, the chance of me suffering a heart attack was less than 1%. Couldn't I have just won the lottery?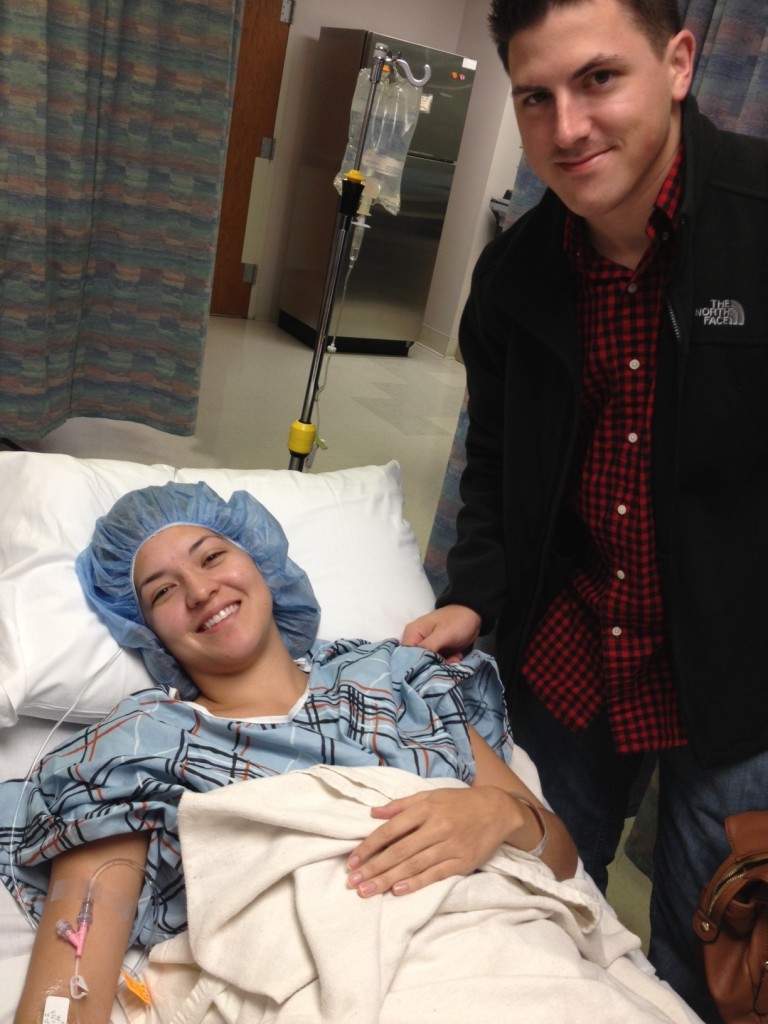 At the hospital
I was released from the hospital on November 1st with a strict pill regimen of Plavix, Lopressor, Pepcid and Aspirin to prevent any further complications for the time being. After meeting with a cardiologist and discussing my future goals, my husband and I made the decision to close the opening in my heart via cardiac catheterization.
At twenty-four years old, being told to abstain from abilities I took for granted such as exercise, pregnancy, or simply helping my husband with yard work just plain sucks. Mentally I feel completely able, so when I get tired from doing simple tasks, I have to face the reality that not only shouldn't I do these things but I physically cannot. That realization is hard to swallow for a girl who rarely asks for help – or even needs it to begin with! I am eager and anxious but generally looking forward to my surgery date. What I want most is to feel like my old self again. For now, I am thankful for many things: for the friend who relentlessly encouraged me to go to the doctor, for the support I've received from my husband, family and friends, and of course my doctors; most of all though, I am thankful for the realization that I need to stop putting off my dreams. This is my one life and I plan to live it to the fullest.
Remember: February is American Heart Awareness Month. If you would like to learn more about heart attacks in woman and early symptoms, please see the links below :
American Heart Association – Go Red for Women
Hidden Heart Attack Symptoms in Women