I'm not quite sure how, but I can always eat more on the 4th of July than during the Superbowl. I love the summer holiday and everyone knows there are very few things more American than pie. In honor of Independence Day, here's my favorite recipe. Feel free to use the freshest berries you can find. I found some beautiful, sweet blackberries at my weekly trip to the farmer's market.
Sweet Blackberry Pie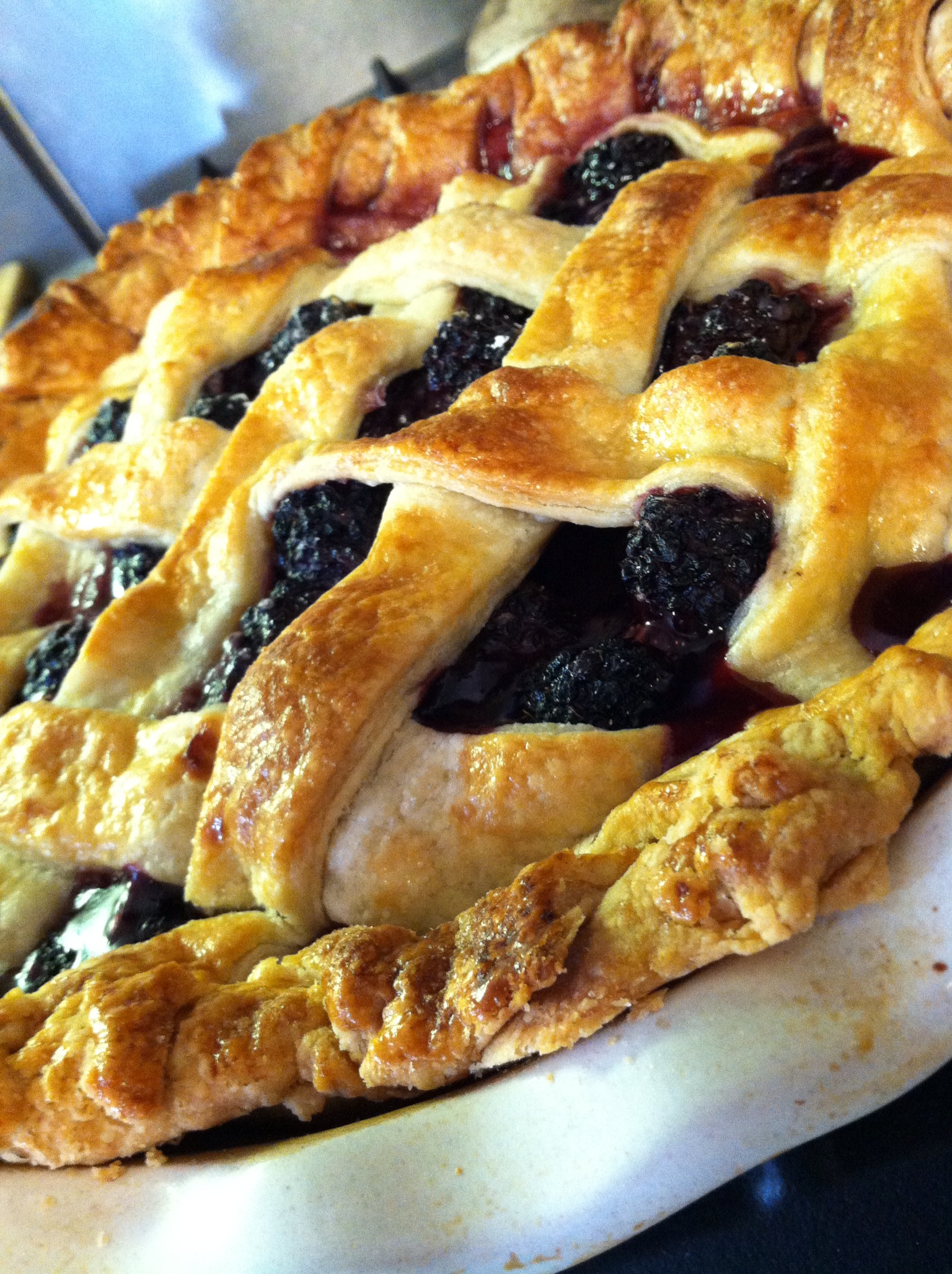 Pie Crust
Ingredients:
2 cups flour
1 teaspoon salt
1 tablespoon sugar
1 cup butter, cold and cut into ½" cubes
½ cup cold water
Method:
In a large bowl or Cuisinart combine dry ingredients. Whisk or pulse to combine.
Add butter. Crumble with fingers or pulse until consistency of sand.
Add ½ amount of cold water and mix until the dough comes together. Add more water if needed.
Wrap dough in plastic wrap and refrigerate for at least 1 hour.
When chilled, cut dough into 2 halves, smash into balls and roll both into 12-inch rounds.
Preheat oven to 375 F.
Place 1 round into the bottom of a pie dish and trim the edges, leaving a ½" edge to adhere to the top crust. Set aside while you prepare your filling.

Blackberry Filling
Ingredients:
6 cups fresh blackberries
1 cup sugar
1/3 cup cornstarch
Zest of 1 lemon
½ teaspoon salt
1 egg
2 tablespoons cream or half & half
Method:
In a large bowl, add blackberries and sprinkle with sugar and salt. Let stand for 5 minutes or until sugar is absorbed. Toss gently, if needed.
Add cornstarch, lemon zest and mix to combine, being careful to not smash the berries.
Add berries to pie dish and cut top pie crust to desired shape. Feel free to punch shapes out of the 12-inch round with cookie cutters; stars, hearts and small circles look great.  I made a classic, lattice-top crust by cutting the dough into thin strips and weaving them together over the fruit.
When ready, whisk egg and cream together. Brush top crust with egg wash for a promised golden color.
Bake for 40-60 minutes or until bubbling and golden brown. If crust is getting too dark at 30-40 minutes, cover edges with thin strips of foil and continue baking.
When ready, pull pie and allow to cool for at least one hour.
Enjoy!