2014 is the year that you master the art of boiling eggs and just in time for the Superbowl! Once you are able to make the perfect egg, what better way to enjoy them than with jalapeno and bacon??? Here is my favorite recipe for deviled eggs that adds a salty, smoky, spicy touch!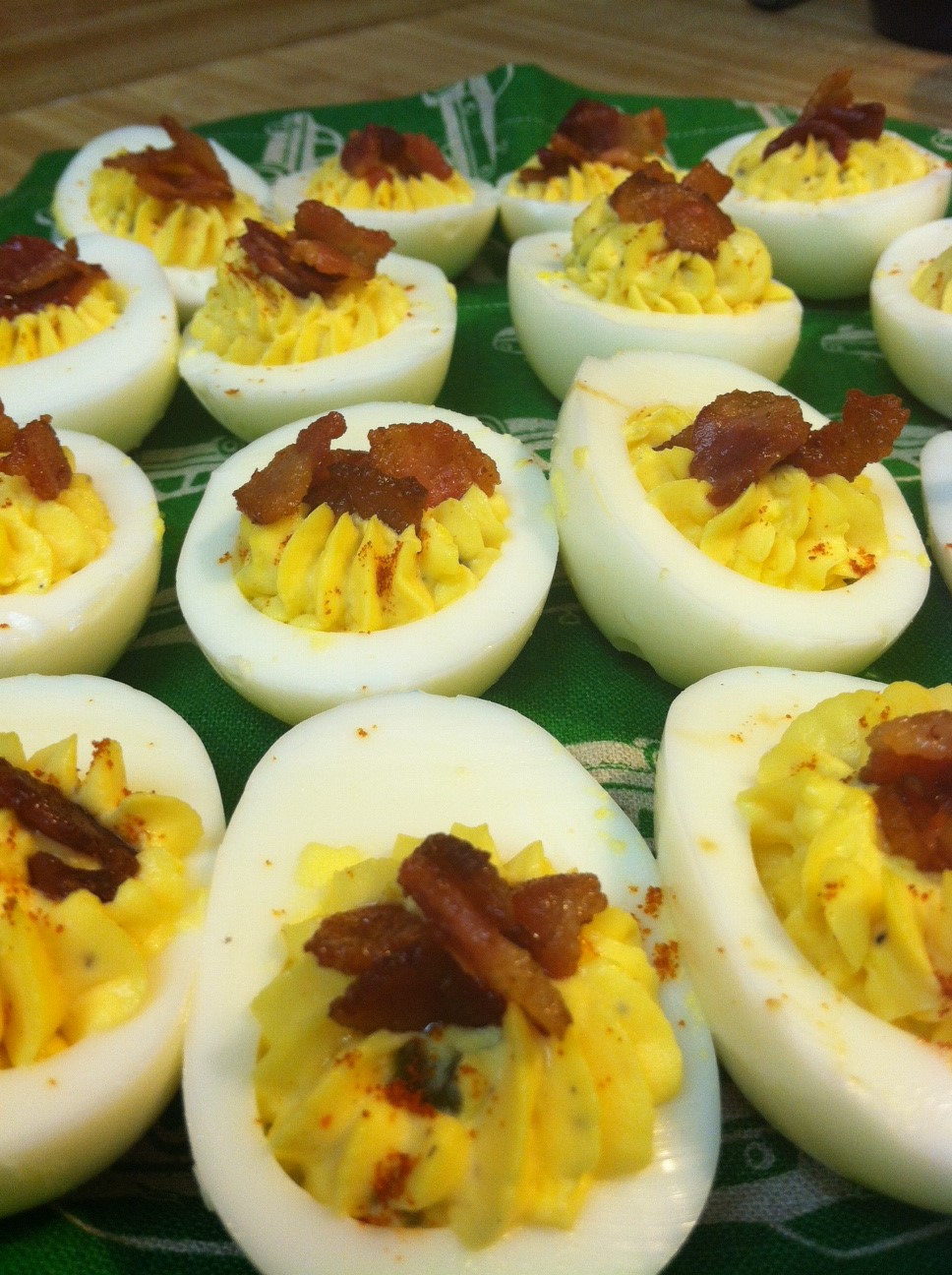 Jalapeno-Bacon Deviled Eggs
12 eggs
6 slices bacon, diced
½ cup mayonnaise
1 tablespoon yellow mustard
3 tablespoons pickled jalapenos, diced
½ teaspoon black pepper
Salt to taste
Paprika or cayenne pepper
Piping bag and tip
Place 12 eggs in a large pot and fill with cold water until the eggs are completely submerged. Place the pot over high heat and watch carefully until it comes to a boil. Immediately remove the pot from the heat and cover with a lid or baking sheet. Allow the eggs to sit for 12 minutes. While waiting for the eggs, place a medium saucepan over medium heat and add diced bacon. Cook, stirring frequently, until browned and crispy. Drain on a paper towel and set aside.
When eggs are ready, drain the hot water from the pot. Run cold water over the eggs while simultaneously shaking them against the side of the pot to make small cracks in their shells. This will allow a small amount of water to seep under the shell, making them easier to peel. Once eggs are cool enough to handle (about 10 minutes), remove their shells. Peeling the eggs quickly after boiling makes removing their shells easier.
Cut each egg in half and scoop the yolks into a medium bowl (place the egg whites on a serving platter). Add mayonnaise, mustard, jalapenos, and black pepper. Using a rubber spatula, mix all ingredients together until extra creamy. Taste and add salt to your liking.
Transfer mixture to a piping bag fitted with a large star tip and pipe into egg whites. Top each egg with diced bacon and sprinkle with paprika (or cayenne pepper for an added kick!) Enjoy!
*The eggs can be made up to 8 hours before serving and kept refrigerated until ready to serve.