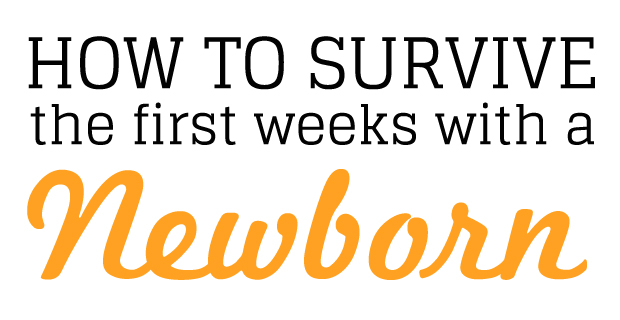 The first days home with a newborn are exciting and exhausting all at the same time. Your body will be physically exhausted from late night feedings, but running on adrenaline because you've finally brought your baby home after months of preparation and planning. It can be a joyous time for your family, but also very stressful to find balance between your old life and new reality.
We recently welcomed our baby girl Bryn into our family, making us to a family of four. Having a two year old and a two month old can be really stressful, but this maternity leave has been much calmer than the first time around. How is that possible? Experience. Bryn has been a much more challenging baby than we expected (thank you, colic), but having been through this before has helped save our sanity. Here's how:
1. Set realistic goals: Don't expect to get everything on your "to do" list done. It's a simple fact that if you have five things to accomplish, you'll only get to two or three of them. But that's okay. Don't beat yourself up about it and just move it to tomorrow. The laundry will still be there waiting for you. It's not going to magically do itself, so get to it when you can. I regularly have clean clothes, unfolded, sitting in a basket, but life goes on. I'm done measuring the day's success by productivity. If my kids are happy and I'm happy, then I'm not going to consider it a failed day.
2. Learn to go with the flow: Most people (okay nobody) would ever describe me as laid back, but having two little girls has taught me to stay flexible. Sometimes things won't go as planned and I'm learning to embrace that. My oldest daughter has a dairy allergy and my infant has got a nasty case of colic; both things I never planned for. It's made my husband and I much more of a team, working together to face these new challenges. Whether its challenges in labor, breastfeeding or something else, children teach us to expect the unexpected.
3. Be present: There are times where I get too caught up in planning for the future that I don't just sit down and enjoy today. I will never get today back, and we'll never be in this moment again. Heavy thoughts? Yes, but necessary for someone like me. I get so wrapped up with the day-to-day operations of our house or my girls that sometimes I don't stop to play a simple game of Candy Land. That's when its time to put the "to do" list down and paint our fingernails or have a spontaneous dance break in the living room.
4. Say yes to help: Right after we brought our oldest daughter Hadley home from the hospital, I felt that I had something to prove. I wanted to figure it all out on my own and shied away from accepting help. While you can still do things your way, just accept help when its offered. Say yes when someone offers to come hold your baby while you take a shower or even take a much-needed nap. Definitely say yes if they offer to bring coffee and pastries.
5. Learn to deal with the sleep deprivation: A lot of my meltdowns after having babies are because I haven't slept. You're not yourself. I know that I need at least 8 hours or sleep to function as a human being, but it simply isn't going to happen for me right now. It doesn't matter how much sleep I've gotten the night before, I have two little girls who still need their mommy in the morning. That tends to get me out of bed (along with a huge cup of coffee). Just remember one thing: the sleep deprivation is temporary. Every endless, crappy night gets you one day closer to that first time the baby sleeps through the night. If you're still not coping well, figure out a way your partner can pick up a feeding and you can sleep through one. That extra couple hours of sleep may be all that you needed.
If I said that I follow all of these everyday, I'd be lying. There are days where I need to take my own advice more often. By just keeping these in mind everyday, it's helped me to cope with the stress of a new infant and also keep my sanity (most of the time).