With a thick blanket of white covering any sign of spring, my son Cooper and I decided it was time to bring a little green inside. I've loved closed-lid terrariums since I was a little girl—they are their own little eco-system with pretty plants, drops of condensation, and little figurines—so this seemed the perfect solution.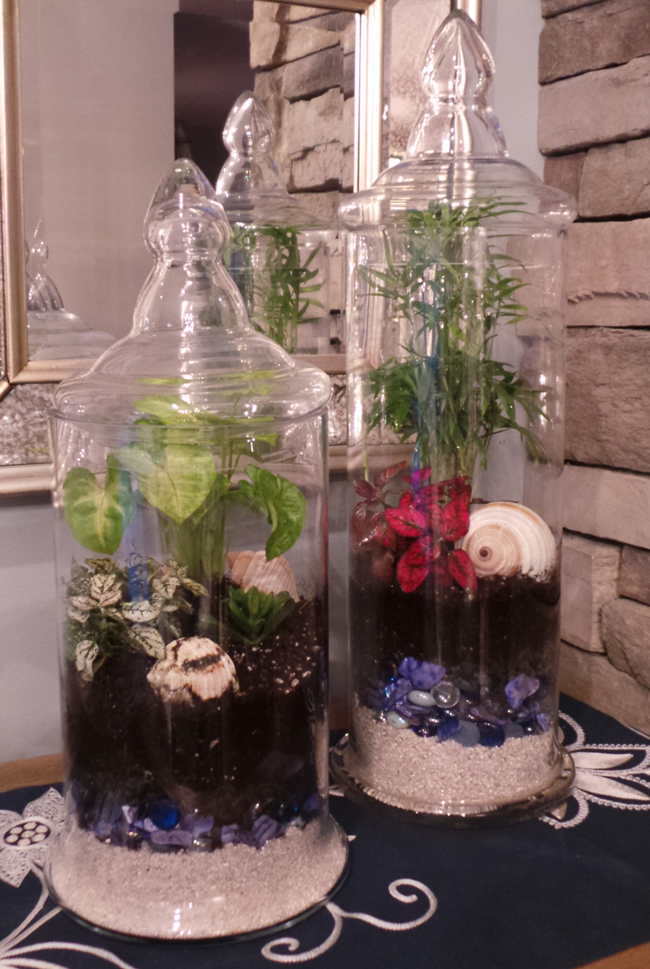 Recently, I've been visiting Pinterest for inspiration and tips before I begin a new project. With the terrarium envisioned, I gathered the necessary items throughout the week; this would give us enough time to work on the containers together over the weekend. (I had a very difficult time locating plants at this time of year. If this happens to you, don't lose heart; find a local nursery or a large flower shop and call before you hop in the car.)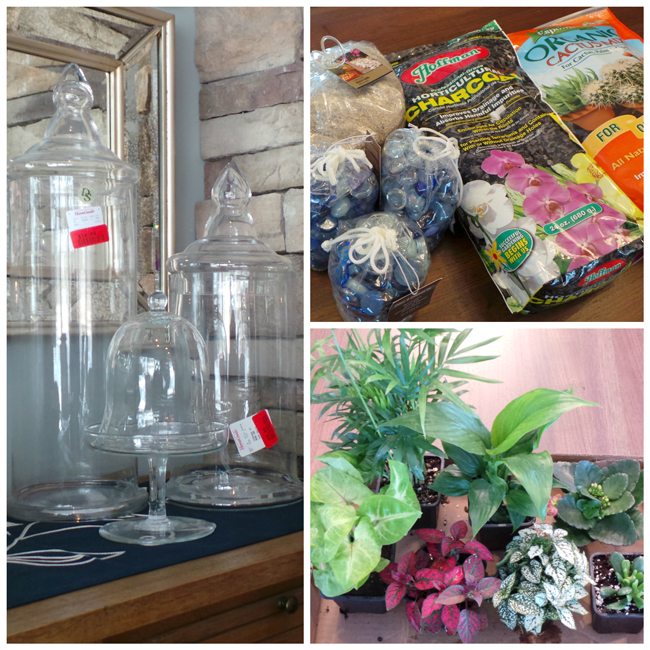 I first went to HomeGoods, where I found two nice apothecary jars (at an even nicer price). I then considered what I wanted at the bottom of the jar. I really liked the colored sand that I saw on Pinterest and found beach sand at Lowe's; this inspired me to use blue glass as the rocks of our piece. The blue would imply water with the beach sand, so I grabbed recycled blue glass and a bag of shells at Pier One. Tip: Be sure to rinse any rocks, glass beads, or sand before placing them in the jar.
The following ingredients are crucial:
1) Charcoal, to help filter the water and keep the plant roots healthy by preventing mold growth
2) Soil; I followed the advice I received at my local garden store and chose the cactus soil for drainage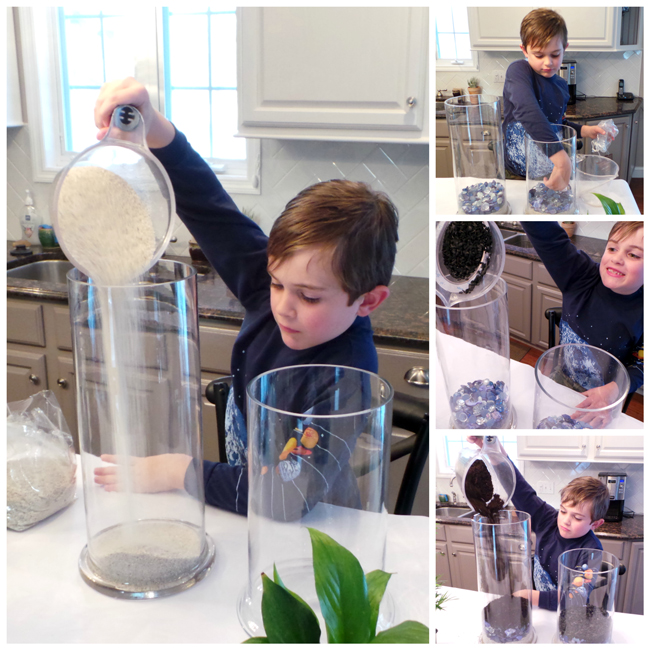 As you progress with your creation, consider the height of each layer. We were surprised when we ran out of room at the top, and I wished I had made our sand layer much thinner. You may also want to build up areas of soil to create a mound or a sloping effect inside the container; it makes for a more interesting look and helps give the appearance of more space.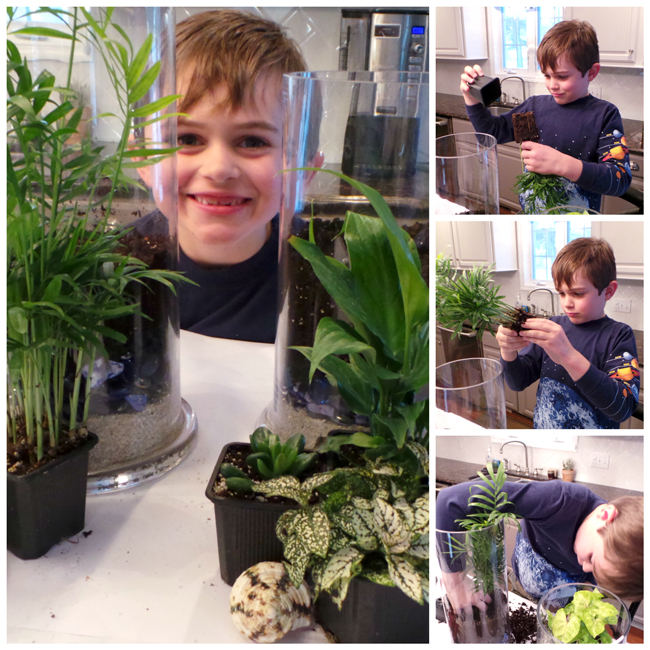 Group your plants before you begin. The rule of thumb is to plant three or five. I found that our thinner jar only allowed for two of the plants we had chosen, so we used a nice-sized sea shell to help fill the space and balance the arrangement. Break up the root ball before placing it into the jar, and be sure to cover and gently press down around each plant. Choose plants with different textures, sizes, and colors to add more visual interest. Take care not to make it too crowded.
The plants we used are:
1)  Jade
2)  Palm
3)  Polka Dot  (red and white)
4)  Neptitus
For the final touch, Cooper added a couple of smaller shells to complement the sand and blue glass; it helped with the idea of creating a little tropical island. The next morning, as he inspected the containers and checked on the plants, Cooper noticed the condensation and asked, "When is going to rain in there, Mom?" How cool is that? We created a science experiment! I hadn't even considered talking about a water cycle.
I quickly explained my understanding of a water cycle, which he seemed to already know (but he liked that he had the proof in front of his eyes):
1)  The plants soak up the water in their roots.
2)  They breathe and release the water and oxygen into the air.
3)  The moisture condenses on the glass and "rains" when it becomes heavy enough to fall or run down the sides.
Our terrarium has remained a source of fascination to Cooper. To continue his learning about the subject, I've found few books that I plan on checking out from our library:



1 – The Magic School Bus Wet All Over: A Book About The Water Cycle / 2 – The Snowflake: A Water Cycle Story / 3 – Down Comes the Rain
Have you made a terrarium with your little ones? Share your photos and stories in the comments section below!