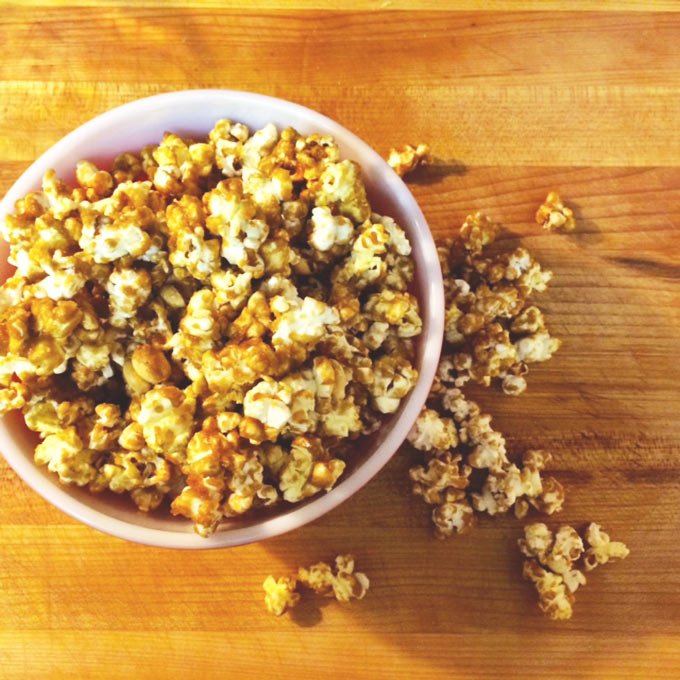 Ready or not, fall is here! Nothing says the change in seasons like a sweet, crunchy bowl of Cracker Jacks. They are perfect for watching the baseball playoffs or the start of football season and are super easy to make, with little mess. Share a big bowl or make individual treat bags…trust me kids and adults will love this sweet treat!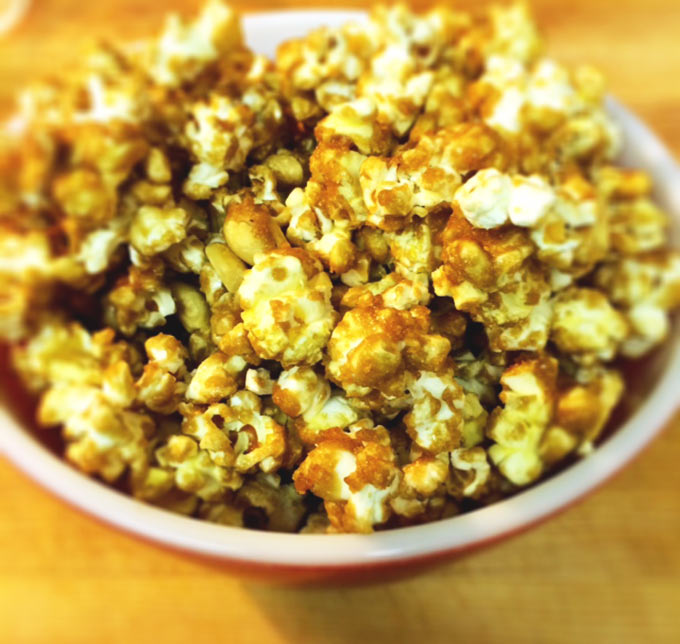 What you'll need:
4 bags butter popcorn
2 cups roasted peanuts, unsalted
½ cup butter
2 cups brown sugar
½ cup light corn syrup
½ teaspoon baking soda
1 teaspoon vanilla extract
2 paper grocery bags
2 cookie sheets lined with silicone baking mats
Nonstick cooking spray
2 teaspoons salt
Directions:
Pop each bag of popcorn according to instructions. Dump 2 bags into a large bowl and remove all of the unpopped kernels.  Add 2 bags of popped popcorn to each grocery bag. Pour 1 cup of peanuts on top of the popcorn and set aside.
Heat oven to 275F.
In a medium pot over medium high heat, melt a ½ cup of butter.  Spray a spatula liberally with cooking spray. Add 2 cups brown sugar and corn syrup to the pot and mix to combine. Bring the mixture to a boil while stirring occasionally. Boil for 4 minutes then remove from heat and add baking soda and vanilla extract.
Add half of the caramel mixture to each grocery bag, pouring evenly over the popcorn. Begin to stir the popcorn using a large spatula (dusted again with cooking spray, if needed). Be careful it's hot!
Pour the popcorn onto the prepared cookie sheets and spread evenly. Bake for 1 hour stirring every 20 minutes. Once removed from the oven, sprinkle each sheet with 1 teaspoon of salt. Allow the popcorn to cool slightly but not completely before using a spatula to make sure the kernels are all separated. Let cool and enjoy!