With Easter right round the corner, it's time to get hopping and pull together your Spring décor. Whether you're looking for an easy craft to keep the kids busy while on Spring Break, or you need a show-stopping statement for your Easter buffet, these three-dimensional eggs and carrots are simple, oh-so-charming, and super budget friendly. Made from scrapbook paper and hung from a ceiling or mantel, they are the perfect detail to complete your Easter décor!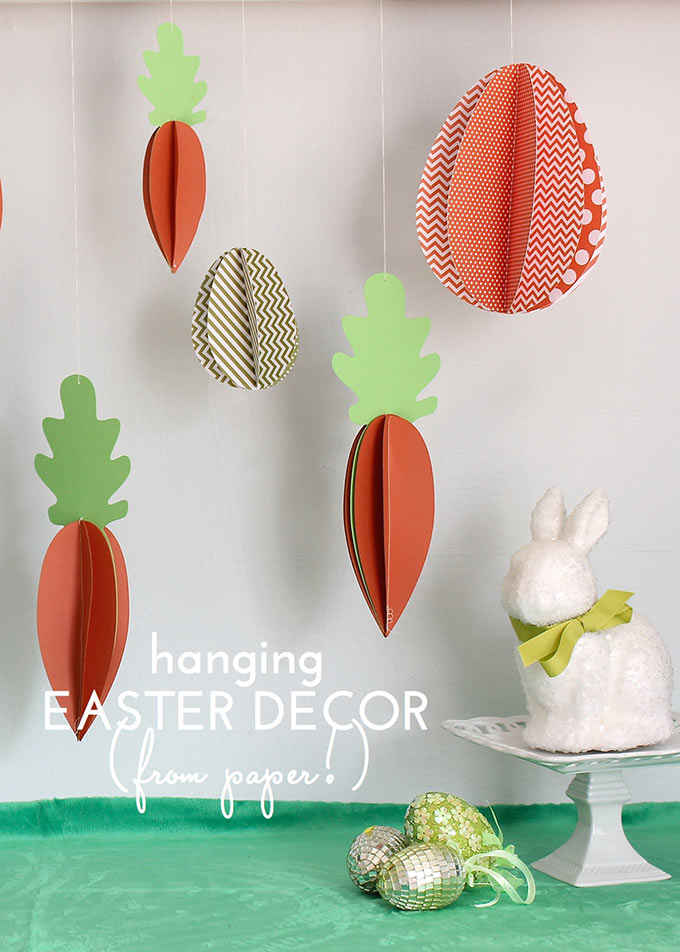 You can customize this project in any color(s) and size(s) that work with your theme or decor. Although I started making eggs in a variety of colors, I ultimately chose to stick with the orange and green color palette for a fresh and cohesive look!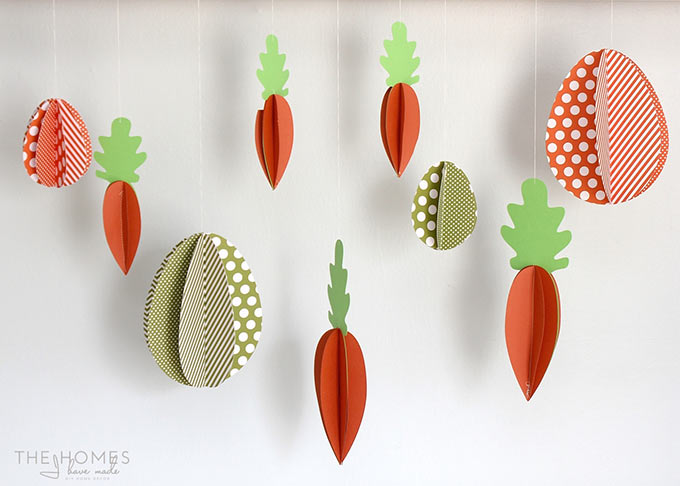 These hanging decorations are super simple and fun to make! Here's what you need:
Double-sided scrapbook paper (for the eggs)
Green and orange solid paper (for the carrots)
Thread
Egg and carrot templates (search for images in Google to find ones you like!)
Tools: Scissors, pencil, sewing machine, die cut machine (optional)
Both the eggs and carrots come together in a similar fashion. Let's start with the eggs!
What makes these eggs so charming are all the patterns peeking out as they spin. This is quickly and easily achieved by using double-sided patterned scrapbook paper! Look for papers or paper stacks with coordinating patterns and colors to really make this a cinch of a project to whip together!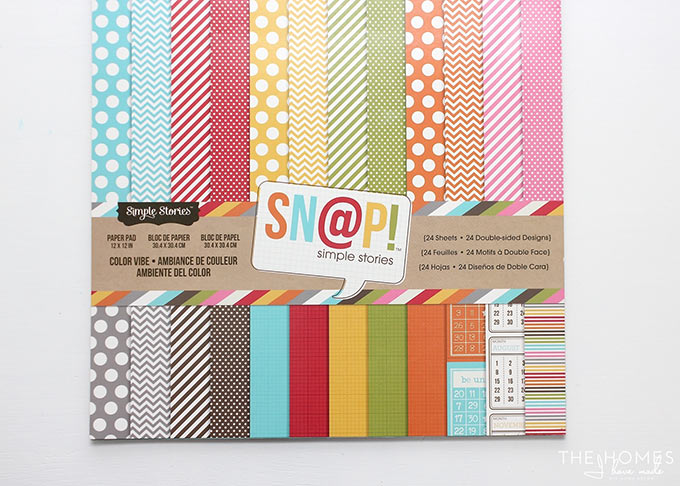 Start by cutting out the eggs from double-sided scrapbook paper. A die-cut machine makes this super quick and simple. If you don't have one, simply find a template online and trace it onto the paper before cutting it out. Cut as many layers for each egg as you wish (a minimum of 2). I cut four layers for each egg to make them really dense and visually interesting!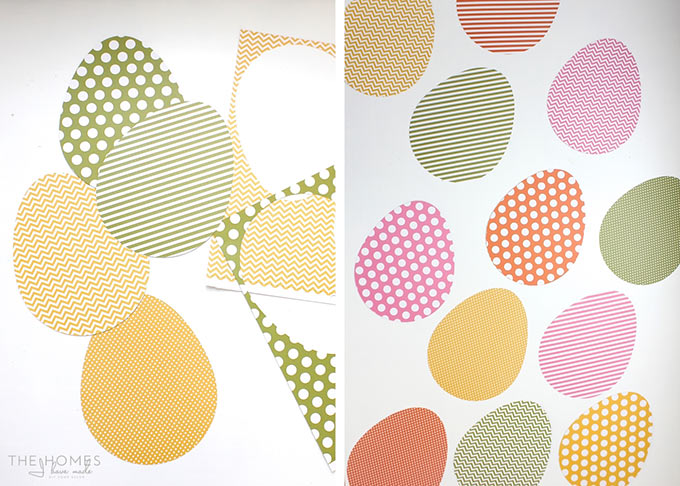 Once all the eggs are cut, form them into a pile so that all the edges line up nicely. Make sure you have all different patterns facing in one direction so that once assembled, no two patterns are next to each other.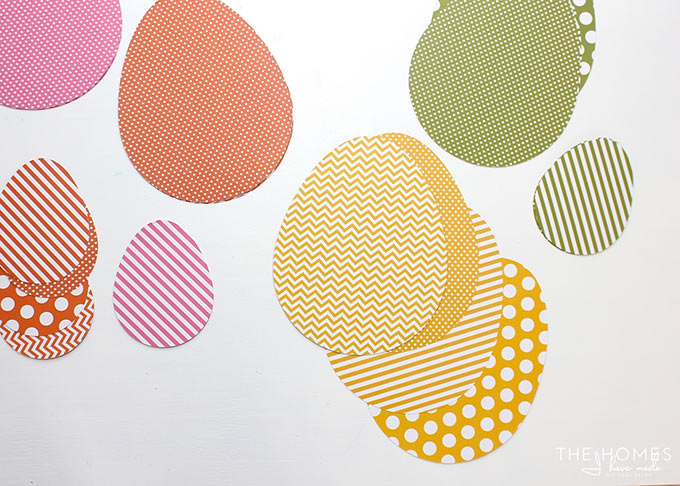 With the four paper eggs stacked nicely, sew a straight line down the center with a sewing machine. The sewing machine should have no problem sewing through the paper. However, if you are using several layers of really heavy cardstock, you may want to switch to a heavy-duty needle.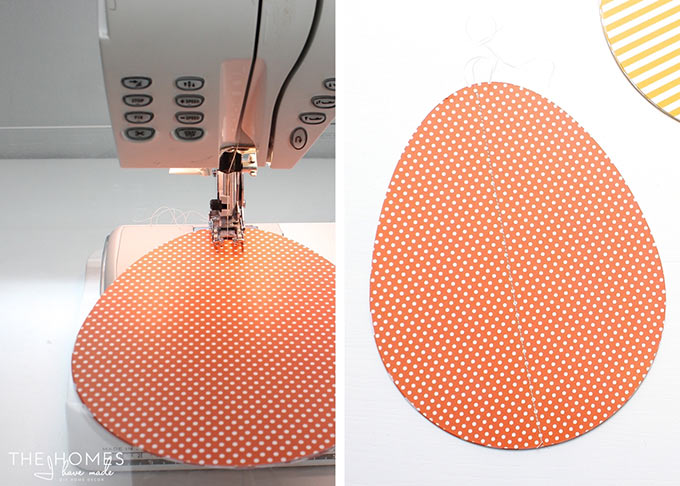 Next, fold each egg in half along the seam made by the stitch line.  Fold all the halves in one direction and then fold them all in the other so that they form a nice three-dimensional shape while hanging. Repeat sewing and folding all the other eggs before proceeding.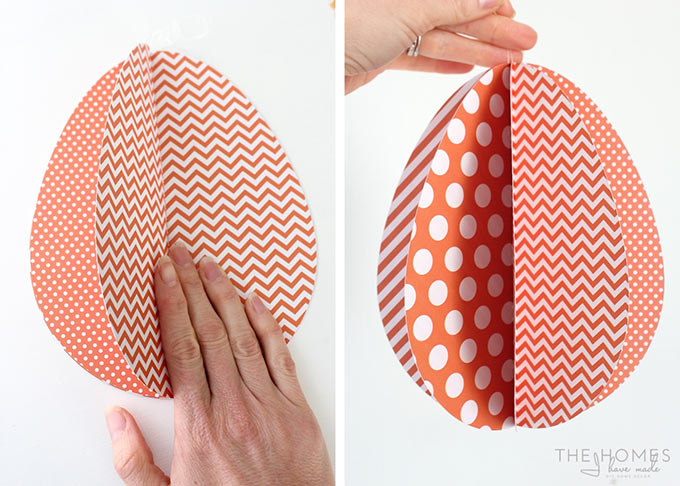 With the eggs assembled, let's apply the same technique to the carrots!
To make the carrots, you need one green full carrot (carrot plus leafy top) and four orange carrot bottoms.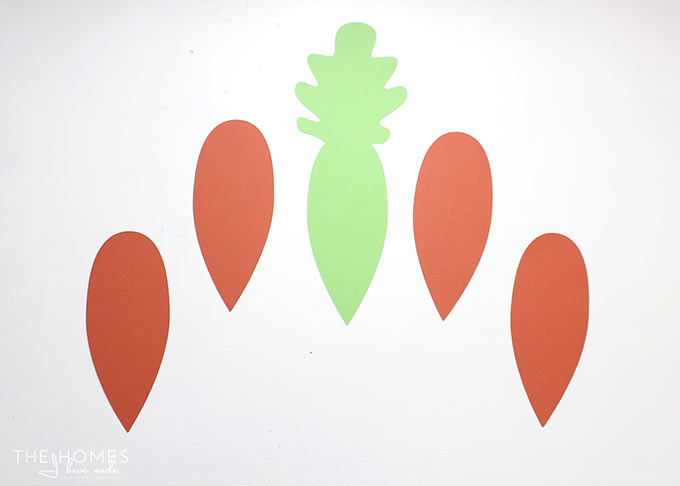 Stack the five pieces as follows: orange carrot, orange carrot, green carrot, orange carrot, orange carrot. Make sure the tips of all five pieces line up at the bottom. Using a sewing machine, sew a straight line through all five layers, just along the orange carrot section (don't sew into the green part).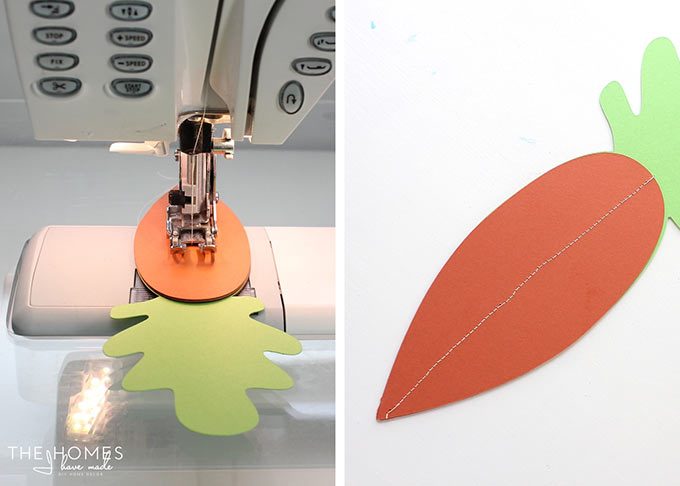 Fold the top orange carrot sections toward the middle, just as you did with the eggs. This time, however, do not fold up the second orange carrot underneath or the green base; leave those flat. Flip the entire carrot over, and fold up the top carrot layer as you did on the first side to create a round-looking final product.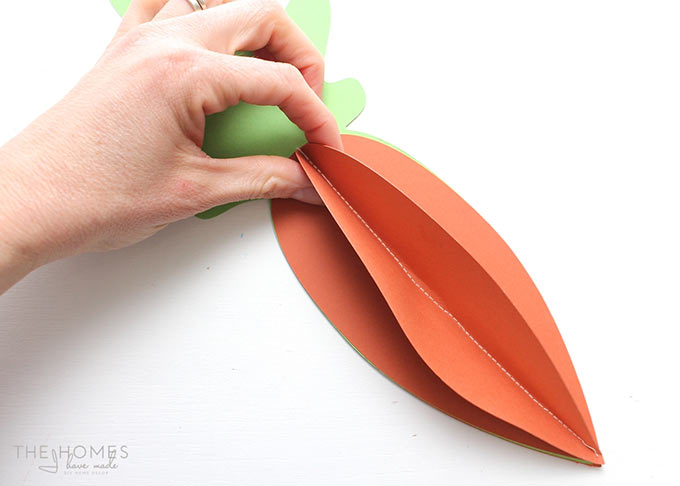 Keep making eggs and carrots in various sizes to create a really fun group of paper decorations!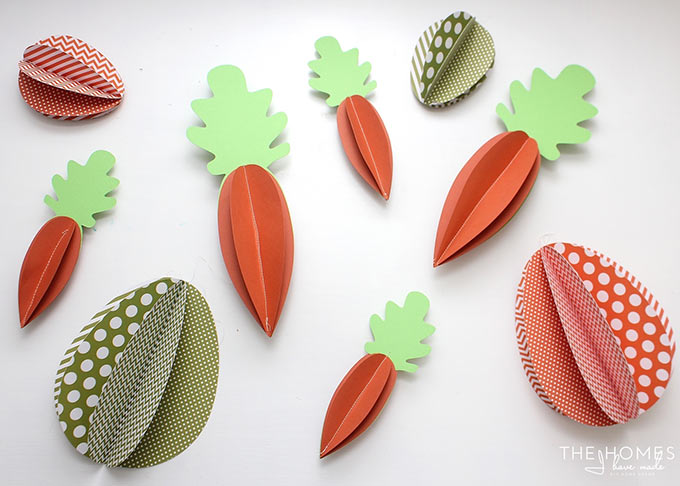 To hand the decorations, simply punch a small hole in the top of each item and string a fine piece of thread through each one. These are light enough that they can be easily hung from the ceiling with a pushpin or wrapped around a rod and placed on a mantel or ledge (like I did!).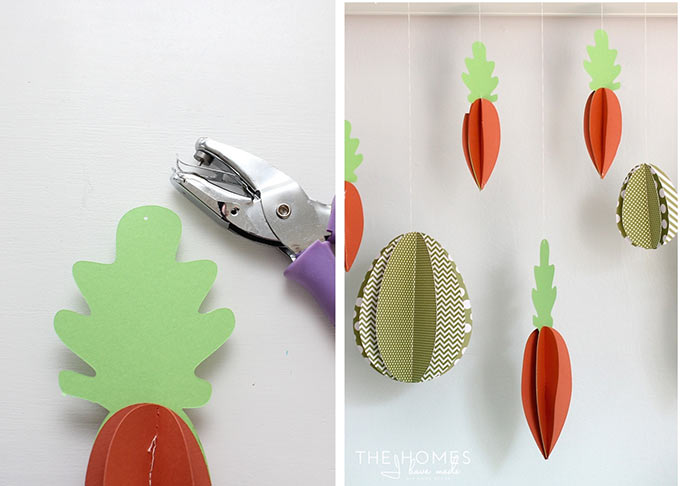 These paper eggs and carrots would look stunning hung from the ceiling down the center of a buffet or dinner table, or hung in the windows or from a mental ledge to create a loveable Easter-scape. With little time and money, you can have perfectly custom decorations everyone will love!