Oh, as the sun begins to set in these parts earlier and earlier, I am so happy to be heading into the season of parties and celebration. Light will fill our world despite the dark afternoon, and that gladdens my heart. Whether it is a humble soup night at a neighbor's house, or a big festive meal with a bunch of family and friends, we all know what it takes to host in our home – there is so much behind the scenes work. So, no matter how small and seemingly insignificant, a small handmade something given to the host is a thank you for all of that loving effort that will certainly be appreciated. Since I am not on some far off planet, I also know that we are all insanely busy and the idea of making something may seem overwhelming. But, as I ALWAYS say (so sorry if you've read it here before) it usually takes less time to make a little token than it does to head to the mall to buy it. Truth. This project certainly satisfies the quick criteria, and it is awfully sweet to boot, so get your supplies together and whip some of these up.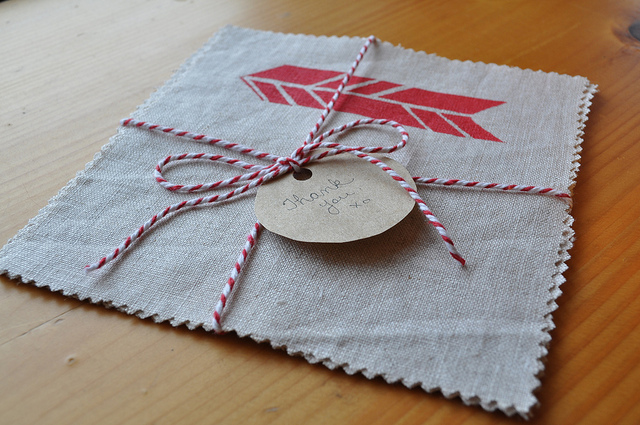 Stenciled Cocktail Napkins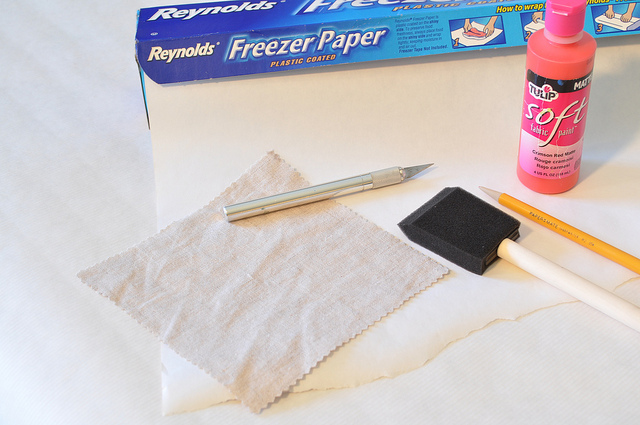 What you'll need:
linen fabric (1/4 yard will make 4)

pinking shears

ruler

iron

pencil

freezer paper (you can get it at any big supermarket)

craft knife

fabric paint and foam brush
Directions
1) Cut fabric into 6" squares using pinking shears – this makes this a no-sew project because the pinking shears limits the amount the fabric can fray. If you want to hem the edges of the napkins, go for it!
2) Draw your design onto the papery side of the freezer paper and cut out. Note that everything you cut out will be the design printed on the fabric, since this is where the paint will be allowed to hit the fabric. You'll see what I mean in the imaged below. Use the craft knife on a suitable surface to cut the design out. Freezer paper is plasticky on one side and papery on the other. The plastic side, when pressed with a hot iron, temporarily will stick to the fabric and then peel right off when you need it to. It makes an fool proof stencil because the paint doesn't easily seep under the edges.
tip: I made geometric shapes for this set and I found a ruler to be very helpful. I am all for eyeballing, however, and it is how I cut the little triangle design. Play around, get images off the internet, or have your child draw a shape for you to cut out (the Grandparents would love them!).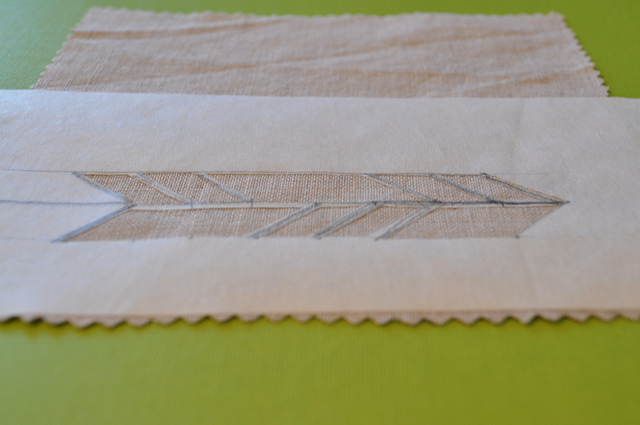 3) Place your cut design (make sure there is at least an inch of freezer paper around the design) atop the linen, with the plasticky side down. Press with a hot iron. Be sure there is good adherence around the design so paint won't seep under the paper.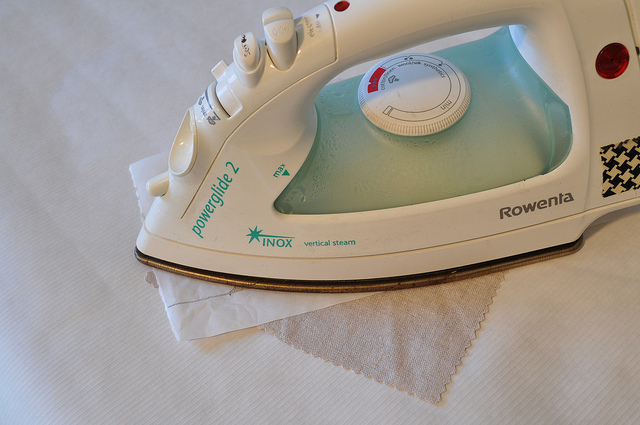 4) Apply paint onto the design, being careful to brush from the paper into the center. This will minimize any chance of getting paint under the paper.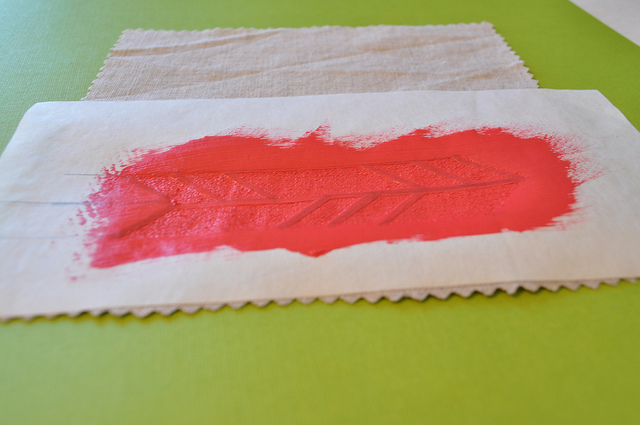 5) You can wait a little while, or you can be impatient like me, and carefully peel away the paper to reveal the magic of your design! Yes, go for it! Just be thoughtful about it.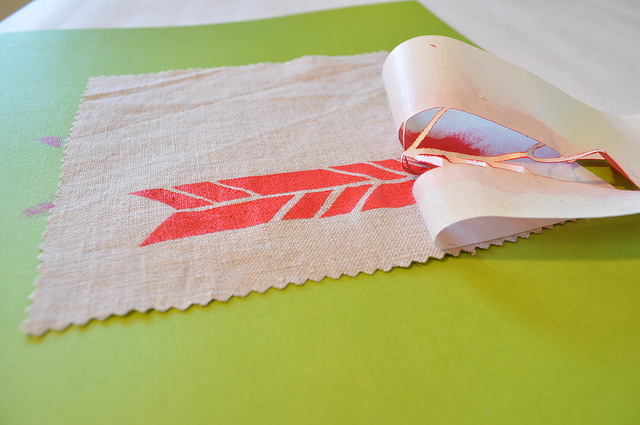 6) After the paint dries, you will most likely need to press it with a hot iron to make it permanent. Read the directions on the brand you are using.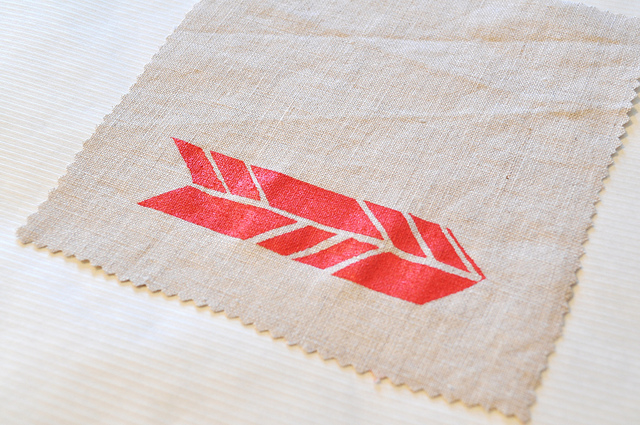 Make all of the napkins match, or put a different design on each one. You can put these in a basket with a bag of goodies, or wrap them with baker's twine for a simple presentation.
Tip: If you want to make a bunch of these, it is possible to cut through several layers of the freezer paper at once. That way you can cut once and make many stencils. Just be sure your craft knife is nice and sharp so you don't tear the paper.