By nature, we are a messy family. It's our struggle and I recognize this. My friends and family will probably get a good chuckle from this blog post. Rather than fighting the landscape of piles that build on horizontal surfaces in our house, I reached out to a wonderful designer to help us with a command center during a remodeling project this last fall.
If you aren't familiar with Jenna Burger's SAS Interiors blog, I do suggest that you take a look or follow her on Pinterest. She's a whiz at interior spaces and creating family-friendly ideas for your home. In fact, she was featured in Better Homes & Gardens a short time ago for her Command Center.
While developing a command center, I took time to consider our needs as a family of three. Who or what needed the most space? What were the biggest offenders in keeping our living space picked up? I first looked at our behavior and our habits; this is the hard part, but also the most necessary piece to create a command center that truly works. I also needed buy-in from my husband. It had to be easy and helpful, or he wouldn't use it.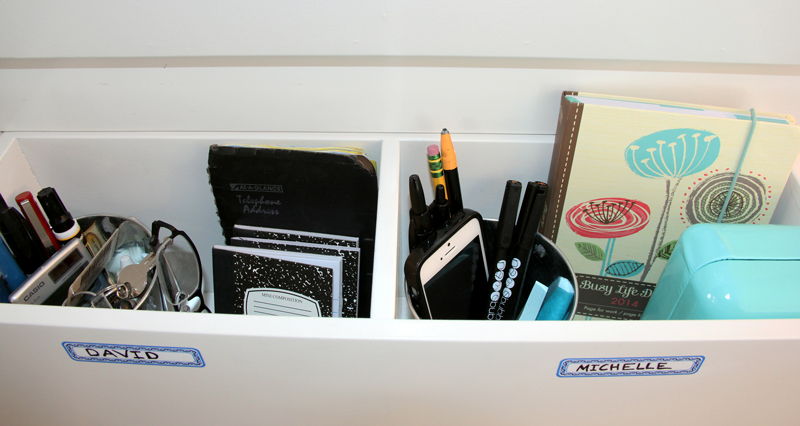 Our Issues:
1)      My husband is a pocket emptier; all things from his pockets land on the table. A cubby for his keys, wallet, money clip, address book, phone, glasses, and his notepad was a must.
2)      I am a magazine and catalog hoarder. I needed enough room for a month's worth; that's the average time I keep things.
3)      Our son, Cooper, is involved in several after-school or weekend activities. Between the school flyers and activity notices, we were getting buried in paperwork and weren't very organized. We needed a separate folder for each of his interests and sports.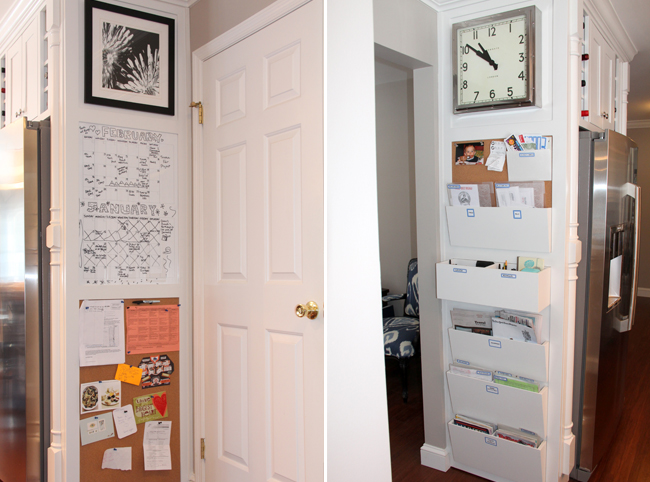 Extra wants:
1)      Two-month calendar system, behind glass for easy clean up.
2)      Cork board on both sides of the command center for recipes, meal plans, grocery list, reminders, and the school lunch menu.
3)      Large slots or filing systems to contain and organize the newspaper, magazines, activities, and school information.
4)      Slots for the local phone book, delivery menus, and bills.
5)      A place for coupons.
6)      Everything labeled nicely on the outside of the bins and on the folders (I chose Name Bubbles' braided Write On! Labels).
7)      A clock that could be seen both from the family room and when coming in from the mud room.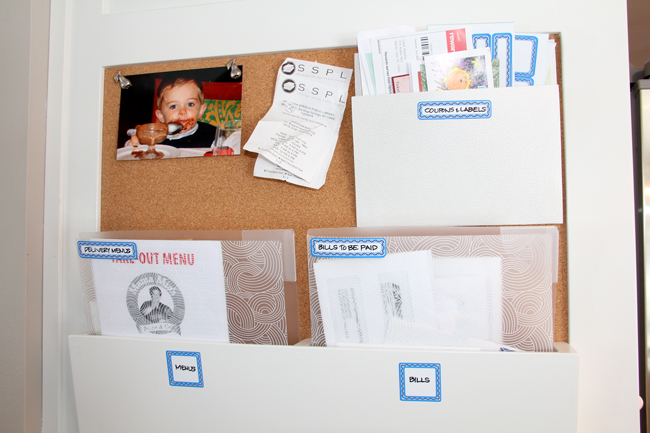 Carefully consider the placement of your Command Center. At first I thought I would prefer it in our mud room, but I'm so thrilled that it flanks our refrigerator. The kitchen seems to be the space where we come together to talk and plan without the distractions of the television or computer. We have our son look at the calendar before bed to help him plan for the next day and it helps us get his backpack and paperwork ready for school the night before. It has been an amazing transformation for our family. This Command Center was able to tame our chaos. I highly recommend considering one.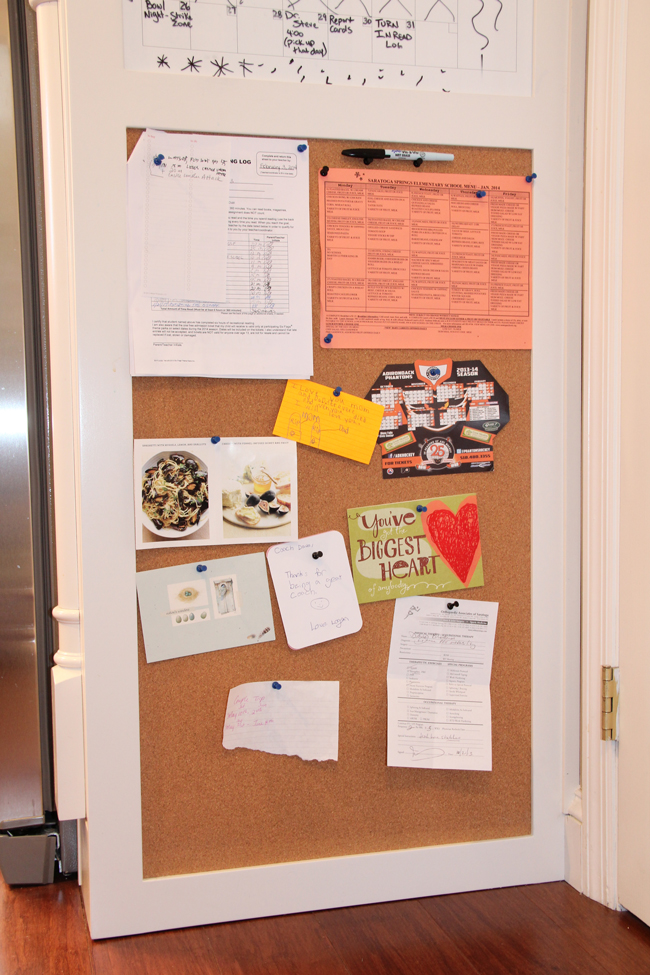 Do you use a family command center in your home? Have you found helpful to stay organized?