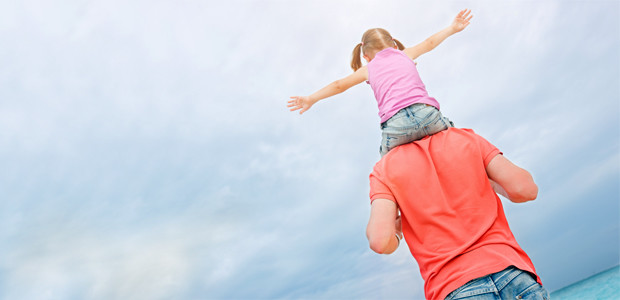 I spent Memorial Day Weekend at a Pilates Continuing Education Seminar on the beach in Sunny Florida. 😉 The weather was perfect! Thursday I had a chance to sit at the pool with my family and a margarita, and it got me thinking about YOUR Summer Vacations… and how you can still get your workout in while you are relaxing with your family.
Maybe you are the type that makes it a point to hit the hotel gym when you are away, in which case, I applaud you. I have never been a gym-lover, and can't bring myself to go in one on vacation! Yes, this weekend I was at a Pilates Seminar… and Yes, I was doing TONS of Pilates all weekend, but you will still not catch me on a treadmill or weight machine. And, this is not always the case.
To me, vacation is a time to indulge a little too… a fruity drink in the afternoon by the pool or an appetizer or dessert you'd normally pass on because "its vacation"… all OK in my book… BUT, if you are anything like me… a few indulgences like these without your normal workout routine and you start to feel GROSS!
It is a fine line… on Vacation…when you want to really unplug and check out for a few days… to relax, and indulge in some extra calories… to do all this without feeling gross, and without the grind of your normal workout… to keep your body feeling good, and still feeling like you are on vacation, relaxing.
Obvious? Maybe. But to feel better, you just have to move a little. 😉 It doesn't take a lot to make a difference, and a little bit all day adds up. It just has to be a bit more than Chaise to Pool and back.
Here are a few ideas for you to move a little, so you can feel good, not gross on vacation: 
1- You know I am really into my fitbit these days… (I actually lost it half way through my vacation, am waiting for a new one in the mail now… FYI, be careful it is not clipped to your clothing in a place it can get knocked off should you need to struggle with folding a stroller in the dark!) Just strolling around Disney for the day we walked over 15,000 steps! I couldn't believe my eyes when I saw the total on my fitbit's screen.
Walking is such a great way to move in a low impact way that benefits your whole body… and a walk on vacation could be on the beach, down the boardwalk for dinner, around a theme park, shopping… little bits all day will add up to more exercise than you might expect. Get a fitbit and track your steps… the goal is 10,000 each day.
2- Swim, swim, swim. OK, you may find me in the hotel pool. I think swimming is a great way to have fun splashing around with your little ones AND get in some good exercise. Get in the water and move your body!
3- If you like Yoga, what better place to practice than the beach? And Pilates…. did you know that Joseph Pilates designed the Mat work for his clients to do on vacation? On the beach! 😉 Disclaimer… this sounds great, but is actually pretty difficult… and sandy! A mat outside on the grass or deck might do the trick.
4- Go dancing! Cut a little rug while you are sipping your Corona and burn the Calories on your lips before they make it to your hips! Have a date night out where you can show off the moves you learned in Zumba.
It's only a few days (most of us can't get away for TOO long!)… Enjoy Vacation. And when you get home, GET BACK to your workout routine… and then some.