This is one of my husband's favorite summer recipes, Grilled Corn Salad. I grew up in the San Joaquin Valley of California, where you can pull off to a roadside farm stand and pick up 8 ears of corn for a dollar, and it's the best corn you've ever tasted. Because this recipe is so simple, it's important to use fresh ears of corn; get them from the farmer's market rather than the grocery store if you can. This recipe is very flexible, if you want more acidity, add more lime juice or less if you like. My favorite part is the cilantro; it gives the corn a nice freshness and a punch of flavor.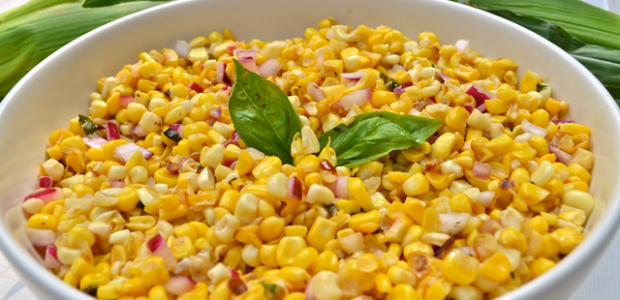 (inspired by Mother Thyme)
Grilled Corn Salad, serves 4-6
6 ears of fresh corn
¼ cup olive oil
1 small red onion, thinly sliced
Juice of two limes
1 bunch of cilantro
Salt & pepper, to taste
Heat up your outdoor grill to 375-400 degrees. Remove and discard the husks from all ears of corn. Place newly husked  corn ears on the grill and turn them as they become lightly grilled Do not leave the corn unattended!
Once all sides of corn are nicely browned, remove ears and allow them to cool a bit. In the meantime, you can thinly slice your red onion and mince up cilantro.
Once the ears are cool, use a chef's knife to scrape corn kernels off each ear and into a large mixing bowl. To the kernels, add all remaining ingredients and mix to combine. The salad may be served warm or chilled and makes great leftovers, too!