We're all guilty of it. The grocery stores conveniently places those tiny yellow sponge cakes wrapped in plastic, over-dyed red gelatinous goop in a jar and canned whipped cream next to the beautifully fresh, natural strawberries. Those strawberries don't deserve to be drowned in a sea of preservatives and dye. It's time to make the always-popular Strawberry Shortcake at home, completely from scratch.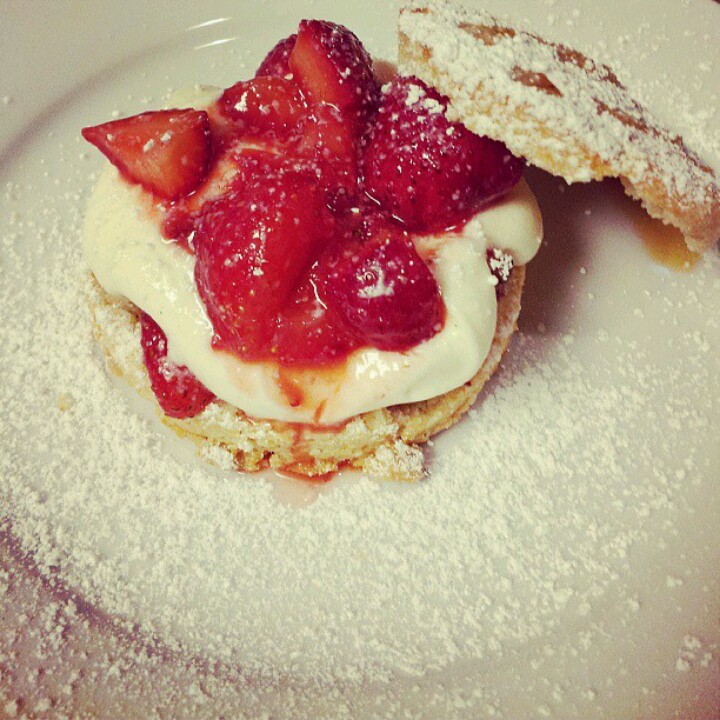 (image source)
Berries
1 1/2 pounds strawberries, stemmed & quartered
3 tablespoons sugar
Cake
2 cups all-purpose flour
2 teaspoons baking powder
1/4 teaspoon baking soda
4 tablespoons sugar
3/4 teaspoon salt
1 1/2 cups heavy cream
Whipped Cream (Recipe follows)
Directions
Preheat the oven to 400 degrees F.
Mix strawberries with 3 tablespoons sugar and refrigerate while juices develop, at least 30 minutes. This is called "maceration", the sugar slightly breaks down the strawberries causing them to release their juices and make a naturally sweet sauce.
Sift together the flour, baking powder, baking soda, 4 tablespoons sugar, and salt in a medium bowl. Add heavy cream and mix until just combined. Take care not to over mix or the shortcakes will become tough. Place mixture in an ungreased 8-inch square pan and bake until golden, 18 to 20 minutes.
Remove shortcake from pan and place on a rack to cool slightly. While the shortcake is cooling, make your homemade whipped cream. (Recipe below)
Cut the shortcake into 6 pieces and split each piece in half lengthwise.
Spoon some of the strawberries with their juice onto each shortcake bottom. Top with a generous dollop of whipped cream and then the shortcake top. Spoon more strawberries over the top and serve.
Whipped Cream
1 1/2 cups heavy cream, chilled
3 tablespoons sugar
1 1/2 teaspoons vanilla extract
Using a mixer, beat the heavy cream, sugar, and vanilla, until soft peaks form, about 1 1/2 to 2 minutes. Take care not to over mix or the cream will begin to separate. It is important that your heavy cream is very cold; take it out of the fridge just before you plan on using it. If it's a hot summer day, pop the mixing bowl in the fridge for a bit too. Cream will not whip up if it's too warm.
What's your favorite summer recipe? Have you made homemade strawberry shortcake before?