As I've mentioned before, I'm a big fan of beauty products. I love trying things out and reading about what other people are using for hair care, skin care and makeup. Anyone can go to a high-end store like Sephora, work with a consultant and find amazing products, but it can be much trickier in the drugstore.
So I assembled some of my drugstore beauty favorites. These are tried and true to me so I'd love to hear if they're your favorites too. If not, what are some of your favorite products from the drugstore that I should try out?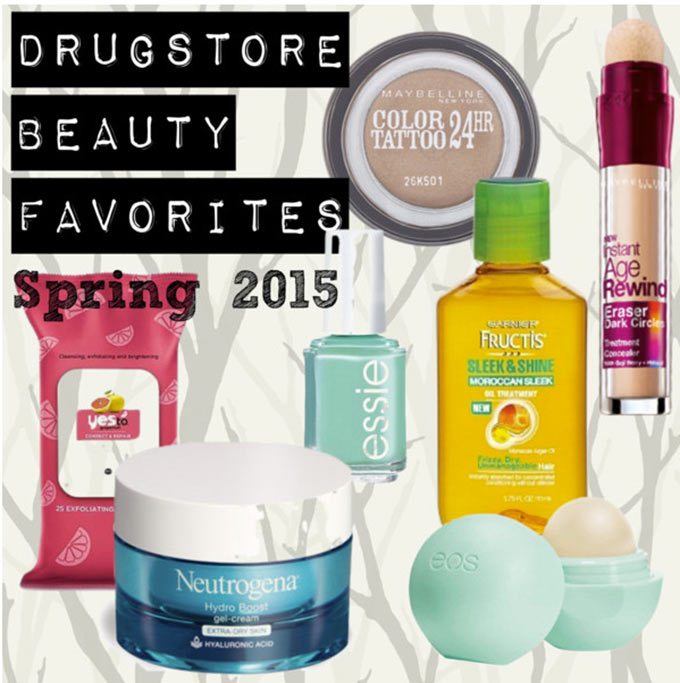 First up is the Yes to Grapefruit Correct and Repair Brightening Facial Wipes. These have an amazing smell and are a great first step to removing makeup after a long day. They leave your skin feeling really clean, but also pretty tightened as well.
After I wash off my makeup, I follow it up with the Neutrogena Hydro Boost Gel Cream. Its got a pretty watery consistency, but goes on your skin super smooth and leaves your skin with a velvety texture. It also has a nice, light fresh scent!
For makeup, I really love the Maybelline Instant Age Rewind Concealer. It comes in this really cool package with a sponge on the top so you just click some product to the top and dab it on those under-eye circles (yes, I have those). It goes on really creamy and doesn't get weird or funky after a while like some concealers will.
Another Maybelline product that I really like is the Maybelline Color Tattoo in Bad to the Bronze. It's a cream eye shadow that works really well as an eye base. It goes on really smooth and then you can layer other shadows overtop or just go with the one color for the day.
For nails, I LOVE Essie's Turquoise and Caicos nail polish. Seriously, I'm a one-woman show of keeping this color around. It's a great color for all the warm weather months and really will go with just about everything. It's not super flashy, but just enough color to really perk me up.
For hair, I just recently bought this Garnier Fructis Moroccan Sleek Oil Treatment, which is a light hair oil. My hair is really long right now, but also getting pretty dry from this endless winter. This oil has really helped to tame the fly aways, and also make it feel much softer overall.
These are some of my favorite drugstore products. Share yours on the comments below! Learn more about me on my blog, Christen in the Kitchen!