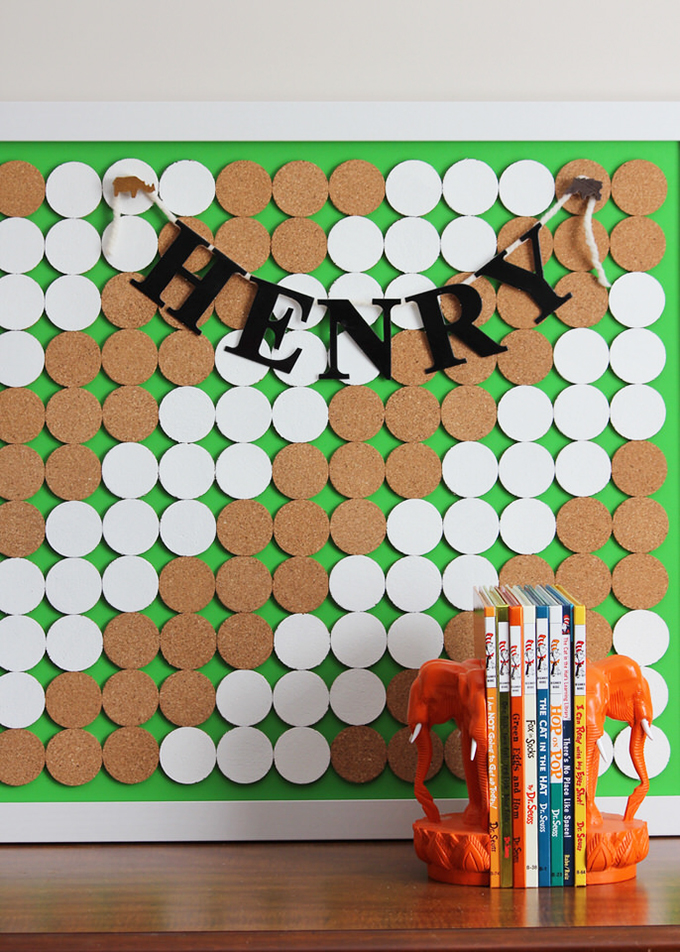 With the start of school just around the corner, we've been busily getting our routines and systems in order to make the school year start just a bit smoother. One thing we were in desperate need of was a place to pin up the inevitable projects, pictures, and reminders that will start trickling home very soon! A quick walk through the clearance section at the craft store yielded just the right supplies to make a perfectly functional and oh-so-fun bulletin board for my son's new room!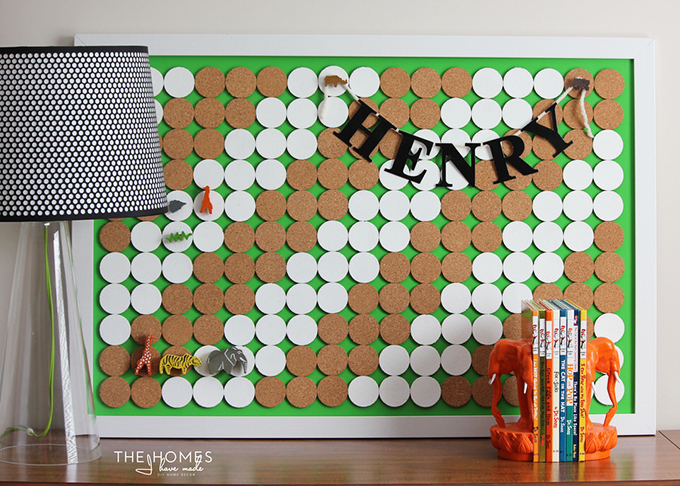 A simple bulletin board is typically inexpensive and easy to find, but with a few simple supplies, it's easy and fun to make your own! Two-inch cork circles mounted on a plain store-bought frame in a playful pattern become a brag board that is both functional and decorative! Pick shapes and colors that match your space to make it a truly personalized accessory!
Here's what you need to make your own Dotted Bulletin Board!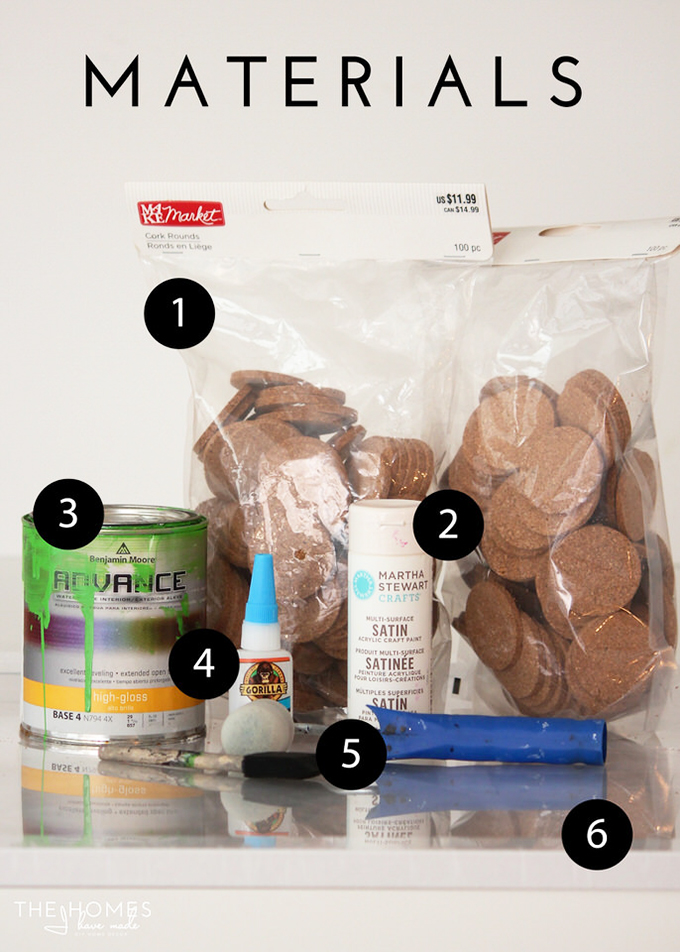 2" cork circles or any size and shape cork you want (these were found on clearance at Michaels). There are many possibilities these days!
Acrylic paint in the sheen and color of your choice (for the cork)
Latex or craft paint in the sheen and color of your choice (for the backing of the board)
Super glue
Rollers and foam brushes
Frame in the size and shape of your choice (this one measures 24×36")
This is a very simple project, but it can easily go awry if you don't have a plan. So that your pattern comes together easily and you know just how many circles you need and in what colors, spend a bit of time planning out your design. You can do it digitally or with pencils; just be sure to take into account the dimensions of your frame, the size/shape of the cork pieces you're using, and the colors you want to incorporate. After a bit of playing, here are some designs I came up with.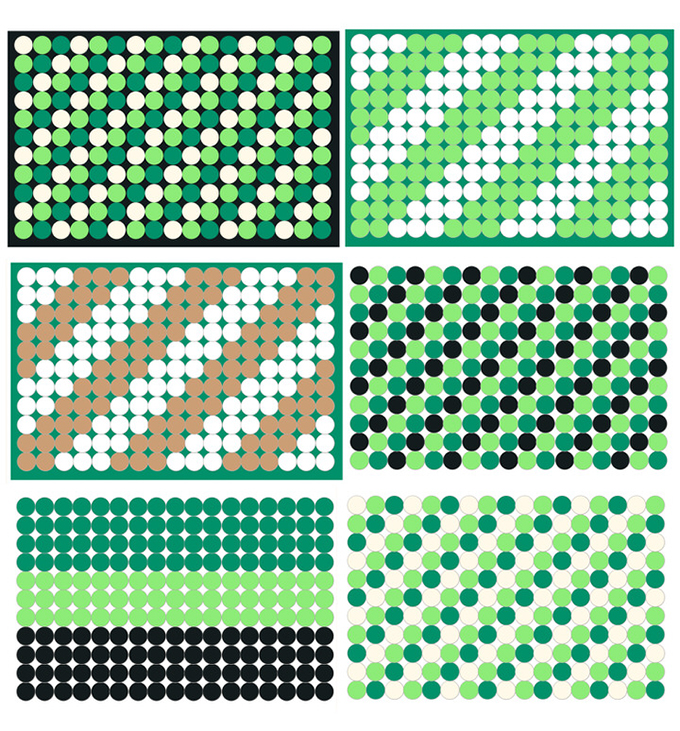 I ultimately decided to go with the diagonal pattern that featured some of the cork circles unpainted, and determined that I needed 97 plain and 97 white circles. Once you decide on your pattern, here's what you do to pull it all together!
Paint the circles with acrylic paint using a foam brush (two coats of the white were required to get good coverage). Find a comfy seat and put on some music; painting a lot of cork circles can take a bit of time!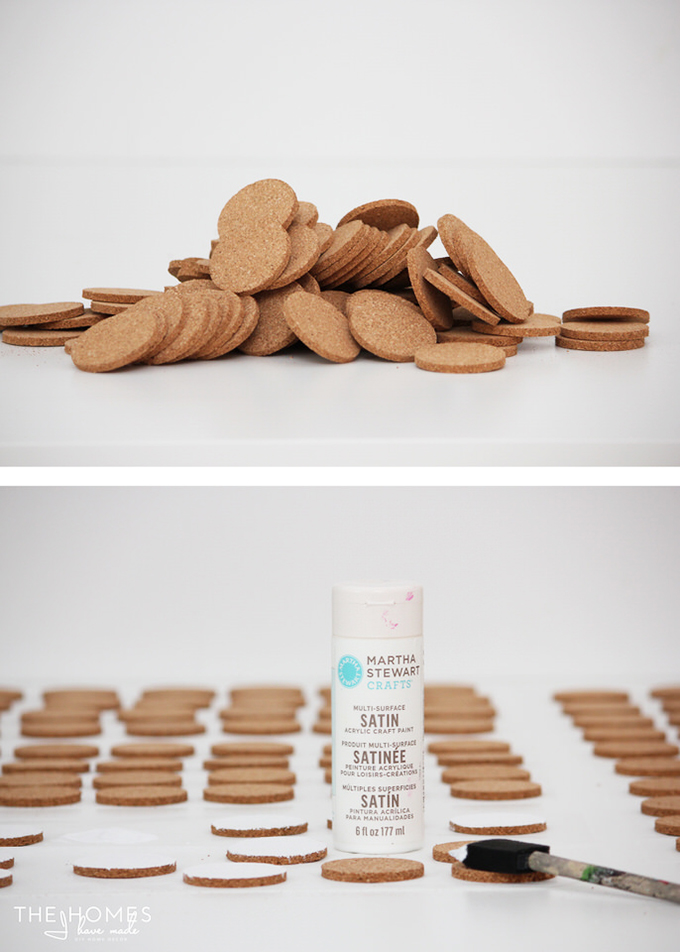 While the cork circles dry, disassemble the store-bought frame and set aside/discard the acrylic/glass sheet and the paper liner to reveal the wood backing of the frame. Give the wood backing 2-3 good coats of latex paint (using a mini foam roller), allowing ample dry time between coats.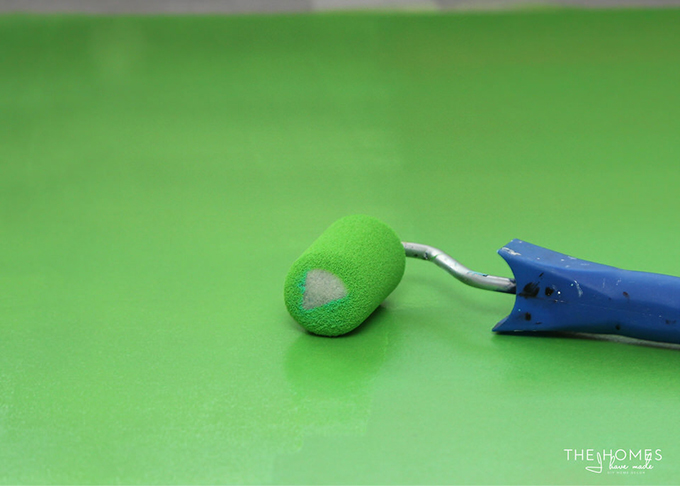 Once everything is dry, replace the backing back into the frame before applying the cork tiles. This helps you leave enough room for the frame around the edge while also centering the design within the frame. Spend a bit of time laying out your pattern using a ruler and your digital pattern for reference. For this pattern, once I had two sides perfectly measured out and glued down, I would be able to build the rest of the design without measuring. It pays to measure accurately here, as the rest of the design will be placed off these first two rows of circles!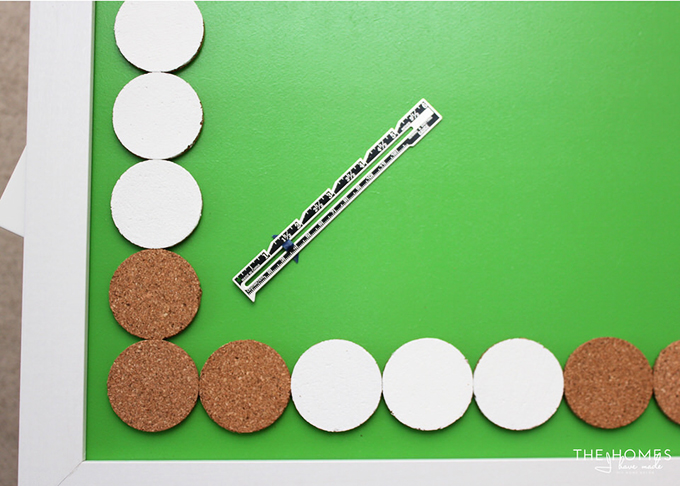 Once the first rows are measured and glued down with the super glue, continue adding circles, constantly referencing your digital design, until the entire board is full and your pattern is complete. Once dry, your frame is ready for hanging and pinning!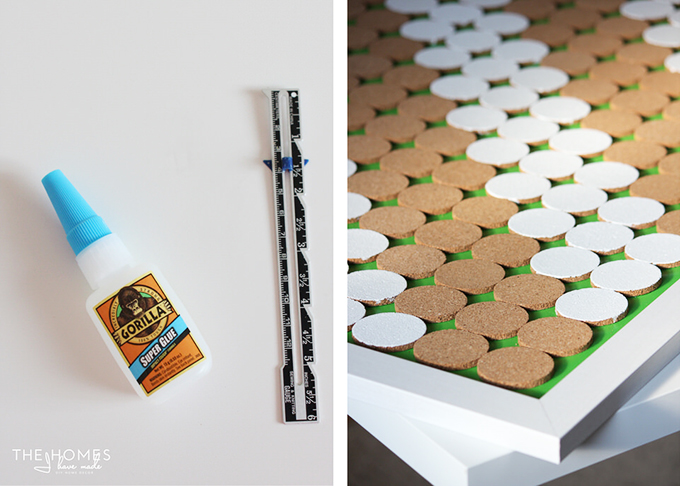 To finish off the board, I added a simple bunting made with pre-cut cardboard letters hot-glued to yarn…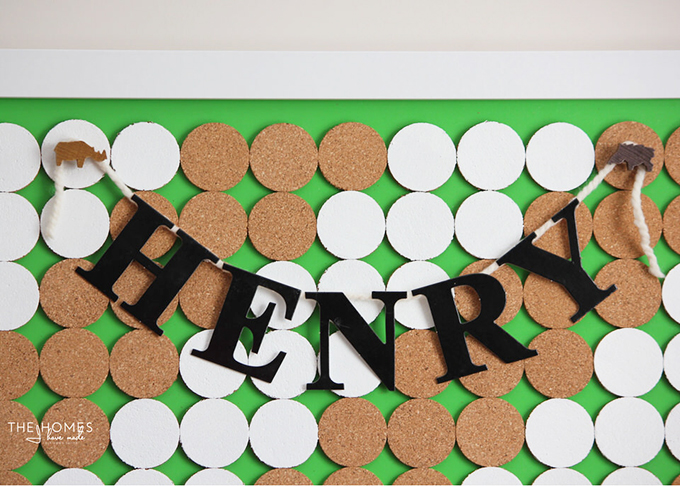 …and a few push-pins made from some mini wooden jungle animals I found at a thrift store!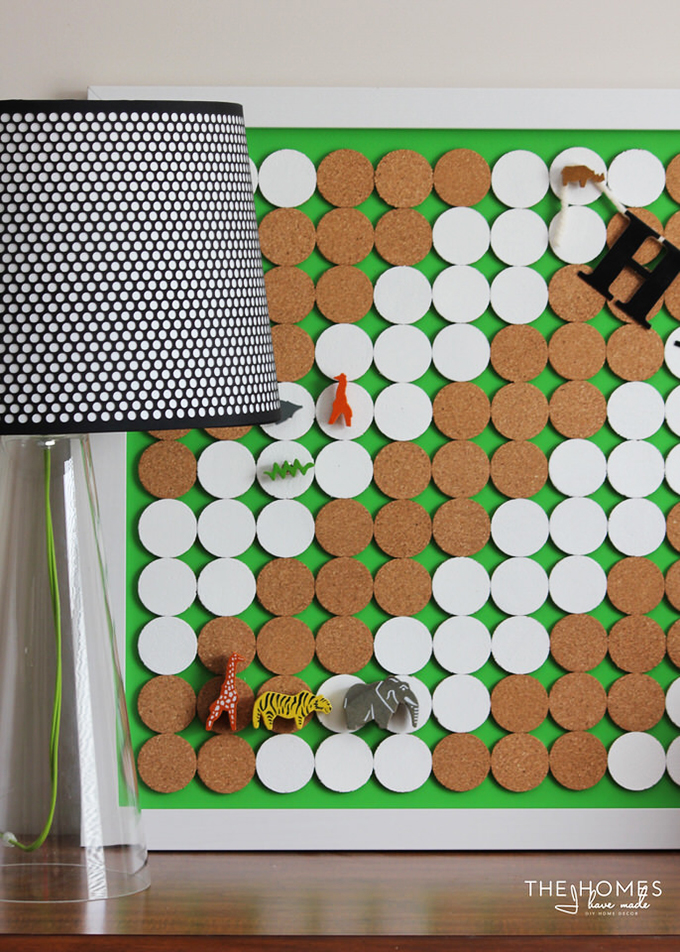 While it can be a bit tedious and time-consuming to paint and glue 194 cork circles into a frame, this really is a simple project to put together. Depending on the age of your kids, they could easily help paint and glue! The results are an eye-catching and super fun way to display school papers and art projects!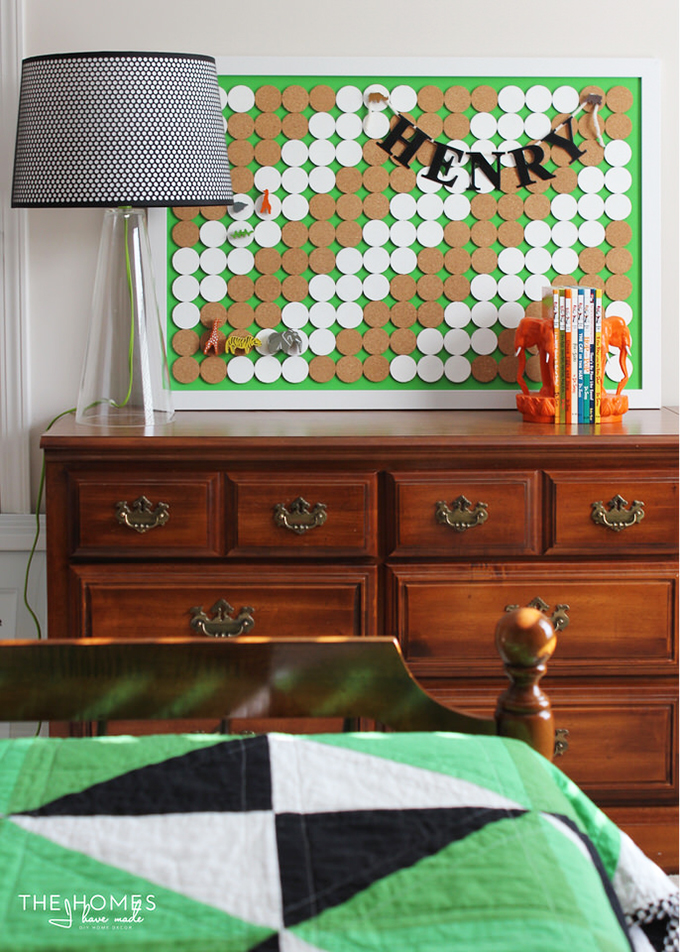 My kiddo loves to display everything he makes at school and is super excited to have his very own special board to pin everything on to. Keep your eye out around craft and home stores for inexpensive cork shapes that you can use to make a unique display board. Be sure to add in fun colors and patterns to create a truly unique and special addition to any school, homework, or play station!