Here in Eastern North Carolina, sea- and beach-inspired décor abounds in stores, boutiques, homes, hotels, restaurants, and more! While the shabby chic coastal décor isn't exactly my style, I couldn't help but celebrate where we live with the addition of some modern sea-inspired pop art for our walls! Using these classically illustrated sea creatures in an unusual way allowed me to incorporate some local culture while keeping true to the modern and funky vibe of home!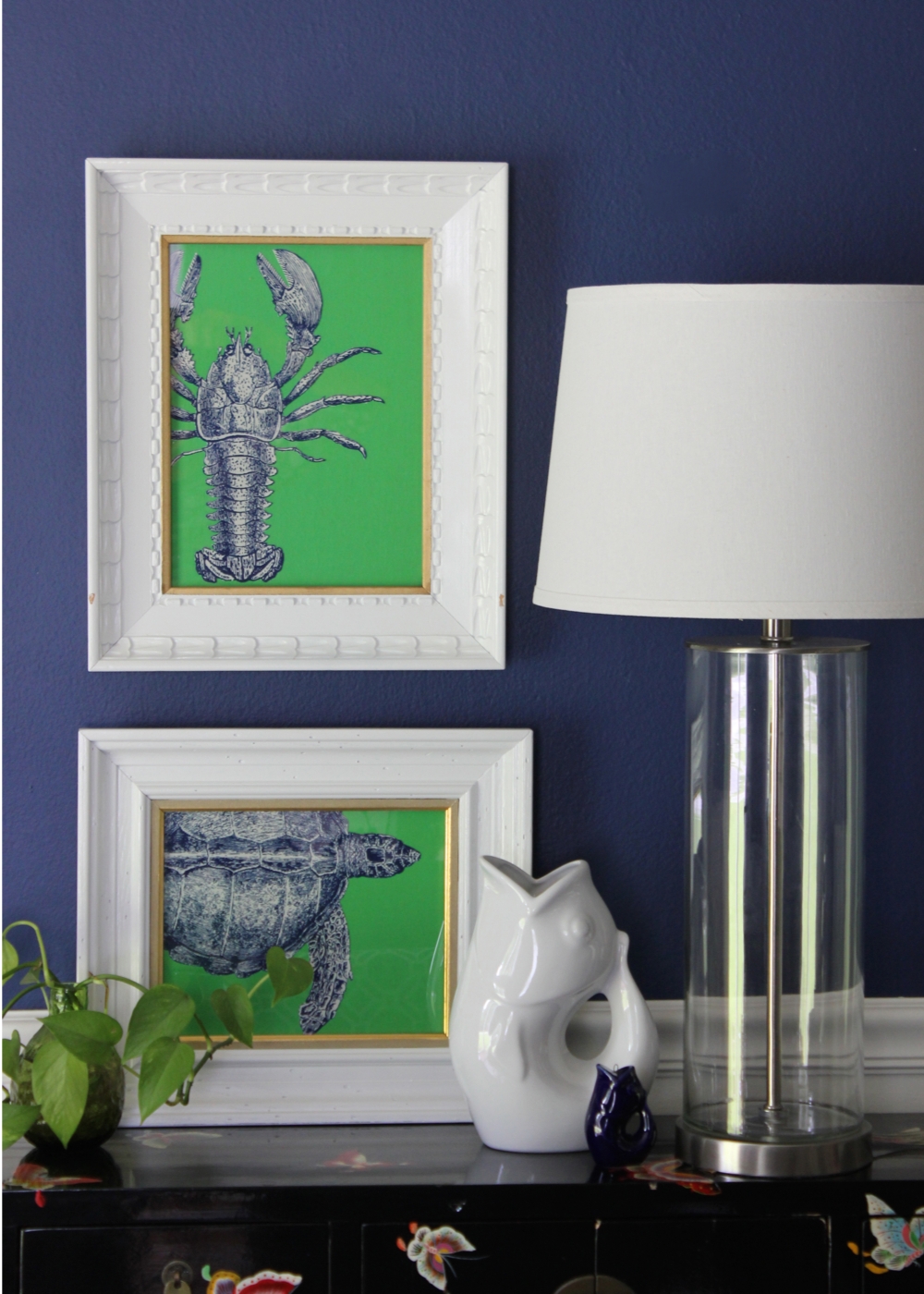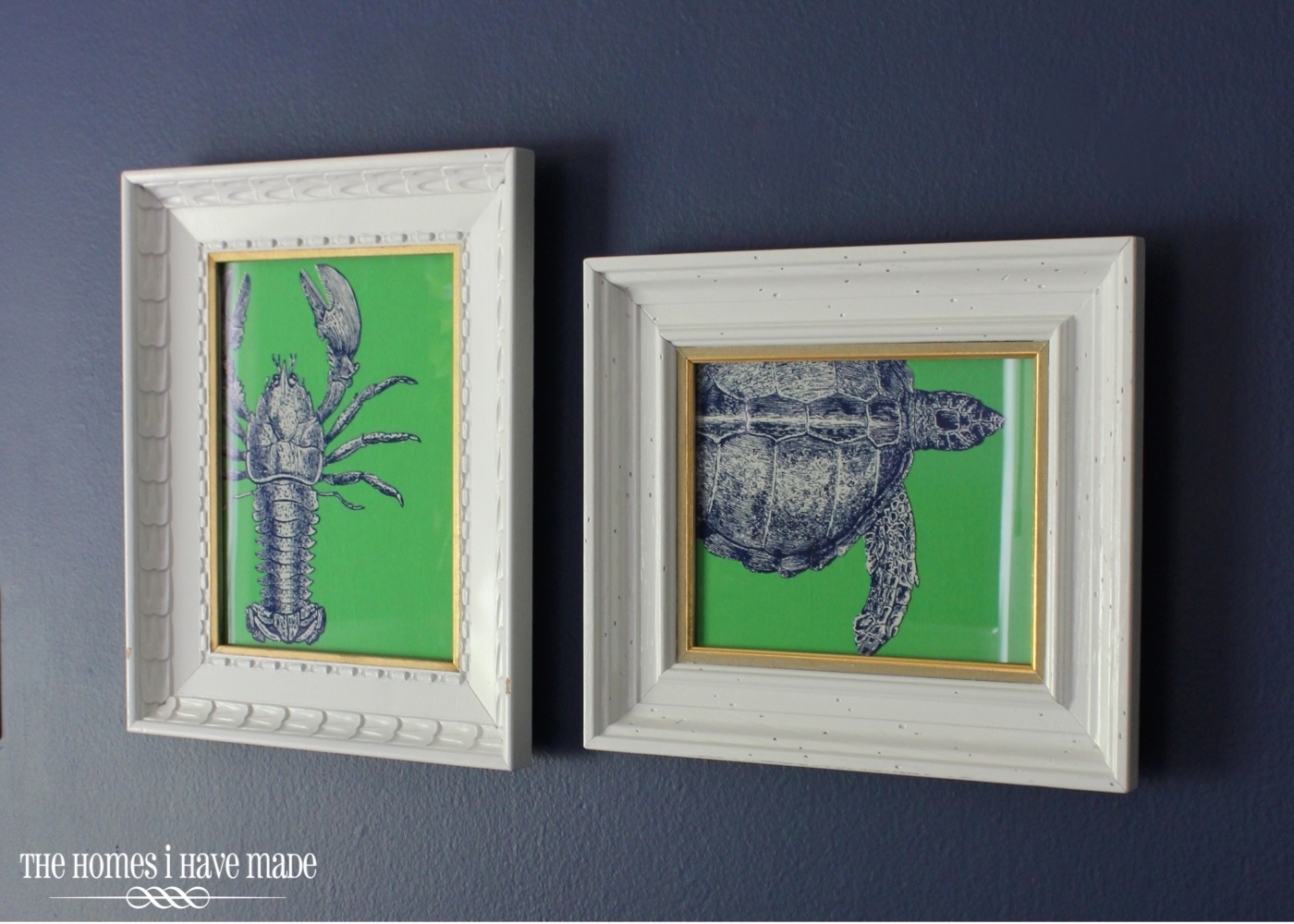 This project was dreamt up when I stumbled upon this amazing fabric at a local shop. Even without a lot of coastal elements in my home, I couldn't help but be drawn to the amazing detail of the sea-life illustrations. With the sea creatures' clean lines, generous size, and simple color scheme, I knew instantly they would make amazing wall art; and even at $20/yard, the fabric made for really affordable art!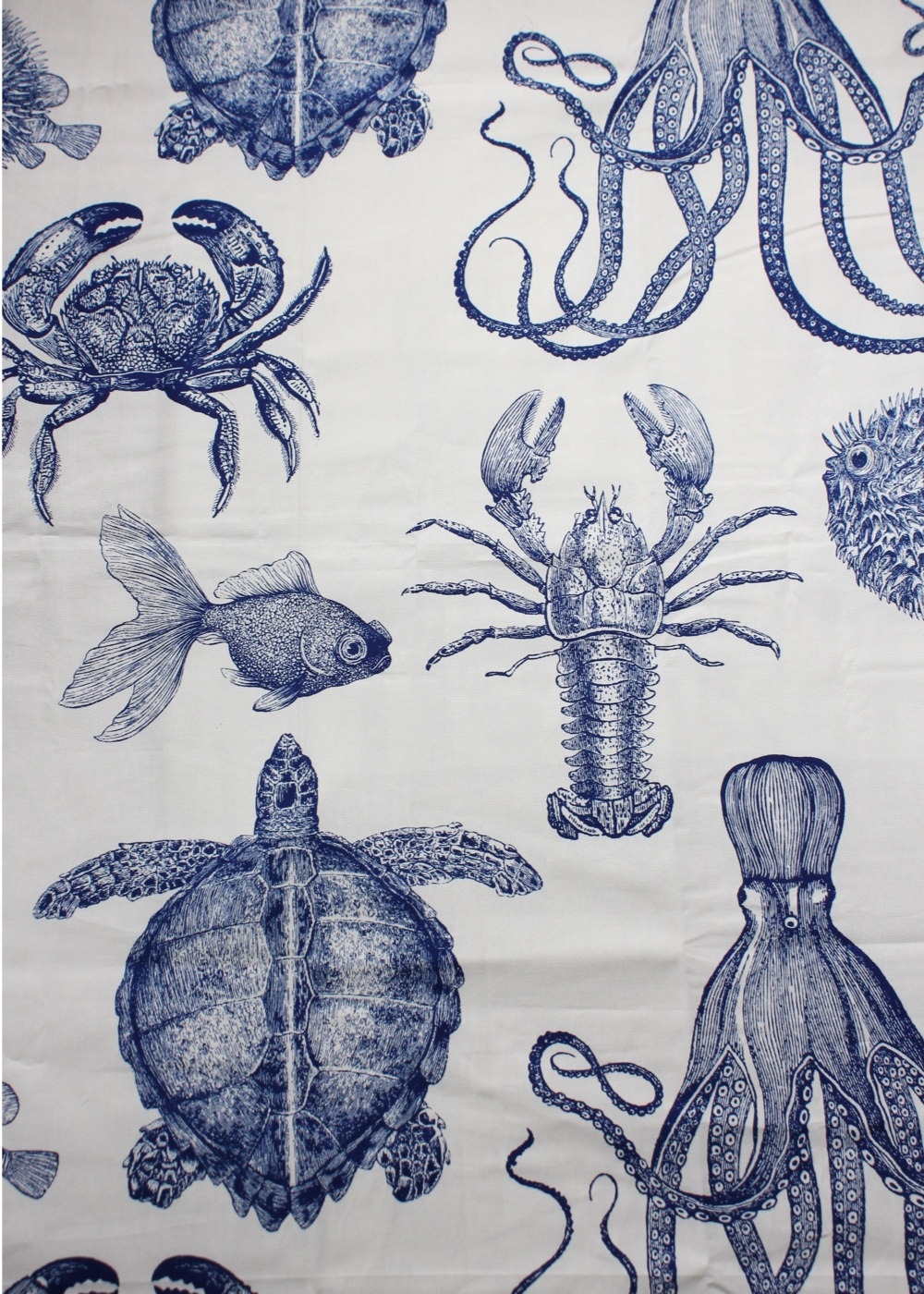 To make similar art for your walls, you will need:
Solid cotton fabric in the color of your choice
Ultra-Strong Heat-n-Bond
Images printed on fabric that are easily cut out with clean borders (cut out the images from the fabric but don't worry yet about trimming them completely down to their borders).
Very sharp fine-point scissors
You will also need an iron and frames (not shown).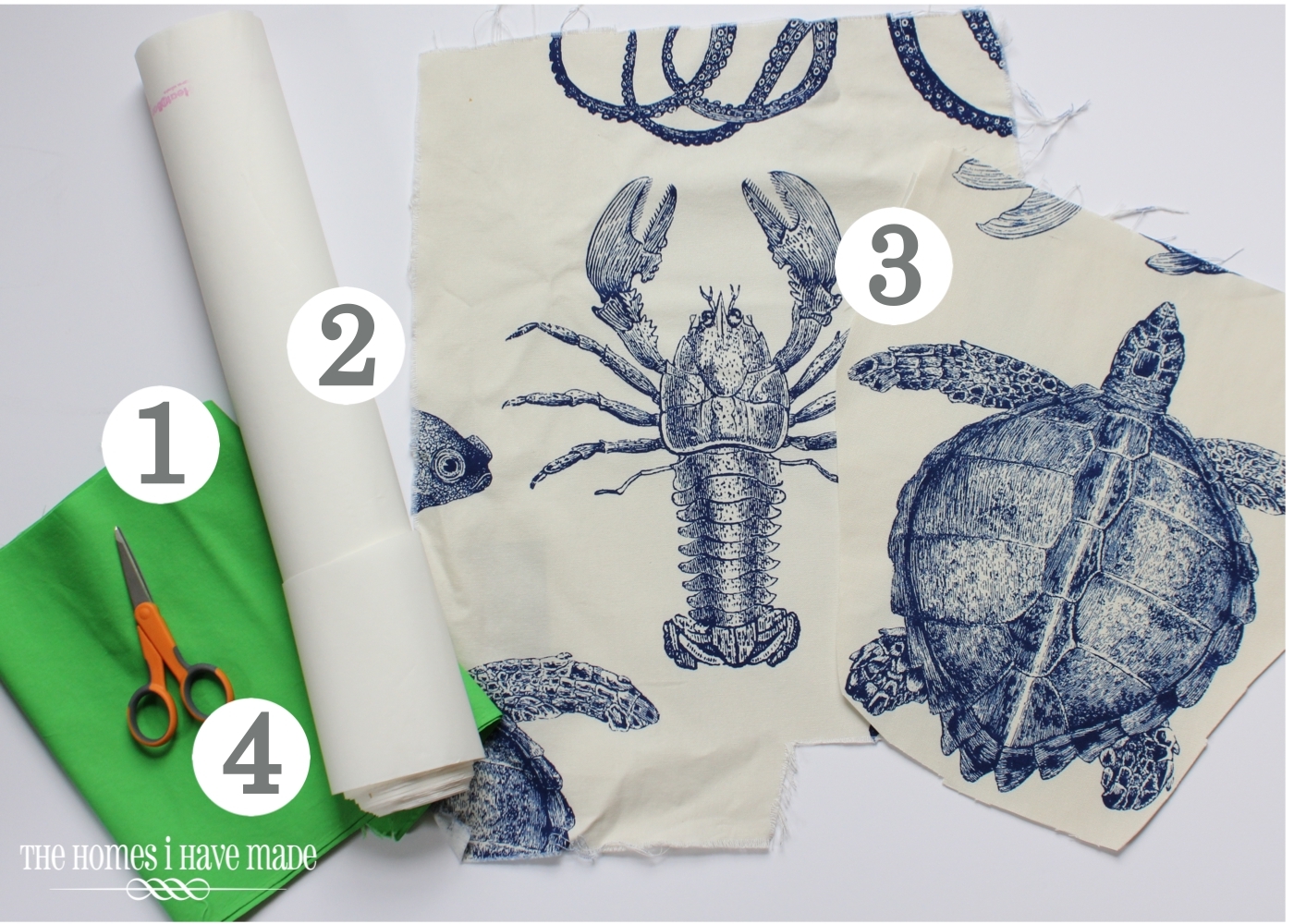 Start by ironing Heat-n-Bond to the wrong side of your fabric image. Really take care to ensure all of the areas of the image are completely bonded. Let the fabric cool completely.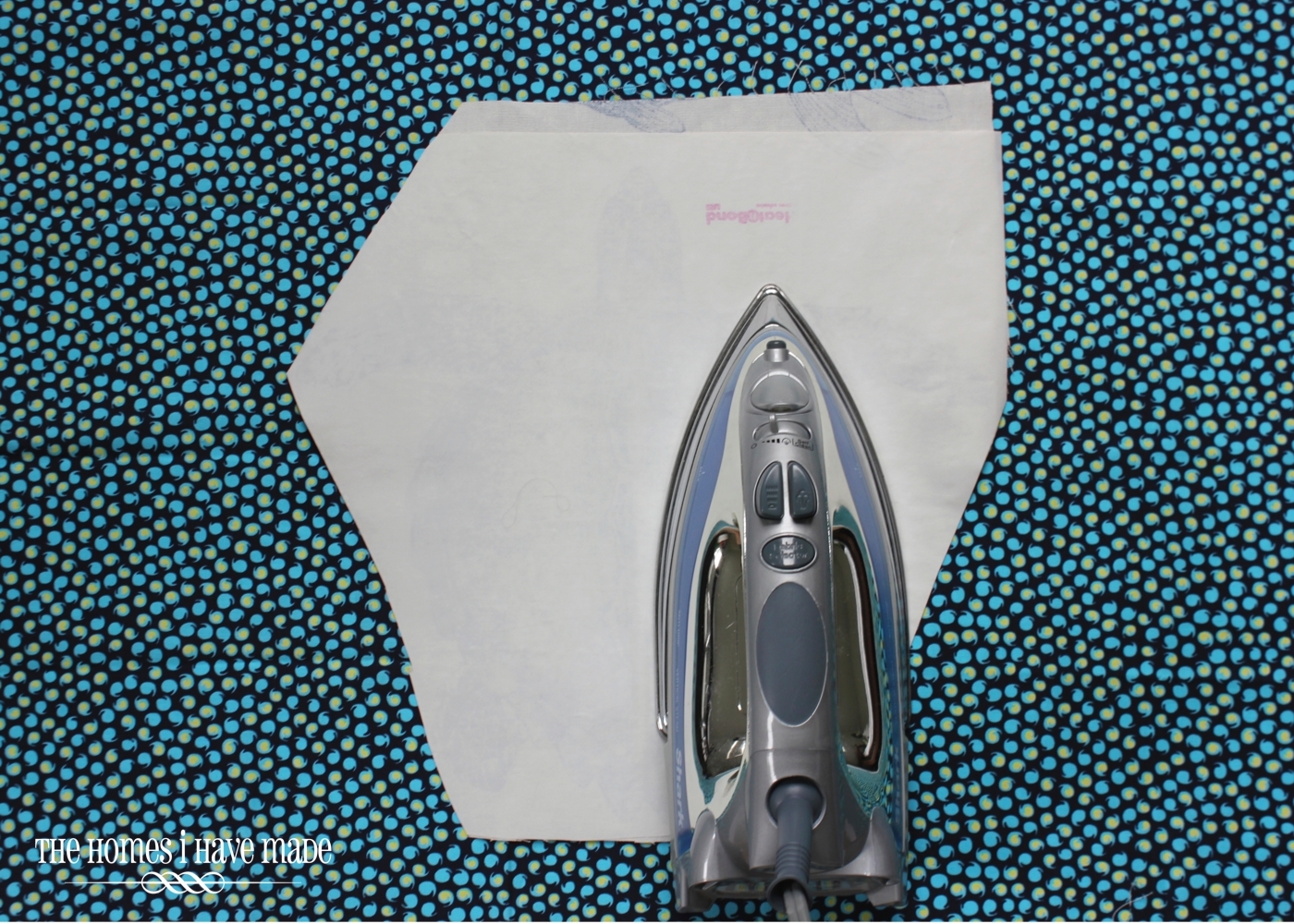 Using a very sharp fine-point scissors, carefully trim around the border of the image. The Heat-n-Bond will help keep the image sturdy and easier to cut, while the fine-point scissors will allow for really clean and close cuts all the way around the shape. This step, depending on the intricacy of your design, can take some time. Pop on a good television show and just take your time!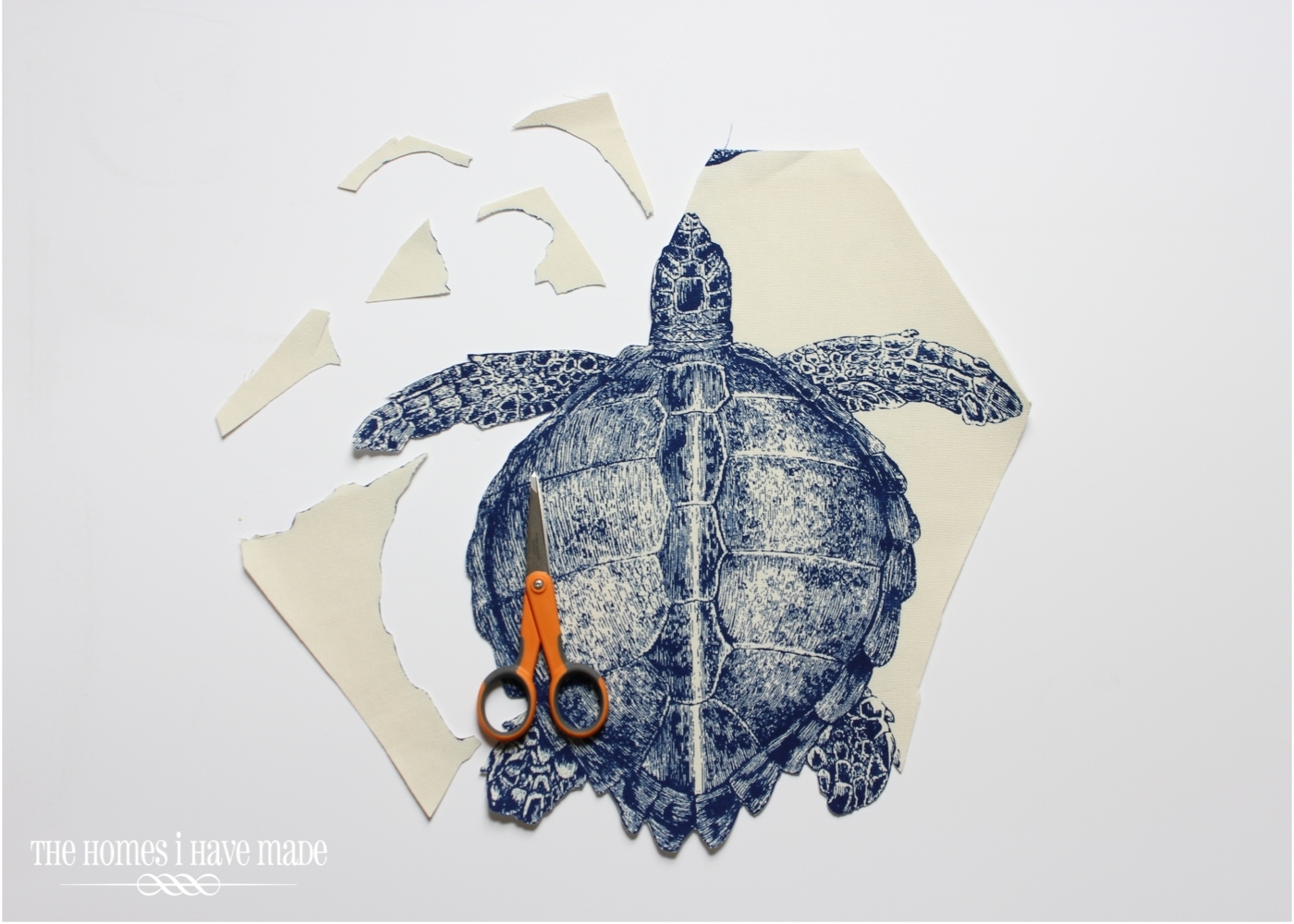 After some patience and careful cutting, here are my two sea creatures bonded and cut down!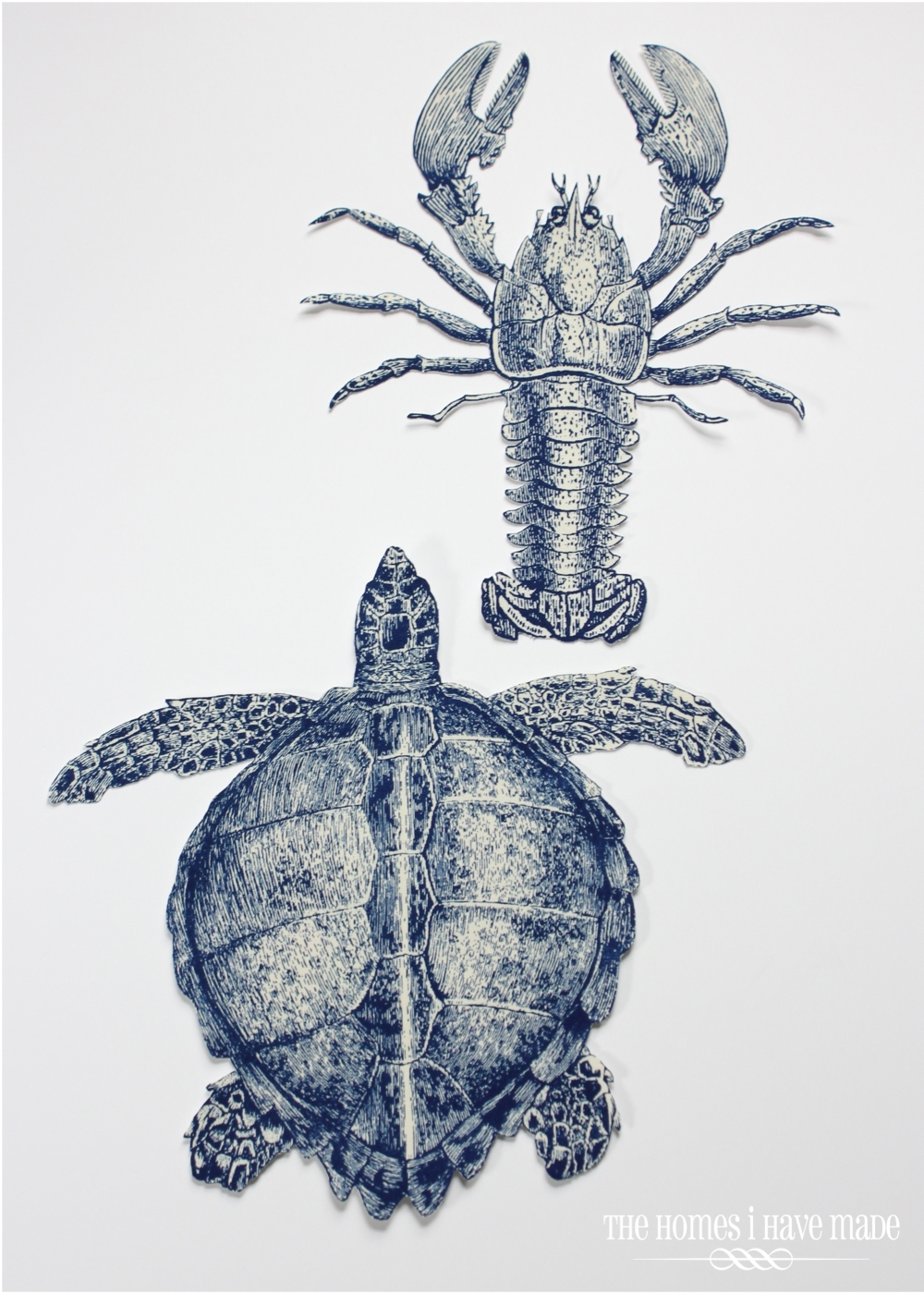 Next, trim down a piece of solid-color contrasting fabric that will fit inside the frame you will be using. I found it easiest to use the cardboard from the frame itself as a template, allowing for an extra inch or so on all sides.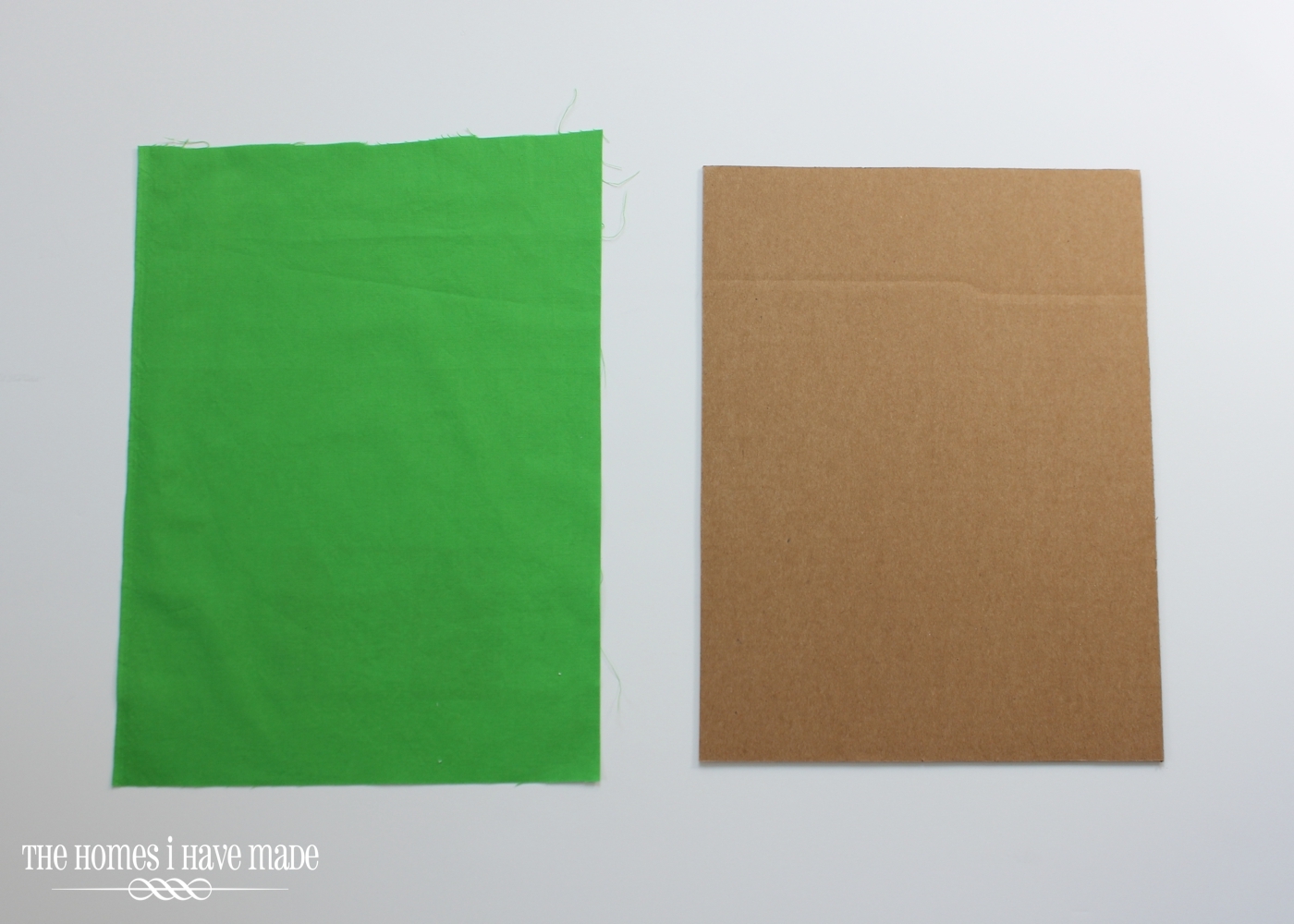 Peel off the paper backing of the Heat-n-Bond from your fabric image and determine how you want to layout your shape on the solid cotton. You may need to reference your frame to determine the best layout for the image. I knew my frames couldn't fit the entire shape, so I chose to offset the images on the fabric.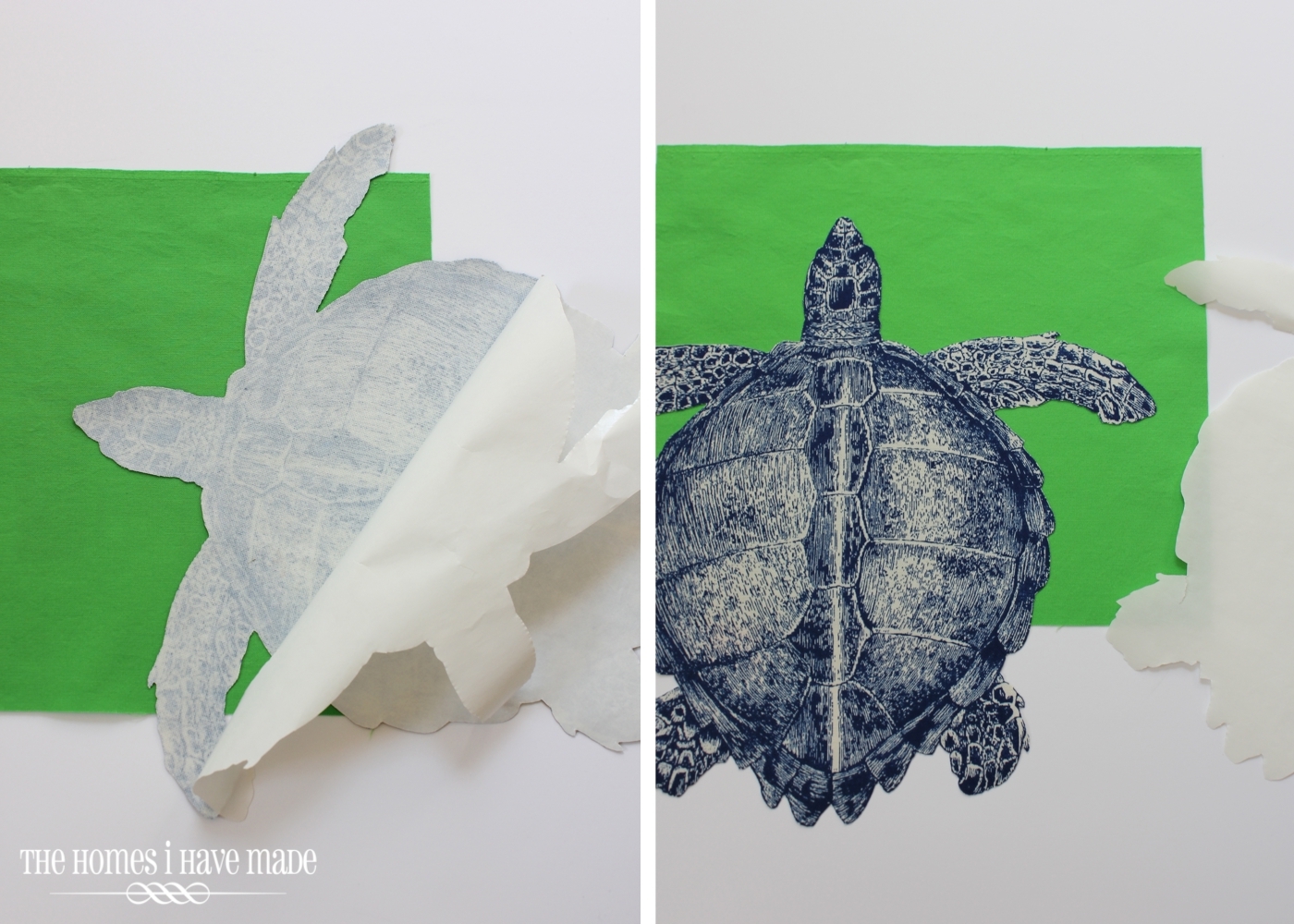 Once you've determined the best placement, iron the image onto the cotton solid with a hot iron, working slowly to ensure the entire image is fully bonded to the background. If you choose to offset your image, use a rotary cutter and clear ruler to trim off the excess parts of the fabric image.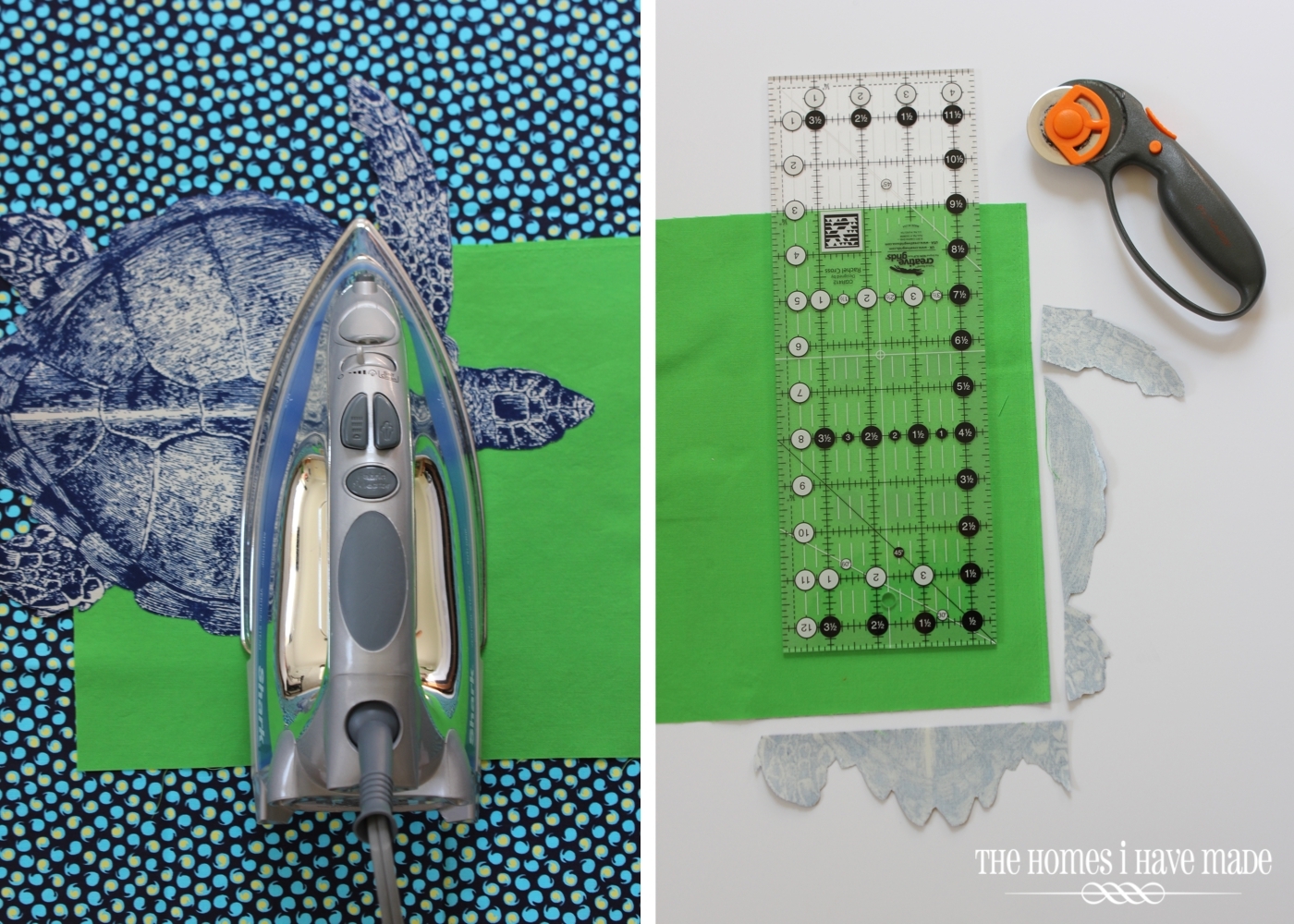 It's that simple! A little time consuming to trim around the images, but otherwise…quick, inexpensive and oh-so-easy art for your walls!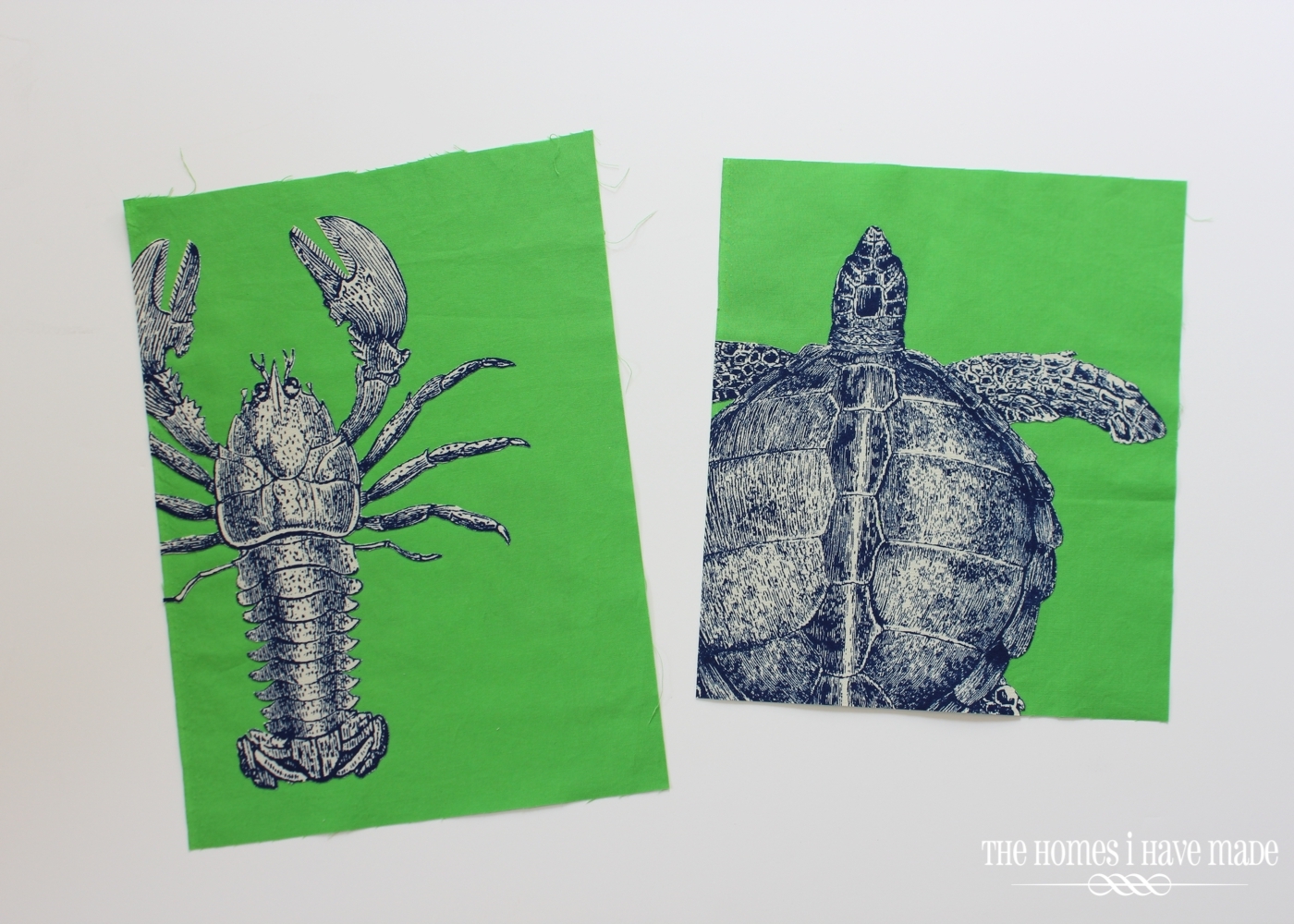 Now load up your art into frames and get them hung on the wall or placed onto shelves for display!
 From the very first second I laid eyes on this fabric, I knew I was going to use the images for art. I love that with some simple tweaking, I was able to take something fairly traditional and make it into something funky and fresh that works perfectly in our home!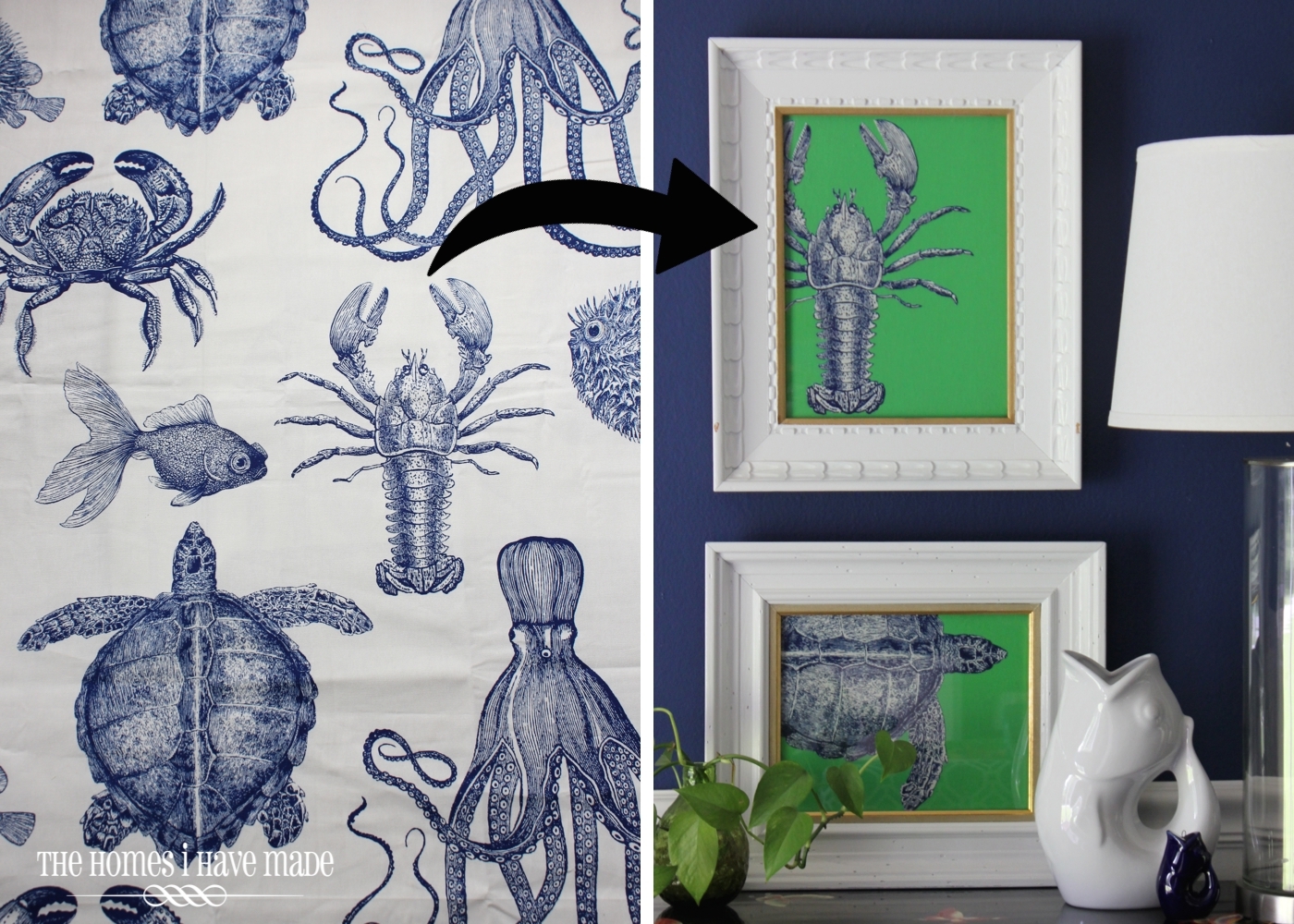 Keep in mind that even if sea creatures aren't your thing (or you can't find similar fabric), this same technique can be used to create countless looks. When selecting fabrics, just look for those that have large isolated images with clean borders that will make for easy cutting and give a graphic pop when paired with a contrasting background. Here are some other fabrics that would work great with this technique!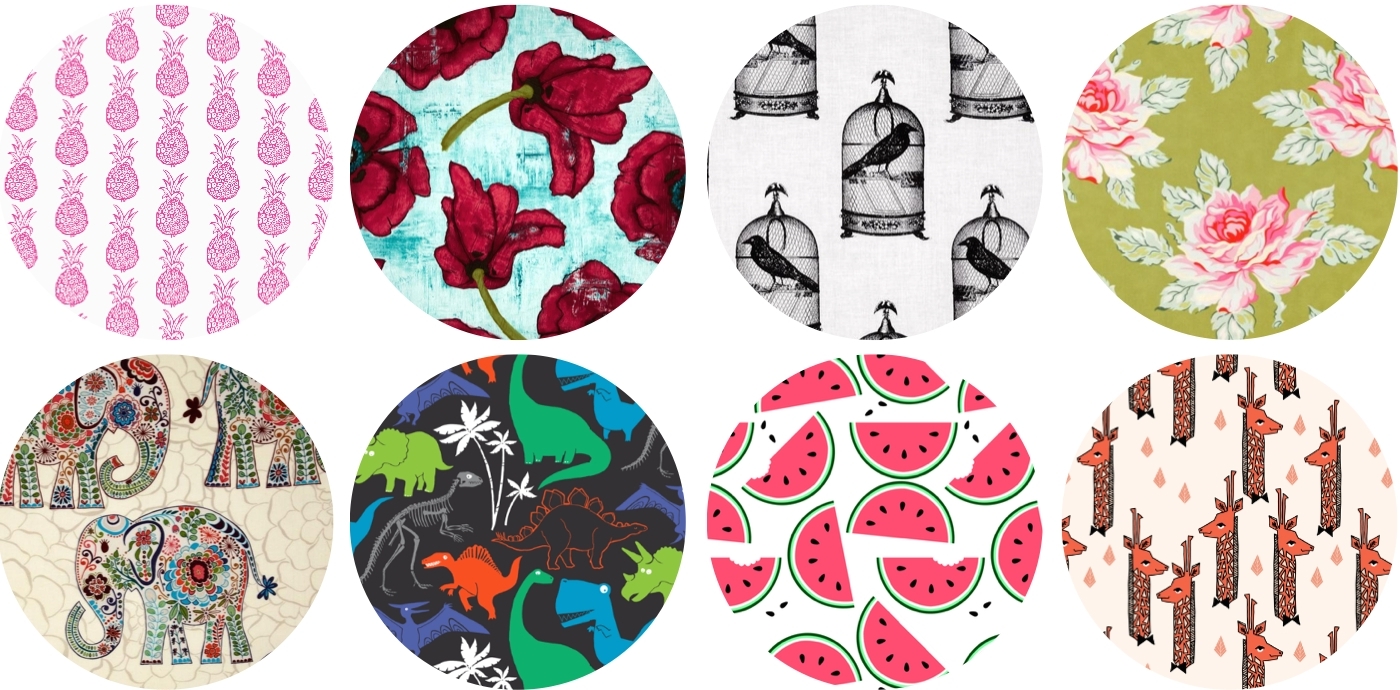 I really love how these came out, and I can't wait to make a few more in other color backgrounds with the rest of the sea creatures from the fabric! Put together as a collection, these would make for an adorable display above a crib, in a playroom, or down a hallway. For now though, I'm really loving this little dose of the coast inside our home!