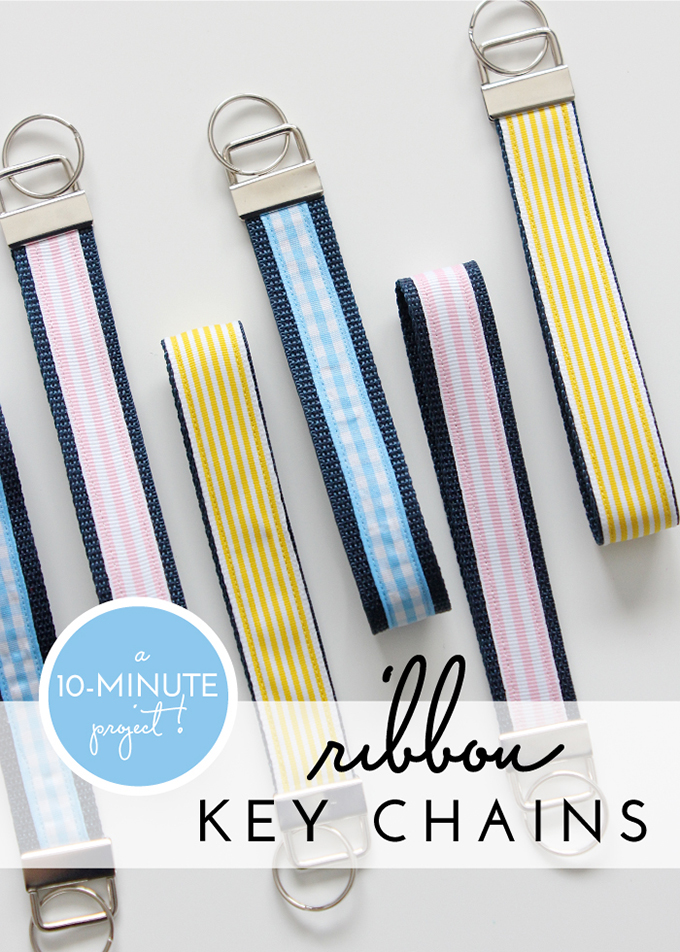 The time of year is fast approaching when you need all sorts of gifts for all sorts of people! Teachers, scout leaders, new neighbors, high school grads, college grads; and that's just a few! Not only can it be hard to come up with ideas for each person, but all these gifts can also take a toll on your pocketbook! With just a few, very inexpensive, easy-to-find supplies and an hour of your time however, you can whip up handy, adorable, and easily-customizable key chains for everyone on your list. Today, we're showing you how it's done!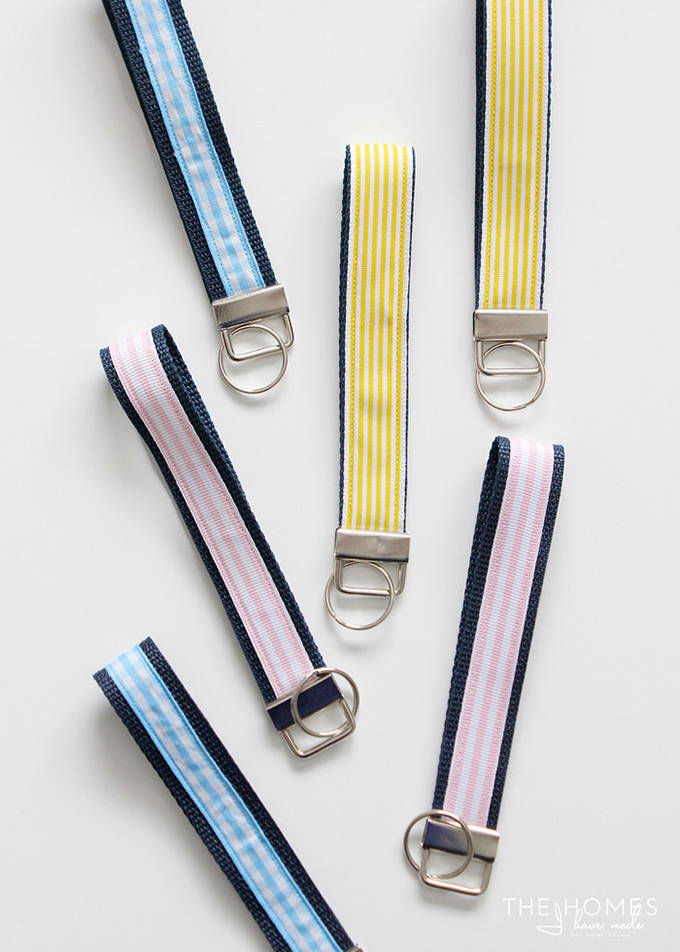 These key chains are so quick and easy to make – about 10 minutes from start to finish! Buy a few yards of supplies and work in an assembly line style to make a bunch in a short time. Pick ribbon to match school colors, favorite colors, or seasons….and you will have a quick, easy, personalized gift solution for any person, any time of year!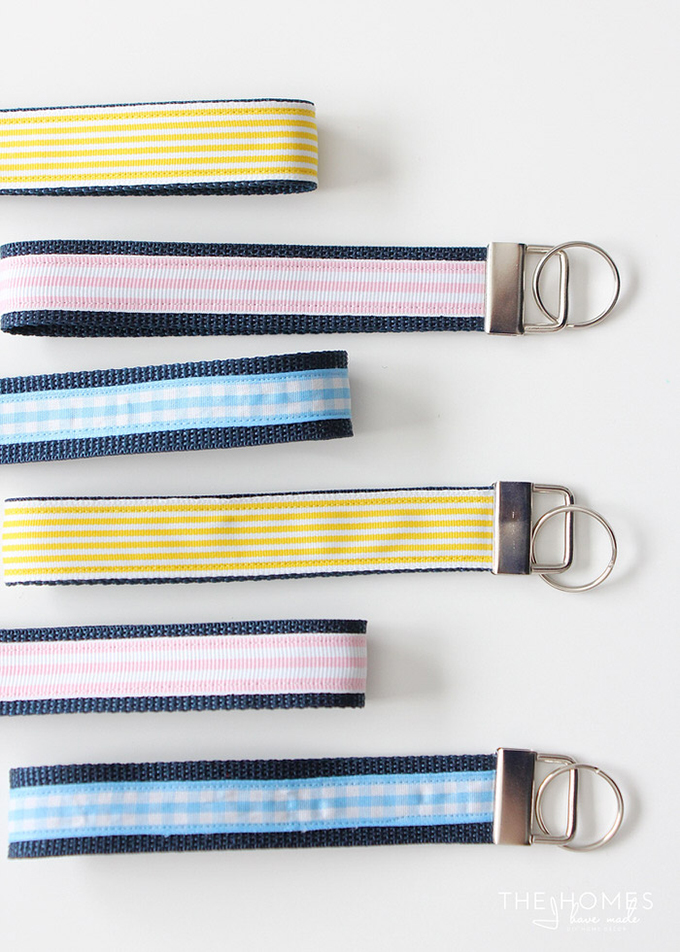 To make these easy ribbon key chains, here is what you need:
Belt webbing in the color of your choice
Ribbon in the colors/patterns of your choice (should be equal in width or less than the webbing)
Key chain hardware in the same width as your webbing and ribbon
Tools (now shown): ruler, scissors, sewing machine, coordinating threads, hammer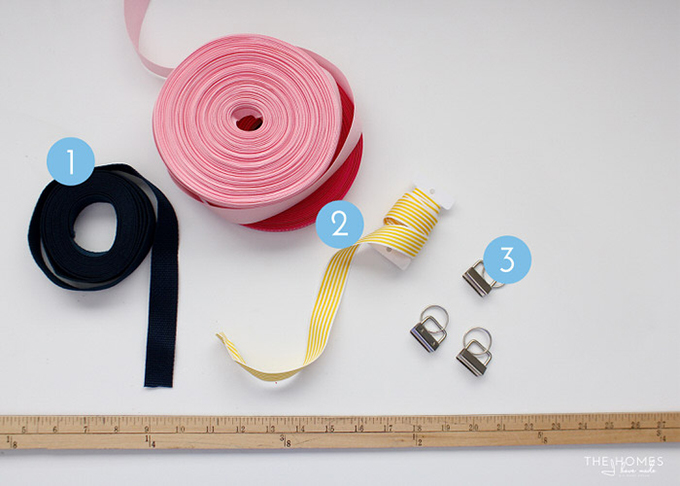 Start by deciding how long you want your key chain to be. This is purely a personal preference, but do keep in mind most people like to use them as wristlets. However long you decide, double that length to determine how long to cut the webbing and ribbon. The key chains shown measure about 6" long when finished, so the webbing and ribbon were both cut to 12" long.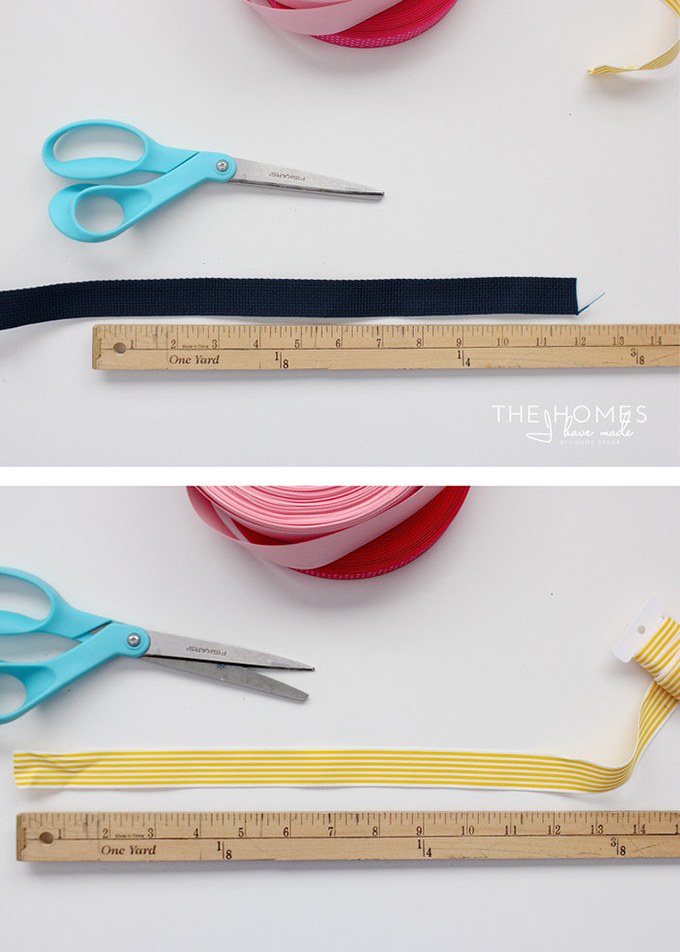 Next, layer your ribbon on the top, center of the webbing. You can pin the ribbon in place if you need to, but you will most likely be able to hold the two together as you sew with your fingers.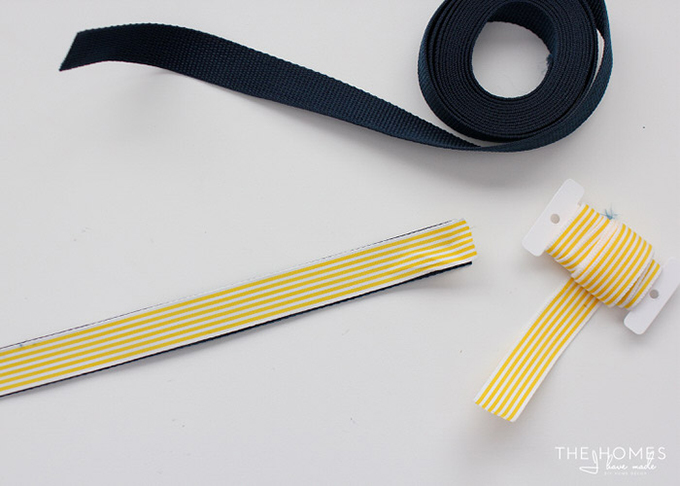 Using thread that blends with your ribbon, sew down each side of the ribbon, securing it smoothly to the webbing.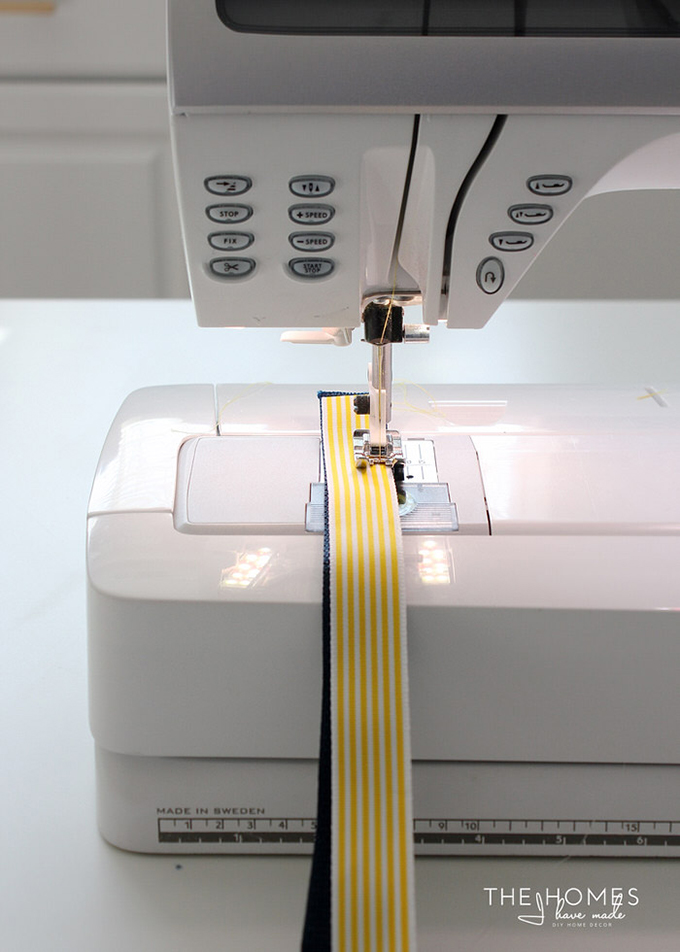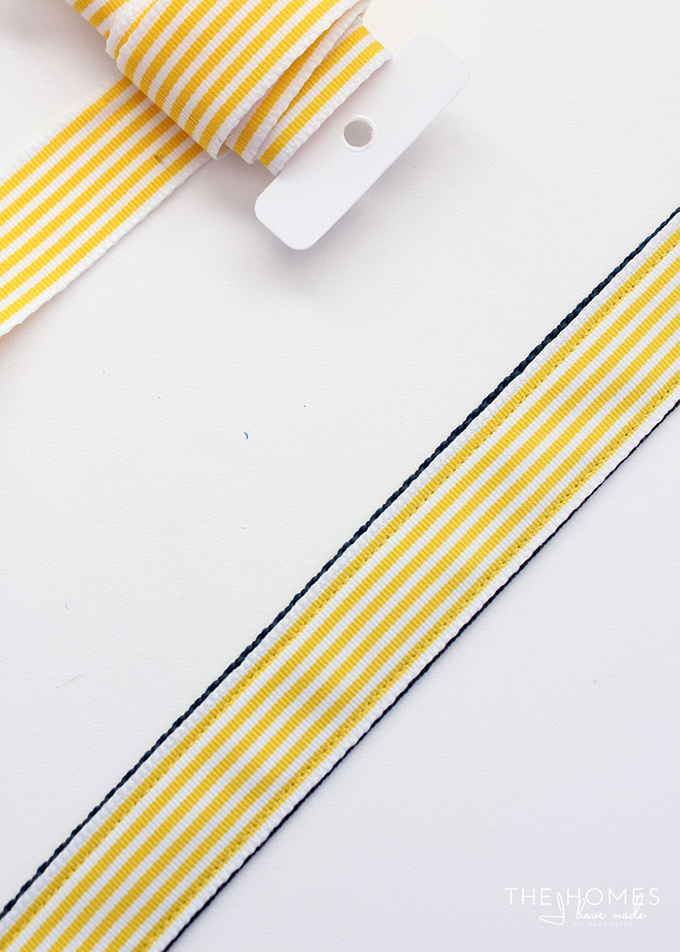 Both the ribbon and webbing can fray really easily, so before adding the key chain hardware, clean up the ends by carefully melting them with a flame. The ribbon and webbing melt fast and can quickly become uneven, so take care to melt slowly and evenly!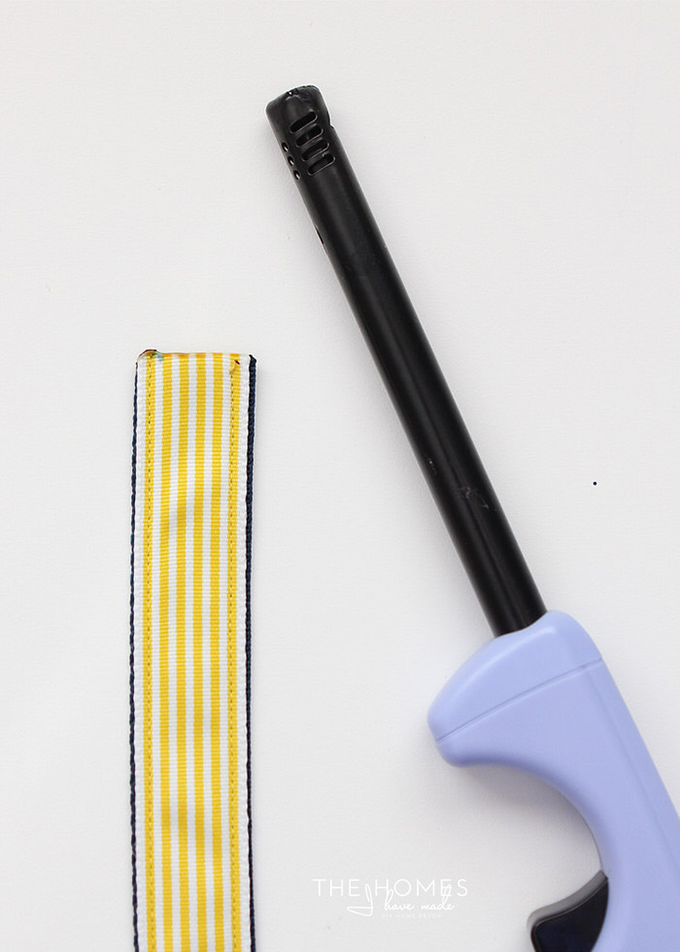 To keep the two ends even when adding the hardware, sew the two ends together first. With the ribbon facing outward, sew back and forth a few times across the end of the key chain about a 1/4 " from the end.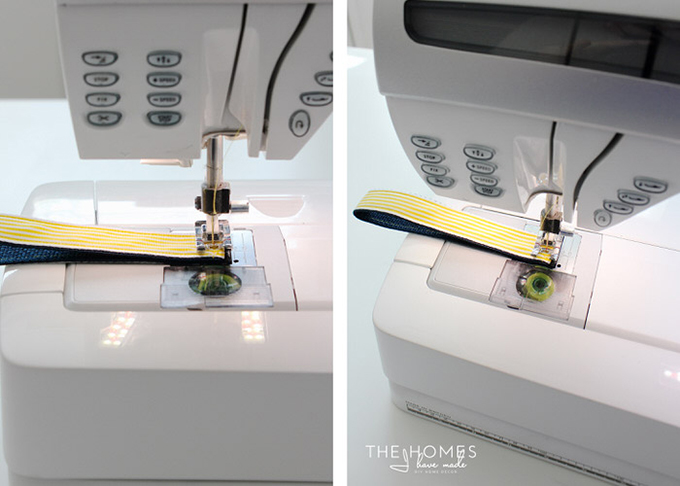 With the two ends cleaned up and sewn together, it's time to slide them into the key chain hardware and finish it up!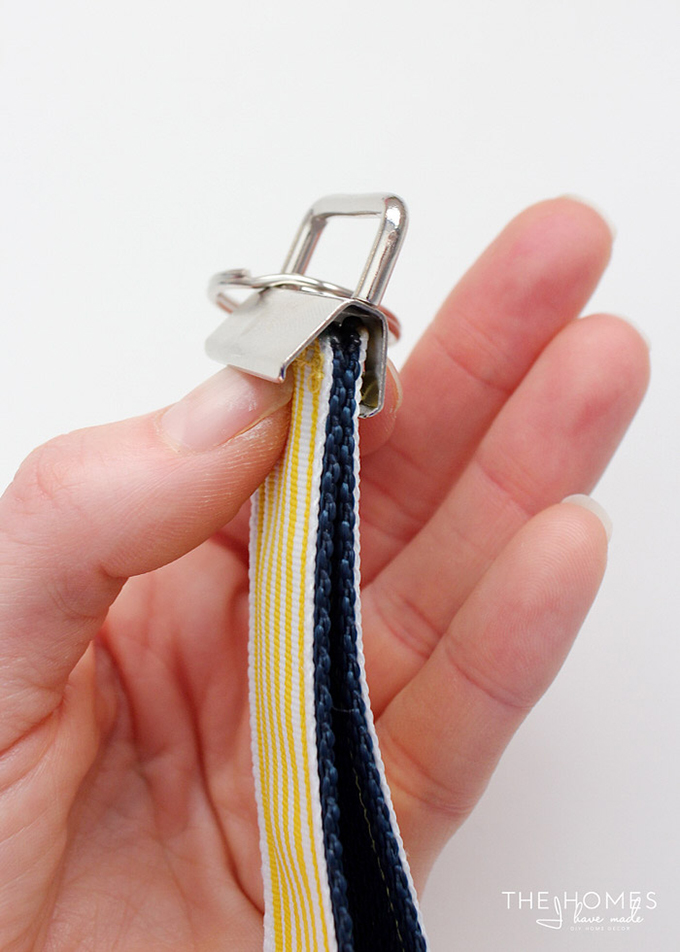 The hardware is a one-step application: just slide the ribbon in and clamp it shut. However, the hardware is super strong and can't quite be shut with just your hands. Pliers are certainly one option for closing the hardware over the ribbon ends, but I found (even with some cushion) they put a good dent into the key chain hardware (below right).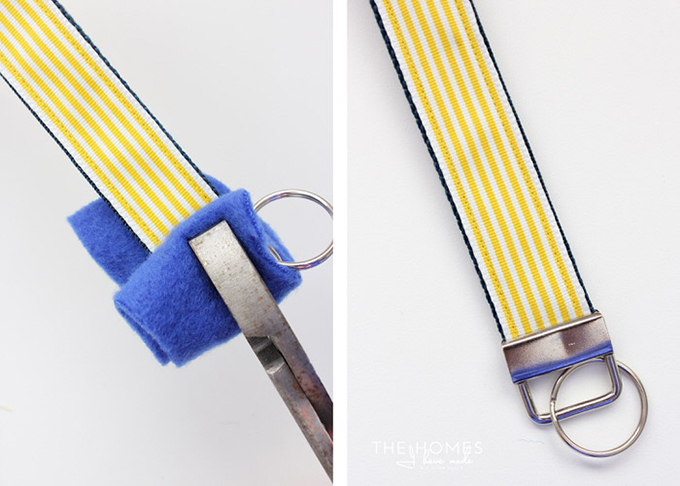 Instead of using pliers to close the hardware, I found a hammer works much better!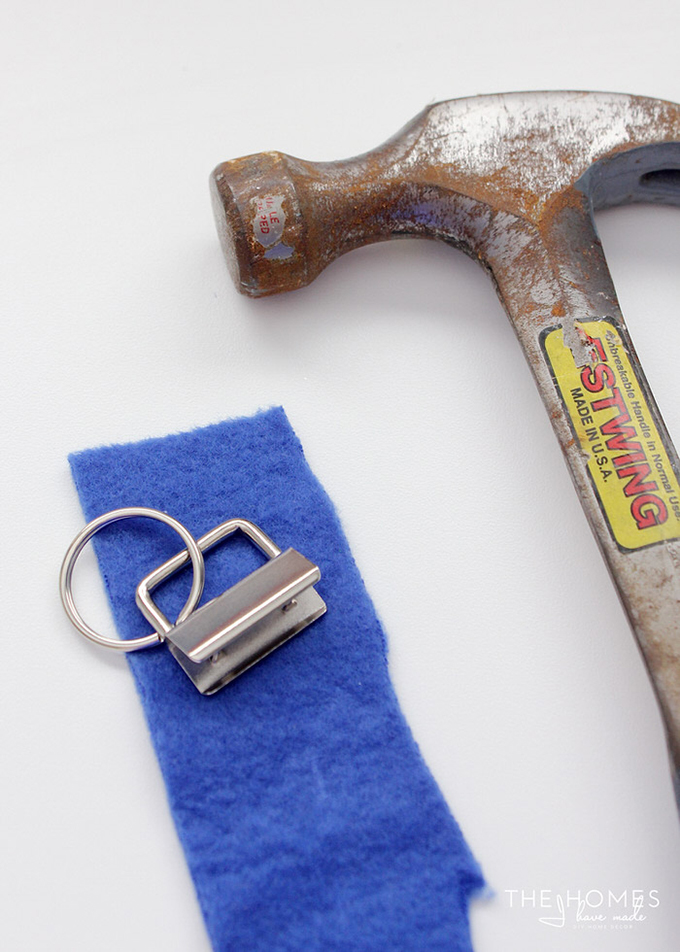 Simply slide the sewn ends of the key chain into the opening of the hardware. Protect both sides of the metal piece with some thick, soft fabric (like fleece) and tap gently with a hammer until it closes over the ribbon.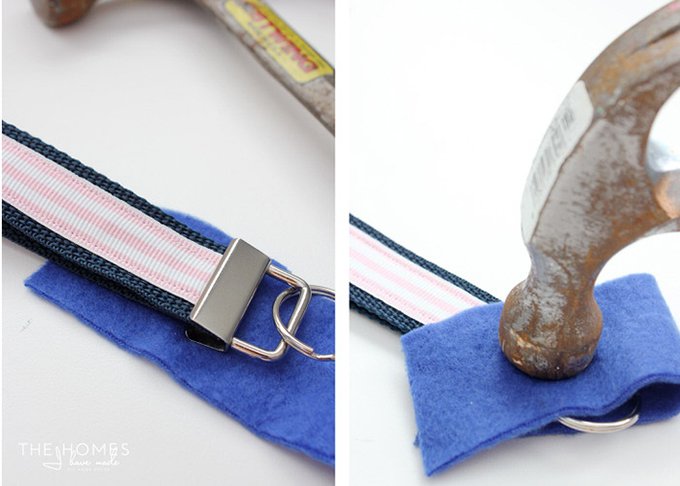 Take care to keep the ribbon ends centered in the key chain hardware as you close it up. Once you add the hardware, your key chain is done! Make as many as you need, or make extras – they are great to keep around for last-minute gifts!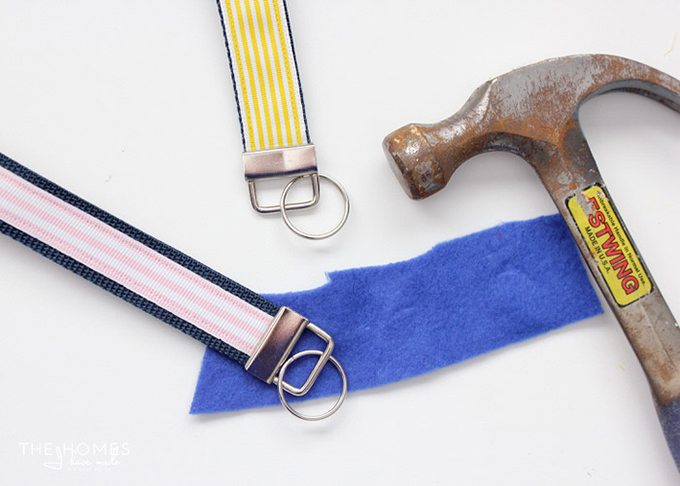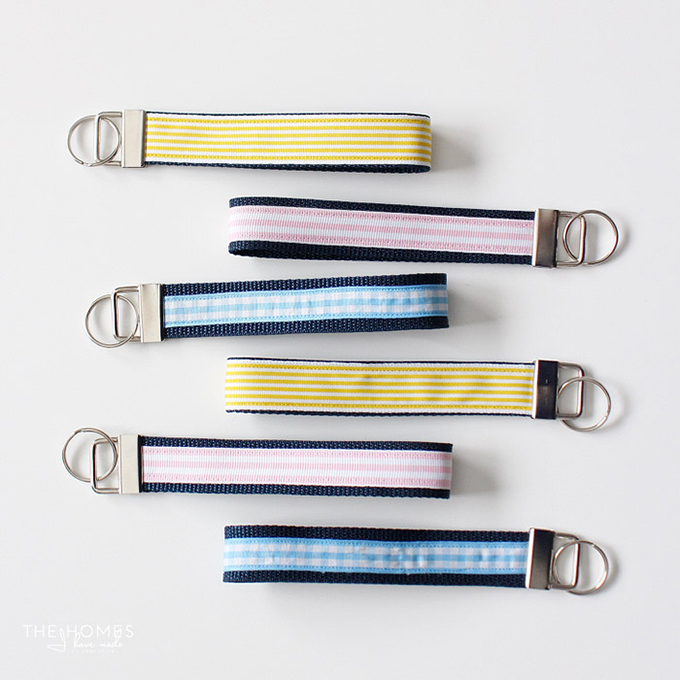 To transform these from simple purse accessories to perfectly tailored gifts for each person you know, add a simple tag made from paper!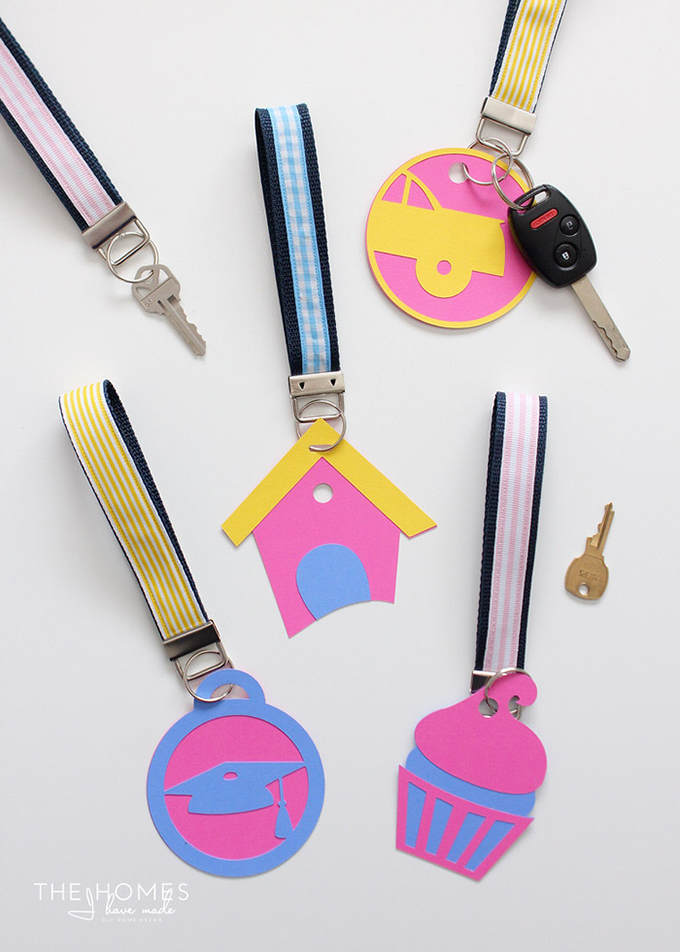 These key chains are great for all sorts of recipients! Teenagers celebrating their Sweet Sixteen…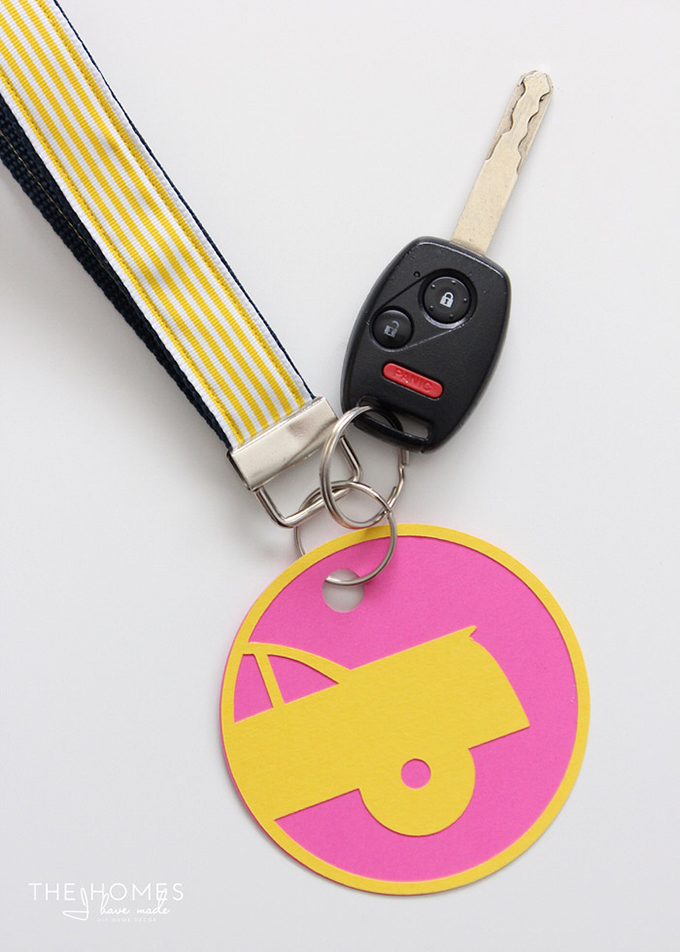 …friends buy a new house or new neighbors moving into the neighborhood…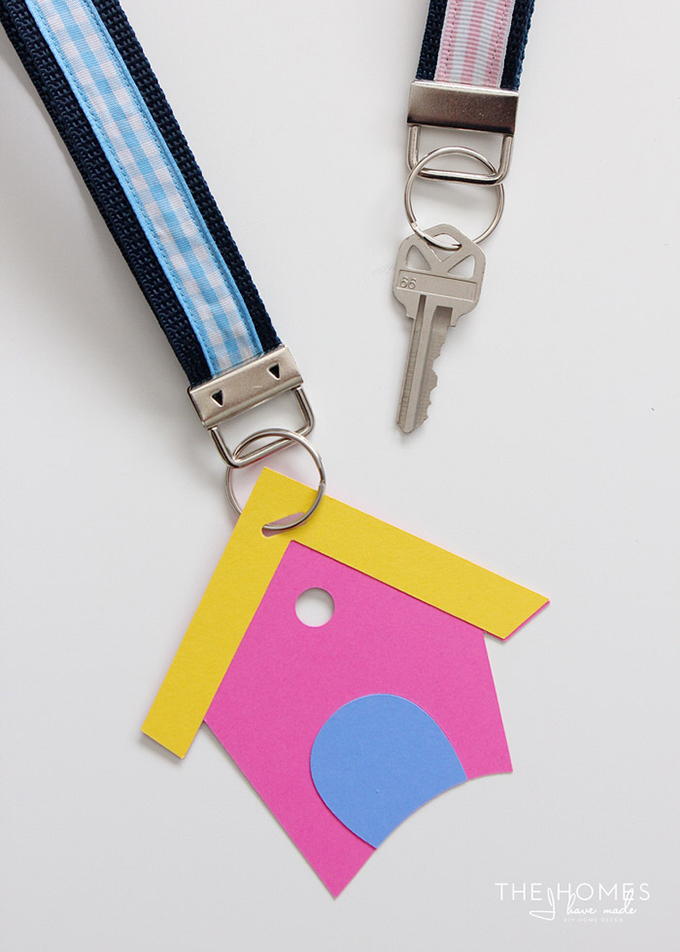 You can customize them in college colors for new high school grads…or give them as a sweet and simple yet thoughtful birthday gift!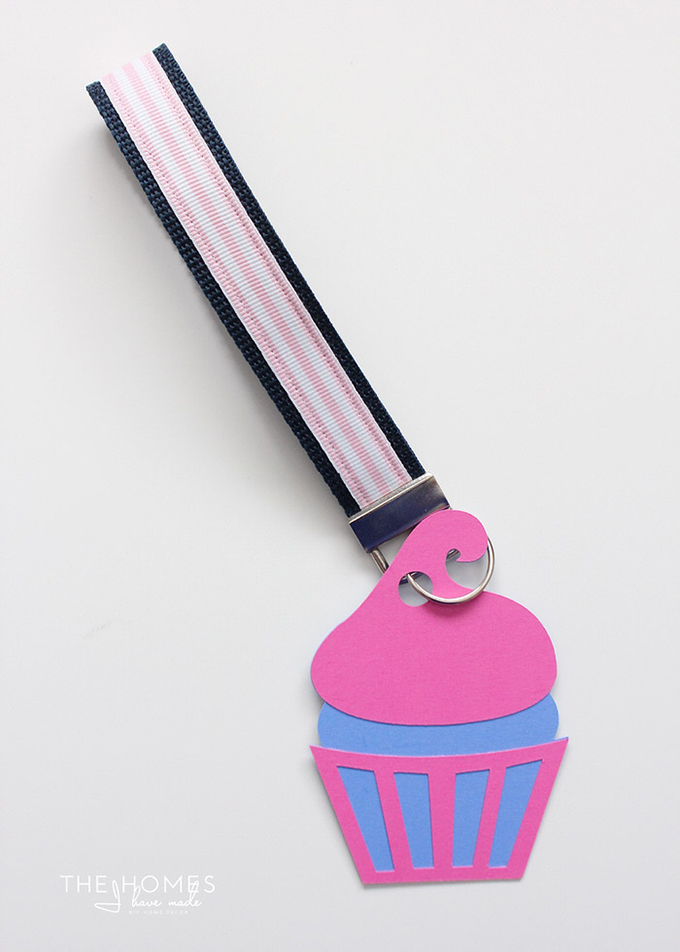 Dress up your keys or make thoughtful little gifts for anyone in your life with this simple project. The opportunities for customization are endless! Mix and match colors and patterns to create truly unique accessories, and consider adding snaps, buttons, or embroidered names/messages to up the adorable factor. These are so fun and simple to make, once you start, you won't be able to stop!