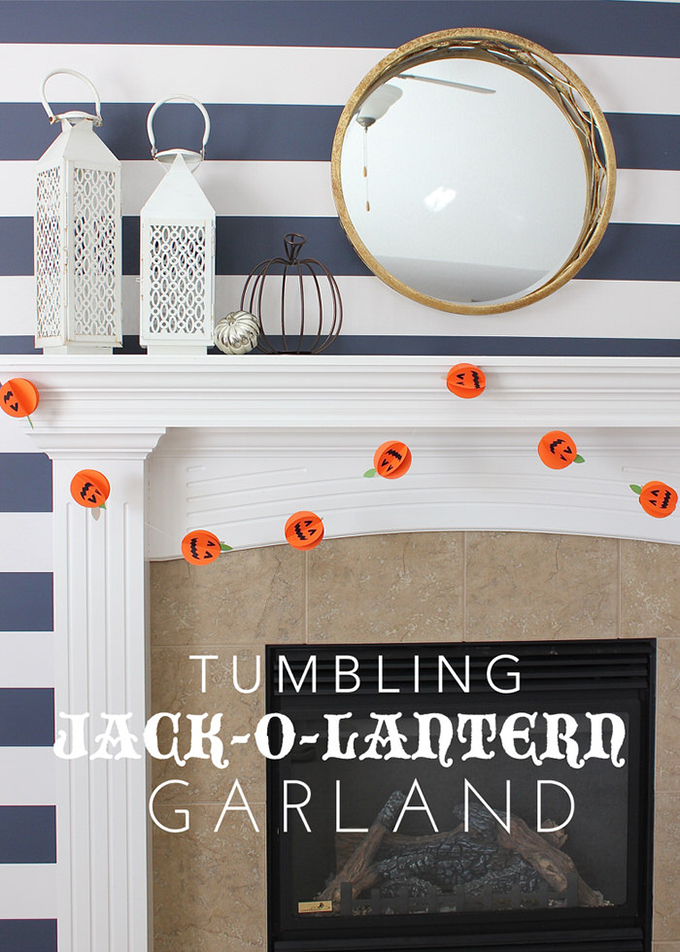 October is finally here, so if you haven't yet started to pull out the Halloween décor, now's the time to do it! Admittedly, Halloween is not among my favorite holidays to decorate for. But with a little one in the house and the Fall season officially upon us, a few simple accessories go a long way in getting us in the festive spirit! This whimsical, DIY Jack-o-lantern garland adds the perfect touch of Halloween to our home. It's fun and silly without being too spooky, and it can be pulled together using items you probably have around the house!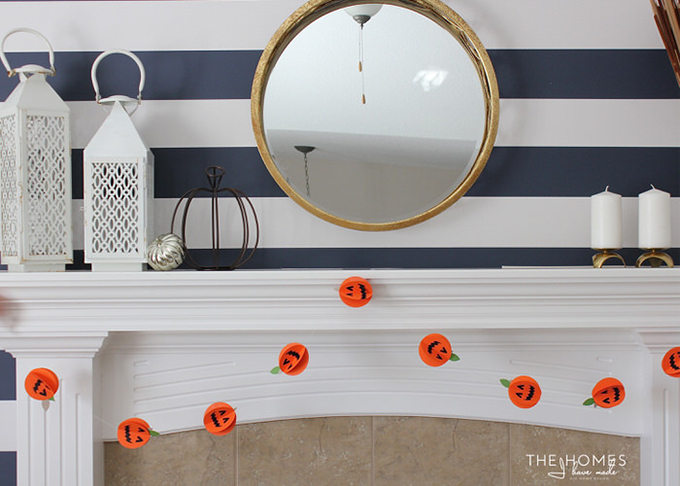 This pumpkin garland is simple to make! You can even get the kids involved by having them cut out the shapes and glue everything together. With just a few sheets of colored cardstock, some scissors, and a sewing machine, you are minutes away from a simple and festive decoration for anywhere in your home!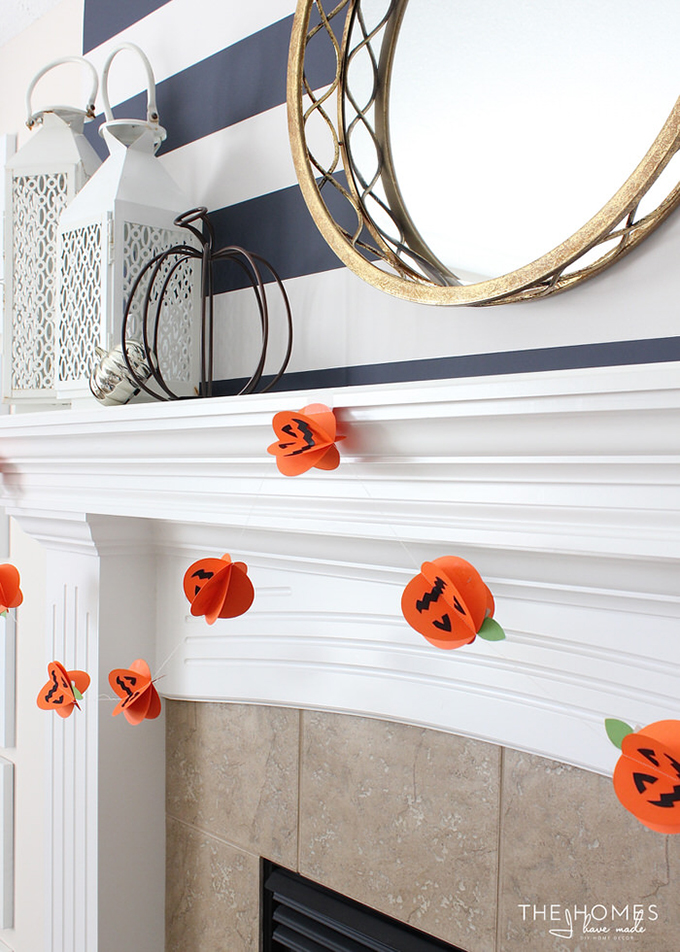 Here's what you need to make your own:
Colored cardstock in orange, green, brown and black
Scissors (electronic die-cut machines and/or punches make this project even quicker but aren't necessary!)
Thread (and a sewing machine, not pictured)
Adhesive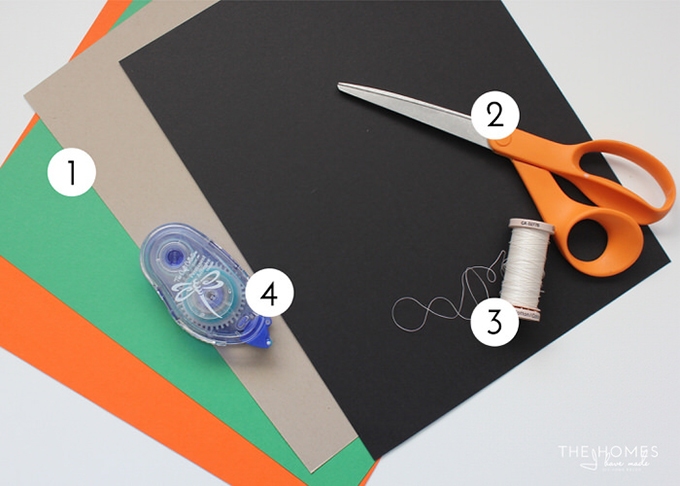 Start by cutting out a bunch of orange circles. These measure 3" in diameter, but you can make yours' as big or small as you want! You'll need at least three circles per pumpkin, so plan out how long you want your garland to determine how many to cut.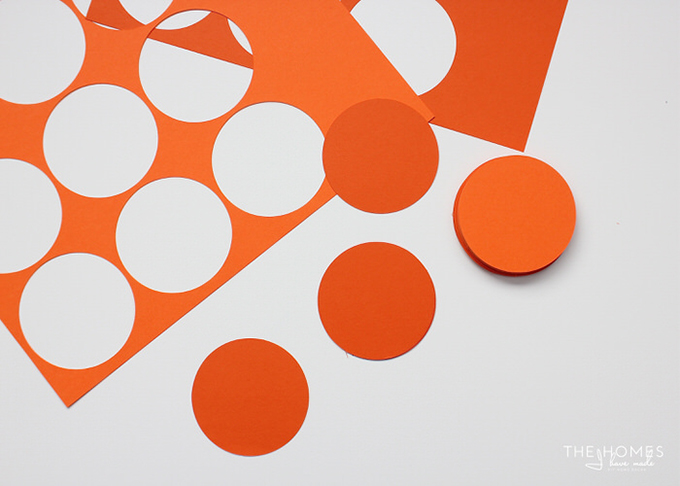 Place your circles in stacks of three or more (the more circles, the fuller the pumpkin once folded). Using various shades of orange will also give a more dynamic appearance.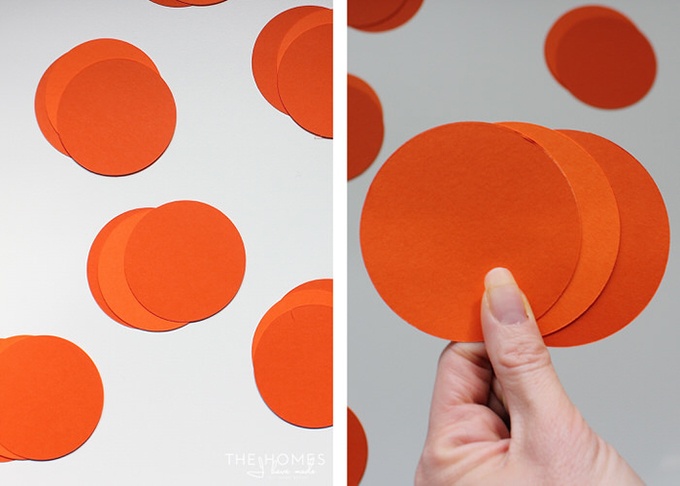 Thread your sewing machine with thread (the color really doesn't matter), and pull a long tail of about 12" out of the machine (you'll need this excess thread to hang the garland once it's done). With your circles stacked, sew straight down the center (below left). Without cutting your thread, pull the circle back behind the machine to create a gap of thread before the next circle. To keep your spacing even between pumpkins, use a piece of tape to denote how far back to pull each set of circles (below right).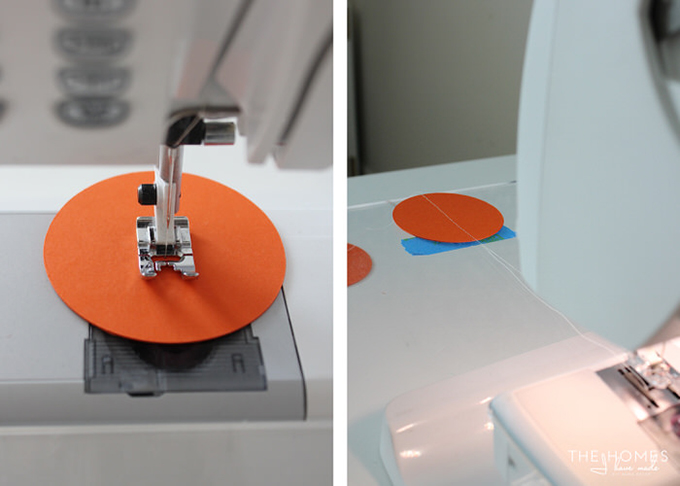 Keep sewing and pulling until all your circles are sewn onto the garland. Once sewn, fold the front circle toward the front and the back circle toward the back along the thread line to create a three dimensional/rounded shape.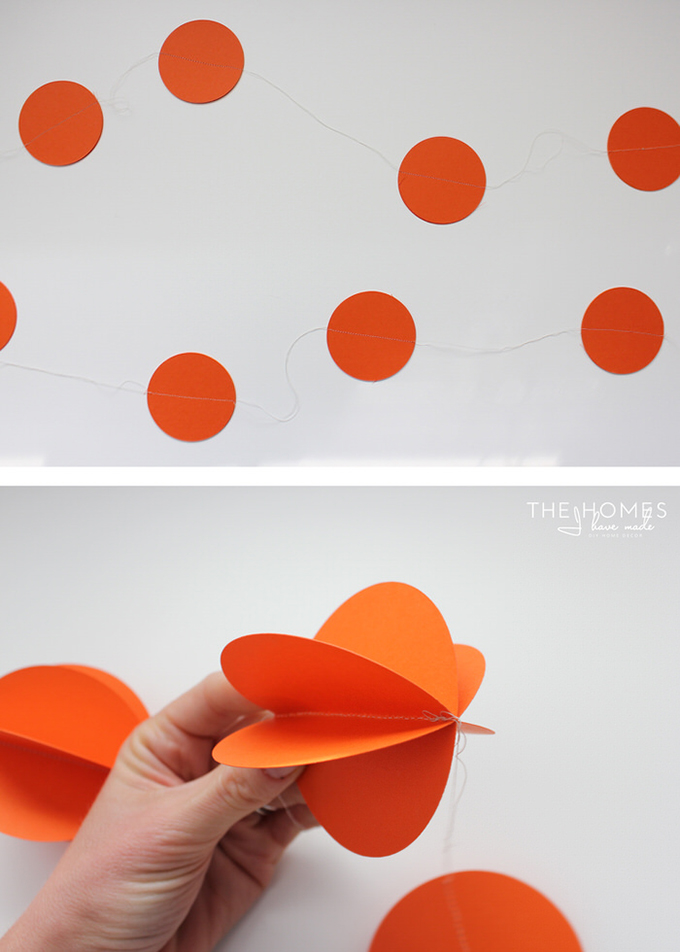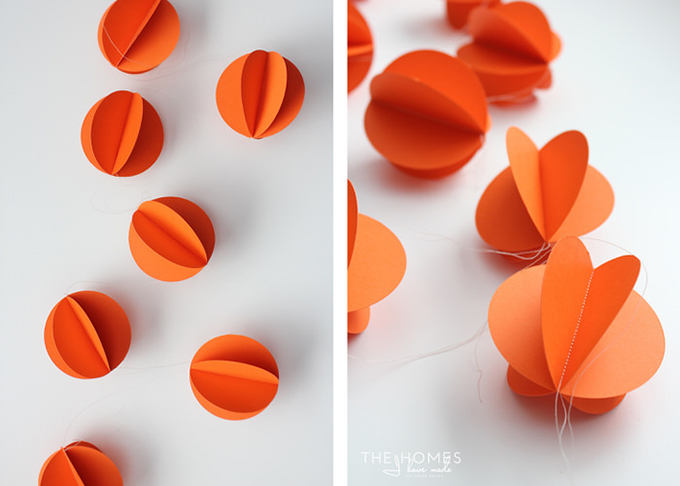 Next, use a scissors (punches or die-cut machines work great here!) to create leaf, stem and face shapes out of the green, brown, and black cardstock. Secure the leaves between two flaps of the pumpkin with adhesive, and add the face to one or more sides.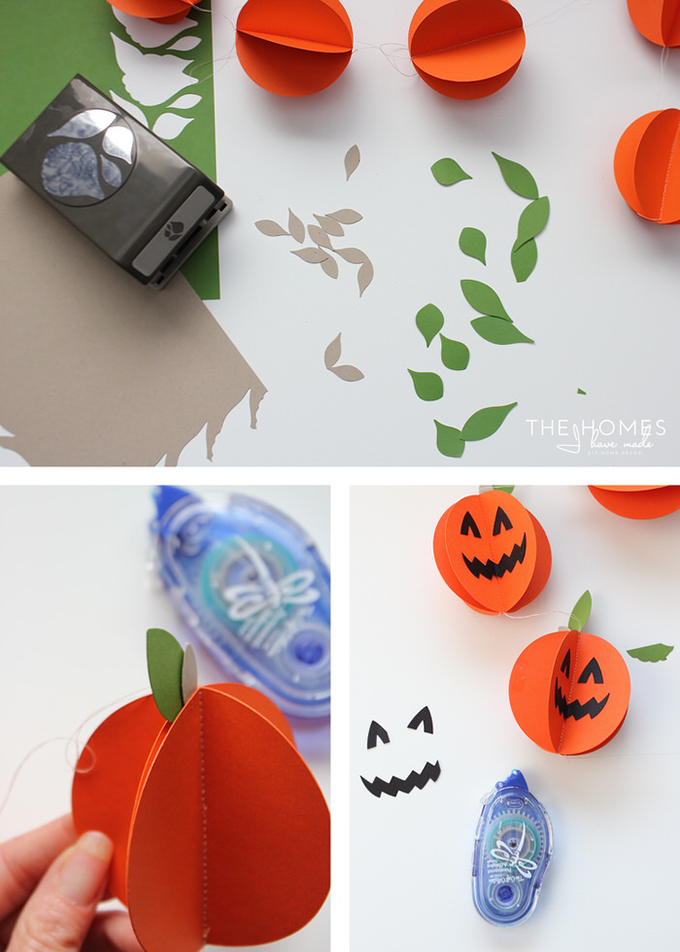 Once you've added all the leaves and faces, the garland is ready to hang! Since it's so lightweight, simple clear tape should work just fine!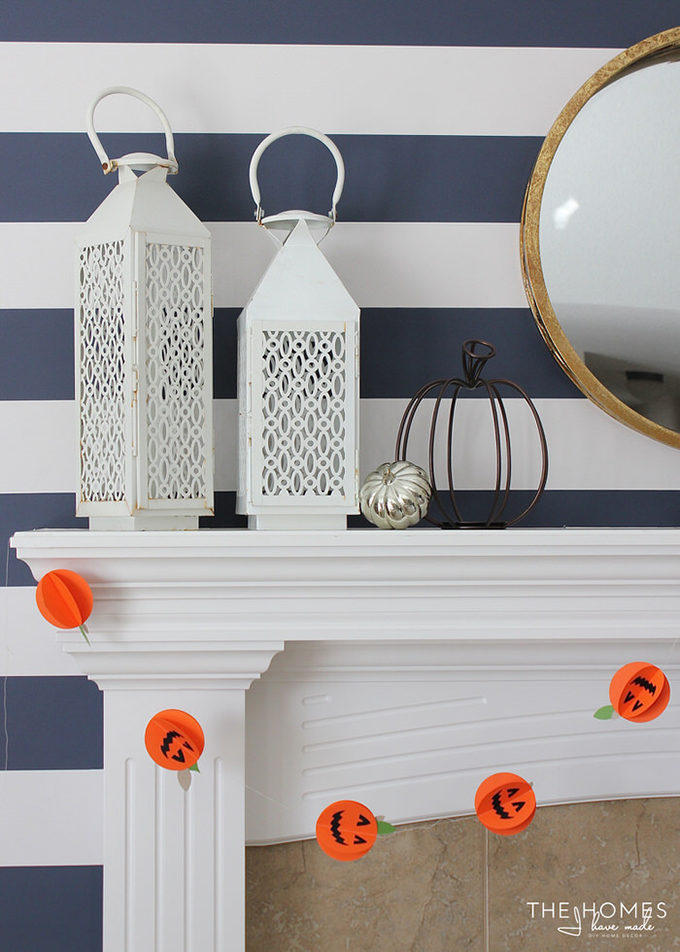 I chose to alternate which way the Jack-o-lanterns faced along the garland. Once strung, they look like they are tumbling out of a truck, and their alternating pattern just adds to the silliness of it all!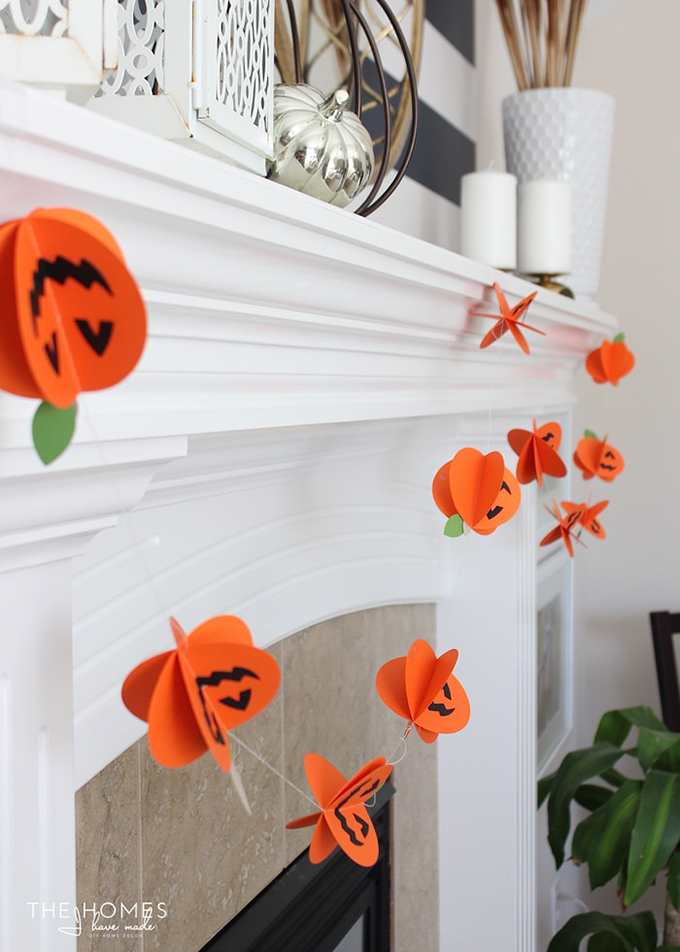 Whether you love a ton of Halloween décor around your home or just want some simple accents to remind you of the season, this is the perfect craft to add to your project list. The garland is simple and inexpensive to make, and is very kid friendly. These silly Jack-o-lanterns are sure to bring a smile to everyone's faces this Halloween season!